Aportes al debate de legalización del uso medicinal de la marihuana en Colombia
Guillermo Castaño Pérez

Universidad del CES

Elvia Velásquez

Asociación Latinoamericana de Adiccionología

Alvaro Olaya Pelaéz

Profesor Facultad Nacional de Salud Pública Decano (E) Facultad Nacional de Salud Pública
Palabras clave:
hábito de fumar marihuana, abuso de marihuana, marihuana medicinal, riesgo
Resumen
Es intenso el debate sobre legalización de la marihuana para usos terapéuticos, buscando minimizar la criminalización del usuario. Paradójicamente a pesar de la evidencia de efectos nocivos de la marihuana su consumo aumenta, hay altas prevalencias de vida y surgen variedades más potentes y peligrosas de cannabis. Metodología: Revisión sobre componentes de la marihuana, efectos y evidencia terapeútica. Resultados: La planta contiene más de 400 compuestos activos y de la mayoría se desconoce su toxicidad. Contiene, además, unos 66 cannabinoides. Hay alguna evidencia del efecto medicinal de algunos compuestos pero falta investigación. Una cosa son cannabinoides sintéticos y derivados de la planta, otra el consumo de la "yerba". Discusión: Componentes benéficos de la planta no pueden, hasta hoy, separarse de los tóxicos. En uso terapéutico o recreativo se ingieren unos y otros. Cannabinoides producen en humanos un síndrome que altera funciones cerebrales como memoria, estado de ánimo, sueño, atención, humor, coordinación, cognición, percepción del tiempo y distorsión de la información, entre otras, además de generar dependencia, tolerancia, adicción y síndrome de abstinencia, todas ya probadas. Conclusiones: El desconocimiento de efectos adversos del uso de la planta de marihuana como medicamento, sin conocer muy bien qué se está consumiendo, plantea importantes riesgos para la salud.

|Resumen = 5154 veces | PDF = 2494 veces| HTML = 4423 veces| CARTA DE SOMETIMIENTO 1 = 0 veces|
Descargas
La descarga de datos todavía no está disponible.
Citas
Gobierno Nacional de la República de Colombia.Observatorio de Drogas. Ministerio de Justicia et al. Estudio Nacional de Consumo de Sustancias Psicoactivas en Población Escolar Colombia 2011. www.descentralizadrogas.gov.co
Comunidad Andina, Programa Antidrogas Ilícitas en la Comunidad Andina, Unión Europea. II Estudio Epidemiológico Andino sobre Consumo de Drogas en la Población Universitaria Informe. 2012.
Ministerio de la Protección Social. República de Colombia, Dirección Nacional de Estupefacientes. Estudio Nacional de Consumo de Sustancias Psicoactivas en Colombia. [Internet]. 2008. Available from: http://www.corazonesresponsables.org/Estudio_ Nal_Completo_Psicoactivas.pdf
Elsohly MA, Slade D. Chemical constituents of marijuana: the complex mixture of natural cannabinoids. Life Sci. 2005 Dec 22;78(5):539–48.
Ashton CH. Pharmacology and effects of cannabis: a brief review. Br J Psychiatry J Ment Sci. 2001 Feb;178:101–6.
Hampson AJ, Grimaldi M, Lolic M, Wink D, Rosenthal R, Axelrod J. Neuroprotective antioxidants from marijuana. Ann N Y Acad Sci. 2000;899:274–82.
André, F. Haschich, Chanvre et Cannabis: L'éternel retour [Internet], 2011. Paris: Editions l'Harmattan.
Pertwee RG, Howlett AC, Abood ME, Alexander SPH, Di Marzo V, Elphick MR, et al. International Union of Basic and Clinical Pharmacology. LXXIX. Cannabinoid Receptors and Their Ligands: Beyond CB1 and CB2. Pharmacol Rev. 2010 Dec 1;62(4):588–631
Trigo JM, Martin-García E, Berrendero F, Robledo P, Maldonado R. The endogenous opioid system: a common substrate in drug addiction. Drug Alcohol Depend. 2010 May 1;108(3):183–94.
Sugiura T, Kondo S, Sukagawa A, Nakane S, Shinoda A, Itoh K, et al. 2-Arachidonoylglycerol: a possible endogenous cannabinoid receptor ligand in brain. Biochem Biophys Res Commun. 1995 Oct 4;215(1):89–97.
Di Marzo V, Petrocellis LD. Plant, synthetic, and endogenous cannabinoids in medicine. Annu Rev Med. 2006;57:553–74. 12 Grotenhermen F. Clinical Pharmacodynamics of Cannabinoids. J Cannabis Ther. 2004 Feb 26;4(1):29–78.
Brizzi A, Brizzi V, Cascio MG, Corelli F, Guida F, Ligresti A, et al. New resorcinol-anandamide "hybrids" as potent cannabinoid receptor ligands endowed with antinociceptive activity in vivo. J Med Chem. 2009 Apr 23;52(8):2506–14
Caffarel MM, Moreno-Bueno G, Cerutti C, Palacios J, Guzman M, Mechta-Grigoriou F, et al. JunD is involved in the antiproliferative effect of Delta9-tetrahydrocannabinol on human breast cancer cells. Oncogene. 2008 Aug 28;27(37):5033–44.
MD, Stevens RJ, Rogacki N, Featherstone RE, Senyah Y, Giardino O, et al. AVE1625, a cannabinoid CB1 receptor antagonist, as a co-treatment with antipsychotics for schizophrenia: improvement in cognitive function and reduction of antipsychotic-side effects in rodents. Psychopharmacology (Berl). 2011 May;215(1):149–63.
NM, Mechoulam R. Cannabinoids in health and disease. Dialogues Clin Neurosci. 2007;9(4):413–30.
National Institute on Drug Abuse. ¿La marihuana es un medicamento? [Internet]. 2014. Available from: http://www. drugabuse.gov/es/ publicaciones/drugfacts/la-marihuana-es-unmedicamento
Svízenská I, Dubový P, Sulcová A. Cannabinoid receptors 1 and 2 (CB1 and CB2), their distribution, ligands and functional involvement in nervous system structures--a short review. Pharmacol Biochem Behav. 2008 Oct;90(4):501–11.
Wang T, Collet J-P, Shapiro S, Ware MA. Adverse effects of medical cannabinoids: a systematic review. Can Med Assoc J. 2008 Jun 17;178(13):1669–78.
Croxford JL. Therapeutic potential of cannabinoids in CNS disease. CNS Drugs. 2003;17(3):179–202.
Abood ME, Martin BR. Neurobiology of marijuana abuse. Trends Pharmacol Sci. 1992 May;13(5):201–6.
Maldonado R, Rodríguez de Fonseca F. Cannabinoid addiction: behavioral models and neural correlates. J Neurosci Off J Soc Neurosci. 2002 May 1;22(9):3326–31.
Hutcheson DM, Tzavara ET, Smadja C, Valjent E, Roques BP, Hanoune J, et al. Behavioural and biochemical evidence for signs of abstinence in mice chronically treated with delta-9-tetrahydrocannabinol. Br J Pharmacol. 1998 Dec;125(7):1567–77.
Bass CE, Martin BR. Time course for the induction and maintenance of tolerance to Delta(9)-tetrahydrocannabinol in mice.Drug Alcohol Depend. 2000 Aug 1;60(2):113–9.
Di Marzo V, Berrendero F, Bisogno T, González S, Cavaliere P, Romero J, et al. Enhancement of anandamide formation in the limbic forebrain and reduction of endocannabinoid contents in the striatum of delta9-tetrahydrocannabinol-tolerant rats. J Neurochem. 2000 Apr;74(4):1627–35.
Rubino T, Viganò D, Massi P, Parolaro D. Changes in the Cannabinoid Receptor Binding, G Protein Coupling, and Cyclic AMP Cascade in the CNS of Rats Tolerant to and Dependent on the Synthetic Cannabinoid
González S, Cebeira M, Fernández-Ruiz J. Cannabinoid tolerance and dependence: a review of studies in laboratory animals. Pharmacol Biochem Behav. 2005 Jun;81(2):300–18.
Paquette JJ, Wang H-Y, Bakshi K, Olmstead MC. Cannabinoidinduced tolerance is associated with a CB1 receptor G protein coupling switch that is prevented by ultra-low dose rimonabant. Behav Pharmacol. 2007 Dec;18(8):767–76.
Deadwyler S., Heyser C., Hampson R. Complete adaptation to the memory disruptive effects of D9-tetrahydrocannabinol following 35 days of exposure. 1995;17:9–18.
Gonzalez S, Manzanares J, Berrendero F, Wenger T, Corchero J, Bisogno T, et al. Identification of endocannabinoids and cannabinoid CB1 receptor mRNA in the pituitary gland. Neuroendocrinology. 1999;70(2):137–45.
Di Forti Marta, Marconni Arianna, Carrá Elena, Trotta Antonella, Bonomo Mateo et al. Proporción de pacientes en South London con primer episodio de psicosis atribuible a Marihuana de alta potencia: Estudios de casos y controles. The Lancet Psychiatry Vol 2 Nro. 3 March 2015
Reece AS.Chronic toxicology of cannabis.Clin Toxicol Phila Pa. 2009 Jul;47(6):517–24
Anthony JC. The epidemiology of cannabis dependence. In: Roffman RA, Stephens RS, eds. Cannabis Dependence: Its Nature, Consequences and Treatment. Cambridge, UK: Cambridge University Press; 2006:58-105.
Murphy L, Bartke A, editors. Maternal cannabinoid exposure and brain development: changes in the ontogeny of dopamine neurons. Marijuana/cannabinoids: neurobiology and neurophysiology. Boca Raton, Fla: CRC Press; 1992.
Brunton LL, Lazo JS, Parker KL. (editores): Goodman & Gilman. 2006 Las Bases Farmacológicas de la Terapéutica. Undécima Edición. México. 2006. Mc Graw-Hill, Interamericana 2045 pags
Lee ML, Novotny M, Bartle KD. Gas chromatography/mass spectrometric and nuclear magnetic resonance spectrometric studies of carcinogenic polynuclear aromatic hydrocarbons in tobacco and marijuana smoke condensates. Anal Chem. 1976 Feb;48(2):405–16.
Sherrill DL, Krzyzanowski M, Bloom JW, Lebowitz MD. Respiratory effects of non-tobacco cigarettes: a longitudinal study in general population. Int J Epidemiol. 1991 Mar;20(1):132–7.
World Health Organization. Cannabis: a health perspective and research agenda. 1997.
Grotenhermen F. Pharmacokinetics and pharmacodynamics of cannabinoids. Clin Pharmacokinet. 2003;42(4):327–60.
Calignano A, La Rana G, Giuffrida A, Piomelli D. Control of pain initiation by endogenous cannabinoids. Nature. 1998 Jul 16;394(6690):277–81.
Rice ASC, Farquhar-Smith WP, Nagy I. Endocannabinoids and pain: spinal and peripheral analgesia in inflammation and neuropathy. Prostaglandins Leukot Essent Fatty Acids. 2002 Mar;66(2- 3):243–56.
Ortiz Lobo A. Cannabis: ¿medicina o droga? Psiquiatr Pública. 1998;10(6):68–72
Ungerleider JT, Andyrsiak T, Fairbanks L, Ellison GW, Myers LW. Delta-9-THC in the treatment of spasticity associated with multiple sclerosis. Adv Alcohol Subst Abuse. 1987;7(1):39–50.
Maurer M, Henn V, Dittrich A, Hofmann A. Delta-9-tetrahydrocannabinol shows antispastic and analgesic effects in a single case double-blind trial. Eur Arch Psychiatry Clin Neurosci. 1990;240(1):1–4
Sieradzan KA, Fox SH, Hill M, Dick JP, Crossman AR, Brotchie JM. Cannabinoids reduce levodopa-induced dyskinesia in Parkinson's disease: a pilot study. Neurology. 2001 Dec 11;57(11):2108–11.
Hartley JP, Nogrady SG, Seaton A. Bronchodilator effect of delta1- tetrahydrocannabinol. Br J Clin Pharmacol. 1978 Jun;5(6):523–5.
Järvinen T, Pate DW, Laine K. Cannabinoids in the treatment of glaucoma. Pharmacol Ther. 2002 Aug;95(2):203–20.
Russo E. Future of Cannabis and Cannabinoids in Therapeutics. J Cannabis Ther. 2004 Jan 29;3(4):163–74.
Gordon E, Devinsky O. Alcohol and marijuana: effects on epilepsy and use by patients with epilepsy. Epilepsia. 2001 Oct;42(10):1266–72.
Gilson I, Busalacchi M. Marijuana for intractable hiccups. The Lancet. 1998 Jan;351(9098):267.
Grinspoon L, Bakalar JB. The use of cannabis as a mood stabilizer in bipolar disorder: anecdotal evidence and the need for clinical research. J Psychoactive Drugs. 1998 Jun;30(2):171–7.
Mikuriya TH. Cannabis substitution. An adjunctive therapeutic tool in the treatment of alcoholism. Med Times. 1970 Apr;98(4):187–91.
Aggarwal SK, Carter GT, Sullivan MD, ZumBrunnen C, Morrill R, Mayer JD. Medicinal use of cannabis in the United States: historical perspectives, current trends, and future directions. J Opioid Manag. 2009 Jun;5(3):153–68.
Craig W M. Efficacy of marijuana in treating chronic non cancer pain. A short review. Clinical Services, Worker and Employer Services; 2006.
Zajicek J, Fox P, Sanders H, Wright D, Vickery J, Nunn A, et al. Cannabinoids for treatment of spasticity and other symptoms related to multiple sclerosis (CAMS study): multicentre randomised placebo-controlled trial. Lancet. 2003 Nov 8;362(9395):1517–26.
Abrams DI, Jay CA, Shade SB, Vizoso H, Reda H, Press S, et al. Cannabis in painful HIV-associated sensory neuropathy: a randomized placebo-controlled trial. Neurology. 2007 Feb 13;68(7):515–21.
Levitt M, Faiman C, Hawks R, Wilson A. Randomized double blind comparison of delta-9-tetrahydroicannabinol (THC) and marijuana as chemotherapy antiemetics. Proc Am Soc Clin Oncol. 1984;3(91).
Bennett D. Growing pains for metabolomics [Internet]. 2005. Available from: http://www.the-scientist.com/?articles.view/articleNo /16400/title/ Growing-Pains-for-Metabolomics/
World Health Organization. Final draft: Good Manufacture Practices: update supplementary guidelines for the manufacture. 2005
Cañigueral S, Vila R. La Fitoterapia como herramienta terapéutica. Ginecol Obstet Clínica. 2005;6(1):43–51
Blanché C. Situación actual del sector de las plantas medicinales en España. Rev Espec En Anestesiol Reanim. 2005;52:451–2.
Hoffmann DE, Weber E. Medical Marijuana and the Law. N Engl J Med. 2010 Apr 22;362(16):1453–7.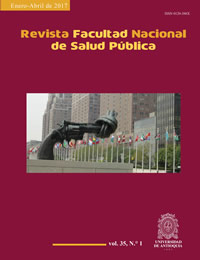 Cómo citar
Pérez, G. C., Velásquez, E., & Pelaéz, A. O. (2016). Aportes al debate de legalización del uso medicinal de la marihuana en Colombia. Revista Facultad Nacional De Salud Pública, 35(1). Recuperado a partir de https://revistas.udea.edu.co/index.php/fnsp/article/view/23188
Sección
Revisión sistemática
El autor o los autores conserva(n) los derechos morales y cede(n) los derechos patrimoniales que corresponderán a la Universidad de Antioquia, para publicarlo, distribuir copias electrónicas, incluirlas en servicios de indización, directorios o bases de datos nacionales e internacionales en Acceso Abierto, bajo la licencia Creative Commons Atribución-No Comercial-Compartir Igual 4.0 Internacional Comercial (CC BY-NC-SA) la cual permite a otros distribuir, remezclar, retocar y crear a partir de la obra de modo no comercial, siempre y cuando se dé crédito respectivo y licencien las nuevas creaciones bajo las mismas condiciones.