Distancia al centro de atención en salud y mortalidad durante los primeros años de vida: Revisión sistemática y Metaanálisis
Palabras clave:
accesibilidad a los servicios de salud, disparidades en atención de salud, área sin atención médica, mortalidad infantil, metaanálisis
Resumen
Objetivo: actualizar las revisiones sistemáticas sobre el efecto de la distancia a los centros de atención en salud, en la mortalidad de menores de 5 años, con artículos publicados hasta mayo de 2015. Metodología:
revisión sistemática con metaanálisis según recomendaciones de PRISMA. Se estimó un modelo de efectos aleatorios y se realizaron análisis de sesgo y de heterogeneidad de las estimaciones. Resultados: residir a más de 5 km del centro de atención de salud se asocia con un mayor riesgo de muerte en los periodos perinatal OR 2,76 (IC95% 1,80 – 4,23), neonatal OR 1,62 (IC95% 1,33-1,96), infantil OR 1,31 (IC95% 1,16-1,48), durante la niñez OR 1,57 (IC95% 1,29-1,92) y en todos los grupos de edad OR 1,63 (IC95% 1,41-1,88). Conclusión: se resalta la importancia de considerar una distribución geográfica de los centros de atención en salud, que permita a los menores residentes en áreas remotas menores riesgos de muerte,  particularmente durante el primer mes de vida.
|Resumen = 292 veces | PDF = 196 veces|
Descargas
Los datos de descargas todavía no están disponibles.
Citas
(1). Naciones Unidas. Objetivos de desarrollo del milenio. Informe de 2013. [Internet]. Nueva York: Naciones Unidas; 2013 [Acceso 9 de febrero de 2015]. Disponible en: http://www.un.org/es/millenniumgoals/pdf/mdg-report-2013-spanish.pdf
(2). Wang H, Liddell CA, Coates MM, Mooney MD, Levitz CE, Schumacher AE, et al. Global, Regional, and National Levels of Neonatal, Infant, and Under-5 Mortality During 1990-2013: A Systematic Analysis for the Global Burden of Disease Study 2013. Lancet 2014; 384(9947): 957-979.
(3). Naciones Unidas. Objetivos de desarrollo del milenio. Informe de 2014. [Internet]. Nueva York: Naciones Unidas; 2014 [Acceso 9 de febrero de 2015]. Disponible en: http://www.un.org/es/millenniumgoals/pdf/mdg-report-2014-spanish.pdf
(4). Lawn JE, Lee AC, Kinney M, Sibley L, Carlo WA, Paul VK, et al. Two Million Intrapartum-Related Stillbirths and Neonatal Deaths: Where, Why, and What Can Be Done? Int J Gynaecol Obstet Off Organ Int Fed Gynaecol Obstet 2009; 107 (Suppl 1): S5-S18, S19.
(5). Lawn JE, Blencowe H, Oza S, You D, Lee AC, Waiswa P, et al. Every Newborn: Progress, Priorities, and Potential Beyond Survival. Lancet 2014; 384(9938): 189-205.
(6). Bhutta ZA, Das JK, Bahl R, Lawn JE, Salam RA, Paul VK, et al. Can Available Interventions End Preventable Deaths in Mothers, Newborn Babies, and Stillbirths, and at What Cost? Lancet 2014; 384(9940): 347-370.
(7). Wall SN, Lee AC, Carlo W, Goldenberg R, Niermeyer S, Darmstadt GL, et al. Reducing Intrapartum-Related Neonatal Deaths in Low- and Middle-Income Countries-What Works? Semin Perinatol 2010; 34(6): 395-407.
(8). Walker N, Yenokyan G, Friberg IK, Bryce J. Patterns in Coverage of Maternal, Newborn, and Child Health Interventions: Projections of Neonatal and Under-5 Mortality to 2035. Lancet 2013; 382(9897): 1029-1038.
(9). Victora CG, Barros AJ, Axelson H, Bhutta ZA, Chopra M, França GV, et al. How Changes in Coverage Affect Equity in Maternal and Child Health Interventions in 35 Countdown to 2015 Countries: An Analysis of National Surveys. Lancet 2012; 380(9848): 1149-1156.
(10). Upadhyay RP, Krishnan A, Rai SK, Chinnakali P, Odukoya O. Need to Focus Beyond the Medical Causes: A Systematic Review of the Social Factors Affecting Neonatal Deaths. Paediatr Perinat Epidemiol 2014; 28(2): 127-137.
(11). Bhutta ZA, Darmstadt GL, Hasan BS, Haws RA. Community- Based Interventions for Improving Perinatal and Neonatal Health Outcomes in Developing Countries: A Review of the Evidence. Pediatrics 2005; 115(2 Suppl): 519-617.
(12). Hodge A, Firth S, Marthias T, Jimenez-Soto E. Location Matters: Trends in Inequalities in Child Mortality in Indonesia. Evidence from Repeated Cross-Sectional Surveys. PloS One 2014; 9(7): e103597.
(13). Martinez AM, Khu DT, Boo NY, Neou L, Saysanasongkham B, Partridge JC. Barriers to Neonatal Care in Developing Countries: Parents and Providers Perceptions. J Paediatr Child Health 2012; 48(9): 852-858.
(14). Cant B. Barriers to Accessing Care: Impact on Maternal and Neonatal Morbidity and Mortality. Br J Midwifery 2012; 20(8): 599-600.
(15). Zaman SM, Cox J, Enwere GC, Bottomley C, Greenwood BM, Cutts FT. The Effect of Distance on Observed Mortality, Childhood Pneumonia and Vaccine Efficacy in Rural Gambia. Epidemiol Infect 2014; 142(12): 2491-2500.
(16). Wild K, Barclay L, Kelly P, Martins N. The Tyranny of Distance: Maternity Waiting Homes and Access to Birthing Facilities in Rural Timor-Leste. Bull World Health Organ 2012; 90(2): 97-103.
(17). Scott S, Chowdhury ME, Pambudi ES, Qomariyah SN, Ronsmans C. Maternal Mortality, Birth with a Health Professional and Distance to Obstetric Care in Indonesia and Bangladesh. Trop Med Int Health 2013; 18(10): 1193-1201.
(18). Rutherford ME, Mulholland K, Hill PC. How Access to Health Care Relates to Under-Five Mortality in Sub-Saharan Africa: Systematic Review. Trop Med Int Health 2010; 15(5): 508-519.
(19). Okwaraji YB, Edmond KM. Proximity to Health Services and Child Survival in Low- And Middle-Income Countries: A Systematic Review and Meta-Analysis. BMJ Open 2012; 2(4): e001196.
(20). Combier E, Charreire H, Le Vaillant M, Michaut F, Ferdynus C, Amat-Roze J-M, et al. Perinatal Health Inequalities and Accessibility of Maternity Services in a Rural French Region: Closing Maternity Units in Burgundy. Health Place 2013; 24: 225-233.
(21). Delamater PL. Spatial Accessibility in Suboptimally Configured Health Care Systems: A Modified Two-Step Floating Catchment Area (M2SFCA) Metric. Health Place 2013; 24: 30-43.
(22). Gu W, Wang X, McGregor SE. Optimization of Preventive Health Care Facility Locations. Int J Health Geogr 2010; 9: 17.
(23). Guagliardo MF. Spatial Accessibility of Primary Care: Concepts, Methods and Challenges. Int J Health Geogr 2004; 3(1): 3.
(24) Wang F, Tang Q. Planning Toward Equal Accessibility to Services: A Quadratic Programming Approach. Environ Plan B Plan Des 2013; 40(2): 195-212.
(25). Wang F. Measurement, Optimization, and Impact of Health Care Accessibility: A Methodological Review. Ann Assoc Am Geogr 2012; 102(5): 1104-1112.
(26). Urrútia G, Bonfill X. Declaración PRISMA: una propuesta para mejorar la publicación de revisiones sistemáticas y metaanálisis. Med Clínica 2010; 135(11): 507-511.
(27). Higgins JPT, Green S, Cochrane Collaboration, editors. Cochrane Handbook for Systematic Reviews of Interventions. Chichester, Hoboken: Wiley-Blackwell; 2008. 649 p.
(28). Higgins JP, Thompson SG, Deeks JJ, Altman DG. Measuring Inconsistency in Meta-Analyses. BMJ 2003; 327(7414): 557-560.
(29). Sterne JA, Egger M. Funnel Plots for Detecting Bias in Meta- Analysis. J Clin Epidemiol 2001; 54(10): 1046-1055.
(30). Sterne JA, Egger M, Smith GD. Investigating and Dealing with Publication and Other Biases in Meta-Analysis. BMJ 2001; 323(7304): 101-105.
(31). Paul BK. Health Service Resources as Determinants of Infant Death in Rural Bangladesh: An Empirical Study. Soc Sci Med (1982) 1991; 32(1): 43-49.
(32). Magnani RJ, Rice JC, Mock NB, Abdoh AA, Mercer DM, Tankari K. The Impact of Primary Health Care Services on Under-Five Mortality in Rural Niger. Int J Epidemiol 1996; 25(3): 568-577.
(33). Kashima S, Suzuki E, Okayasu T, Jean Louis R, Eboshida A, Subramanian SV. Association between Proximity to a Health Center and Early Childhood Mortality in Madagascar. PloS One 2012; 7(6): e38370.
(34). Okwaraji YB, Cousens S, Berhane Y, Mulholland K, Edmond K. Effect of geographical access to health facilities on child mortality in rural Ethiopia: a community based cross sectional study. PloS One 2012; 7(3): e33564.
(35). Manongi R, Mtei F, Mtove G, Nadjm B, Muro F, Alegana V, et al. Inpatient Child Mortality by Travel Time to Hospital in a Rural Area of Tanzania. Trop Med Int Health 2014; 19(5): 555-562.
(36). Lohela TJ, Campbell OMR, Gabrysch S. Distance to Care, Facility Delivery and Early Neonatal Mortality in Malawi and Zambia. PloS One 2012; 7(12): e52110.
(37). McKinnon B, Harper S, Kaufman JS, Abdullah M. Distance to Emergency Obstetric Services and Early Neonatal Mortality in Ethiopia. Trop Med Int Health 2014; 19(7): 780-790.
(38). Målqvist M, Sohel N, Do TT, Eriksson L, Persson L-Å. Distance Decay in Delivery Care Utilisation Associated with Neonatal Mortality. A Case Referent Study in Northern Vietnam. BMC Public Health 2010; 10: 762.
(39). Rutherford ME, Dockerty JD, Jasseh M, Howie SR, Herbison P, Jeffries DJ, et al. Access to Health Care and Mortality of Children Under 5 Years of Age in the Gambia: A Case-Control Study. Bull World Health Organ 2009; 87(3): 216-224.
(40). Akello B, Nabiwemba E, Zirabamuzaale C, Orach CG. Risk Factors for Perinatal Mortality in Arua Regional Referral Hospital, West Nile, Uganda. East Afr J Public Health 2008; 5(3): 180-185.
(41). Mtango FD, Neuvians D, Broome CV, Hightower AW, Pio A. Risk Factors for Deaths in Children Under 5 Years Old in Bagamoyo District, Tanzania. Trop Med Parasitol 1992; 43(4): 229-233.
(42). Daga AS, Daga SR. Epidemiology of Perinatal Loss in Rural Maharashtra. J Trop Pediatr 1993; 39(2): 83-85.
(43). Van den Broeck J, Eeckels R, Massa G. Maternal Determinants of Child Survival in a Rural African Community. Int J Epidemiol 1996; 25(5): 998-1004.
(44). Diallo AH, Meda N, Ouédraogo WT, Cousens S, Tylleskar T. A Prospective Study on Neonatal Mortality and Its Predictors in a Rural Area in Burkina Faso: Can MDG-4 Be Met by 2015? J Perinatol 2011; 31(10): 656-663.
(45). Kadobera D, Sartorius B, Masanja H, Mathew A, Waiswa P. The Effect of Distance to Formal Health Facility on Childhood Mortality in Rural Tanzania, 2005-2007. Glob Health Action 2012; 5: 1-9.
(46). Gizaw M, Molla M, Mekonnen W. Trends and Risk Factors for Neonatal Mortality in Butajira District, South Central Ethiopia (1987-2008): A Prospective Cohort Study. BMC Pregnancy Childbirth 2014; 14: 64.
(47). Pasquier JC, Morelle M, Bagouet S, Moret S, Luo ZC, Rabilloud M, et al. Effects of Residential Distance to Hospitals with Neonatal Surgery Care on Prenatal Management and Outcome of Pregnancies with Severe Fetal Malformations. Ultrasound Obstet Gynecol 2007; 29(3): 271-275.
(48). Becher H, Müller O, Jahn A, Gbangou A, Kynast-Wolf G, Kouyaté B. Risk Factors of Infant and Child Mortality in Rural Burkina Faso. Bull World Health Organ 2004; 82(4): 265-273.
(49). Armstrong Schellenberg JR, Mrisho M, Manzi F, Shirima K, Mbuya C, Mushi AK, et al. Health and Survival of Young Children in Southern Tanzania. BMC Public Health 2008; 8: 194.
(50). Moïsi JC, Gatakaa H, Noor AM, Williams TN, Bauni E, Tsofa B, et al. Geographic Access to Care Is Not a Determinant of Child Mortality in a Rural Kenyan Setting with High Health Facility Density. BMC Public Health 2010; 10: 142.
(51). Schoeps A, Gabrysch S, Niamba L, Sié A, Becher H. The Effect of Distance to Health-Care Facilities on Childhood Mortality in Rural Burkina Faso. Am J Epidemiol 2011; 173(5): 492-498.
(52). Almeida Wda S, Szwarcwald CL. Infant Mortality and Geographic Access to Childbirth in Brazilian Municipalities. Rev Saude Publica 2012; 46(1): 68-76.
(53). Terrin N, Schmid CH, Lau J. In an Empirical Evaluation of the Funnel Plot, Researchers Could Not Visually Identify Publication Bias. J Clin Epidemiol 2005; 58(9): 894-901.
(54). Victora CG, Vaughan JP, Barros FC, Silva AC, Tomasi E. Explaining Trends in Inequities: Evidence from Brazilian Child Health Studies. Lancet 2000; 356(9235): 1093-1098.
(55). Apparicio P, Abdelmajid M, Riva M, Shearmur R. Comparing Alternative Approaches to Measuring the Geographical Accessibility of Urban Health Services: Distance Types and Aggregation-Error Issues. Int J Health Geogr 2008; 7: 7.
(56). Yang D-H, Goerge R, Mullner R. Comparing GIS-Based Methods of Measuring Spatial Accessibility to Health Services. J Med Syst 2006; 30(1): 23-32.
(57). Ngui AN, Apparicio P. Optimizing the Two-Step Floating Catchment Area Method for Measuring Spatial Accessibility to Medical Clinics in Montreal. BMC Health Serv Res 2011; 11: 166.
(58). Chanta S, Mayorga ME, McLay LA. Improving emergency service in rural areas: a bi-objective covering location model for EMS systems. Ann Oper Res 2014; 221(1): 133-159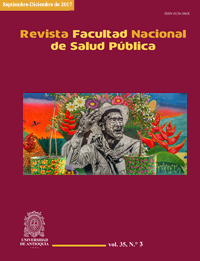 Descargas
Cómo citar
1.
Rojas Gualdrón DF, Caicedo Velázquez B. Distancia al centro de atención en salud y mortalidad durante los primeros años de vida: Revisión sistemática y Metaanálisis. Rev. Fac. Nac. Salud Pública [Internet]. 15 de agosto de 2017 [citado 30 de noviembre de 2023];35(3):420-31. Disponible en: https://revistas.udea.edu.co/index.php/fnsp/article/view/24508
Licencia
El autor o los autores conserva(n) los derechos morales y cede(n) los derechos patrimoniales que corresponderán a la Universidad de Antioquia, para publicarlo, distribuir copias electrónicas, incluirlas en servicios de indización, directorios o bases de datos nacionales e internacionales en Acceso Abierto, bajo la licencia Creative Commons Atribución-No Comercial-Compartir Igual 4.0 Internacional Comercial (CC BY-NC-SA) la cual permite a otros distribuir, remezclar, retocar y crear a partir de la obra de modo no comercial, siempre y cuando se dé crédito respectivo y licencien las nuevas creaciones bajo las mismas condiciones.