Factores asociados con el consumo diario de cigarrillo en estudiantes de medicina de Santa Marta, Colombia
Palabras clave:
Tabaquismo, epidemiología, prevalencia, estudiantes de medicina, factores de riesgo
Resumen
Introducción: el consumo de cigarrillo es un problema de salud pública que muestra una importante prevalencia en los futuros profesionales encargados de prevenir el consumo y promover el abandono del mismo. Objetivo: establecer la prevalencia de consumo diario de cigarrillo durante el último mes en estudiantes de medicina en Santa Marta, Colombia. Métodos: una muestra de 156 estudiantes de medicina de la Universidad del Magdalena, con edades entre 18 y 20 años, completó una encuesta anónima que investigaba en comportamientos de riesgo para la salud, incluyendo el consumo de cigarrillo. Mediante un modelo de regresión logística se identificaron los factores asociados con el consumo diario de cigarrillo. Resultados: la prevalencia de consumo ocasional de cigarrillo durante el último mes fue de 19,9% (IC95% 13,6-26,2) y la prevalencia de consumo diario, de 6,4% (IC95% 2,6-10,2). El sexo masculino (OR=5,31), el consumo de alcohol durante el último mes (OR=5,60) y la historia de consumo de alguna sustancia ilegal (OR=12,0) se asociaron significativamente con el consumo diario de cigarrillo durante el último mes. Conclusiones: el consumo diario de cigarrillo se presenta en aproximadamente el 6,0% de los estudiantes de medicina. Es importante promover el abandono del consumo de cigarrillo en esta población.
|Resumen = 13 veces | PDF = 5 veces|
Descargas
Los datos de descargas todavía no están disponibles.
Citas
(1). Thun MJ, Apicella LF, Henley SJ. Smoking vs others riskfactors as the cause of smoking-attributable deaths. JAMA2000;284:706-712.
(2). Kitajima T, Ohida T, Kamal AMM, Takemura S, NozariN, Kawahara K, et al. Smoking behavior, initiating andcessation factors among Japanese nurses: a cohort study.Public Health 2002;116:347-352.
(3). Fernández ML, Sánchez M. Evolución de la prevalenciade consumo de tabaco entre las médicas y las enfermerasde la comunidad de Madrid. Gac Sanit 2003;17:1-5.
(4). Bello S, Soto M, Michalland S, Salinas J. Encuesta na-cional de tabaquismo en funcionarios de salud. Rev MedChile 2004; 132:223-232.
(5). Jackson C, Dickinson D. Cigarette consumption duringchildhood and persistence of smoking through adolescence. Arch Pediatr Adolesc Med 2004;158:1050-1056.
(6). Richmond R. Teaching medical students about smoking.Tob Control 1999;54:70-78.
(7). Roselli D, Rey O, Calderón C, Rodríguez MN. Smokingin Colombian medical schools: the hidden curriculum.Prev Med 2001;33:170-174.
(8). Sansores RH, Ramírez-Venegas A, Villalba-Caloca J,Herrera-Kiengelher L. Tabaquismo en médicos mexica-nos. Un análisis comparativo con fumadores que no sonmédicos. Rev Invest Clin Mex 2000;52:161-167.
(9). Grossman DW, Knox JJ, Nash C, Jiménez JG. Smoking:attitudes of Costa Rican physicians and opportunities forintervention. Bull WHO 1999;77:315-322.
(10). Kawakami M, Nakamura S, Fumimoto H, Takizawa J,Baba M. Relation between smoking status of physiciansand their enthusiasm to offer smoking cessation advice.Intern Med 1997;36:162-165.
(11). Ohida T, Sakurai H, Mochizuki Y, Kamal AMM, Take-mura S, Minowa M, et al. Smoking prevalence and atti-tudes toward smoking Japanese physicians. JAMA 2001;285:2643-2648.
(12). Colombia. Ministerio de Salud. Resolución 8430 de 1993,octubre 4, por la cual se establecen las normas científicas, técnicas y administrativas para la investigación ensalud. Bogotá: El Ministerio; 1993.
(13). Guillén D, Nerín I, Mas A, Crucelaegui A. Estudio defiabilidad de una encuesta utilizada para valorar la prevalencia, los conocimientos y las actitudes sobre el taba-quismo en estudiantes de medicina. Arch Bronconeumol2003;39:159-166.
(14). SPSS for windows 12.0. Chicago: SPSS Inc.; 2004.
(15). Greenland S. Modeling and variable selection in epide-miologic analysis. Am J Public Health 1989;79:340-349.
(16). Hosmer DW, Taber S, Lemeshow S. The importance ofassessing the fit of logistic regression models: a case study.Am J Public Health 1991;81:1630-1635.
(17). Tessier JF, Fréour PP, Nejjari C, Belougne D, CroftonJW, Tobacco and Health Committee of the InternationalUnion Against Tuberculosis and Lung Disease. TobControl 1992;1:95-101.
(18). Tessier JF, Fréour PP, Nejjari C, Belougne D, CroftonJW. Smoking behaviour and attitudes towards smokingof medical students in Australia, Japan, USA, Russia, andEstonia. Tob Control 1993;2:24-29.
(19). Ahmadi J, Javadpour A. Evaluación del consumo desustancias tóxicas entre estudiantes de ciencias de la saludiraníes. Eur J Psychiatr 2002;16:181-184.
(20). Zhu T, Feng B, Wong S, Choi W, Zhu S-H. A comparisonof smoking behaviors among medical and other collegestudents in China. Health Prom Int 2004;19:189-196.
(21). Patkar AA, Hill K, Batra V, Vergare MJ, Leone FT. Acomparison of smoking habits among medical and nur-sing students. Chest 2003;124:1415-1420.
(22). Chen X, Li X, Stanton B, Mao R, Sun Z, Zhang H, et al.Patterns of cigarette smoking among students from 19colleges and universities in Jiangsu Province, China: a latentclass analysis. Drug Alcohol Depend 2004;76:153-163.
(23). Xiang H, Wang Z, Stallones L, Yu S, Gimbel HW, YangP. Cigarette smoking among medical college students inWuhan, People's Republic of China. Prev Med1999;29:210-215.
(24). Chmura H, Morgan GA, Leech NL, Gliner JA, Vaske JJ,Harmon RJ. Measure of clinical significance. J Am AcadChild Adolesc Psychiatry 2003;42:1524-1529.
(25). Pérez MA, Pinzon-Pérez H. Alcohol, tobacco, and otherpsychoactive drug use among high school students inBogota, Colombia. J Sch Health 2000;70:377-380.
(26). Jackson KM, Sher KJ, Cooper Ml, Wood PK. Adolescentalcohol and tobacco use: onset, persistence and trajectories of use across two samples. Addiction 2002;97:517-531.
(27). Van Der Bree MBM, Whitmer MD, Pickworth WB. Pre-dictors of smoking development in a population sampleof adolescents: a prospective study. J Adolesc Health2004;35:172-181.
(28). Webb E, Ashton CH, Kelli P, Kamli F. Alcohol and druguse in UK university students. Lancet 1996;348:922-925.
(29). Wetter DW, Kenford SL, Welsh SK, Smith SS, FouladiRT, Fiore MC, et al. Prevalence and predictors of tran-sitions in smoking behavior among college students.Health Psychol 2004;23:168-177.
(30). Urrego DZ. Consumo de sustancias psicoactivas en estudiantes de especialidades médicas, Bogotá 2001. RevSalud Pública 2002;4:59-73.
(31). Bierut LJ, Dinwiddie SH, Begleiter H, Crowe RR, Hes-selbrock V, Nurnberger JI, Porjessz B, Schuckit MA,Reich T. Familial transmission of substance dependence:alcohol, marijuana, cocaine, and habitual smoking. ArchGen Psychiatry 1998;55:982-988.
(32). Rhee SH, Hewitt JK, Young SE, Corley RP, Crowley TJ,Stallings MC. Genetic and environmental influences onsubstance initiation, use, and problem use in adolescents.Arch Gen Psychiatry 2003;60:1256-1264.
(33). Lewinsohn PM, Rohde P, Brown RA. Level of currentand past adolescent cigarette smoking as predictor offuture substance use disorders in young adulthood. Addic-tion 1999;94:913-921.
(34). Fichtenberg CM, Glantz SA. Effect of smoke-free workplaces on smoking behaviour: systematic review. BMJ2002;325:188-194.
(35). Murphy-Hoefer R, Griffith R, Pederson LL, Crossett L,Iyer SR, Hiller MD. A review of interventions of reducetobacco use in colleges and universities. Am J Prev Med2005;28:188-200.
(36). Der DE, You Y-Q, Wolter TD, Bowen GA, Dale LC. Afree smoking intervention clinic initiated by medical stu-dents. Mayo Clin Proc 2001;76:144-151.
(37). Posada JA, Torres Y. Estudio nacional de salud mental yconsumo de sustancias psicoactivas, Colombia, 1993.Bogotá: Ministerio de Salud; 1995.
(38). de Irala J, Martínez-González MA, Guillén F. ¿Qué esuna variable de confusión? Med Clin (Barc)2001;117:377-385.
(39). Castaneda JA, Gil JF. Una mirada a los intervalos deconfianza en investigación. Rev Colomb Psiquiatr2004;33:193-201.
(40). Mann CJ. Observational research methods. Researchdesign II: cohort, cross sectional, and case-control stu-dies. Emerg Med J 2003;20:54-60.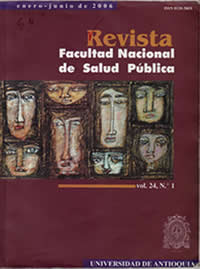 Descargas
Cómo citar
1.
Ceballos GA, del Gordo R, Campo-Arias A. Factores asociados con el consumo diario de cigarrillo en estudiantes de medicina de Santa Marta, Colombia. Rev. Fac. Nac. Salud Pública [Internet]. 11 de noviembre de 2008 [citado 1 de diciembre de 2021];24(1). Disponible en: https://revistas.udea.edu.co/index.php/fnsp/article/view/282
Licencia
El autor o los autores conserva(n) los derechos morales y cede(n) los derechos patrimoniales que corresponderán a la Universidad de Antioquia, para publicarlo, distribuir copias electrónicas, incluirlas en servicios de indización, directorios o bases de datos nacionales e internacionales en Acceso Abierto, bajo la licencia Creative Commons Atribución-No Comercial-Compartir Igual 4.0 Internacional Comercial (CC BY-NC-SA) la cual permite a otros distribuir, remezclar, retocar y crear a partir de la obra de modo no comercial, siempre y cuando se dé crédito respectivo y licencien las nuevas creaciones bajo las mismas condiciones.