Aglomeración urbana en la estimación de escenarios de riesgo sanitario por emisiones de gasolineras: el caso de Ensenada, Baja California
Palabras clave:
benceno, compuestos orgánicos volátiles, gasolineras, contaminación del aire, aglomeración, cartografía, riesgo sanitario
Resumen
Objetivo: se propone una herramienta conceptual y metodológica mediante la cual es posible representar la contribución de los componentes sociales, económicos y territoriales en la aglomeración de personas dentro de una ciudad, para delimitar zonas de riesgo sanitario por la exposición a emisiones de gasolina en estaciones de servicio. Resultados: el modelo propuesto facilita la focalización, identificación y priorización las zonas de riesgo por contaminación ambiental por BTEX liberados por gasolineras. Discusión: la inclusión en modelos espaciales de riesgo, del número de personas que acuden a construcciones como escuelas y hospitales que generan aglomeración, trasciende el ámbito conceptual y ofrece aspectos metodológicos e instrumentales para lograr modelos más robustos y aplicables en otras ciudades. Las agencias gubernamentales deben considerar estos resultados para el establecimiento de reglas, permisos y procedimientos de ejecución con el fin de reducir la contaminación del medio ambiente y, con esto, mejorar las condiciones sanitarias en el entorno complejo de una zona urbana. Conclusiones: el análisis espacial integrado no resuelve las complicadas negociaciones políticas y sociales que se tienen que hacer en la toma de decisiones sobre los riesgo sanitario, lo que sí mejora es la capacidad de los científicos y tomadores de decisiones en la identificación, evaluación, control y reducción de estos riesgos asociados con las emisiones de las estaciones de servicio.
|Resumen = 231 veces | PDF = 158 veces|
Descargas
Los datos de descargas todavía no están disponibles.
Citas
(1). Ferrier N, Haque CE. Hazards Risk Assessment Methodology for Emergency Managers: A Standardized Framework for Application. Nat Hazards 2003; 28(2-3): 271-290.
(2). Gaviria CF, Muñoz JC, González GJ. Contaminación del aire y vulnerabilidad de individuos expuestos: un caso de estudio para el centro de Medellín. Rev Fac Nac Salud Pública [revista en Internet] 2012 septiembre-diciembre [Acceso 15 de abril de 2016]; 30(3): 316-327. Disponible en: http://bases.bireme.br/cgi-bin/ wxislind.exe/iah/online/?IsisScript=iah/iah.xis&src=google&bas e=LILACS&lang=p&nextAction=lnk&exprSearch=669245&ind exSearch=ID
(3). Gulland A. One in Eight Deaths Is Due to Air Pollution, Says WHO. Bmj [revista en Internet] 2014 [Acceso 20 de junio de 2016]; 348: g2379. Disponible en: http://www.bmj.com/content/348/bmj.g2379
(4). Stewart BW, Wild CP. World Cancer Report 2014. [Internet] Geneva: World Heal Organization; 2014 [Acceso 5 de mayo de 2016]. Disponible en: http://publications.iarc.fr/Non-Series-Publications/World-Cancer-Reports/World-Cancer-Report-2014
(5). Venkatesan P. WHO Report: Air Pollution Is a Major Threat to Health. Lancet Respir Med [revista en Internet] 2016 may. [Acceso 13 de Julio de 2016]; 4(5): 351. Disponible en: http://dx.doi. org/10.1016/S2213-2600(16)30014-5
(6). Wilbur S, Williams M, Williams R, Scinicariello F, Klotzbach JM, Diamond GL, et al. Toxicological Profile for Carbon Monoxide. US Agency Toxic Subst Dis Regist 2012; 1-347.
(7). Periago JF, Zambudio A, Prado C. Evaluation of Environmental Levels of Aromatic Hydrocarbons in Gasoline Service Stations by Gas Chromatography. J Chromatogr A 1997; 778(1-2): 263-268.
(8). Haro-García L, Vélez-Zamora N, Aguilar-Madrid G, GuerreroRivera S, Sánchez-Escalante V, Muñoz SR, et al. Alteraciones hematológicas en trabajadores expuestos ocupacionalmente a mezcla de benceno-tolueno-xileno (BTX) en una fábrica de pinturas. Rev Peru Med Exp Salud Pública 2012; 29(2): 181-187.
(9). IARC. IARC Monographs on the Evaluation of the Carcinogenic Risk of Chemicals to Humans. Some Industrial Chemicals and Dyestuffs. Volume 29. [monograph on Internet]. Geneva: World Heal Organization; 1982 [Acceso 14 de marzo de 2017] Disponible en: http://monographs.iarc.fr/ENG/Monographs/vol1-42/ mono29.pdf
(10). Pla-Martínez A. Toxicidad de los disolventes. En: Gil-Hernández F, editor. Tratado de Medicina del Trabajo. 2° ed. Barcelona: Elsevier-Masson; 2012. Págs. 759-760.
(11). Lovreglio P, D'Errico MN, Fustinoni S, Drago I, Barbieri A, Sabatini L, et al. Assessment of Environmental Exposure to Benzene: Traditional and New Biomarkers of Internal Dose. En: Popović D, editor. Air Quality-Models and Applications. InTech; 2011. Pág. 376. DOI: 10.5772/16915
(12). Chen R, Semple S, Dick F, Seaton A. Nasal, Eye, and Skin Irritation in Dockyard Painters. Occup Environ Med 2001; 58(8): 542-543.
(13). Kaufman DW, Anderson TE, Issaragrisil S. Risk Factors for Leukemia in Thailand. Ann Hematol 2009; 88(11): 1079-1088.
(14). Richardson DB. Temporal Variation in the Association between Benzene and Leukemia Mortality. Environ Health Perspect 2008; 116(3): 370-374.
(15). Smith MT, Jones RM, Smith AH. Benzene Exposure and Risk of Non-Hodgkin Lymphoma. Cancer Epidemiol Biomarkers Prev [revista en Internet] 2007 march. [Acceso 14 de marzo de 2017];16(3): 385-391. Disponible en: http://www.ncbi.nlm.nih.gov/pubmed/17337645
(16). Collins J, Ireland B, Buckley C, Shepperly D. Lymphohaematopoeitic Cancer Mortality Among Workers with Benzene Exposure. Occup Environ Med [revista en Internet]. 2003 september. [Acceso 13 de Julio de 2016 ]; 60(9): 676-679. Disponible en: http://www.pubmedcentral.nih.gov/articlerender.fcgi?artid=1740 628&tool=pmcentrez&rendertype=abstract
(17). Hayes RB, Yin SN, Dosemeci M, Li GL, Wacholder S, Travis LB, et al. Benzene and the Dose-Related Incidence of Hematologic Neoplasms in China. Chinese Academy of Preventive Medicine-National Cancer Institute Benzene Study Group. J Natl Cancer Inst 1997; 89(14): 1065-1071.
(18). Rinsky RA, Hornung RW, Silver SR, Tseng CY. Benzene Exposure and Hematopoietic Mortality: A Long-Term Epidemiologic Risk Assessment. Am J Ind Med 2002; 42(6): 474-480.
(19). Kipen HM, Cody RP, Crump KS, Allen BC, Goldstein BD. Hematologic Effects of Benzene: A Thirty-Five Year Longitudinal Study of Rubber Workers. Toxicol Ind Health 1988; 4(4): 411-430.
(20). Bollati V, Baccarelli A, Hou L, Bonzini M, Fustinoni S, Cavallo D, et al. Changes in DNA Methylation Patterns in Subjects Exposed to Low-Dose Benzene. Cancer Res 2007; 67(3): 876-880.
(21). Akland GG, Schwab M, Zenick H, Pahl D. An Interagency Partnership Applied to the Study of Environmental Health in the Lower Rio Grande Valley of Texas. Environ Int 1997; 23(5): 595-609.
(22). Clayton CA, Pellizzari ED, Whitmore RW, Perritt RL, Quackenboss JJ. National Human Exposure Assessment Survey (NHEXAS): Distributions and Associations of Lead, Arsenic and Volatile Organic Compounds in EPA Region 5. J Expo Anal Environ Epidemiol [revista en Internet] 1999 september-october. [Acceso 10 de Julio de 2016]; 9(5): 381-392. Disponible en: http:// www.ncbi.nlm.nih.gov/pubmed/10554141
(23). Cohen MA, Ryan PB, Yanagisawa Y, Spengler JD, Ozkaynak H, Epstein PS. Indoor/Outdoor Measurements of Volatile Organic Compounds in the Kanawha Valley of West Virginia. JAPCA 1989; 39(8): 1086-1093.
(24). Kinney PL, Chillrud SN, Ramstrom S, Ross J, Spengler JD. Exposures to Multiple Air Toxics in New York City. Environ Health Perspect 2002; 110 (Suppl 4): 539-546.
(25). Periago JF, Prado C. Evolution of Occupational Exposure to Environmental Levels of Aromatic Hydrocarbons in Service Stations. Ann Occup Hyg 2005; 49(3): 233-240.
(26). Little S, Cram G. Atmospheric Benzene Concentrations Near Petrol Service Stations in Middlesbrough. Clean Air 1995; 25(3): 140-147.
(27). US/EPA. Health and Environmental Effects Profile for Pyrene [Internet]; 1990. [Acceso 13 de agosto de 2016]. Disponible en: https://cfpub.epa.gov/ncea/iris_drafts/recordisplay. cfm?deid=50309
(28). Weisel CP. Assessing Exposure to Air Toxics Relative to Asthma. Environmental Health Perspectives 2002; 110(Suppl 4): 527-537.
(29). Bahrami AR, Joneidi Jafari A, Ahmadi H, Mahjub H. Comparison of Benzene Exposure in Drivers and Petrol Stations Workers by Urinary Trans, Trans-Muconic Acid in West of Iran. Ind Health 2007; 45(3): 396-401.
(30). Tunsaringkarn T, Siriwong W, Rungsiyothin A, Nopparatbundit S. Occupational Exposure of Gasoline Station Workers to BTEX Compounds in Bangkok, Thailand. Int J Occup Environ Med 2012; 3(3): 117-125.
(31). Hartle R. Exposure to Methyl Tert-Butyl Ether and Benzene Among Service Station Attendants and Operators. Environmental Health Perspectives 1993; 101(Suppl 6): 23-26.
(32). Campos A. Algunas consideraciones sobre los mapas de riesgo. CRID/Bibloides [revista en Internet] 2002 octubre. [Acceso 21 de abril de 2016]; 30. Disponible en: http://www.cridlac.org/esp_ ser_bibliodes_30.shtml
(33). Morales Terrés IM, Miñarro MD, Ferradas EG, Caracena AB, Rico JB. Assessing the Impact of Petrol Stations on Their Immediate Surroundings. J Environ Manage 2010; 91(12): 2754-2762.
(34). Ruchirawat M, Navasumrit P, Settachan D. Exposure to Benzene in Various Susceptible Populations: Co-Exposures to 1, 3-Butadiene and PAHs and Implications for Carcinogenic Risk. Chem Biol Interact 2010; 184(1-2): 67-76.
(35). Torres A, Espinosa G, Ilizaliturri C, González DJ, Razo I, Mejía J, et al. Desarrollo de una metodología para la evaluación integrada de riesgos ambientales en sitios peligrosos de México [Internet]. México D.F: INE; 2005 [Acceso 14 de marzo de 2016]. Disponible en: http://www.infoleg.gob.ar/infolegInternet/anexos/85000-89999/85854/norma.htm
(36). Zepeda M, González S. Diagnóstico de peligros e identificación de riesgos de desastres en México. Atlas Nacional de Riesgos de la República Mexicana [Internet]. México D.F: Centro Nacional de Prevención de Desastres; 2001. [Acceso 03 de abril de 2016]. Disponible en: http://www.acapulco.gob.mx/proteccioncivil/fasiculos/Fasc_Peligros_Mexico.pdf
(37). Bennett DA. Framework for the Integration of Geographical Information Systems and Modelbase Management. Int J Geogr Inf Sci 1997; 11(4):337-357.
(38). US EPA. Air Quality Index. A Guide to Air Quality and Your Health [revista en Internet] 2003 august [Acceso 05 de febrero de 2016]. Disponible en: http://www.njaqinow.net/App_AQI/AQI. en-US.pdf
Neulicht R, Shular J. Compilation of Air Pollutant Emission Factors. Volume I: Stationary Point and Area Sources [Internet]; 1995 [Acceso 05 de febrero de 2016]. Disponible en: https://www3.epa. gov/ttn/chief/ap42/ch11/final/c11s05.pdf
(40). EPA U. Compilation of Air Pollutant Emission Factors Fifth Edition Volume 1 Part 3 [Internet]; 1995 [Acceso 10 de Julio de 2016]. Available in: https://nepis.epa.gov/Exe/ZyPDF.cgi/20014AJY. PDF?Dockey=20014AJY.PDF
(41). Silva FLDN, Dos Santos JR, Neto JMM, Da Silva RLGDNP, Flumignan DL, De Oliveira JE. Determinação de benzeno, tolueno, etilbenzeno e xilenos em gasolina comercializada nos postos do estado do Piauí. Quim Nova 2009; 32(1): 56-60.
(42). Santos Mdos A, Távora BE, Koide S, Caldas ED. Human Risk Assessment of Benzene After a Gasoline Station Fuel Leak. Rev Saude Publica 2013; 47(2): 335-344.
(43). Karakitsios SP, Delis VK, Kassomenos PA, Pilidis GA. Contribution to Ambient Benzene Concentrations in the Vicinity of Petrol Stations: Estimation of the Associated Health Risk. Atmos Environ 2007; 41(9): 1889-1902.
(44). Correa SM, Arbilla G, Marques MRC, Oliveira KMPG. The Impact of BTEX Emissions from Gas Stations Into the Atmosphere. Atmos Pol Res [revista en Internet] 2012 [Acceso 03 de mayo de 2016]; 3(2):163-169. DOI: 10.5094/APR.2012.016
(45). Hystad P, Setton E, Cervantes A, Poplawski K, Deschenes S, Brauer M, et al. Creating national air pollution models for population exposure assessment in Canada. Environ Health Perspect 2011; 119(8): 1123-1129.
(46). Blaikie P, Cannon T, Davis I, Wisner B. At Risk: Natural Hazards, People's Vulnerability, and Disasters. 2a ed. Routledge: Nueva York; 2013.
(47). Salazar JE, Vélez IC. Índice de Riesgo Sísmico Urbano. Sci Tech 2003; 1(21): 163-168.
(48). United Nations. International Strategy for Disaster Reduction Hyogo Framework for Action 2005-2015: Building the Resilience of Nations. World Conf Disaster Reduct 2005; 25.
(49). Gaviria CF, Benavides PC, Tangarife CA. Contaminación por material particulado (PM2,5 y PM10) y consultas por enfermedades respiratorias en Medellín (2008-2009). Rev Fac Nac Salud Pública 2011; 29(3): 241-250.
(50). Muñoz AM, Paz JJ, Quiroz CM. Efectos de la contaminación atmosférica sobre la salud de adultos que laboran en diferentes niveles de exposición. Rev Fac Nac Salud Pública [revista en Internet] 2007 julio [Acceso 13 de abril de 2016]; 25(2): 85-94. Disponible en: http://www.scielo.org.co/scielo.php?pid=S0120- 386X2007000200010&script=sci_abstract&tlng=es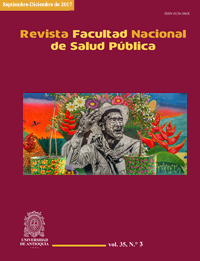 Descargas
Cómo citar
1.
García Zárate MA, Arellano García ME, Villada Canela M, Aceves Calderón PM, Ruiz Arellano AE, Von Glascoe CA, Quintero Núñez M. Aglomeración urbana en la estimación de escenarios de riesgo sanitario por emisiones de gasolineras: el caso de Ensenada, Baja California. Rev. Fac. Nac. Salud Pública [Internet]. 19 de septiembre de 2017 [citado 27 de noviembre de 2021];35(3):322-34. Disponible en: https://revistas.udea.edu.co/index.php/fnsp/article/view/327213
Licencia
El autor o los autores conserva(n) los derechos morales y cede(n) los derechos patrimoniales que corresponderán a la Universidad de Antioquia, para publicarlo, distribuir copias electrónicas, incluirlas en servicios de indización, directorios o bases de datos nacionales e internacionales en Acceso Abierto, bajo la licencia Creative Commons Atribución-No Comercial-Compartir Igual 4.0 Internacional Comercial (CC BY-NC-SA) la cual permite a otros distribuir, remezclar, retocar y crear a partir de la obra de modo no comercial, siempre y cuando se dé crédito respectivo y licencien las nuevas creaciones bajo las mismas condiciones.