Morbilidad perioperatoria de pacientes con quemaduras mayores al 5% de la superficie corporal total en el Hospital Universitario San Vicente Fundación - Medellín
Olga Lucía Giraldo Salazar

Universidad de Antioquia

Marco Antonio Hoyos Franco

Hospital Universitario San Vicente Fundación

Camilo Lain Negrete Álvarez

Universidad de Antioquia
Palabras clave:
Quemaduras, complicaciones en quemados, morbilidad perioperatoria, anemia, infección, sepsis, falla renal, muerte
Resumen
Objetivo: Describir la morbilidad perioperatoria de los pacientes con quemaduras mayores del 5 % de la superficie corporal total (sct) sometidos a cirugía de cubrimiento con injertos de piel.
Metodología: Estudio observacional tipo serie retrospectiva de casos, realizado entre junio de 2014 y noviembre de 2017.
Resultados: Fueron evaluados 50 pacientes, 56 % mujeres y 44 % hombres; el 60 % de los casos se presentaron en menores de 40 años. El principal agente causal fue la quemadura por llama, con un 56 %, y el 48 % de los pacientes tenía compromiso entre el 21 y el 50 % de la superficie corporal. Para el acto quirúrgico,
el 54 % de los pacientes ingresó con hemoglobina entre 10 y 12,9 g / dL, y el 44 %, entre 7 y 9,9 g / dL. El 78 % requirió transfusión de hemoderivados en el intraoperatorio, además del uso de cristaloides en el 94 % de los casos. No hubo fallecidos en las primeras 24 horas postoperatorias, pero sí durante la estancia hospitalaria, con una mortalidad del 4 %, asociada en todos los casos a sepsis. 
Conclusión: Los pacientes con quemaduras mayores del 5 % de la sct sometidos a cirugía de cubrimiento con injerto de piel presentan una alta incidencia de complicaciones perioperatorias, entre las que destacan: anemia, sepsis, estancia en unidades de cuidado intensivo e incluso mortalidad. Dichas complicaciones se asocian principalmente al compromiso dado por el área de superficie corporal quemada.
|Resumen = 99 veces | PDF = 77 veces|
Descargas
La descarga de datos todavía no está disponible.
Citas
(1). Kimy R. Harbin, Teresa E. Norris. Anesthetic Management of Patients With Major Burn Injury. AANA Journal. December 2012. Vol. 80, No. 6. p.430-439
(2). Zapata Sirvent RL, Jiménez Castillo CJ, Besso J, editores. Quemaduras. Tratamiento crítico y quirúrgico. Actualización 2005. Caracas: Editorial Ateproca;2005. p.353-363.
(3). Young J, Thomas JG, Vasilopoulos T. Impact of anaemia on outcome in burn patients. Anaesthesiology Intensive Therapy 2018, vol. 50, no 1, 11–19.
(4). Kimmel L.A, Wilson S, Walker R.G, Singer Y, Cleland H. Acute Kidney Injury: It's not just the 'big' burns. Injury, Int. J. Care Injured 49 (2018) 213–218.
(5). Costa Santos D, Barros F, Gomes N, Guedes T, Maia M. The effect of comorbidities and complications on the mortality of burned patients. Ann Burns Fire Disasters. 2017 Jun 30; 30(2): 103–10.
(6). Knowlin L, Reid T, Williams F, Cairns B, Charles A. Burn mortality in patients with preexisting cardiovascular disease. Burns 43 (2017) 949 – 955.
(7). Pruitt BA Jr. McManus AT. The changing epidemiology of infection in burn patients. World J Surg. 1992;16:57-67.
(8). Stanojcic M, Vinaik R, Jeschke MG. Status and Challenges of Predicting and Diagnosing Sepsis in Burn Patients. Surgical Infections Volume 19, Number 2, 2018, p.168-175.
(9). Greenhalgh DG, Saffle JR, Holmes JH 4th, et al. American Burn Association consensus conference to define sepsis and infection in burns. J Burn Care Res 2007;28:776–790.
(10). Mann-Salinas EA, Baun MM, Meininger JC, et al. Novel predictors of sepsis outperform the American Burn Association sepsis criteria in the burn intensive care unit patient. J Burn Care Res 2013;34:31–43.
(11). Chen P, Stanojcic M, Jeschke MG. Septic Predictor Index: A novel platform to identify thermally injured patients susceptible to sepsis. Surgery. 2018 Feb;163(2):409-414.
(12). Yan S, Tsurumi A, Que YA, et al. Prediction of multiple infections after severe burn trauma: A prospective cohort study. Ann Surg 2015;261:781–792.
(13). Hoyos M, Gonzales N, Díaz M, Pardo S, Ospina S. Epidemiological and clinical profile of burn victims, Hospital Universitario San Vicente de Paúl, Medellín, 1994-2004. Burns 2006; 32: 1044-1051
(14). Jeschke MG, Patsouris D, Stanojcic M, et al. The pathophysiological response to burns in elderly. EBioMedicine 2015;2:1536–1548.
(15). Stanojcic M, Chen P, Xiu F, Jeschke MG. Impaired immune response in elderly burn patients: New insights into the immune-senescence phenotype. Ann Surg 2016;264;195–202.
(16). Hoyos F MA, Hoyos R C. Manejo inicial del paciente quemado. En: Gómez Z LM, Morales CH, Isaza J LF editores. El paciente urgente. Primera edición. Medellín: CIB, 2010, 739-754
(17). Kobayashi K, Ikeda H, Higuchi R, Nozaki M, Yamamoto Y, Urabe M, et al. Epidemiological and outcome characteristics of major burns in Tok. Burns 2005;31(Suppl 1):S3–11.
(18). Posluszny JA Jr, Gamelli RL. Anemia of thermal injury: combined acute blood loss anemia and anemia of critical illness. J Burn Care Res. 2010 Mar-Apr;31(2):229-42
(19). Palmieri TL, Caruso DM, Foster KN, Cairns BA, Peck MD, Gamelli RL, Mozingo DW, Kagan RJ, Wahl W, Kemalyan NA, Fish JS, Gomez M, Sheridan RL, Faucher LD, Latenser BA, Gibran NS, Klein RL, Solem LD, Saffle JR, Morris SE, Jeng JC, Voigt D, Howard PA, Molitor F, Greenhalgh DG, American Burn Association Burn Multicenter Trials Group. Effect of blood transfusion on outcome after major burn injury: a multicenter study. Crit Care Med. 2006 Jun; 34 (6):1602-7.
(20). Jeschke MG, Herndon DN. Blood transfusion in burns: benefit or risk? Crit Care Med. 2006 Jun; 34 (6):1822-3.
(21). Kwan P, Gomez M, Cartotto R. Safe and successful restriction of transfusion in burn patients. J Burn Care Res. 2006 Nov-Dec; 27(6):826-34.
(22). Cartotto R, Musgrave MA, Beveridge M, Fish J, Gomez M. Minimizing blood loss in burn surgery. J Trauma. 2000 Dec; 49 (6):1034-9.
(23). De-Souza DA, Marchesan WG, Greene LJ. Epidemiological data and mortality rate of patients hospitalized with burns in Brazil. Burns 1998;24(5):433–8.
(24). Maghsoudi H, Pourzand A, Azarmir G. Etiology and outcome of burns in Tabriz, Iran. An analysis of 2963 case. Scand J Surg 2005;94(1):77– 81.
(25). Strassle P, Williams F, Napravnik S et al. Improved Survival of Patients With Extensive Burns: Trends in Patient Characteristics and Mortality Among Burn Patients in a Tertiary Care Burn Facility, 2004–2013. J Burn Care Res 2017;38:187–193.
(26). Singer M, Deutschman CS, Seymour CW, et al. The Third International Consensus Definitions for Sepsis and Septic Shock (Sepsis-3). JAMA 2016;315:801–810.
(27). Barret JP, Dziewulski PG. Complications of the hypercoagulable status in burn injury. Burns. 2006 Dec; 32(8):1005-8.
(28). King DR, Namias N, Andrews DM. Coagulation abnormalities following thermal injury. Blood Coagul Fibrinolysis. 2010 Oct; 21(7):666-9.
(29). Wahl WL, Brant MM. Potential risk factors for Deep venous thrombosis in burned patients. J Burn Care Rehabil. 2001;22:128-131.
(30). Wahl WL, Brant MM, Ahrns KS, et al. Venous thrombosis incidence in burn patients. Preliminary results of a prospective study. J Burn Care Rehabil. 2002;23:97-102.
(31). Fecher AM, O´Mara MS, Goldfarb IW, et al. Analysis of deep vein thrombosis in burn patients. Burns. 2004;30:591- 593.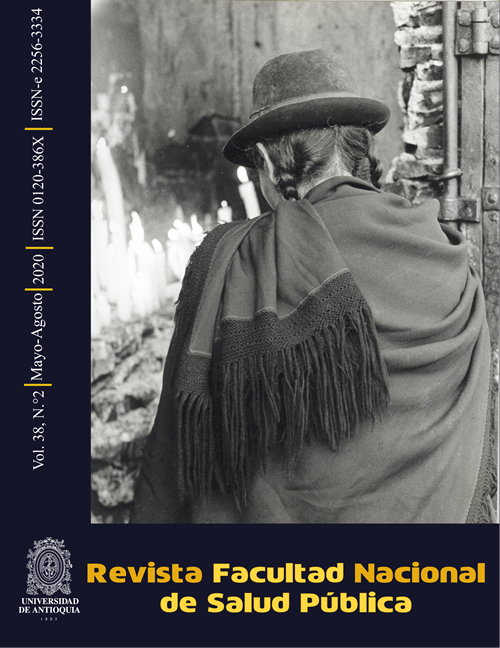 Cómo citar
Giraldo Salazar, O. L., Hoyos Franco, M. A., & Negrete Álvarez, C. L. (2020). Morbilidad perioperatoria de pacientes con quemaduras mayores al 5% de la superficie corporal total en el Hospital Universitario San Vicente Fundación - Medellín. Revista Facultad Nacional De Salud Pública, 38(2), 1-10. Recuperado a partir de https://revistas.udea.edu.co/index.php/fnsp/article/view/338691
Sección
Condiciones de salud
Derechos de autor 2020 Universidad de Antioquia
Esta obra está bajo licencia internacional
Creative Commons Reconocimiento-NoComercial-CompartirIgual 4.0
.
El autor o los autores conserva(n) los derechos morales y cede(n) los derechos patrimoniales que corresponderán a la Universidad de Antioquia, para publicarlo, distribuir copias electrónicas, incluirlas en servicios de indización, directorios o bases de datos nacionales e internacionales en Acceso Abierto, bajo la licencia Creative Commons Atribución-No Comercial-Compartir Igual 4.0 Internacional Comercial (CC BY-NC-SA) la cual permite a otros distribuir, remezclar, retocar y crear a partir de la obra de modo no comercial, siempre y cuando se dé crédito respectivo y licencien las nuevas creaciones bajo las mismas condiciones.