Costos del cáncer ocupacional: una scoping review
Palabras clave:
cáncer profesional, costo de enfermedad, costos y análisis de costo, exposición profesional, salud laboral
Resumen
Introducción: la carga debida al cáncer es alta, y además de su impacto en la salud de las personas tiene efectos económicos.
Objetivo: identificar los costos asociados al cáncer como resultado de la exposición ocupacional.
Métodos: se realizó una scoping review. Para esta se hizo una búsqueda sistemática de acuerdo con la pregunta PECO en las siguientes bases de datos indexadas: Scopus, Web of Science, Embase, Science Direct, Academic Search Complete (EBSCO), BVS y PubMed. Como criterios de elegibilidad de los escritos estaba que se tratara sobre cáncer de origen ocupacional y que mencionara los costos; se seleccionaron 19 artículos.
Resultados: entre los estudios se identificaron los países donde se han hecho investigaciones al respecto, el tipo de estudio, los tipos de cáncer, sus costos y métodos de estimación. En cuanto a los costos, se encontraron principalmente trabajos centrados en los costos directos, es decir, los que representan la atención en salud, dejando de lado el análisis de los que son indirectos, es decir los que están relacionados con la pérdida de la productividad.
Conclusión: se concluye que se requiere de un abordaje interdisciplinario para el análisis de los costos, con el fin de mejorar la comprensión de estos y particularmente la de los indirectos.
|Resumen = 432 veces | PDF = 402 veces|
Descargas
Los datos de descargas todavía no están disponibles.
Citas
(1) Davoodi S, Safdari R, Ghazisaeidi M, Mohammadzadeh Z, Azadmanjir Z. Prevention and Early Detection of Occupational Cancers - a View of Information Technology Solutions. Asian Pac J Cancer Prev. 2015;16(14):5607-11. DOI 10.7314/apjcp.2015.16.14.5607.
(2) IHME. Findings from the Global Burden of Disease Study 2017 [Internet]. [Cited 2019 Jun 23]. Available from: https://n9.cl/wfuq
(3) GBD 2016 Occupational Risk Factors Collaborators. Global and regional burden of disease and injury in 2016 arising from occupational exposures: a systematic analysis for the Global Burden of Disease Study 2016. Occup Environ Med. 2020;77(3):133-41. DOI 10.1136/oemed-2019-106008.
(4) Rushton L. The Global Burden of Occupational Disease. Curr Environ Health Rep. 2017;4(3):340-8. DOI 10.1007/s40572-017-0151-2.
(5) Payne JI, Pichora E. Filing for workers' compensation among Ontario cases of mesothelioma. Can Respir J. 2009;16(5):148-52. DOI 10.1155/2009/364258.
(6) Serra C, Valiño-Carrete M, Cots F, Trapero-Bertran M, Benavides FG, Breves O. Costes sanitarios de las enfermedades profesionales: análisis de una serie de pacientes de un hospital público. Arch Prev Riesgos Labor. 2019;22(4):171-5. DOI 10.12961/aprl.2019.22.04.03.
(7) Clin B, Ferrant O, Marquignon MF, Letourneux M. Comparative analysis of medicolegal compensation for occupational cancers in France and other western European countries: development proposals. Med Law. 2009;28(4):615-36.
(8) Lippel K. Preserving workers' dignity in workers' compensation systems: an international perspective. Am J Ind Med. 2012;55(6):519-36. DOI 10.1002/ajim.22022.
(9) Riaño-Casallas MI, Palencia-Sánchez F. Los costos de la enfermedad laboral: revisión de literatura. Rev Fac Nac Salud Pública [Internet]. 2015 Jun 1 [cited 2018 Oct 12];33(2):218–27. Available from: https://n9.cl/zih6a
(10) Riaño-Casallas MI, Palencia-Sánchez F. Dimensión económica de la seguridad y la salud en el trabajo: Una revisión de literatura. Rev Gerenc y Polit Salud. 2016;15(30). DOI 10.11144/Javeriana.rgyps15-30.dess.
(11) Tricco AC, Lillie E, Zarin W, O'Brien KK, Colquhoun H, Levac D, et al. PRISMA extension for scoping reviews (PRISMA-ScR): Checklist and explanation. Ann Intern Med. 2018;169(7):467–73. DOI 10.7326/M18-0850.
(12) Munn Z, Peters MDJ, Stern C, Tufanaru C, McArthur A, Aromataris E. Systematic review or scoping review? Guidance for authors when choosing between a systematic or scoping review approach. BMC Med Res Methodol. 2018;18(1):1–7. DOI 10.1186/s12874-018-0611-x.
(13) Santos CM da C, Pimenta CA de M, Nobre MRC. The PICO strategy for the research question construction and evidence search. Rev Lat Am Enfermagem. 2007 Jun;15(3):508–11. DOI 10.1590/S0104-11692007000300023.
(14) Pimentel-Nieto D, Morales-Carmona F. Medicina basada en la evidencia. Intención clínica: Pronóstico. Perinatol Reprod Hum. 2010;24(3):202-06.
(15) Moher D, Liberati A, Tetzlaff J, Altman DG; PRISMA Group. Preferred reporting items for systematic reviews and meta-analyses: the PRISMA statement. Ann Intern Med. 2009;151(4):264-W64. DOI 10.7326/0003-4819-151-4-200908180-00135.
(16) Veritas Health Innovation. Covidence systematic review software [Internet]. Australia: Melbourne; 2013.[Consultado 2020 feb 20]. Dispobible en: www.covidence.org
(17) Grimani A, Bergström G, Casallas MIR, Aboagye E, Jensen I, Lohela-Karlsson M. Economic Evaluation of Occupational Safety and Health Interventions From the Employer Perspective: A Systematic Review. J Occup Environ Med. 2018;60(2):147-66. DOI 10.1097/JOM.0000000000001224.
(18) Palencia-Sánchez F, García Vega O, Riaño-Casallas MI. Métodos de Valoración de los Costos Indirectos de la Enfermedad Laboral. In: 19a Semana de la Salud Ocupacional. Medellín; 2013. [Internet]. [Consultado 2020 feb 26]. Disponible en: https://n9.cl/iun7c
(19) Sucharew H, Macaluso M. Progress Notes: Methods for Research Evidence Synthesis: The Scoping Review Approach. J Hosp Med. 2019;14(7):416-418. DOI 10.12788/jhm.3248.
(20) Jung YL, Tompa E, Longo C, Kalcevich C, Kim J, Song C, et al. The Economic Burden of Bladder Cancer Due to Occupational Exposure. J Occup Environ Med. 2018 Mar 1;60(3):217–25. DOI 10.1097/JOM.0000000000001242.
(21) Kirkham TL, Koehoorn MW, McLeod CB, Demers PA. Surveillance of mesothelioma and workers' compensation in British Columbia, Canada. Occup Environ Med. 2011;68(1):30-5. DOI 10.1136/oem.2009.048629.
(22) Mofidi A, Tompa E, Spencer J, et al. The economic burden of occupational non-melanoma skin cancer due to solar radiation. J Occup Environ Hyg. 2018;15(6):481-91. DOI 10.1080/15459624.2018.1447118.
(23) Wranik WD, Muir A, Hu M. Costs of productivity loss due to occupational cancer in Canada: estimation using claims data from Workers' Compensation Boards. Health Econ Rev. 2017;7(1):9. DOI 10.1186/s13561-017-0145-7.
(24) García Gómez M, Castañeda López R, Urbanos Garrido R, López Menduiña P, Markowitz S. Medical costs of cancer attributable to work in the Basque Country (Spain) in 2008. Gac Sanit. 2013;27(4):310-7. DOI 10.1016/j.gaceta.2013.01.002.
(25) García-Gómez M, Garrido RU, López RC, Menéndez-Navarro A. Medical costs of asbestos-related diseases in Spain between 2004 and 2011. Ind Health. 2017;55(1):3-12. DOI 10.2486/indhealth.2016-0021.
(26) García Gómez M, Urbanos Garrido R, Castañeda López R, López Menduiña P. Costes sanitarios directos de las neoplasias de pulmón y vejiga de origen laboral en España en 2008. Rev Esp Salud Publica. 2012;86(2):127-38. DOI 10.1590/S1135-57272012000200002.
(27) Binazzi A, Scarselli A, Marinaccio A. The burden of mortality with costs in productivity loss from occupational cancer in Italy. Am J Ind Med. 2013;56(11):1272-79. DOI 10.1002/ajim.22224.
(28) Grasso M. Bladder Cancer: A Major Public Health Issue. European urology. 2008;7(7):510-15. DOI 10.1016/j.eursup.2008.04.001.
(29) Lee LJ, Chang YY, Liou SH, Wang JD. Estimation of benefit of prevention of occupational cancer for comparative risk assessment: methods and examples. Occup Environ Med. 2012;69(8):582-6. DOI 10.1136/oemed-2011-100462.
(30) Lee LJ, Lin CK, Hung MC, Wang JD. Impact of workrelated cancers in Taiwan-Estimation with QALY (quality-adjusted life year) and healthcare costs. Prev Med Rep. 2016;4:87-93. Published 2016 May 25. DOI 10.1016/j.pmedr.2016.05.015.
(31) Pérol O, Charbotel B, Perrier L, Bonnand S, Belladame E, Avrillon V, et al. Systematic Screening for Occupational Exposures in Lung Cancer Patients: A Prospective French Cohort. Int J Environ Res Public Health. 2018;15(1):65. DOI 0.3390/ijerph15010065.
(32) Serrier H, Sultan-Taieb H, Luce D, Bejean S. Estimating the social cost of respiratory cancer cases attributable to occupational exposures in France. Eur J Health Econ. 2014;15(6):661-73. DOI 10.1007/s10198-013-0528-6.
(33) Furuya S, Chimed-Ochir O, Takahashi K, David A, Takala J. Global Asbestos Disaster. Int J Environ Res Public Health. 2018;15(5):1000. DOI 10.3390/ijerph15051000.
(34) Aljunid SM, Qureshi AM, Baguma D. Global economic burden Of asbestos related diseases in comparison with the costs of production and consumption. MJPHM. 2017;17(1):111–25.
(35) Hajok I, Marchwinska E, Dziubanek G, Kuraszewska B, Piekut A. Environmentally related diseases and the possibility of valuation of their social costs. ScientificWorld-Journal. 2014;2014:284072. DOI 10.1155/2014/284072.
(36) Montano D. Chemical and biological work-related risks across occupations in Europe: a review. J Occup Med Toxicol. 2014;9:28. DOI 10.1186/1745-6673-9-28.
(37) O'Neill R, Pickvance S, Watterson A. Burying the evidence: how Great Britain is prolonging the occupational
cancer epidemic. Int J Occup Environ Health. 2007;13(4):428-36. DOI 10.1179/oeh.2007.13.4.428.
(38) Cherrie JW, Hutchings S, Gorman Ng M, Mistry R, Corden C, Lamb J, et al. Prioritising action on occupational carcinogens in Europe: a socioeconomic and health impact assessment. Br J Cancer. 2017;117(2):274-281. DOI 10.1038/bjc.2017.161.
(39) García-Gómez M, Menéndez-Navarro A, López RC. Asbestos-related occupational cancers compensated under the Spanish National Insurance System, 1978-2011. Int J Occup Environ Health. 2015;21(1):31-9. DOI 10.1179/2049396714Y.0000000087.
(40) Hutchings S, Cherrie JW, Van Tongeren M, Rushton L. Intervening to reduce the future burden of occupational cancer in britain: what could work? Cancer Prev Res (Phila). 2012;5(10):1213-22. DOI 10.1158/1940-6207.CAPR-12-0070.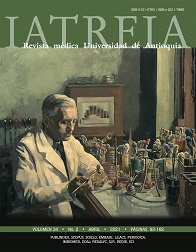 Descargas
Cómo citar
1.
Palencia-Sánchez F, Quiroga-Vargas DA, Riaño-Casallas MI. Costos del cáncer ocupacional: una scoping review. Iatreia [Internet]. 1 de abril de 2021 [citado 11 de diciembre de 2023];34(2):124-36. Disponible en: https://revistas.udea.edu.co/index.php/iatreia/article/view/341763
Sección
Artículos de revisión
Licencia
Derechos de autor 2021 Universidad de Antioquia
Esta obra está bajo una licencia internacional Creative Commons Atribución-NoComercial-CompartirIgual 4.0.
Los artículos publicados en la revista están disponibles para ser utilizados bajo la licencia Creative Commons, específicamente son de Reconocimiento-NoComercial-CompartirIgual 4.0 Internacional.
Los trabajos enviados deben ser inéditos y suministrados exclusivamente a la Revista; se exige al autor que envía sus contribuciones presentar los formatos: presentación de artículo y responsabilidad de autoría completamente diligenciados.