Complicaciones infecciosas de los tatuajes permanentes: la piel sin ley. Parte I
Palabras clave:
Decreto Ley, dermatología, infecciones, tatuaje, tinta
Resumen
El trauma punzante que genera un tatuaje altera la barrera física e inmunológica que proporciona la piel, con lo cual se favorece el ingreso de microorganismos patógenos y el riesgo de sufrir diferentes complicaciones infecciosas. Las condiciones en las que se realiza el tatuaje y el cumplimiento de las normas de bioseguridad son determinantes en prevenir este riesgo, sin embargo, se trata de una práctica de difícil vigilancia y control debido al vacío normativo existente. El auge de los tatuajes permanentes en la sociedad contemporánea se acompaña de un incremento en la frecuencia de sus complicaciones, que suelen ser leves y autoresolutivas, pero también pueden causar graves secuelas y poner en riesgo la salud del paciente tatuado. En la presente revisión se incluyen los principales aspectos normativos y epidemiológicos de los tatuajes, así como las manifestaciones dermatológicas de las infecciones asociadas, su clasificación etiológica y su aproximación diagnóstica y terapéutica.
|Resumen = 984 veces | PDF = 3753 veces|
Descargas
Los datos de descargas todavía no están disponibles.
Citas
(1) Patiño LA, Morales CA. Microbiota de la piel: el ecosistema cutáneo. Rev Asoc Colomb Dermatol. 2013;21(2):147-58.
(2) Patel M, Cobbs CG. Infections from body piercing and tattoos. Microbiol Spectr. 2015;3(6):1-13. DOI 10.1128/microbiolspec.IOL5-0016-2015.
(3) Dieckmann R, Boone I, Brockmann SO, Hammerl JA, Kolb-Mäurer A, Goebeler M, et al. The risk of bacterial infection after tattooing. Dtsch Arztebl Int. 2016;113(40):665-71. DOI 10.3238/arztebl.2016.0665.
(4) Laux P, Tralau T, Tentschert J, BlumeA, Al Dahouk S, Bäumler W, et al. A medical-toxicological view of tattooing. Lancet. 2016;387(10016):395-402. DOI 10.1016/S0140-6736(15)60215-X.
(5) Serup J. Tattoo infections, personal resistance, and contagious exposure through tattooing. Curr Probl Dermatol. 2017;52:30-41. DOI 10.1159/000450777.
(6) Shinohara MM. Complications of decorative tattoo. Clin Dermatol. 2016;34(2):287-92. DOI 10.1016/j.clindermatol.2015.07.003.
(7) Long GE, Rickman LS. Infectious complications of tattoos. Clin Infect Dis. 1994;18(4):610-9. DOI 10.1093/clinids/18.4.610.
(8) Rahimi IA, Eberhard I, Kasten E. Tattoos: what do people really know about the medical risks of body ink? J Clin Aesthet Dermatol. 2018;11(3):30-5.
(9) Colombia. Ministerio de la Protección Social. Resolución número 2263 de 2004 por la cual se establecen los requisitos para la apertura y funcionamiento de los centros de estética y similares y se dictan otras disposiciones. Bogotá, D.C: Diario Oficial No. 45.618; 2004.
(10) Colombia. Consejo de Bogotá. Acuerdo número 103 por el cual se dictan medidas para proteger la salud de las personas en la práctica de tatuajes y piercing en el distrito capital de Colombia. Bogotá, D.C: Registro Distrital No. 3016; 2003.
(11) Colombia. Ministerio de la Protección Social. Decreto número 4725 de 2005 por el cual se reglamenta el régimen de registros sanitarios, permiso de comercialización y vigilancia sanitaria de los dispositivos médicos para uso humano. Bogotá, D.C: Diario Oficial No. 46.134; 2005.
(12) Giulbudagian M, Schreiver I, Singh AV, Laux P, Luch A. Safety of tattoos and permanent make-up: a regulatory view. Arch Toxicol. 2020;94:357-69. DOI 10.1007/s00204-020-02655-z.
(13) Kluger N. Epidemiology of tattoos in industrialized countries. Curr Probl Dermatol. 2015;48:6-20. DOI 10.1159/000369175.
(14) Kluger N, Seité S, Taieb C. The prevalence of tattooing and motivations in five major countries over the world. J Eur Acad Dermatol Venereol. 2019;33(12):e484-e6. DOI 10.1111/jdv.15808.
(15) Carvajal-Garzón J. El tatuaje como un espacio emblemático de las marcas [internet]. Bogotá: Pontificia Universidad Javeriana; 2014. [Citado 2020 sep 10]. Disponible en: https://cutt.ly/plI9Lvl
(16) Kluger N. An update on cutaneous complications of permanent tattooing. Expert Rev Clin Immunol. 2019;15:1135-43. DOI 10.1080/1744666X.2020.167673.
(17) Serup J. How to diagnose and classify tattoo complications in the clinic: a system of distinctive patterns. Curr Probl Dermatol. 2017;52:58-73. DOI 10.1159/000450780.
(18) Wenzel SM, Rittmann I, Landthaler M, Bäumler W. Adverse reactions after tattooing: review of the literature and comparison to results of a survey. Dermatology. 2013;226(2):138-47. DOI 10.1159/000346943.
(19) Serup J, Carlsen KH, Sepehri M. Tattoo complaints and complications: diagnosis and clinical spectrum. Curr Probl Dermatol. 2015;48:48-60. DOI 10.1159/000369645.
(20) Kluger N. Self-reported tattoo reactions in a cohort of 448 French tattooists. Int J Dermatol. 2016;55(7):764-68. DOI 10.1111/ijd.13030.
(21) Liszewski W, Kream E, Helland S, Cavigli A, Lavin BC, Murina A. The demographics and rates of tattoo complications, regret, and unsafe tattooing practices: A cross-sectional study. Dermatol Surg. 2015;41(11):1283-9. DOI 10.1097/DSS.0000000000000500.
(22) Høgsberg T, Hutton Carlsen K, Serup J. High prevalence of minor symptoms in tattoos among a young population tattooed with carbon black and organic pigments. J Eur Acad Dermatol Venereol. 2013;27(7):846-52. DOI 10.1111/j.1468-3083.2012.04590.x.
(23) Hutton Carlsen K, Sepehri M, Serup J. Tattooistassociated tattoo complications: "overworked tattoo", "pigment overload" and infections producing early and late adverse events. Dermatology. 2020;236(3):208-15. DOI 10.1159/000501962.
(24) Klügl I, Hiller KA, Landthaler M, Bäumler W. Incidence of health problems associated with tattooed skin: a nation-wide survey in German-speaking countries. Dermatology. 2010;221(1):43-50. DOI 10.1159/000292627.
(25) Goldstein N. Tattoos defined. Clin Dermatol. 2007;25(4):417-20. DOI 10.1016/j.clindermatol.2007.05.015.
(26) Orozco-Loaiza LD, Ladino-García LM. Conocimientos y prácticas frente a la exposición de riesgo biológico en las salas de tatuaje de la ciudad de Pereira en el primer semestre del 2019 [internet]. Pereira: Corporación Universitaria Minuto de Dios; 2019. [Citado 2020 sep 10]. Disponible en: https://hdl.handle.net/10656/7548
(27) Pardo DF, Carvajal MF, Gutiérrez CC, Neira E, Buitrago LA, Díaz SL, et al. Limpieza, desinfección y bioseguridad en los centros de tatuado de Tunja. Rev CSV. 2019;11(2):102-10.
(28) Høgsberg T, Saunte DM, Frimodt-Møller N, Serup J. Microbial status and product labeling of 58 original tattooinks. J Eur Acad Dermatol Venereol. 2013;27(1):73-80. DOI 10.1111/j.1468-3083.2011.04359.x.
(29) Nho SW, Kim SJ, Kweon O, Howard PC, Moon MS, Sadrieh NK, et al. Microbiological survey of commercial tattoo and permanent make up inks available in the United States. J Appl Microbiol. 2018;124(5):1294-302. DOI 10.1111/jam.13713.
(30) Nho SW, Kim M, Kweon O, Kim SJ, Moon MS, Periz G, et al. Microbial contamination of tattoo andpermanent make up inks marketed in the US: a follow-up study. Lett Appl Microbiol. 2020;10.1111/lam.13353. DOI 10.1111/lam.13353.
(31) Kluger N. Acute complications of tattooing presenting in the ED. Am J Emerg Med. 2012;30(9):2055-63. DOI 10.1016/j.ajem.2012.06.014.
(32) Mudedla S, Avendano EE, Raman G. Non-tuberculous mycobacterium skin infections after tattooing in healthy individuals: A systematic review of case reports. Dermatol Online J. 2015;21(6):13030.
(33) Thomson R, Tolson C, Sidjabat H, Huygens F, Hargreaves M. Mycobacterium abscessus isolated from municipal water - a potential source of human infection. BMC Infect Dis. 2013;13:241. DOI 10.1186/1471-2334-13-241.
(34) Ghorpade A. Inoculation (tattoo) leprosy: a report of 31 cases. J Eur Acad Dermatol Venereol. 2002;16(5):494-9. DOI 10.1046/j.1468-3083.2002.00548.x.
(35) Jafari S, Buxton JA, Afshar K, Copes R, Baharlou S. Tattooing and risk of hepatitis B: a systematic review and meta-analysis. Can J Public Health. 2012;103(3):207-12. DOI 10.1007/BF03403814.
(36) Jafari S, Copes R, Baharlou S, Etminan M, Buxton J. Tattooing and the risk of transmission of hepatitis C: a systematic review and meta-analysis. Int J Infect Dis. 2010;14(11):e928-e40. DOI 10.1016/j.ijid.2010.03.019.
(37) Nishioka S, Gyorkos TW, Joseph L, Collet JP, Maclean JD. Tattooing and risk for transfusion-transmitted diseases: the role of the type, number and design of the tattoos, and the conditions in which they were performed. Epidemiol Infect. 2002;128(1):63-71. DOI 10.1017/s0950268801006094.
(38) Kirchhof MG, Wong SM. Tattoos and human papilloma virus: A case report of tattoo-associated flat warts (verrucae planae). SAGE Open Med Case Rep. 2019;7:2050313X19857416. DOI 10.1177/2050313X19857416.
(39) Wanat KA, Tyring S, Rady P, Kovarik CL. Human papilloma virus type 27 associated with multiple verruca within a tattoo: report of a case and review of the literature. Int J Dermatol. 2014;53(7):882-4. DOI 10.1111/j.1365-4632.2012.05644.x.
(40) Brajac I, Loncarek K, Stojnić-Sosa L, Gruber F. Delayed onset of warts over tattoo mark provoked by sunburn. J Eur Acad Dermatol Venereol. 2005;19(2):247-8. DOI 10.1111/j.1468-3083.2004.01121.x.
(41) Marshall CS, Murphy F, McCarthy SE, Cheng AC. Herpes compunctorum: cutaneous herpes simplex virus infection complicating tattooing. Med J Aust. 2007;187(10):598.
(42) Schwob E, Kluger N. Tinea corporis within recent tattoos. Ann Dermatol Venereol. 2020 Jul 9:S0151-9638(20)30242-8. DOI 10.1016/j.annder.2020.04.019.
(43) Oanţă A, Irimie M. Tinea on a tattoo. Acta Dermatovenerol Croat. 2016;24(3):223-4.
(44) Choong KY, Roberts LJ. Ritual Samoan body tattooing and associated sporotrichosis. Australas J Dermatol. 1996;37(1):50-3. DOI 10.1111/j.1440-0960.1996.tb00996.x.
(45) Kluger N, Saarinen K. Aspergillus fumigates infection on a home-made tattoo. Br J Dermatol. 2014;170(6):1373-5. DOI 10.1111/bjd.12859.
(46) Sperry K. Tattoos and tattooing. Part II: Gross pathology, histopathology, medical complications, and applications. Am J Forensic Med Pathol. 1992;13(1):7-17.
(47) Pedrol J, Trull J, Sánchez M, Romero J, Martínez-Carpio PA, Trelles MA. Clinical observation of a professional tattooing procedure and evolutionary study of the skin damage provoked. Photon Lasers Med. 2016;5(1):43-50. DOI 10.1515/plm-2015-0037.
(48) Gopee NV, Cui Y, Olson G, Warbritton AR, Miller BJ, Couch LH, et al. Response of mouse skin to tattooing: use of SKH-1 mice as a surrogate model for human tattooing. Toxicol Appl Pharmacol. 2005;209(2):145-58. DOI 10.1016/j.taap.2005.04.003.
(49) Lea PJ, Pawlowski A. Human tattoo. Electron microscopic assessment of epidermis, epidermal-dermal junction, and dermis. Int J Dermatol. 1987;26(7):453-8. DOI 10.1111/j.1365-4362.1987.tb00590.x.
(50) Mataix J, Silvestre JF. Reacciones cutáneas adversas por tatuajes y piercings. Actas Dermosifiliogr. 2009;100:643-56.
(51) Rossolini GM, Stefani S. Etiology, resistance and diagnostic techniques in skin and skin structure infections. Infez Med. 2009;17Suppl 4:18-29.
(52) Edwards R, Harding KG. Bacteria and wound healing. Curr Opin Infect Dis. 2004;17(2):91-6. DOI 10.1097/00001432-200404000-00004.
(53) Serup J. Medical treatment of tattoo complications. Curr Probl Dermatol. 2017;52:74-81. DOI 10.1159/000450804.
(54) Valderrama-Beltrán S, Cortés JA, Caro MA, Cely-Andrade L, Osorio-Pinzón JV, Gualtero SM, et al. Guía de práctica clínica para el diagnóstico y manejo de las infecciones de piel y tejidos blandos en Colombia. Infectio. 2019;23(4):318-46.
(55) Caccavale S, Kannangara AP, Ruocco E. Categorization of and comments on isomorphic and isotopic skin reactions. Clin Dermatol. 2017;35(1):105-10. DOI 10.1016/j.clindermatol.2015.10.011.
(56) Panasiti V, Devirgiliis V, Roberti V, Curzio M, Calvieri S. Molluscum contagiosum on a tattoo: usefulness of dermoscopy. Int J Dermatol. 2008;47(12):1318-9. DOI 10.1111/j.1365-4632.2008.03747.x.
(57) Yang TH, Lee TH, Huang YC. Oral isotretinoin for treating mucocutaneous human papillomavirus infections: A systematic review and meta-analysis. Indian J Dermatol Venereol Leprol. 2019;85(6):569-77. DOI 10.4103/ijdvl.IJDVL_269_18.
(58) Gathings RM, Casamiquela K, Jackson A, Brodell RT. Tinea incognito in a tattoo. Cutis. 2018;101(5):E17-8.
(59) Morales CA, Sánchez L. Micosis cutáneas superficiales. En: Tamayo MM, editor. Dermatología Clínica: Conceptos Básicos. Bogotá, D.C: Panamericana; 2015. p. 163-81.
(60) Tendas A, Niscola P, Barbati R, Abruzzese E, Cuppelli L, Giovannini M, et al. Tattoo related pyoderma/ectymagangrenous as presenting feature of relapsed acute myeloid leukaemia: an exceptionally rare observation. Injury. 2011;42(5):546-7. DOI 10.1016/j.injury.2010.08.014.
(61) Kluger N. Contraindications for tattooing. Curr Probl Dermatol. 2015;48:76-87. DOI 10.1159/000369189.
(62) O'Connor MB, Phelan MJ. Should rheumatology patients on immunosuppressive medications be advised against getting tattoos? Ir Med J. 2012;105(4):124.
(63) Kluger N, De Cuyper C. A practical guide about tattooing in patients with chronic skin disorders and other medical conditions. Am J Clin Dermatol. 2018;19:167-80. DOI 10.1007/s40257-017-0326-5.
(64) Tse DM, Khan S, Clarke S. Bacterial endocarditis and body art: active prevention or antibiotic prophylaxis. Int J Cardiol. 2010;139(3):297-8. DOI 10.1016/j.ijcard.2008.08.002.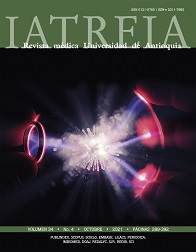 Descargas
Cómo citar
1.
Morales-Cardona CA, Llamas-Castellanos BC. Complicaciones infecciosas de los tatuajes permanentes: la piel sin ley. Parte I. Iatreia [Internet]. 18 de marzo de 2021 [citado 7 de diciembre de 2022];34(4):335-46. Disponible en: https://revistas.udea.edu.co/index.php/iatreia/article/view/344120
Sección
Artículos de revisión
Licencia
Derechos de autor 2021 Universidad de Antioquia
Esta obra está bajo una licencia internacional Creative Commons Atribución-NoComercial-CompartirIgual 4.0.
Los artículos publicados en la revista están disponibles para ser utilizados bajo la licencia Creative Commons, específicamente son de Reconocimiento-NoComercial-CompartirIgual 4.0 Internacional.
Los trabajos enviados deben ser inéditos y suministrados exclusivamente a la Revista; se exige al autor que envía sus contribuciones presentar los formatos: presentación de artículo y responsabilidad de autoría completamente diligenciados.