Nursing and the resolution of ethical dilemmas.
Keywords:
Ethics; ethical analysis; nursing care.
Abstract
Inherent to Nursing Care, ethical dimension includes having to decide about the dilemmas that arise in practice. Experience shows that generally we do not have a reference and then sufficient training to judge the ethical quality of our decisions and actions, reason why, in this article some methods are introduced that will facilitate this ethical analysis when faced with a conflict or dilemma that warrants it.
|Abstract = 53 veces | PDF (ENGLISH) = 20 veces| | PDF (ESPAÑOL) = 250 veces| | HTML = 6 veces| | MCORREAHOYOS, DOC CONFIDENCIALIDAD 1.TIF = 0 veces| | MCORREAHOYOS, FORMATOCURRICULUMAUTORES.DOC = 0 veces|
Downloads
Download data is not yet available.
References
(1) Torres R. Glosario de Bioética. Centro de estudios de Bioética. Facultad de Ciencias Médicas de Holguín, Cuba. La Habana: Publicaciones Acuario Centro; 2001. p. 29-31.
(2) Trout J, Rivkin S. The power of simplicity. The United States of America: Mc Graw Hill; 2000. p. 9-14.
(3) González de Luna E. Filosofía del Sentido Común. México: Universidad Autónoma de México; 2004. p. 15-6.
(4) Tealde JC. Diccionario Latinoamericano de Bioética. Organización de las Naciones Unidas para la educación la ciencia y la cultura. Colombia: Universidad Nacional de Colombia; 2008. p. 101-2.
(5) Aristóteles. Ética Nicomaquea, Política. 6a ed. México: Editorial Porrúa, S.A; 1976. p. 31-5.
(6) Apel K. La Ética de la discusión. Paris: Le Cerf Humanités; 1994.
(7) Habermas J. Conciencia Moral y Acción Comunicativa. Barcelona: Editorial 62; 1999.
(8) Alútiza JC. Las fuentes normativas de la moralidad pública moderna. Contribuciones de Durkheim Habernas y Rawls [Dissertation]. Pamplona: Departamento de Sociología, Facultad de Ciencias Humanas, Universidad de Navarra; 2002.
(9) Lolas F. Bioética, Antropología Médica. Santiago, Chile: Imprenta Salesianos S.A.; 2003. p. 44-8.
(10) Hottois G. Historia de la Filosofía del Renacimiento a la Modernidad. Madrid: Ediciones Cátedra; 2000. p. 500-2.
(11) Lolas F. Bioética de la Vida. El dialogo moral en las ciencias. Santiago, Chile: Ed. Mediterráneo Ltda.; 2001. Reimpresión 2006. p. 73-91.
(12) Beauchamp T, Childress J. Principios de ética biomédica. Barcelona: Ed.Masson S.A.; 1999.
(13) Kottow M. Introducción a la Bioética. Santiago: Ed. Mediterráneo Ltda.; 2005. p. 237-47.
(14) Gracia D. Procedimiento de decisión en ética clínica. Madrid: Ed. Eudema; 1991. p. 35-125.
(15) Gracia D. Ética y vida Nº 3: Fundamentación y enseñanza de la bioética. Santa Fé de Bogotá: Ed. El Búho Ltda; 1998.
(16) Gracia D. El recto ejercicio profesional. ¿Cuestión personal o institucional? Quadern Caps. 1995;23:94-8.
(17) Drane JF. Ethical workup guides clinical decision making. US: Health Progress; 1994. p. 1-16.
(18) Jonsen R. Siegler M. Winsdale W. Clinical Ethics. 6a ed. The United States of America: Mc Graw Hill Medical Publishing Division; 2006. p. 11-2.
(19) Taboada P. Ética clínica: Principios básicos y modelos de análisis. Santiago de Chile: Boletín de la Escuela de Medicina PUC. 1998;27(1):7-13.
(20) Basso L. Temas de bioética para las carreras de la Salud. Chile: Universidad de Valparaíso-Editorial; 2010. p. 103-5.
(21) Escríbar A, Pérez M, Villarroel R. Bioética fundamentos y dimensión práctica. Santiago, Chile: Editorial Mediterráneo Ltda.; 2008. p. 85-103.
(22) Fry S, Megan J. Ética en la práctica de enfermería. México: El Manual Moderno; 2010. p. 59.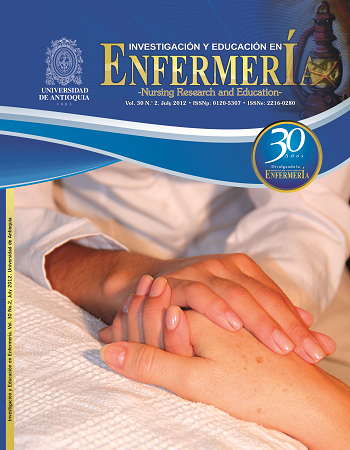 Downloads
Additional Files
How to Cite
Basso, L. E. (2012). Nursing and the resolution of ethical dilemmas. Investigación Y Educación En Enfermería, 30(2). Retrieved from https://revistas.udea.edu.co/index.php/iee/article/view/10041
Section
ESSAY / ENSAYO / ENSAIO
License
Derechos de propiedad / Direitos de Propriedade
English: If the article is accepted for publication, all copyright will be of exclusive property of Investigación y Educación en Enfermería. The text and the graphics included in the publication are exclusive responsibility of the authors and not necessarily reflect the thought of the Editorial Committee.
Español: Si el artículo es aprobado para publicación, todos los derechos son de propiedad de Investigación y Educación en Enfermería. El texto y las gráficas incluidas en la publicación son de exclusiva responsabilidad de los autores y no necesariamente refleja el pensamiento del Comité Editorial.
Português: Se o artigo for aceito para publicação, todos os direitos autorais serão de propriedade exclusiva de Investigación y Educación en Enfermería. O texto e os gráficos incluídos na publicação são de responsabilidade exclusiva dos autores e não refletem necessariamente o pensamento do Comitê Editorial.