Voice disorders in teachers and occupational nursing care.
Keywords:
Occupational health nursing; occupational health; voice disorders.
Abstract
Objective. To identify the occupational characteristics and their implications for the occurrence of voice disorders among teachers in early childhood and primary education.
Methodology. A quantitative and exploratory research was undertaken in a metropolitan city of the state capital of Rio Grande do Sul/Brazil. The sample consisted of 37 teachers from early childhood and primary education.
Results. All participants were female, with a mean age of 40 years. Seventy-eight percent indicated one or more voice disorders (54% hoarseness, 41% voice cracks, 27% voice loss and 3% coughing). The noisy school environment was identified as a possible triggering factor of the voice disorder in 49% of cases. Forty-six percent of all teachers indicated not doing any treatment in case of voice disorders. The most frequently used specific measures were: medication use (32%) and speech therapy (5%).
Conclusion. Voice disorders are frequent among the participating teachers and are mainly related to a noisy school environment. It is important for the nurse to intervene, using educative strategies to reduce the risk factors for the vocal health of teachers working in these conditions.
|Abstract = 24 veces |
Downloads
Download data is not yet available.
References
(1) Romano CC, Alves LA, Secco IAPO, Ricz LNA, Robazzi MLCCruz. A expressividade do docente universitário durante sua atuação na sala de aula: análise dos recursos verbais utilizados e suas implicações para a enfermagem. Rev Latino-Am Enfermagem. 2011; 19(5):1188-96.
(2) Brasil. Ministério da Saúde. Organização Pan-Americana da Saúde no Brasil. Doenças relacionadas ao trabalho: manual de procedimentos para os serviços de saúde. Normas e Manuais Técnicos. Brasília: Ministério da Saúde; 2001.
(3) Brasil. Ministério da Saúde. Secretaria de Atenção à Saúde. Departamento de Ações Programáticas Estratégicas. Perda Auditiva Induzida por Ruído (PAIR). Normas e Manuais Técnicos. Brasília: Editora do Ministério da Saúde; 2006. 40 p: Il. - (Série A.)
(4) Rajasudhakar R, Savithri SR. Effects of teaching and voice rest on acoustic voice characteristics of female primary school teachers. JAIISH. 2010; 29(2):198-203.
(5) Schwartz SR, Cohen SM, Dailey SH, Rosenfeld RM, Deutsch ES, Gillespie B, et al. Clinical practice guideline: Hoarseness (Dysphonia). J Otolaryngol Head Neck Surg. 2009; 141;S1-S31.
(6) Smeltzer SC, Bare BG. Tratado de enfermagem médico-cirúrgica. 7th ed. Rio de Janeiro: Guanabara Koogan; 2005.
(7) Fontana RT, Pinheiro DA. Condições de saúde auto-referidas de professores de uma universidade regional. Rev Gaúcha Enferm. 2010; 31(2):270-6.
(8) Vedovato TG, Monteiro MI. Perfil sociodemográfico e condições de saúde e trabalho dos professores de nove escolas estaduais paulistas. Rev Esc Enferm USP. 2008; 42(2):291-97.
(9) Chen SH, Chiang S-C, Chung Y-M, Hsiao L-C, Hsiao T-Y. Risk Factors and Effects of Voice Problems for Teachers. J Voice. 2010; 24(2):183-92.
(10) Alves LA, Robazzi MLCC, Marziale MHP, Felippe ACN, Romano CC. Alterações da saúde e a voz do professor, uma questão de saúde do trabalhador. Rev Latino-Am. Enfermagem. 2009; 17(4):566-72.
(11) Instituto Brasileiro de Geografia e Estatística (IBGE). Censo demográfico 2010. 2010 [cited 2012 jul 23]. Available from: http://www.ibge.com.br
(12) Cezar-Vaz MR, Soares JFS, Almeida MCV, Cardoso LS, Bonow CA. Doenças relacionadas ao trabalho autorreferidas por trabalhadores portuários avulsos. Cienc Cuid Saude. 2010; 9(4):774-81.
(13) Triola MF. Introdução à Estatística. 7th ed. Rio de Janeiro: Livros Técnicos e Científicos Editora S.A.; 1999.
(14) Munier C, Kinsella R. The prevalence and impact of voice problems in primary school teachers. Occup Med. 2008; 58:74-6.
(15) Luchesi KF, Mourão LF, Kitamura S, Nakamura HY. Problemas vocais no trabalho: prevenção na prática docente sob a óptica do professor. Saúde Soc. 2009; 18(4):673-81.
(16) Laaksonen E, Martikainen P, Lahelma E, Lallukka T, Rahkonen O, Head J, et al. Socioeconomic circumstances and common mental disorders among Finnish and British public sector employees: evidence from the Helsinki Health Study and the Whitehall II Study. Int J Epidemiol. 2007; 36(4):776-86.
(17) Servilha EAM, Leal ROF, Hidaka MTU. Riscos ocupacionais na legislação trabalhista brasileira: destaque para aqueles relativos à saúde e à voz do professor. Rev Soc Bras Fonoaudiol. 2010; 15(4):505-13.
(18) Associação Brasileira de Normas Técnicas. Níveis de ruído para conforto acústico. NBR 10.152. Rio de Janeiro; 1987.
(19) Lindstrom F, Waye KP, Södersten M, McAllister A, Ternström S. Observations of the relationship between noise exposure and preschool teacher voice usage in day-care center environments. J Voice. 2011; 25(2):166-72.
(20) Lima MFEM, Lima-Filho DO. Condições de trabalho e saúde do/a professor/a universitário/a. Ciênc Cogn. 2009; 14(3):62-82.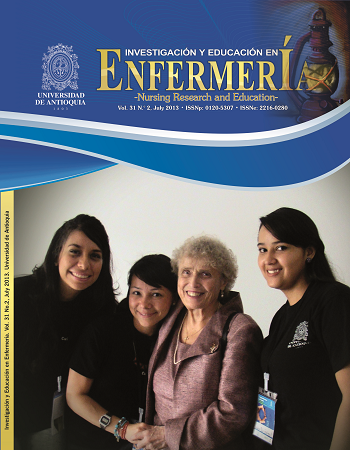 How to Cite
Cezar-Vaz, M. R., Severo, L. de O., Borges, A. M., Bonow, C. A., Rocha, L. P., & de Almeida, M. C. V. (2013). Voice disorders in teachers and occupational nursing care . Investigación Y Educación En Enfermería, 31(2). Retrieved from https://revistas.udea.edu.co/index.php/iee/article/view/13065
Section
ORIGINAL ARTICLES / ARTÍCULOS ORIGINALES / ARTIGOS ORIGINAIS
License
Derechos de propiedad / Direitos de Propriedade
English: If the article is accepted for publication, all copyright will be of exclusive property of Investigación y Educación en Enfermería. The text and the graphics included in the publication are exclusive responsibility of the authors and not necessarily reflect the thought of the Editorial Committee.
Español: Si el artículo es aprobado para publicación, todos los derechos son de propiedad de Investigación y Educación en Enfermería. El texto y las gráficas incluidas en la publicación son de exclusiva responsabilidad de los autores y no necesariamente refleja el pensamiento del Comité Editorial.
Português: Se o artigo for aceito para publicação, todos os direitos autorais serão de propriedade exclusiva de Investigación y Educación en Enfermería. O texto e os gráficos incluídos na publicação são de responsabilidade exclusiva dos autores e não refletem necessariamente o pensamento do Comitê Editorial.