Education for the unified health system: what do good professors do from the perspective of students?
Keywords:
Unified health system, faculty, staff development, students, nursing, medical, dental.
Abstract
Objective. to analyze the educational practices for the Unified Health System performed by good professors, from the perspective of nursing, medical and odontology students, based on the Shulman's concepts of knowledge of educational ends, purposes, values and their historical and philosophical grounds, at a university in southern Brazil.
Methods. A qualitative study with an exploratory and analytical approach in which the participants were graduating students, interviewed with the aid of vignettes, between October of 2011 and January of 2012. Data were analyzed based on thematic analysis.
Results. it was observed that good professors educate for the Unified Health System through the promotion of teamwork, interdisciplinary practices, good communication, leadership exercises, and promotion of a student's desire to be an agent of change for the sake of improvement and guaranteeing the right to health.
Conclusion. the students attribute to professors the responsibility for the performance of these practices. Despite their consistency with the Brazilian curriculum guidelines, the professors that perform them are seen as a minority.
How to cite this article: Menegaz JC, Backes VMS. Education for the unified health system: what do good professors do from the perspective of students? Invest Educ Enferm. 2015; 33(3):
|Abstract = 303 veces | PDF = 135 veces| | HTML RESUMEN = 4 veces| | HTML ENGLISH = 0 veces| | HTML PORTUGUES = 11 veces|
Downloads
Download data is not yet available.
References
(1) Pinheiro FMC, Nóbrega-Terrien SM, Almeida MEL, et al. A formação do cirurgião-dentista no Brasil: contribuições de estudos para a prática da profissão. RGO. 2009; 57(1):99-106.
(2) Dias HSA, Lima LD, Teixeira M. A trajetória da política nacional de reorientação da formação profissional em saúde no SUS. Ciênc Saúde Coletiva. 2013; 18(6):1613-24.
(3) Rodrigues RM, Conterno SFR. Formación pedagógica en la visión de docentes de pregrado del área de la salud en Brasil. Rev. Enferm Herediana. 2009; 2(1):3-10.
(4) Costa NMSC. Pedagogical Training of Medicine Professors. Rev Latino-Am. Enfermagem]. 2010; 18(1):102-8.
(5) Oliveira NA, Meirelles RMS, Cury GC, et al. Mudanças curriculares no ensino médico brasileiro: um debate crucial no contexto do PROMED. Rev Bras Educ Med. 2008; 32(3):333-46.
(6) Lei nº 9394: Estabelece as diretrizes e bases da educação nacional. Diário Oficial da União, 20 de Dezembro de 1996.
(7) Beraldo TML. Formação de docentes que atuam na Educação Superior. R Educ Públ. 2009; 18(36) 71-88.
(8) Shulman LS. Conocimiento y Enseñanza: Fundamentos de la nueva Reforma. Profesorado.2005; 9(2):1-30.
(9) Backes VMS, Moya JLM, Prado ML. Processo de construção do conhecimento pedagógico do docente universitário de enfermagem. Rev Latino-Am Enfermagem. 2011; 19(2):421-428.
(10) Minayo MCS. O desafio do Conhecimento. 10 ed. São Paulo: HUCITEC; 2010.
(11) Erdmann AL, Rodrigues ACRL, Koerich MS, et al. O olhar dos estudantes sobre sua formação profissional para o Sistema Único de Saúde. Acta Paul Enferm. 2009; 22(3):288-94.
(12) Ribeiro MMF, Amaral CFS. Medicina centrada no paciente e ensino médico: a importância do cuidado com a pessoa e o poder médico. Rev Bras Educ Med. 2008; 32(1):90-7.
(13) Ferreira SR, Olshowsky A. A residência integrada em saúde: a interação entre as diferentes áreas do conhecimento. Rev Gaúcha Enferm. 2009; 30(1):106-12.
(14) Mângia EF. Formação e educação permanente para produzir boas práticas em saúde mental. Rev Ter Ocup. 2009; 20(2):1-2.
(15) Garcia MAA, Pinto ATBCS, Odoni APC, et al. A interdisciplinaridade necessária a educação médica. Rev Bras Educ Med. 2007; 31(2):147-55.
(16) Oliveira NA, Alves LA. Ensino médico, SUS, e início da profissão: como se sente quem está se formando? Rev Bras Educ Med. 2011; 35(1):26-36.
(17) Waterkemper R, Prado ML, Medina-Moya JL, Backes VMS. From ''being to the self'' to ''become to be'': on development of autonomy construction in nursing students. Invest Educ Enferm. 2014; 32(1):33-40.
(18) Batista EC, Melo EM. A participação popular em Ipatinga (MG, Brasil): conquistas e desafios do setor de saúde. Ciênc Saúde Coletiva. 2011; 16(1):337-47.
(19) Haddad AE. A enfermagem e a política nacional de formação de profissionais de saúde para o SUS. Rev Esc Enferm. USP. 2011; 45(2): 1803-809.
(20) Kleba ME, Wendausen A. Empoderamento: processo de fortalecimento dos sujeitos nos espaços de participação social e democratização política. Saúde Soc. 2009; 18(4):733-43.
(21) Noro LRA, Albyquerque DF, Ferreira MEM. O desenvolvimento do processo ensino-aprendizagem: visão do aluno e do professor. Rev ABENO. 2006; 6(2):109-14.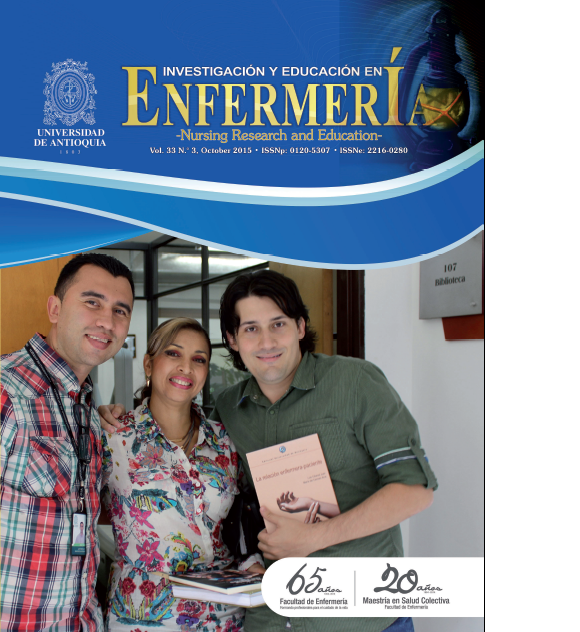 Downloads
How to Cite
do Carmo Menegaz, J., & Schubert Backes, V. M. (2015). Education for the unified health system: what do good professors do from the perspective of students?. Investigación Y Educación En Enfermería, 33(3). https://doi.org/10.17533/udea.iee.24459
Section
ORIGINAL ARTICLES / ARTÍCULOS ORIGINALES / ARTIGOS ORIGINAIS
License
Derechos de propiedad / Direitos de Propriedade
English: If the article is accepted for publication, all copyright will be of exclusive property of Investigación y Educación en Enfermería. The text and the graphics included in the publication are exclusive responsibility of the authors and not necessarily reflect the thought of the Editorial Committee.
Español: Si el artículo es aprobado para publicación, todos los derechos son de propiedad de Investigación y Educación en Enfermería. El texto y las gráficas incluidas en la publicación son de exclusiva responsabilidad de los autores y no necesariamente refleja el pensamiento del Comité Editorial.
Português: Se o artigo for aceito para publicação, todos os direitos autorais serão de propriedade exclusiva de Investigación y Educación en Enfermería. O texto e os gráficos incluídos na publicação são de responsabilidade exclusiva dos autores e não refletem necessariamente o pensamento do Comitê Editorial.