Metrología por fibra óptica para la detección de pequeños desplazamientos
Keywords:
Interferometría, fibra óptica, micromembranas de silicio
Abstract

En este trabajo se presenta una metodología para la medida de deflexiones en el rango de las micras en membranas termoneumáticas de silicio. El método se basa en la interferometría por fibra óptica con el cual se estudió el comportamiento estático de una membrana de silicio de 10 mm de grosor, 5 mm de lado y 300 mm de bulk, la cual se pegó sobre un porta muestras de vidrio. Por medida estática se entiende la medida de la deflexión de las membranas considerando únicamente la respuesta de éstas a la fuente de radiación infrarroja que las estimula.
|Abstract = 41 veces | PDF (ESPAÑOL (ESPAÑA)) = 20 veces|
Downloads
Download data is not yet available.
References
R. L. Gunter, R. Zhine, W. G. Delinger, K. Manygoasts, A. Kooser, T. L. Porter. "Investigation of DNA sensing using piezoresistive micro cantilever probes". IEEE Sensors Journal. Vol. 4. 2004. pp. 430-433.
I. Voiculescu, M. E. Zaghloul, R. A. Mcgill, E. J. Houser, G. K. Fedder. "Electrostatically actuated resonant micro cantilever beam in CMOS technology for the detection of chemical weapons". IEEE Sensors Journal. Vol. 5. 2005. pp. 641-647.
O. Ruiz, S. Marco, M. Carmona, J. Samitier, J. Morante. "Pendulum type accelerometers based on thick polysilicon surface micromachining". ESSDERC`96. Ed. Frontiers. Bologna. Italia. 1996. pp. 725- 728.
J. E. Duarte, F. H. Fernández. M. Moreno. "Técnicas de medida para pequeños desplazamientos". DYNA. Vol. 158. 2009. pp. 167- 176.
S. Y. Paredes, B. Hidalgo. "El uso de la interferometría óptica para evaluar corrosión por picadura en la aleación comercial de aluminio 3003". Revista latinoamericana de Metalurgia y Materiales. 2005. Vol. 25. pp. 46-52.
R. A. Comes, G. M. Carinti, L. E. Arena. "Determinación de la diferencia de índices de refracción del hielo por interferometría de luz polarizada". Anales AFA. Vol. 20. 2008. pp. 20-25.
V. H. Salas, C. T. Moreno. "Sensor interferométrico basado en fibra óptica". Revista Colombiana de Física. Vol. 38. 2006. pp. 1335-1338.
L. E. Barceló, L. N. Taibo, A. G. Zapata. "Calibración primaria y secundaria en aceleración". VI Congreso Iberoamericano de Acústica FIA Noviembre 5-7. 2008. pp. 1-7.
J. A. Garcia Souto. Interferometría láser de fibra óptica para medida de temperatura y vibraciones. Sensores aplicados en el interior de transformadores de potencia y embebidos en fibra de carbono para aplicaciones aeronáuticas. Tesis Doctoral. Universidad Carlos III de Madrid. España. 2003. pp. 15-20.
J. E. Duarte, F. H. Fernández, M. Moreno. "Caracterización de microactuadores mediante técnicas ópticas". Revista de la Escuela Colombiana de Ingeniería. Vol. 59. 2005. pp. 35-38.
B. Culsahaw. "Fiber optic sensor: integration with micromachined devices". Sensors and Actuators A. Vol. 47. 1995. pp. 463-469.
J. E. Duarte, F. H. Fernández, M. Moreno. "Caracterización de membranas termoneumáticas mediante interferometría óptica". Revista de la Academia Colombiana de Ciencias Exactas, Físicas y Naturales. Vol. 118. 2007. pp. 79-87.
P. J. Mulhern, T. Hubbard, C. S. Arnold, B. L. Blackford, M. H. Jericho. "A scanning force microscope with a fiber-optic-interferometer displacement sensor". Rev. Sci. Instrum. Vol. 62. 1991. pp. 1280-1284.
M. V. Andres, M. J. Tudor, K. W. H. Foulds. "Analysis of an interferometric optical fiber detection technique applied to silicon vibrating sensors". Electronics Letters. Vol. 23. 1987. pp. 774-775.
N. Cerre, F. D. Fornel, J. P. Goudonnet. "Reflection scanning microscopy". Applied optics. Vol. 31. 1992. pp. 903-905.
D. B. Williams, C. B. Carter. "Transmission electron microscopy: a textbook for materials science". Technology and Engineering. Vol. 3. 2004. pp. 525- 530.
J. E. Duarte. Diseño y test de micromembranas actuadas ópticamente. Tesis Doctoral. Universidad de Barcelona. España. 2001. pp. 133-160.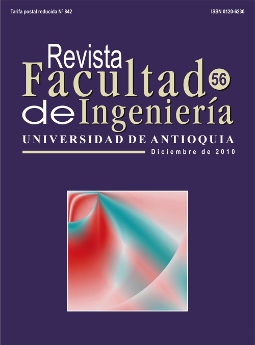 Downloads
How to Cite
Duarte, J. E., Fernández-Morales, F. H., Moreno-Sereno, M., Mora-Almerich, J., & Andrés, M. V. (2013). Metrología por fibra óptica para la detección de pequeños desplazamientos. Revista Facultad De Ingeniería Universidad De Antioquia, (56), 151–159. Retrieved from https://revistas.udea.edu.co/index.php/ingenieria/article/view/14663
License
Revista Facultad de Ingeniería, Universidad de Antioquia is licensed under the Creative Commons Attribution BY-NC-SA 4.0 license. The material published in the journal can be distributed, copied and exhibited by third parties if the respective credits are given to the journal. No commercial benefit can be obtained and derivative works must be under the same license terms as the original work.