Compound digital filter
Keywords:
signal srocessing, estimation, identification, real-time, fuzzy logic, digital filters
Abstract
This paper describes the identification by the compound digital filter with two estimators involved in the Kalman filter, the first corresponds to stochastic gradient describing the transition function and the second obtains the innovation process gain through fuzzy logic. The filtering process has time constraints for your response occurring before the reference system changes to another state. The results are formally described throughout the document. Auto-Regressive Moving Averages model was proposed (ARMA (1, 1)) as the reference system. The filtering algorithm was developed in MatLab® software getting the integrated filter operations illustrated with its graphics of convergence and response, concluding with brief an analysis of the results.
|Abstract = 43 veces | PDF (ESPAÑOL (ESPAÑA)) = 22 veces|
Downloads
Download data is not yet available.
References
B. Kosko. Fuzzy Thinking: The New Science of Fuzzy Logic. Ed. Prentice Hall. New York, USA. 1993. pp. 156-222.
T. Amble. Logic Programming and Knowledge Engineering. Ed. Addison Wesley. Boston, US. 1987. pp 281.
M. Margaliot, G. Langholz. New Approaches to Fuzzy Modeling and Control Design and Analysis. 1st ed. Ed. World Scientifi c. Singapore. 2000. pp. 185.
G. Feng. "A survey on analysis and design of modelbased fuzzy control systems". IEEE Transactions on Fuzzy Systems. Vol. 14. 2006. pp. 676-697.
J. Jantzen. A tutorial on Adaptive Fuzzy Control. Technical University of Denmark. Copenhagen, Denmark. 2002. pp. 709-719.
M. Schneider, A. Kandel. Fuzzy expert systems tools. Ed. Wiley. Chichester, England. 1996. pp. 81-116.
K. Tanaka, M. Sugeno. "Stability Analysis and Design of Fuzzy Control Systems". Fuzzy Sets and Systems. Vol. 45. 1992. pp. 135-156.
L. Manuel. Teoría de la Medida e Integral de Lebesgue. Universidad Nacional de Rosario. Rosario, Argentina. 2003. pp. 60-65.
J. García, J. Medel, P. Guevara. "Real-Time Fuzzy Digital Filter for ARMA Systems". WSEAS Transactions on Systems and Control. Vol. 2. 2007. pp. 491-496.
D. Choi, P. Park. "H-infinity state feedback controller design for discrete time fuzzy systems using fuzzy weightingdependent Lyapunov functions". IEEE Transactions on Fuzzy Systems. Vol. 11. 2003. pp. 271-278.
J. García, J. Medel, P. Guevara. "Evolutive Neural Net Fuzzy Digital Filtering: basic description". Journal of Intelligent Learning Systems and Applications. Vol. 2. 2010. pp. 43-48.
B. Kosko. Fuzzy Engineering. Ed. Prentice Hall. University Michigan. Ann Arbor, USA. 1997.
L. Leydesdorff. "The Construction and Globalization of the Knowledge Base in inter-human communication systems". Canadian Journal of Communication. Vol. 28. 2003. pp. 267-289.
C. Tao, J. Taur. "Robust Fuzzy Control for a Plant with Fuzzy Lineal Model". IEEE Transactions on Fuzzy Systems. Vol. 13. 2005. pp. 30-41.
C. Park, H. Kang. "Graphical and Numerical approach to robust stability analysis of fuzzy modeled systems with parametric uncertainty and disturbance". Fuzzy Sets Systems. Vol. 151. 2005. pp. 99-117.
T. Takagi, M. Sugeno. "Fuzzy Identification of Systems and its Applications to Modelling and Control". IEEE Transactions and Systems, man, and cybernetics. Vol. 15. 1986. pp. 116-132.
L. Zadeh. "The Concept of a Linguistic Variable and its Applications to Approximates Reasoning". Information and Control. Vol. 8. 1965. pp. 338-353.
D. Marcek. "Statistical, Classical and Fuzzy Neural Networks, Modeling Decisions for Artificial Intelligence". Stock Price Forecasting. Ed. Springer Verlag. Berlin, Germany. 2004. pp. 41-48.
K. Passino. Fuzzy Control. Ed. Addison Wesley. Boston, US. 1998. pp. 468.
S. Haykin. Adaptive Filtering Theory. 4th ed. Ed. Prentice Hall. Ontario, Canada. 2001. pp. 302-334.
R. Ash. Real Analysis and Probability. Ed. Academic Press. New York, USA. 1970.
H. Ali. Fundamentals of Adaptive Filters. Ed. John Wiley & Sons. New Jersey, US. 2003.
E. Mamdani. "Applications of Fuzzy Algorithms for Control of Simple Dynamic Plant". Procedings IEEE. Vol. 121. 1974. pp. 1585-1588.
B. Rajen, M Gopal. "Neuro-Fuzzy Decision Trees". International Journal of Neural Filters. Vol. 16. 2006. pp. 63-68.
M. Shannon. "Mathematical Theory of Communication". Bell Systems Technical Journal. Vol. 27. 1948. pp. 379-423, 623-656.
S. Mollov, R. Babuska, J. Abonyi, H. Verbruggen. "Effective Optimization for Fuzzy Model Predictive Control". IEEE Transactions on Fuzzy Systems. Vol. 12. 2004. pp. 661-675.
J. Medel, J. García, P. Guevara. "Real-time Fuzzy Digital Filters Properties for SISO Systems". Automatic Control and Computer Sciences AVT. Vol. 42. 2008. pp. 26-34.
C. Chen, G. Feng, X. Guan. "Delay dependent stability analysis and controller synthesis for discrete time TS fuzzy systems with time delays". IEEE Transactions on Fuzzy Systems. Vol. 13. 2005. pp. 630-643.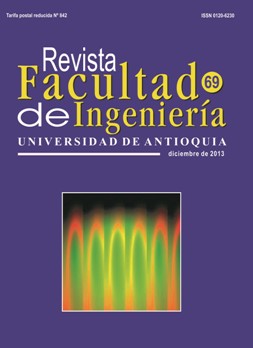 Downloads
How to Cite
Medel Juárez, J. de J., García Infante, J. C., & Duchen Sánchez, G. I. (2014). Compound digital filter. Revista Facultad De Ingeniería Universidad De Antioquia, (69), 24–33. https://doi.org/10.17533/udea.redin.18128
License
Copyright (c) 2018 Revista Facultad de Ingeniería
This work is licensed under a Creative Commons Attribution-NonCommercial-ShareAlike 4.0 International License.
Revista Facultad de Ingeniería, Universidad de Antioquia is licensed under the Creative Commons Attribution BY-NC-SA 4.0 license. https://creativecommons.org/licenses/by-nc-sa/4.0/deed.en
You are free to:
Share — copy and redistribute the material in any medium or format
Adapt — remix, transform, and build upon the material
Under the following terms:
Attribution — You must give appropriate credit, provide a link to the license, and indicate if changes were made. You may do so in any reasonable manner, but not in any way that suggests the licensor endorses you or your use.
NonCommercial — You may not use the material for commercial purposes.
ShareAlike — If you remix, transform, or build upon the material, you must distribute your contributions under the same license as the original.
The material published in the journal can be distributed, copied and exhibited by third parties if the respective credits are given to the journal. No commercial benefit can be obtained and derivative works must be under the same license terms as the original work.