The impact of using a proton exchange membrane on alkaline fuel cell performance
Henry Reyes-Pineda

Universidad del Quindío

Ramiro René Londoño-Ramírez

Universidad del Quindío

https://orcid.org/0000-0003-0715-9404

Leidy Carolina Cardona-Hernández

Universidad del Quindío
Keywords:
Nafion 117, degree of conversion, production of hydrogen, mass transfer coefficient
Abstract
A hydrogen fuel cell was designed in the laboratory, operating in potentiostatic mode (1 V, 1.23 V, 1.5 V and 5 V), obtaining characteristic parameters that allow improving hydrogen production by means of electrolysis. For this, a proton exchange membrane, Nafi on 117, was adapted, which was subjected to an activation pretreatment, allowing us to compare its performance and function. Values for current density, degree of conversion, mass transfer coeffi cient and hydrogen fl ow generated in an instant (t) were obtained.
|Abstract = 216 veces | PDF = 87 veces|
Downloads
Download data is not yet available.
References
D. Kurniawan, H. Arai, S. Morita and K. Kitagawa, "Chemical degradation of Nafi on ionomer at a catalyst interface of polymer electrolyte fuel cell by hydrogen and oxygen feeding in the anode", Microchemical Journal, vol. 106, pp. 384-388, 2013.
M. Montoya and H. Reyes, "Optimización de una celda combustible de hidrógeno", Scientia et Technica, vol. 18, no. 1, pp. 200-205, 2013.
H. Li, Y. Lee, J. Lai and Y. Liu, "Composite membranes of Nafi on and poly(styrene sulfonic acid)-grafted poly(vinylidene fl uoride) electrospun nanofi ber mats for fuel cells", Journal of Membrane Science, vol. 466, pp. 238-245, 2014.
B. Wu et al., "The degradation study of Nafi on/ PTFE composite membrane in PEM fuel cell under accelerated stress tests", International Journal of Hydrogen Energy, vol. 39, no. 26, pp. 14381-14390, 2014.
D. Kurniawan, S. Morita and K. Kitagawa, "Durability of Nafi on-hydrophilic silica hybrid membrane against trace radial species in polymer electrolyte fuel cells", Microchemical Journal, vol. 108, pp. 60-63, 2013.
T. Yu et al., "The effect of different environments on Nafi on degradation: Quantum mechanics study", Journal of Membrane Science, vol. 437, pp. 276-285, 2013.
R. Nogueira, A. Oliveira and M. Linardi, "Infl uence of the relative volumes between catalyst and Nafi on ionomer in the catalyst layer effi ciency", International Journal of Hydrogen Energy, vol. 39, no. 27, pp. 14680- 14689, 2014.
S. Kreitmeier, G. Schuler, A. Wokaun and F. Büchi, "Investigation of membrane degradation in polymer electrolyte fuel cells using local gas permeation analysis", Journal of Power Sources, vol. 212, pp. 139- 147, 2012.
T. Husaini, M. Herianto, Y. Zahira and W. Wan, "PTFENafi on membrane reactor for hydrogen production", International Journal of Hydrogen Energy, vol. 38, no. 22, pp. 9553-9561, 2013.
M. Umeda, K. Sayama, T. Maruta and M. Inoue, "Proton activity of Nafi on 117 membrane measured from potential difference of hydrogen electrodes", Ionics, vol. 19, no. 4, pp. 623-627, 2013.
B. Ramos, J. Sole, A. Hernandez and M. Ellis, "Experimental characterization of the water transport properties of PEM fuel cells diffusion media", Journal of Power Sources, vol. 218, pp. 221-232, 2012.
N. Yousfi et al., "A review on PEM voltage degradation associated with water management: Impacts, influent factors and characterization", Journal of Power Sources, vol. 183, no. 1, pp. 260-274, 2008.
Y. Luo, K. Jiao and B. Jia, "Elucidating the constant power, current and voltage cold start modes of proton exchange membrane fuel cell", International Journal of Heat and Mass Transfer, vol. 77, pp. 489-500, 2014.
O. Sharaf and M. Orhan, "An overview of fuel cell technology: fundamentals and applications", Energy Reviews vol. 32. pp. 810-853, 2014.
K. Polychronopoulou, C. Kalamaras and A. Efstathiou, "Ceria-based materials for hydrogen production via hydrocarbon steam reforming and water–gas shift reactions", Recent Pat. Mater. Sci., vol. 4, no. 2. pp. 1-24, 2011.
S. Ramos, "Electrodos de tecnología avanzada para sistemas de conversión de energía", Ph.D. dissertation, National University of La Plata, La Plata, Argentina, 2013.
C. Heitner, "Recent advances in perfluorinated ionomer membranes: structure, properties and applications", J. Membr. Sci., vol. 120, no. 1, pp. 1-33, 1996.
K. Kreuer, "On the development of proton conducting materials for technological applications", Solid State Ionics, vol. 97, no. 1-4, pp. 1-15, 1997.
J. Larminie and A. Dicks, Fuel cell systems explained, 2nd ed. New York, USA: John Wiley & Sons, 2003.
A. Mayandía, "Descripción y Modelado de una Pila de Combustible de Membrana de Intercambio Protónico", thesis, Charles III University of Madrid, Madrid, Spain, 2009.
H. Reyes and V. Pérez, "Aplicación de la química industrial en reactores electroquímicos de compartimentos separados", Entre Ciencia e Ingeniería, vol. 8, pp. 29-36, 2011.
J. Hinatsu, M. Mizuhata and H. Takenaka, "Water uptake of perfluorosulfonic acid membranes from liquid water and water vapor", Journal of Electrochemical Society, vol. 141, no. 6, pp. 1493-1498, 1994.
S. Chen, K. Xu and P. Dong, "Preparation of threedimensionally ordered inorganic/organic bi-continuous composite proton conducting membranes", Chem. Materials, vol. 17, no. 24, pp. 5880-5883, 2005.
F. Acuña and V. Muñoz, "Celdas de combustible. Una alternativa amigable con el medio ambiente para la generación de potencia y su impacto con el desarrollo sostenible en Colombia en el siglo XXI", Ingeniería y Desarrollo, no. 10, pp. 94-104, 2001.
U. Lucía, "Overview on fuel cells", Renewable and Sustainable Energy Reviews, vol. 30. pp. 164-169, 2014.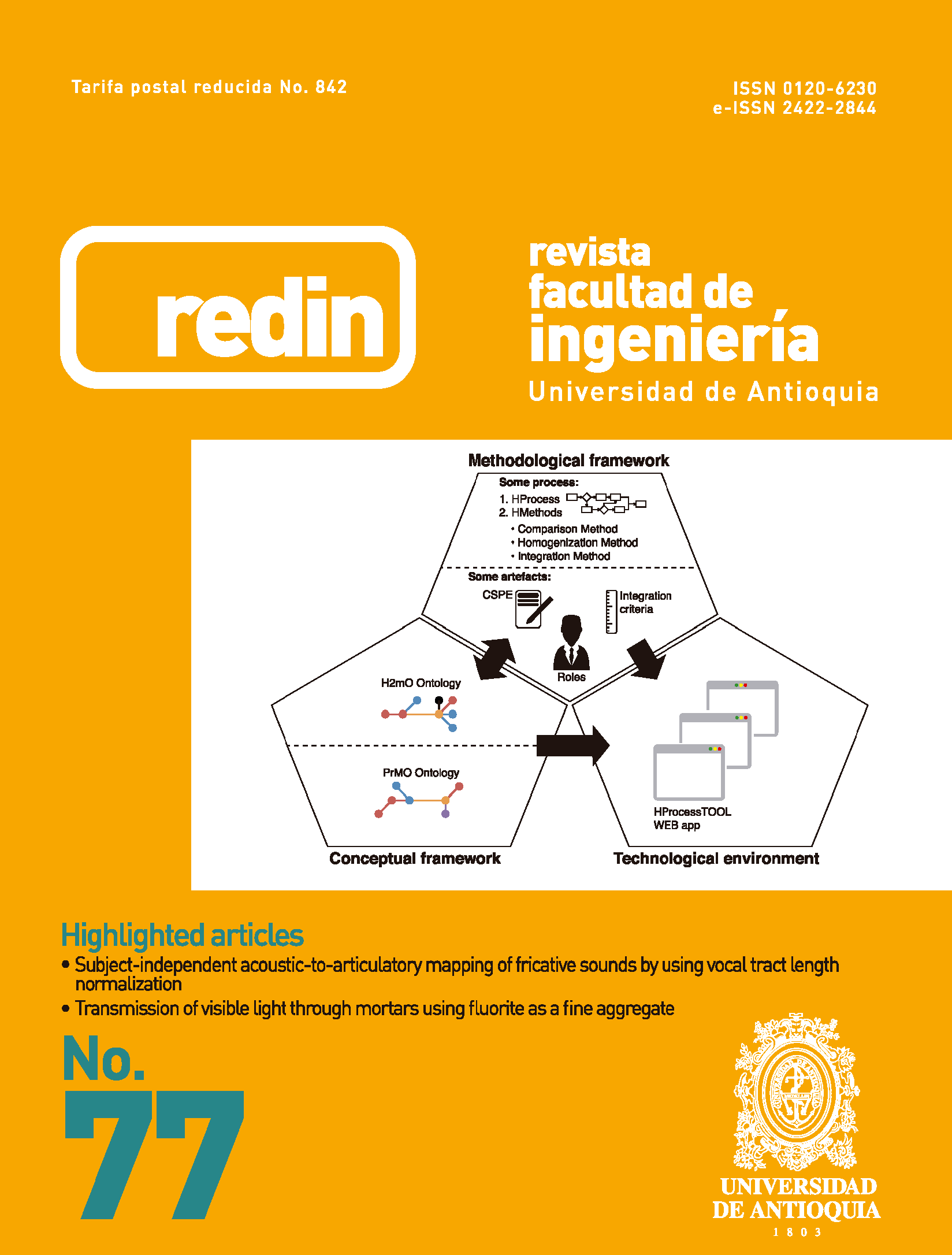 How to Cite
Reyes-Pineda H., Londoño-Ramírez R. R., & Cardona-Hernández L. C. (2015). The impact of using a proton exchange membrane on alkaline fuel cell performance. Revista Facultad De Ingeniería Universidad De Antioquia, (77), 137-142. https://doi.org/10.17533/udea.redin.n77a16
Copyright (c) 2015 Revista Facultad de Ingeniería Universidad de Antioquia
This work is licensed under a Creative Commons Attribution-NonCommercial-ShareAlike 4.0 International License.
Authors can archive the pre-print version (i.e., the version prior to peer review) and post-print version (that is, the final version after peer review and layout process) on their personal website, institutional repository and / or thematic repository

Upon acceptance of an article, it will be published online through the page https://revistas.udea.edu.co/index.php/ingenieria/issue/archive in PDF version with its correspondent DOI identifier
The Revista Facultad de Ingeniería -redin- encourages the Political Constitution of Colombia, chapter IV
Chapter IV Sanctions 51
The following shall be liable to imprisonment for two to five years and a fine of five to 20 times the legal minimum monthly wage: (1) any person who publishes an unpublished literary or artistic work, or part thereof, by any means, without the express prior authorization of the owner of rights; (2) any person who enters in the National Register of Copyright a literary, scientific or artistic work in the name of a person other than the true author, or with its title altered or deleted, or with its text altered, deformed, amended or distorted, or with a false mention of the name of the publisher or phonogram, film, videogram or software producer; (3) any person who in any way or by any means reproduces, disposes of, condenses, mutilates or otherwise transforms a literary, scientific or artistic work without the express prior authorization of the owners thereof; (4) any person who reproduces phonograms, videograms, software or cinematographic works without the express prior authorization of the owner, or transports, stores, stocks, distributes, imports, sells, offers for sale, acquires for sale or distribution or in any way deals in such reproductions. Paragraph. If either the material embodiment or title page of or the introduction to the literary work, phonogram, videogram, software or cinematographic work uses the name, business style, logotype or distinctive mark of the lawful owner of rights, the foregoing sanctions shall be increased by up to half.