Integración de productos alcoindustriales
Abstract

La industria alcoquímica en el Brasil se inició aproximadamente en 1920, con ampliaciones significativas en el período 1958-1969. Entre 1970- 1974, esta industria declinó debido a la prelación dada a la industria petro­qu1 m1ca. Sin embargo, a partir de 197 5, debido a la crisis energética mundial, se adoptó el Programa N acio­nal de Alcohol, cuya estrategia básica fue la de pasar de 590 TM/año a 3.5 millones de TM/año de alcohol en 1980 y 4.8 millones en 1985. De estas últi­mas, 1.6 millones serían utilizadas pa­ra la industria química (3). Como par­te del programa, se han planeado alre­dedor de 120 destilerías y algunas plantas de productos químicos(4); en 1979, se producía ácido acético, ace­taldehído, 2-etil hexanol, n-butanol, éter etílico y butadieno, entre otros (5).
|Abstract = 22 veces | PDF (ESPAÑOL (ESPAÑA)) = 61 veces|
Downloads
Download data is not yet available.
References
Junta del Acuerdo de Cartagena. "Evaluación petroquímica del Pacto Andino, 1975-1978". Lima, Perú.
Hernández S., Gildardo. Alcoindustria: es importante su desarrollo para Colom­bia? Rev. Facultad de Ingeniería, Universidad de Antioquia, Vol. 1, No. 1, pp.37- 56, 1984.
Winter, Olaf and Eng, Meng-Teck. Make wthylene from ethanol. Hydrocarbon pro­cessing. Nov'1976,p.125.
Colmenares, Jaime y Rendón, Juan. Agroquímica, Carboquímica, Petroquímica, un programa de desarrollo integral. Sucromiles S.A. X Congreso Colombiano de Ingeniería Química, agosto 1977.
Ribeiro Filho, Francisco A. The Ethanol-Chemical lndustry in Brazil. Petroquisa, GETEC, Río de Janeiro, 1979, pp.28-29.
Ibid, p.10.
Winter and Eng, op. cit., p.126.
Venkiteswaran, S.L. Ethyl Alcohol for Chemical Industries- A fresh appraisal. Chemical lndustry Development, lnc. C.P. & E., august 1974.
Venkiteswaran, S.L. Analysis of the scope for alcohol-based chemicals. Chemical lndustry Development, lnc. C.P. & E., november 1975.
Ribeiro, op. cit., pp.4-73.
Kirk Othmer. Encyclopedia of Chemical Technology, Vol. 8, pp.480-481.
Ibid, pp.393-396.
Ibid, Vol. 1, p.85.
Ibid, Vol. 21, p.321.
Ibid, Vol. 3, p.826.
Ibid, p.871.
Ibid, Vol. 8, pp.409-410.
Peters, M.S.; Quinn, J.A. Pentaerithritol. Production Yields, Industrial and Engi­neering Chemistry. Vol. 47, sept. 1955, pp.1710-1713.
Cornils, Boy; Muller Alexander. 2 Ethyl-Hexanol: What you should know. Hy­drocarbon Processing, Int. Ed. 1980, Vol. 59, No.11, pp.93-102.
Patlasov, V.P.; Balashov, M.I.; Chaschin, A.M.; Sirafinov, L.A.; Bomshtein, A.L. Ethyl Acetate (Central Scientific-Research and Design lnstitute of the Wood Chemical lndustry, Moscow Institute of Steel and Alloys). U.R.S.S. 857,109 (C1.C07669/14), 07 aug' 1981, Appl. 2,7,99,527, 17 jul'1979. Chemical Abstrac­ts. Vol. 45 203363e.
Thakor, H.P.; Puranik, S.A.; Kher, M.G. Valor Phase Catalytic Esterification of n-Butyl Alcohol with Acetic Acid to n-Butyl Acetate in a fluidized bed. Fluid. Ses Appl., C-R. Congr. Int. 1973 (Pub. 1974). 615-27. Ed. Cedapues-Toulousse, Fr. Chem. Abst. V.87, 223032.
Cooke, Norman Curtís; Yeomans Bertram Co-Production of Ethyl Acetate and Butyl Acetate, Brit. 1,394,651. (C1.C07C), may 21, 1975, Appl. 1742/73, jan'1973, 6 pp. Chem. Abst. V.83. 96457S.
Austin, George T. lndustrially significant organic chemicals. Chem. Eng. (N.Y.), 1974, Vol. 81, No. 8, pp.86-90.
Ibid, Vol. 81, No. 4, pp.125-8.
Ibid, Vol. 81, No. 2, pp.127-32.
Ibid, Vol. 81, No. 6, pp.87-92.
Pape, Richard F.; Bawer, Leonhard; Damitriu, Ion; Dan, Ludmil; Par, Bujor; Coanda, Liliana. Continuos Manufacture of Acetic Ester. Rom. 55, 369. (C1.C07c), march 30 1973, Appl. 68,290, sep'27, 1971; 3 pp. Chemical Abstracts, Vol. 80, p.59.489.
Kanti, Bhattacharjee, Mrinal. Alcohol based plants in the chemical industry. Chemical Age of India, Vol. 25, No. 12, december 1974, pp.975-76.
Nagarajan, V. Kinetics of a complex reaction system-preparation of n-butanol from ethanol in one step. lndian Journal of Technology, Vol. 9, october'1971, pp.380- 386.
Nagarajan, Kuloor, N.R. Catalytic preparation of n-butanol from ethanol in one step. Indian Journal of Technology, Vol. 4, february 1966, pp.46-54.
ECN Petrochemicals'79 Supplement. Ethanol chemistry to be or not to be. Dec'17, 1979, pp.40-43.
Venugopal, B.; Kumar, R.; Kuloor, N.R. Design of a static bed reactor for the production of acetaldehyde from alcohol. lndian Journ. Technol., Vol. 4, july 1966, pp.205-208.
Franckaerts, J.; Froment, G.F. Kinetic study of the dehydrogenation of ethanol. Chemical Engineering Science, 1964, Vol. 19, pp.807-818.
Faith, Lawrence W.; Keyes, D.B. Catalytic Partial Oxidation of Alcohol in the Vapor Phase III. Industrial and Engineering Chemistry, Vol. 23, No. 11, pp.1250-1253.
Piloso, A.; Moresi, M.; Mustachi, C.; Soracco, B. Kinetics of the dehydrogenation of Ethanol to Acetaldehyde on Unsupported catalysts. The Canadian Journal of Chemical Engineering, Vol. 57, april 1979, pp, 159-164.
Montoya, Mauricio; Hernández S., Gildardo; Montes de C., Consuelo. Acetaldehído, Monografía, Universidad de Antioquia-CESET, 1981.
Veryard, K.J. Oxidation of Alcohol. London 902,368. (C1 C07C), august 1, 1962, Appl, 32224,59, sept'22, 1959, pp.6.
Fabricación de Acetaldehído a partir del Etanol. Universidad de Antioquia-CESET, (Documento No. 428 AI).
DANE. Anuario de Comercio Exterior. Tomos XXVI-XXXI, 1976-1981.
Ibarra Merlano, Gustavo. Nuevo Arancel de Aduanas. Publicación de Legislación Económica, 1982.
Schnell Publishing Company Inc. Chemical Marketing Reporter, mano 28/83. (U.S.A.).
Ribeiro, op. cit., pp.53-66.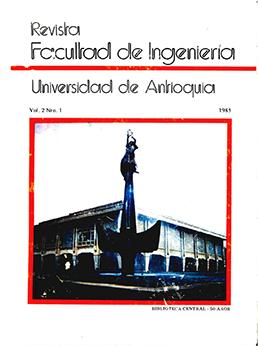 Downloads
How to Cite
Devia Manjarrés, N., Montes de Correa, C., & Hernández Saldarriaga, G. (1995). Integración de productos alcoindustriales. Revista Facultad De Ingeniería Universidad De Antioquia, (2), 33–48. Retrieved from https://revistas.udea.edu.co/index.php/ingenieria/article/view/325468
License
Revista Facultad de Ingeniería, Universidad de Antioquia is licensed under the Creative Commons Attribution BY-NC-SA 4.0 license. The material published in the journal can be distributed, copied and exhibited by third parties if the respective credits are given to the journal. No commercial benefit can be obtained and derivative works must be under the same license terms as the original work.