Ciencia y tecnología: palabras claves del diálogo universidad-empresa
Germán Urrego-Giraldo

Universidad de Antioquia
Abstract
(Sin resumen)

|Abstract = 110 veces | PDF (ESPAÑOL (ESPAÑA)) = 94 veces|
Downloads
Download data is not yet available.
References
CONSTITUCIÓN POLÍTICA DE COLOMBIA, 1991
LEY 29 de 1990
CNA. Documentos varios sobre Acreditación
LEY 30 de 1992
LEY 80 de 1993
LEY 152 DE 1994
MISION PARA LA MODERNIZACIÓN DE LA UNIVERSIDAD PÚBLICA. Informe final. 1995
INFORME MONITOR. Creamos la Ventaja Competitiva de Colombia. Cámara de Comercio. 1994.
N. Restrepo, J.J. Correa, G. Urrego. Sistema integrado para gestión de la calidad en las universidades. 1992.
URREGO G., Germán. Sistema de apoyo a la planeación, el desarrollo y el mejoramiento en universidades. SEIG 92.1992.
GESTION UNIVERSITARIA. Documentos de trabajo. Programa de capacitación U.de A- ICFES-BID. 1995.
DRUCKER, Peter. Las nuevas realidades. Sudamericana. 1992. 383 p.
DRUCKER, Peter. Gerencia para el futuro. Norma 1993. 353 p.
GONZÁLEZ, Camilo. El fin del Neoliberalismo: El Neoestructuralismo. INDEPAZ. 993. 191 P.
Misión de Ciencia, Educación y Desarrollo. COLOMBIA: Al Filo de la Oportunidad. Cooperativa Editorial Magisterio. 1995. 179 p.
World Watch Institute. La situación del mundo 1994. EMECE. 1994. 4 77 p.
DRUCKER, Peter. La sociedad Post Capitalista. Norma. 1994. 244 p.
ARIAS O., José. Utilización de la Internet en educación. Rev. Enfoques Pedagógicos. CAFAM. 1994. I0p.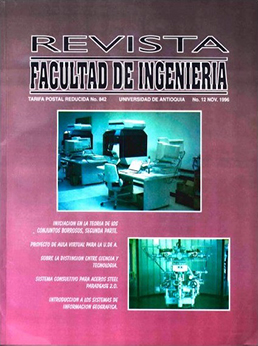 Copyright (c) 2018 Revista Facultad de Ingeniería
This work is licensed under a Creative Commons Attribution-NonCommercial-ShareAlike 4.0 International License.
All the texts included in the Revista Facultad de Ingenieria Universidad de Antioquia -redin- are protected by copyrights. According to the law, their reproduction through any means, physical or electronic, without written consent by the Editorial Committee is forbidden.  Complete texts of the articles will be fully and publically available, which means that they can be read, downloaded, copied, distributed, printed, searched for, or linked to. The opinions expressed in the published articles specifically belong to the authors and are not necessarily the same of the Editorial Committee or of the School of Engineering Management.