Revolución tecnológica y revolución informática
Germán Urrego-Giraldo

Universidad de Antioquia
Abstract
La incidencia de la informática en el desarrollo de la sociedad se reconoce en los avances de la actual revolución tecnológica caracterizada por la velocidad en la multiplicación y aplicación del conocimiento en todas las manifestaciones de la actividad social. La informática sustenta, aplica y difunde los avances de la tecnología microelectrónica, convirtiéndose en el agente que dinamiza y universaliza las transformaciones de la citada revolución tecnológica. La globalización de la economía. la internacionalización de las culturas, y los retos que deben afrontar las organizaciones conforman los escenarios en los cuales la informática ejerce como impulsor de los desarrollos del mundo actual.

|Abstract = 381 veces | PDF (ESPAÑOL (ESPAÑA)) = 38 veces|
Downloads
Download data is not yet available.
References
DRUCKER, Peter. Gerencia para el futuro. Norma 1993. 353 p.
DRUCKER, Peter. La sociedad Post Capitalista. Norma. 1994. 244 p.
DRUCKER, Peter. Las nuevas realidades. Sudamericana. 1992. 383 p.
GATES, Bill. Camino al Futuro. Santafé de Bogotá: Me Graw Hill Interamericana S.A. 1995. 280 p. GESTION UNIVERSITARIA. Documentos de trabajo. Programa de capacitación U.de A- ICFES-BID. 1995.
IEEE. Analysis and Forecast issue: Technology. SPECTRUM. 1994
KUHN, Thomas. Estructura de las Revoluciones Científicas. México: Fondo de Cultura Económica, 1994. 320 p.
Misión de Ciencia, Educación y Desarrollo. COLOMBIA: Al Filo de la Oportunidad. Cooperativa Editorial Magisterio. 1995. 179 p.
NEGROPONTE, Nicholas. Ser Digital. Buenos Aires: Atlántida, 1996. 247 p.
RESTREPO, N.,CORREA, J.J.,URREGO G. Sistema integrado para gestión de la calidad en las universidades. 1992.
SCHULDT, Jurgen. «Revolución Tecnológica y desarrollo Autocentrado»; En:González P. Camilo (Ed.).EI fin del Neoliberalismo: el Neoestructuralismo, Santafé de Bogotá, INDEPAZ, 1993.
TERCEIRO, José B. Sociedad Digital. Del Homo Sapiens al Homo Digitalis. Madrid: Alianza Editorial, 1996. 248 p.
URREGO G., Germán. Sistema de apoyo a la planeación, el desarrollo y el mejoramiento en universidades. CEIG 92 . 1992.
World Watch Institute. La situación del mundo 1994. EMECE. 1994. 477 p.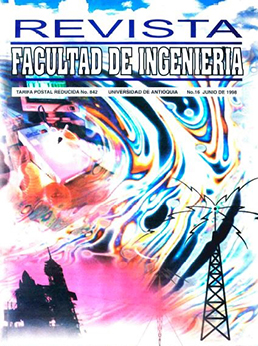 How to Cite
Urrego-Giraldo G. (1998). Revolución tecnológica y revolución informática. Revista Facultad De Ingeniería Universidad De Antioquia, (16), 75-81. Retrieved from https://revistas.udea.edu.co/index.php/ingenieria/article/view/325763
Copyright (c) 1998 Revista Facultad de Ingeniería
This work is licensed under a Creative Commons Attribution-NonCommercial-ShareAlike 4.0 International License.
Authors can archive the pre-print version (i.e., the version prior to peer review) and post-print version (that is, the final version after peer review and layout process) on their personal website, institutional repository and / or thematic repository

Upon acceptance of an article, it will be published online through the page https://revistas.udea.edu.co/index.php/ingenieria/issue/archive in PDF version with its correspondent DOI identifier
The Revista Facultad de Ingeniería -redin- encourages the Political Constitution of Colombia, chapter IV
Chapter IV Sanctions 51
The following shall be liable to imprisonment for two to five years and a fine of five to 20 times the legal minimum monthly wage: (1) any person who publishes an unpublished literary or artistic work, or part thereof, by any means, without the express prior authorization of the owner of rights; (2) any person who enters in the National Register of Copyright a literary, scientific or artistic work in the name of a person other than the true author, or with its title altered or deleted, or with its text altered, deformed, amended or distorted, or with a false mention of the name of the publisher or phonogram, film, videogram or software producer; (3) any person who in any way or by any means reproduces, disposes of, condenses, mutilates or otherwise transforms a literary, scientific or artistic work without the express prior authorization of the owners thereof; (4) any person who reproduces phonograms, videograms, software or cinematographic works without the express prior authorization of the owner, or transports, stores, stocks, distributes, imports, sells, offers for sale, acquires for sale or distribution or in any way deals in such reproductions. Paragraph. If either the material embodiment or title page of or the introduction to the literary work, phonogram, videogram, software or cinematographic work uses the name, business style, logotype or distinctive mark of the lawful owner of rights, the foregoing sanctions shall be increased by up to half.