El concepto y alcance de la gestión tecnológica
Guillermo Restrepo-González

Universidad de Antioquia
Keywords:
Gestión tecnológica, tecnología, gestión.
Abstract
A partir de los conceptos de gestión y tecnología se presenta el de gestión tec­nológica. También se contextualiza su marco de acción en la empresa. De alli se pasa a identificar las funciones y actividades propias tales como prospectiva, plan tecnológico, innovación tecnológica y transferencia de tecnología.

|Abstract = 1454 veces | PDF (ESPAÑOL (ESPAÑA)) = 588 veces|
Downloads
Download data is not yet available.
References
Comité de Currículo. La Facultad de Ingeniería de la
c de A. y su proceso de transformación curricular. Editorial Ideografic. Medellín. 2000.
Koontz, Harold y Weihrich Heinz. Administración, una prospectiva global. Editorial McGraw-Hill, 11 ª. edición, México, 1998.
Uribe, Augusto. /11troducció11 a la gerencia. UPB, 1997.
Valencia, Carlos. Gerencia de Proyectos. Seminario para profesores U. de A., 1996.
Mora, Julia. "Transformación y gestión curricular". En: Memorias Seminario Taller Evaluación y Gestión Curricular. Universidad de Antioquia, septiembre de 1999.
Muchos autores coinciden en ese texto con diferencias minimas. Entre ellos los del Bid-Secab-Cinda.
Existen textos como el de Félix Moreno y Lizardo Car­vajal que traen varias clasificaciones.
Cordua, S. Joaquín. Tecnología y desarrollo tecnoló­gico. Capítulo del libro: Gestión tecnológica y desarrollo universitario. CINDA. Santiago de Chile, 1994.
Zoltan Szabó. Seminario sobre Gestión Tecnológica. SENA, 1995.
Bid-Secab-Cinda. Glosario de términos de gestión tecnológica. Colección Ciencia y Tecnología Nº. 28. Santiago de Chile. 1990.
Robledo V., Jorge. comunicación privada.
García, T. Arturo. Planeación estratégica y planea­ción tecnológica. Colección Ciencia y Tecnología. Nº. 27. CINDA. Santiago, 1990.
Mojica. Francisco. La Prospectiva. Editorial Legis, Bogotá, 1993.
Pineda, Leonardo. Conferencias sobre Innovación Tec­nológica para las PYMES en Proantioquia y U. de A. 1997 y 1999.
UNIDO. Manual de transferencia de tecnología y negociaciones. Viena, I 993.
Moreno, Félix y Darío. Introducción al desarrollo tec­nológico. Sena, Acopi, 1993.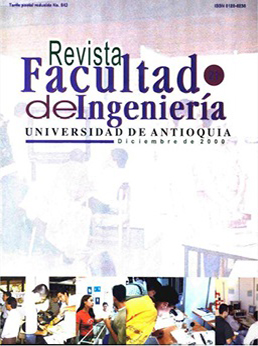 How to Cite
Restrepo-González, G. (2016). El concepto y alcance de la gestión tecnológica. Revista Facultad De Ingeniería Universidad De Antioquia, (21), 178-185. Retrieved from https://revistas.udea.edu.co/index.php/ingenieria/article/view/325929
Copyright (c) 2018 Revista Facultad de Ingeniería
This work is licensed under a Creative Commons Attribution-NonCommercial-ShareAlike 4.0 International License.
All the texts included in the Revista Facultad de Ingenieria Universidad de Antioquia -redin- are protected by copyrights. According to the law, their reproduction through any means, physical or electronic, without written consent by the Editorial Committee is forbidden. Complete texts of the articles will be fully and publically available, which means that they can be read, downloaded, copied, distributed, printed, searched for, or linked to. The opinions expressed in the published articles specifically belong to the authors and are not necessarily the same of the Editorial Committee or of the School of Engineering Management.