Obtención de butiraldoxima por una reacción de amoximación con titanio silicalita-1 (TS-1) como catalizador
Keywords:
Amoximación, butiraldoxima, titanio silicalita-1, H202.
Abstract
Se obtuvo la butiraldoxima a partir del butiraldehído, mediante la reacción de amoximación con amoníaco y peróxido de hidrógeno, utilizando titanio silicalita- 1 (TS-1) como catalizador. Las variables de reacción estudiadas fueron: temperatura,tipo de solvente y relación peróxido de hidrógeno/butiraldehído, catalizador/butiraldehído y amoníaco/butiraldehído. La cristalinidad del catalizadorse verificó por difracción de rayos X (DRX) y la composición química del catalizadorse detenninó por absorción atómica. El butiraldehído y la butiraldoximase determinaron por cromatografía de gases. Entre los solventes utilizados,metanol, terbutanol y acetonitrilo, éste último fue el que más favoreció la reacción.Se obtuvo una conversión de 91 % y una selectividad de 70% a 65 ºC usando15 mg de catalizador, 1,25 mmol de peróxido de hidrógeno y 2 mmol deamoníaco por mmol de butiraldehído. La actividad del catalizador disminuyó pocoal ser reutilizado en dos corridas consecutivas, lo cual sugiere que el titanio incorporado es estable en la estructura MFI bajo las condiciones estudiadas.
|Abstract = 72 veces | PDF (ESPAÑOL (ESPAÑA)) = 32 veces|
Downloads
Download data is not yet available.
References
Notari. ''Titanium silicalites". En: Catalysis Today. Vol. 18, 1993.pp. 163-172.
R. Sheldon and J. Dakka. "Heterogeneous catalytic oxidations in the manufacture of fine chemicals". En: Catalysis Today. Vol. 19. 1999. pp. 215-246.
R. Sheldon. "Selective catalytic synthesis of fine chemicals: Opportunities and trends". En: Journal of Molecular Catalysis A: Chemical. Vol. 107. 1996. pp. 75•83.
Kirk and Othmer. Encyclopedia of Chemical Technology. Vol. 11. 1967. pp. 493-504.
G. Petrini. et al. "Caprolactam via ammoximation". Presented in the worldwide solid acid process conference. 1993.
A. J. H. P. Van der Pol and J. H. C. Van Hooff. "Parameters affecting the sintesis of titanium silicalite 1 ". Applied Catalisis A: General. Vol. 92. 1992. pp. 93-111.
P. Wu. et al. "Ammoximation of ketones over titanium mordenite". Joumal of Catalysis. Vol. 168. 1997. pp. 400-411.
A. Zecchina. et al. "Fourier-transform infrared and Raman spectra of pore and Al-, Br-, Ti-., and Fe -substituted silicalites: stretching- mode region". Journal of Chemical Society of Faraday Transations. Vol. 89. No. 22. 1993. pp. 35.54_
E.G. Derovane. et al. ''Titanium substituted zeolite beta: an efficient catalyst in the oxy-funtionalisation of cyclic alkenes using hydrogen peroxide in organic solvents". New Journal Chemicals. 1998. pp. 797-799.
T. Takashi and N. Jappar. "Ammoximation of cyclic ketones on TS• l and amorphous Si02- Tt02". Journal of Catalysis. 1996. pp. 570-576.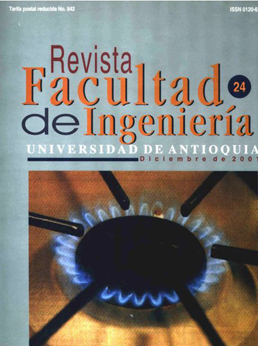 Downloads
How to Cite
Acevedo-Ospina, M., Caro-Muñoz, C. A., Ríos, L. A., & Montes de Correa, C. (2001). Obtención de butiraldoxima por una reacción de amoximación con titanio silicalita-1 (TS-1) como catalizador. Revista Facultad De Ingeniería Universidad De Antioquia, (24), 40–46. https://doi.org/10.17533/udea.redin.326327
License
Revista Facultad de Ingeniería, Universidad de Antioquia is licensed under the Creative Commons Attribution BY-NC-SA 4.0 license. https://creativecommons.org/licenses/by-nc-sa/4.0/deed.en
You are free to:
Share — copy and redistribute the material in any medium or format
Adapt — remix, transform, and build upon the material
Under the following terms:
Attribution — You must give appropriate credit, provide a link to the license, and indicate if changes were made. You may do so in any reasonable manner, but not in any way that suggests the licensor endorses you or your use.
NonCommercial — You may not use the material for commercial purposes.
ShareAlike — If you remix, transform, or build upon the material, you must distribute your contributions under the same license as the original.
The material published in the journal can be distributed, copied and exhibited by third parties if the respective credits are given to the journal. No commercial benefit can be obtained and derivative works must be under the same license terms as the original work.