Síntesis y caracterización de los catalizadores Fe-ZeO2 y Cu-ZrO2
Liliana Patricia Castro

Universidad de Antioquia

Consuelo Montes de Correa

Universidad de Antioquia
Keywords:
Fe-ZrO2, Cu-ZrO2, sol-gel, catalizadores, síntesis.
Abstract
Se comparan algunas características fisicoquímicas de los xerogeles que con­tienen Cu o Fe soportados en circonia. Se usaron ácido sulfúrico o hidróxido de amonio como catalizadores de hidrólisis durante la etapa de gelación. Los materiales sulfatados cristalizaron principalmente en la fase tetragonal, exhi­bieron mayor área superficial y presentaron mayor número de sitios ácidos que los catalizadores preparados en medio básico. La adición de los precurso­res de hierro y cobre en el gel de síntesis durante la preparación de la circonia sulfatada, condujo a una mayor estabilización de las especies sulfato en dicho soporte, especialmente bajo condiciones oxidantes.
|Abstract = 86 veces | PDF (ESPAÑOL (ESPAÑA)) = 98 veces|
Downloads
Download data is not yet available.
References
Srinivasan, R. et al. "Sulfated zirconia catalysts, the crystal phases and their transformations". En: Chem. Mater. Vol. 7. 1995. pp. 725-730.
González, R. et al. "The sol-gel syntbesis of superacid bigh surface area mixed oxides oftitania and zirconia". En: Actas XIV Simposio Iberoamericano de Catálisis. Concepción. 1994. p. 1.623-1.627.
Gonzáles, R. et al. "Sol-gel preparation of supported metal catalysts". En: Cata/. Today. Vol. 35. 1997. p. 293-317.
Koppel, R. et al. "Copper and silver zirconia Aerogels. Preparations, structural properties and catalytic behavior in metanol synthesis from carbon dioxide". En: J. Catal. Vol. 179. 1998. pp.515-527.
Trung, M. et al. "lnfluence of the calcination temperature on the acidic properties of sulphated zirconia, En: Appl. Catal. A, Vol. 171. 1998. p. 207-217.
Dow, W. et al. "Ytria-Stabilized zirconia supported copper oxide catalyst" En: J. Catal, Vol. 160. 1996. p.155-170.
Boot, LA. et al. "lron-based dehydrogenation catalysts supported on zirconia" En: J. Catal. Vol. 163. 1996. p. 186-194.
Zhou, R. et al. "Temperature-programmed reduction and temperature-programmed desorption studies of CuO/ZrO2 catalysts" En: Appl. Surf. Sci. Vol. 148. 2001 p. 263-270.
Dow, W.P et al. "Ytria-Stabilized zirconia supported copper oxide catalyst" En: J. Catal. Vol. 160. 1996. p. 171-182.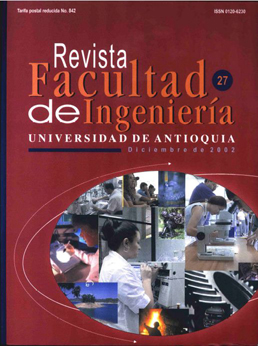 Copyright (c) 2018 Revista Facultad de Ingeniería
This work is licensed under a Creative Commons Attribution-NonCommercial-ShareAlike 4.0 International License.
All the texts included in the Revista Facultad de Ingenieria Universidad de Antioquia -redin- are protected by copyrights. According to the law, their reproduction through any means, physical or electronic, without written consent by the Editorial Committee is forbidden.  Complete texts of the articles will be fully and publically available, which means that they can be read, downloaded, copied, distributed, printed, searched for, or linked to. The opinions expressed in the published articles specifically belong to the authors and are not necessarily the same of the Editorial Committee or of the School of Engineering Management.