The electricity before Faraday
Keywords:
electricity, history, Thales of Miletus, Gilbert, William, Franklin, Benjamín, Volta, Alessandro, electrostatics, triboelectricity
Abstract
This document is a paper describing the appearance and development of the electrical science since the early human history until the times of Michael Faraday at the beginning of nineteenth century. It is writen with the pourpose of adding it to another paper already writen by the author on the history of magnetism in the same period.
|Abstract = 507 veces | PDF = 210 veces|
Downloads
Download data is not yet available.
References
Atherton, W. A. From Compass to Computer. San Francisco. San Francisco Press, Inc. 1984.
Bernal, John. Historia Social de la Ciencia. 2 volúmenes. Barcelona. Ediciones Península. 1967.
Encyclopedia Britannica. Artículos "Electricity", "Thales", "Gilbert", "Hauksbee", "Franklin", "Guericke", "Coulomb". Gamow, George. Biografía de la Física. Madrid. Alianza Editorial. 1960.
Hall, Rupert. La Revolución Científica 1500-1750. Barcelona. Editorial Grijalbo. 1985.
Heilbron, J. L. Electricity in the 17th and 18th Centuries. A Study in Early Modern Physics. Nueva York. Dover Publications Incorporated. 1979.
Hellemans, Alexander y Bryan Bunch. The Timetables of Science. New York. Simon and Schuster. 1988.
Meyer, Herbert W. A History of Electricity and Magnetism. Norwalk, Connecticut. Bundy Library. 1972.
Papp, Desiderio. Ideas Revolucionarias en la Ciencia. Segunda edición. Santiago de Chile. Editorial Universitaria. 1993.
Poveda Ramos, Gabriel. El magnetismo antes de Faraday y su incorporación en Colombia. Artículo inédito.
Weinberg, Steven. Partículas subatómicas. Barcelona. Prensa Científica S.A. Editorial Labor. 1985.
Nota: En cada uno de estos libros, excepto en el de Heilbron, se encuentran solamente fragmentos de información sobre el tema del artículo.
http://inri.online.fr/dali4.html. "Thomas-François Dalibard, un savant pluridisciplinaire".
http://www.fis.uc.pt/ihti/proj/fisica/electros.htm. "A Electrostática de Otto von Guerike a Charles de Coulomb".
http://electrique.multimania.com/page4.htm. "Premières Machines".
http://www.ac-amiens.fr:8090/c1998/nollet.htm. "Jean Antoine Nollet".
http://physics.brown.edu/Studies/Demo/em/demo/5a5010.htm."5A50.10. Wimshurst Machine".
http://inri.online.fr/dali6.html. "Caracterisation de l'electricité dans la foudre".
http://www2.enel..it/home/enelandia/storia_nj/person/green.htm. "George Green".
http://www2.enel.it/home/enelandia/storia_nj/person/beccaria.htm. "Giovanni Battista Beccaria".
http://www2.enel.it/home/enelandia/storia_nj/person/musschen.htm. "Pieter van Musschenbroek".
http://www2.enel.it/home/enelandia/storia_nj/person/franklin.htm. "Benjamin Franklin".
http://www2.enel.it/home/enelandia/storia_nj/person/gilbert.htm. "William Gilbert".
http://www2.enel.it/home/enelandia/storia_nj/person/petrov.htm. "Vasili Vladimirovic Petrov".
http://isd196.k12.mn.us/Schools/avhs/AV%20Connect/Science/Estaticnotes.html. "Electrostatic Notes".
http://www.sln.org/pieces/otoole/Statichistory.htm. "A Short History of Electrostatics".
http://fr.encyclopedia.yahoo.com/articles/kh/kh_2068_p.O.html. "Stephen Gray".
http://www.bibliotecavigano.it/sezioneII.htm. "L'Elettricismo tra '600 e '700. Il Contributo Italiano".
http://www2.enel.it/home/enelandia/storia_nj/elettro/macchine.htm. "L'Electtrostatica. Le Machine Elettrostatica".
http://www2.enel.it/home/enelandia/storia_nj/elettro/statica.htm."L'Elettrostatica. L'Elettricità Statica".
http://www.coe.ufrj.br~acmq/electrostatic.html. "Electrostatic Machines".
http://www.facmed.unam.mx/historia/Electricidad.html. "El Potencial de Acción. Electricidad. La Electricidad Estática".
http://galileo.cyberscol.qc.ca/intermet/pheno_extreme/foudre_historique.htm. "Historique1".
http://library.thinkquest.org/19662/high/eng/18 th.html."History:18 th century".
Bonera, G. "Il caso dell' Electricitá:dalle Origine a Volta": Pavia. Universidad de Pavia. 2001.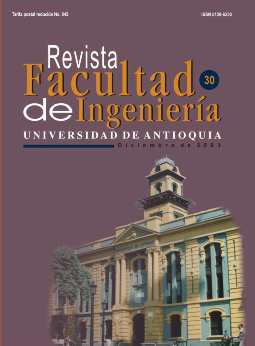 Downloads
How to Cite
Poveda-Ramos, G. . (2003). The electricity before Faraday. Revista Facultad De Ingeniería Universidad De Antioquia, (30), 130–147. https://doi.org/10.17533/udea.redin.327321
License
Revista Facultad de Ingeniería, Universidad de Antioquia is licensed under the Creative Commons Attribution BY-NC-SA 4.0 license. https://creativecommons.org/licenses/by-nc-sa/4.0/deed.en
You are free to:
Share — copy and redistribute the material in any medium or format
Adapt — remix, transform, and build upon the material
Under the following terms:
Attribution — You must give appropriate credit, provide a link to the license, and indicate if changes were made. You may do so in any reasonable manner, but not in any way that suggests the licensor endorses you or your use.
NonCommercial — You may not use the material for commercial purposes.
ShareAlike — If you remix, transform, or build upon the material, you must distribute your contributions under the same license as the original.
The material published in the journal can be distributed, copied and exhibited by third parties if the respective credits are given to the journal. No commercial benefit can be obtained and derivative works must be under the same license terms as the original work.