Identification and characterization of regional water flows contributing to the recharge of an unconfined aquifer
Teresita Betancur-Vargas

University of Antioquia

Cristina Martínez-Uribe

University of Antioquia

Edwin Fabian García-Aristizábal

University of Antioquia

https://orcid.org/0000-0002-4837-8518

John Fernando Escobar-Martínez

University of Antioquia
Keywords:
Recharge zones, Direct recharge, Regional flows, Groundwater
Abstract
The aquifer recharge can be direct and diffuse, or can occur through interaction with surface water bodies, or from input of regional flows from remote areas according to the conditions of porosity and second permeability from the host rock. In this study, direct recharge areas and regional flow systems were determined for the Aburrá Valley-Colombia. Five factors were taken into consideration in order to identify recharge areas: location of the springs, weathering profiles, topography, structural patterns and infiltration. Hydrogeochemical and isotope methods were used in order to validate the model.
|Abstract = 139 veces | PDF = 116 veces|
Downloads
Download data is not yet available.
References
O. Abadalla and R. Y. Al-Abri, "Groundwater rechard in arid áreas induced by tropical ciclones: lessons learned from Gonu 2007 in Sultane of Oman," Environ Earth Sci., vol. 63, no. 2, pp.229-239, 2011.
R. Chesnaux and A. Elliot, "Demostrating evidence of hydraulic conections between granular aquifers and fractures rock aquifers," in Proceedings of GeoHydro 2011, Join Meeting of the Canadian Quaternary Association and the Canadian Chapter of the International Association of Hydrogeologists, Quebec, Canada, 2011, pp. 28-31.
S. C. Carretero and E. E. Kruse, " Relationship between precipitation and water-table fluctuation i n a coastal dune aquifer: northeaster coast of t he Buenos Aires province, Argentina," Hydrogeology journal|, vol. 20, no. 8, pp. 1613-1621, 2012.
Chesnaux, S. Rafini, and A. Elliott, " A numerical i nvestigation t o illustrate t he consequences of hydraulic connections between granular and f ractured-rock aquifers," Hydrogeology journal, vol. 20, no. 8, pp. 1669-1680, 2012.
D. N. Contractor and J. W. Jenson, " Simulated effect of v adose infiltration on water levels in the Northern Guam Lens Aquifer," Journal of Hydrology, vol. 229, no. 3-4, pp. 232-254, 2000.
J. Wu, R. Zhang, and J. Yang, "Analysis of rainfall-recharge relationships," Journal of Hydrology, vol. 177, no. 1-2, pp.143-160, 1996.
J. D. Cooper, C. M. K. Gardner, and N. Mackenzie, "Soil controls on recharge to aquifers," European Journal of Soil Science, vol. 41, no. 4, pp. 613-630, 1990.
P. Döll and K. Fiedler, "Global-scale modeling of groundwater recharge," Hidrol. Earth Syst Sci., vol. 12, pp. 863-885, 2008.
Y. C. Chiu and Y. Chia, "The impact of groundwater discharge to the Hsueh-Shan tunnel on the waer resources in northern Taiwan," Hydrogeology journal, vol. 20, no. 8, pp. 1599-1611, 2012.
M. Ketata, M. Gueddari, and R. Bouhlila, " Hydrodynamic and salinity evolution of groundwaters during artificial recharge within semiarid coastal aquifers: A case study of El Khairat aquifer system in Enfidha (Tunisian Sahel)," Journal of African Earth Sciences, vol. 97, pp. 224-229, 2014.
S. Bouri and H. B. A. Dhia, " Thirty-year artificial recharge experiment in a coastal aquifer in an arid zone: The Teboulba aquifer system (Tunisian Sahel)," Comptes Rendus Geoscience, vol. 342, no. 1, pp. 60-74, 2010.
R. Fagundo et al., " Caracterización hidrogeoquímica del sistema de flujo local-regional de la sierra del rosario ( cuba)," Revista Latino- Americana de Hidrogeologia, vol. 5, pp. 75-90, 2005.
Universidad de Antioquia (UdeA) and Área Metropolitana del Valle de Aburrá (AMVA), "Determinación y protección de las potenciales zonas de recarga en el norte del Valle de Aburrá (DPPZRNVA)," UdeA/AMVA, Medellín, Colombia, Tech. Doc., Sep. 2012.
Universidad de Antioquia (UdeA) and Área Metropolitana del Valle de Aburrá (AMVA), "Determinación y Protección de las Potenciales Zonas de Recarga en el Centro y Sur del Valle de Aburrá," UdeA/AMVA, Medellín, Colombia, Tech. Doc., 2013.
J. Tóth, "A theory of groundwater motion in small drainage basins in central Alberta Canada," Journal of Geophysical Researh, vol. 67, no. 11, pp. 4375-4388, 1962.
American Society for Testing and Materials (ASTM), Standard Test Method for Infiltration Rate of Soils in Field Using Double-Ring Infiltrometer, ASTM D3385–09, 2009.
T. L. Saaty, "Decision making with the analytic hierarchy process," International Journal of Services Sciences, vol. 2, pp. 83-98, 2000.
B. Roy, Algèbre moderne et théorie des graphes orientées vers les sciences économiques et Sociales: Tome 1: Notions et Résultats Fondamentaux. Paris, Francia: Paris Dunod, 1969.
B. Roy, Méthodologie multicritère d'aide à la décision, Paris, Francia: Economica, 1985.
J. F. Escobar, T. Betancur, E. García, C. Martínez, and P. A. Palacio, "Análisis jerárquico ponderado aplicado a la identificación de recarga y flujos regionales en acuíferos," Revista Politécnica, vol. 13, pp. 37-48, 2017.
F. K. Zaidi, Y. Nazzal, I. Ahmed, M Naeem, and M. K. Jafri, "Identification of potential artificial groundwater recharge zones in Northweestern Saudi Arabia usin GIS and Boolean logic," Journal of African Earth Sciences, vol. 111, pp. 156-160, 2015.
American Public Health Association, Standard methods for the examination of water and wastewater, Part 1000, 2012.
Departamento Administrativo Nacional de Estadística (DANE), "Población 2005 y proyección en el 2010 de los municipios del Valle de Aburrá", Censo general, 2005. Medellín, Colombia, 2005.
Área Metropolitana del Valle de Aburrá (AMVA) and Consorcio Microzonificación (Solingral S.A., Integral S.A., Inteinsa, Universidad EAFIT, Universidad Nacional de Colombia Sede Medellín), "Microzonificación sísmica detallada de los municipios de Barbosa, Girardota, Copacabana, Sabaneta, La Estrella, Caldas y Envigado," AMVA/ Consorico Micorzonificación, Medellín, Colombia, Tech. Doc., 2007.
Departamento de Agricultura de Estados Unidos (USDA), "Guía para la Evaluación de la Calidad y Salud del Suelo. Traduction: Área de Cartografía de Suelos y Evaluación de Tierras," Argentina, Tech. Doc., 1999.
C. A. J. Appelo and D. Postma, Geochemistry, groundwater and pollution, 2nd ed. Amsterdam, the Netherlands: CRC Press, 2005.
Universidad de Antioquia (UdeA) and Área Metropolitana del Valle de Aburrá (AMVA), "Red de monitoreo ambiental en la cuenca hidrográfica del río Aburrá-Medellín en jurisdicción del Área Metropolitana Fase IV," UdeA/AMVA, Medellín, Colombia, Tech. Doc., 2013.
R. J. Hunt, T. B. Coplen, N. L. Haas, D. A. Saad, and M. A. Borchardt, "Investigating surface water–well interaction using stable isotope ratios of water," Journal of Hydrology, vol. 302, no. 1-4, pp.154-172, 2005.
A. K. Campillo, "Orígenes de la Recarga del Acuífero del Valle de Aburrá. Enfoque Geoquímico e Isotópico," M.S. thesis, Montpellier Univ., Montpellier, Francia, 2012. 85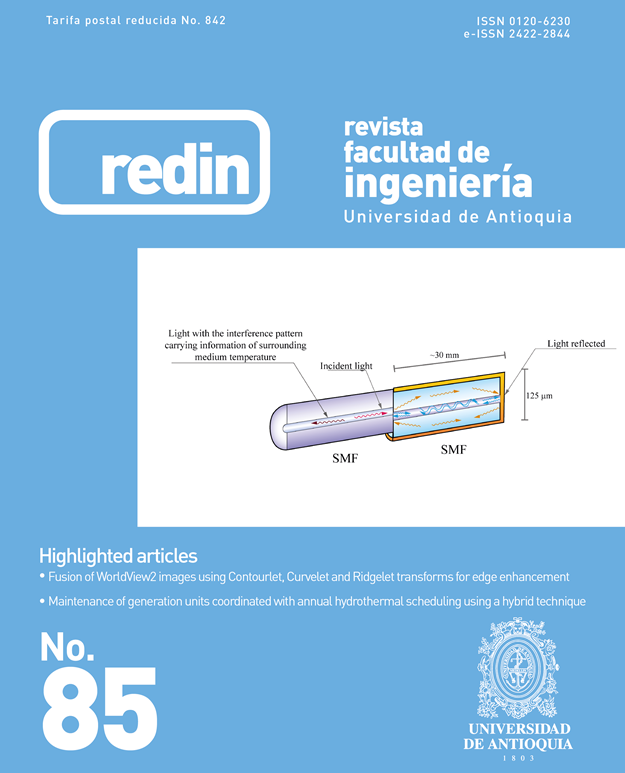 How to Cite
Betancur-Vargas T., Martínez-Uribe C., García-Aristizábal E. F., & Escobar-Martínez J. F. (2017). Identification and characterization of regional water flows contributing to the recharge of an unconfined aquifer. Revista Facultad De Ingeniería Universidad De Antioquia, (85), 70-85. https://doi.org/10.17533/udea.redin.n85a07
Copyright (c) 2018 Revista Facultad de Ingeniería Universidad de Antioquia
This work is licensed under a Creative Commons Attribution-NonCommercial-ShareAlike 4.0 International License.
Authors can archive the pre-print version (i.e., the version prior to peer review) and post-print version (that is, the final version after peer review and layout process) on their personal website, institutional repository and / or thematic repository

Upon acceptance of an article, it will be published online through the page https://revistas.udea.edu.co/index.php/ingenieria/issue/archive in PDF version with its correspondent DOI identifier
The Revista Facultad de Ingeniería -redin- encourages the Political Constitution of Colombia, chapter IV
Chapter IV Sanctions 51
The following shall be liable to imprisonment for two to five years and a fine of five to 20 times the legal minimum monthly wage: (1) any person who publishes an unpublished literary or artistic work, or part thereof, by any means, without the express prior authorization of the owner of rights; (2) any person who enters in the National Register of Copyright a literary, scientific or artistic work in the name of a person other than the true author, or with its title altered or deleted, or with its text altered, deformed, amended or distorted, or with a false mention of the name of the publisher or phonogram, film, videogram or software producer; (3) any person who in any way or by any means reproduces, disposes of, condenses, mutilates or otherwise transforms a literary, scientific or artistic work without the express prior authorization of the owners thereof; (4) any person who reproduces phonograms, videograms, software or cinematographic works without the express prior authorization of the owner, or transports, stores, stocks, distributes, imports, sells, offers for sale, acquires for sale or distribution or in any way deals in such reproductions. Paragraph. If either the material embodiment or title page of or the introduction to the literary work, phonogram, videogram, software or cinematographic work uses the name, business style, logotype or distinctive mark of the lawful owner of rights, the foregoing sanctions shall be increased by up to half.