CURVAS DE CRECIMIENTO DEL PERÍMETRO CEFÁLICO EN NIÑOS DE 0 A 3 AÑOS. UNA NUEVA APROXIMACIÓN
Laila Yaned González Bejarano

Fabio Hernán Tejedor

Soltero

Luis Alberto López Pérez

Clementina Infante Contreras
Abstract
Introducción: el perímetro cefálico es un indicador de salud y de crecimiento global craneal en la primera infancia, por lo que  debe monitorearse. Usualmente, los patrones de referencia OMS utilizan el modelo Box Cox Power exponential y el método LMS para modelar  el comportamiento del crecimiento del perímetro cefálico. Estos métodos tienen la debilidad de comparar cada individuo frente a una mediana  poblacional, lo cual no permite caracterizar el crecimiento individual; en tanto que al usar los modelos longitudinales de efectos mixtos se puede  evaluar el patrón individual de crecimiento y controlar la variabilidad entre sujetos. El objetivo fue hacer uso de los modelos longitudinales de  efectos mixtos, caracterizar los patrones de crecimiento a partir del perímetro cefálico en niños de 0 a 3 años. Métodos: siendo éste un estudio  longitudinal prospectivo, los criterios de elegibilidad para los niños obedecieron a factores de inclusión y exclusión (OMS); 265 niños colombianos  (116 niñas, 149 niños), residentes en Bogotá, fueron distribuidos en 3 grupos G1: (0-12], G2: (12–24], G3: (24–36] meses. Se midieron cada  3 meses durante 1 año. Dos examinadores tuvieron entrenamiento y continua estandarización, monitoreo de adherencia a procedimientos de  recolección y calidad de datos. Se calculó el error aleatorio y sistemático. Las curvas de crecimiento fueron construidas usando los modelos  longitudinales mixtos. Para la estimación del modelo se utilizó el método de estimación de máxima verosimilitud restringida (REML), software  estadístico R versión libre 2.15. Para el ajuste de los modelos el paquete lme4. Resultados: se ajustaron 6 modelos, observándose mayor pendiente  de crecimiento de 0-12 meses. El modelo mostró un patrón de crecimiento por grupos de edad y sexo, en los grupos G1 y G2 las bandas de  confianza permitieron identificar datos atípicos, un mejor ajuste y distribución  de los residuales, contrario al comportamiento presentado en el  grupo G3, en el que se  observó mayor cantidad de datos atípicos por fuera de estas. Conclusiones: la metodología utilizada permitió entender el  comportamiento del perímetro cefálico por grupo, edad y sexo, y analizar datos con estructuras de desbalance.
ABSTRACT. Introduction: head circumference is an indicator of health and global cranial growth in early childhood, so it must be monitored. Usually,  the WHO reference patterns use the Box Cox Power exponential model and the LMS method to model the behavior of head circumference growth. These  methods are limited because they compare each individual against the median of a population, which prevents characterizing individual growth, while  mixed-effect longitudinal models allow assessing individual growth patterns and controlling variability among subjects. The objective of this study was  to use mixed-effect longitudinal models to characterize growth patterns based on head circumference in children 0 to 3 years of age. Methods: being  a prospective longitudinal study, the criteria for children eligibility considered inclusion and exclusion factors (WHO); 265 Colombian children (116  girls, 149 boys) living in Bogotá were distributed in 3 groups: G1: (0-12], G2: (12-24], G3: (24-36] months. They were measured every 3 months for 1  year. Two examiners were trained and continuously standardized, and they were monitored on adherence to data quality and data collection procedures.  Random and systematic errors were calculated. Growth curves were constructed using mixed longitudinal models. The model was estimated through  the method of estimation of restricted maximum likelihood (REML), free R statistical software, version 2.15. To adjust the models, we used the lme4  package. Results: 6 models were adjusted, with maximum gradient of growth from 0 to 12 months. The model showed a growth pattern by age group  and sex, in groups G1 and G2, confidence bands allowed identifying atypical data, better adjustment, and distribution of residuals, contrary to the  behavior in group G3, which showed more atypical data outside the bands. Conclusions: this methodology allowed understanding the behavior of  head circumference by age group and sex, and analyzing data with unbalanced structures.
|Abstract = 6009 veces | PDF (ESPAÑOL (ESPAÑA)) = 859 veces| INFORMACIÓN AUTORES (ESPAÑOL (ESPAÑA)) = 0 veces|
Downloads
Download data is not yet available.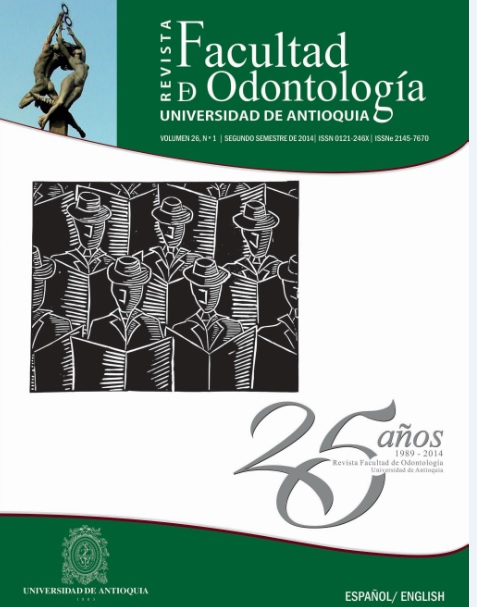 How to Cite
González Bejarano, L. Y., Tejedor, F. H., López Pérez, L. A., & Infante Contreras, C. (2014). CURVAS DE CRECIMIENTO DEL PERÍMETRO CEFÁLICO EN NIÑOS DE 0 A 3 AÑOS. UNA NUEVA APROXIMACIÓN. Revista Facultad De Odontología Universidad De Antioquia, 26(1). Retrieved from https://revistas.udea.edu.co/index.php/odont/article/view/15651
Copyright Notice
Copyright comprises moral and patrimonial rights.
1. Moral rights: are born at the moment of the creation of the work, without the need to register it. They belong to the author in a personal and unrelinquishable manner; also, they are imprescriptible, unalienable and non negotiable. Moral rights are the right to paternity of the work, the right to integrity of the work, the right to maintain the work unedited or to publish it under a pseudonym or anonymously, the right to modify the work, the right to repent and, the right to be mentioned, in accordance with the definitions established in article 40 of Intellectual property bylaws of the Universidad (RECTORAL RESOLUTION 21231 of 2005).
2. Patrimonial rights: they consist of the capacity of financially dispose and benefit from the work trough any mean. Also, the patrimonial rights are relinquishable, attachable, prescriptive, temporary and transmissible, and they are caused with the publication or divulgation of the work. To the effect of publication of articles in the journal Revista de la Facultad de Odontología, it is understood that Universidad de Antioquia is the owner of the patrimonial rights of the contents of the publication.
The content of the publications is the exclusive responsibility of the authors. Neither the printing press, nor the editors, nor the Editorial Board will be responsible for the use of the information contained in the articles.
I, we, the author(s), and through me (us), the Entity for which I, am (are) working, hereby transfer in a total and definitive manner and without any limitation, to the Revista Facultad de Odontología Universidad de Antioquia, the patrimonial rights corresponding to the article presented for physical and digital publication. I also declare that neither this article, nor part of it has been published in another journal.
Open Access Policy
The articles published in our Journal are fully open access, as we consider that providing the public with free access to research contributes to a greater global exchange of knowledge.
Creative Commons License
The Journal offers its content to third parties without any kind of economic compensation or embargo on the articles. Articles are published under the terms of a Creative Commons license, known as Attribution – NonCommercial – Share Alike (BY-NC-SA), which permits use, distribution and reproduction in any medium, provided that the original work is properly cited and that the new productions are licensed under the same conditions.

This work is licensed under a Creative Commons Attribution-NonCommercial-ShareAlike 4.0 International License.