Smoking cessation in a community pharmacy: preliminary results of a pharmaceutical care programme
Keywords:
Pharmacist, Smoking Cessation, Community Pharmacy, Pharmaceutical care
Abstract
Background: According to the World Health Organisation, tobacco use is one of the most widespread public health threats in the world, making it particularly urgent to promote smoking cessation. The effectiveness of pharmacist interventions in smoking cessation has been documented in the international literature, but not sufficiently in Portugal. Objective: To report the preliminary results of study to assess the effectiveness of a smoking cessation programme delivered in Portuguese community pharmacies using an outsorcing-based regimen. Methods: Within the scope of a pharmaceutical care programme implemented in seven community pharmacies by an outsourced pharmacist, a specific consultation for smoking cessation was developed, in accordance with Portugal's General Directorate of Health's recommendations and instruments. The smokers were identified and invited to join the programme by the pharmacy staff during their daily activities. Patients that accepted signed an informed consent. Through several face-to-face and phone consultations and based on a comprehensive patient approach, personalised plans to quit tobacco were defined with the patients' agreement. The effectiveness of the service was assessed through the evaluation of quit rates at 1, 6 and 12 months. The continuous variables were expressed as mean ± standard error of the mean. Results: During approximately 5 years (between January 2009 and July 2014), 69 smokers joined the programme. Of these, 17 desisted during the first consultation. Of the remaining 52 patients, the mean age was 47.4 ± 2.11 years old and 55.8% were male. A total of 264 pharmaceutical consultations were delivered and, on average, each patient received 7.7 ± 0.81 interventions. Most interventions (60.1%) were pharmacological (e.g. nicotine replacement products), while non-pharmacological measures (e.g. motivational interviewing) represented 39.9%. Five patients were referred to a physician. At 1 month after the quit date, 37 patients were abstinent (53.6%); 6 months later the number reduced to 24 (34.8%) and, 1 year later, 16 patients remained abstinent (23.2%). Conclusions: The implementation of a smoking cessation programme in community pharmacies using an external pharmacist may contribute effectively to tobacco cessation in Portugal.
|Abstract = 184 veces | PDF = 119 veces|
Downloads
Download data is not yet available.
References
World Health Organisation. Tobacco – Fact sheet nº 339. Updated May 2014. Available on http://www.who.int/mediacentre/ factsheets/fs339/en/ (Accessed 4 October 2014).
World Health Organisation. WHO global report: mortality attributable to tobacco. 2012. Available on http://whqlibdoc.who. int/publications/2012/9789241564434_eng.pdf?ua=1 (Accessed 4 October 2014).
Direção-Geral da Saúde. Portugal: Prevenção e Controlo do Tabagismo em Números - 2013. Programa Nacional para a Prevenção e Controlo do Tabagismo. 2013. Available on http://www.dgs.pt/estatisticas-de-saude/estatisticas-de-saude/ publicacoes/portugal-prevencao-e-controlo-do-tabagismo-emnumeros-2013.aspx (Accessed 5 October 2014).
Saba M, Diep J, Saini B, Dhippayom T. Meta-analysis of the effectiveness of smoking cessation interventions in community pharmacy. J Clin Pharm Ther 2014; 39(3):240-7.
Costello M, Sproule B, Victor J, Leatherdale S, Zawertailo L, Selby P. Effectiveness of pharmacist counselling combined with nicotine replacement therapy: a pragmatic randomised trial with 6,987 smokers. Cancer Causes Control 2011; 22(2):167-80.
Dent L, Harris K, Noonan C. Randomized trial assessing the effectiveness of a pharmacist-delivered programme for smoking cessation. Ann Pharmacother 2009; 43(2):194-201.
Direção-Geral da Saúde. Cessação tabágica. Programa-tipo de actuação. Gradiva. 2007. Available on http://www.dgs.pt/upload/ membro.id/ficheiros/i009774.pdf (Accessed 28 November 2014).
Richmond RI, Kehoe LA, Webster IW. Multivariate models for predicting abstention following intervention to stop smoking by general practitioners. Addiction. 1993; 88(8):1127-35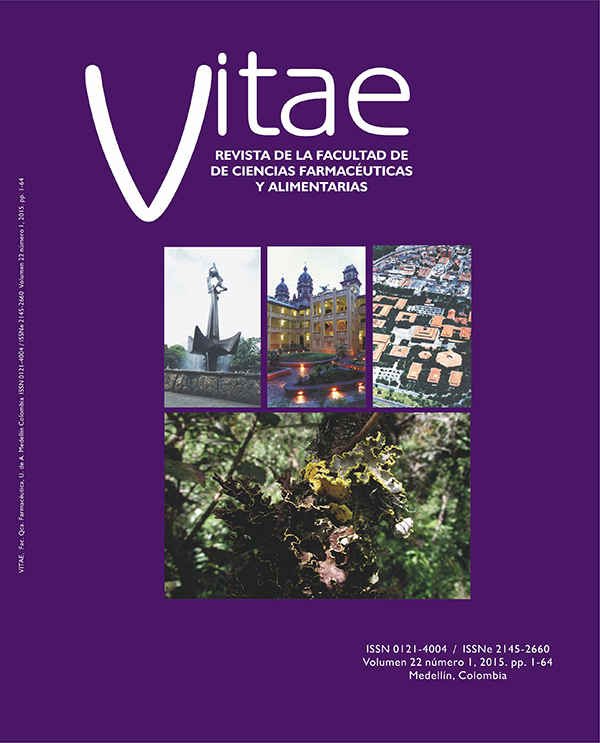 Downloads
How to Cite
CONDINHO, M., FERNÁNDEZ-LLIMOS, F., FIGUEIREDO, I. V., & SINOGAS, C. (2015). Smoking cessation in a community pharmacy: preliminary results of a pharmaceutical care programme. Vitae, 22(1), 42–46. https://doi.org/10.17533/udea.vitae.v22n1a05
Section
Pharmaceutical Care
License
Copyright Notice and Open Access Statement
The Journal Vitae works under the Open Access license, and the published manuscripts remain available for the public, both on the Journal's website and in databases, under the Creative Commons license, "Noncommercial Attribution" and "Share alike" systems, adopted in Colombia. Hence, when the authors agree to publish in the Journal Vitae, they will not have the right to economic retributions on publications and reproductions through different diffusion media. The documents are freely available to the internet public, permitting users to read, download, copy, distribute, print, search, or link to the full texts and pass them as data to software. The only constraint on reproduction and distribution, and the only role for copyright in this domain, should be to give authors control over the integrity of their work and the right to be appropriately acknowledged and cited.
Authors declare that:
They are the intellectual property owners and are responsible for all the information stated in the article.

This manuscript has not been submitted or published in other printed or digital media. They accept the responsibility for the judgments, opinions, and points of view expressed in the published article and, therefore, they exonerate Universidad de Antioquia and Journal Vitae from any process.

They exempt Universidad de Antioquia and Journal Vitae from settling conflicts or disputes related to the authorship of the referred article.

They accept the revision of the original manuscript by suitable personnel, and they bind themselves to perform the corrections appointed or suggested by the assessors.

Therefore, they know the editorial process and will not bind the Editorial Board of the Journal to assume any obligations regarding the volume and issue in which the article is published.

They transfer the rights of publication, reprinting, and distribution of the article from the moment of its approval, in print and digital format, without the right to economic rewards, and under the licensing conditions considered relevant by Journal Vitae.

They fully authorize Universidad de Antioquia and Journal Vitae to submit the published material to the diverse databases and indexing systems where the Journal can be found to comply with the requirements of the regulatory authorities to maintain the national classification of journals.

They will assume the article publication costs established for the current issue, and they will make the payment as soon as they are informed about the volume and the issue in which the final version of the article is published.

After the article is published, you can share digital or printed copies in a noncommercial manner. You will be able to use the paper in your institution or company for educational or research purposes, including the use in course programs.
Conflict of interest: Authors are responsible for recognizing and disclosing any financial or other benefits that could be perceived to bias their work, acknowledging all financial support and any personal connections with potential sponsors. Examples of such conflicts include receiving research funds or honoraria, serving on advisory boards, stock ownership, or employment and consulting arrangements. Authors without such connections should clearly state that they have no financial support or personal relationships that could be perceived to bias their work. All conflicts of interest should be disclosed on the author's identification page of the manuscript.