Actividad bactericida in vitro de Bacillus megaterium y Lactococcus lactis contra Aeromonas veronii y Streptococcus agalactiae
Abstract
Antecedentes: Microorganismos patógenos como Aeromona sp y Streptococcus agalactiae, producen grandes pérdidas en la industria acuícola, especialmente por la capacidad virulenta que presentan las especies. Una manera de controlar estas pérdidas es mediante el empleo de microorganismos probióticos. Objetivos: En esta investigación se evaluó el efecto bactericida de los extractos de bacterias probióticas Lactococcus lactis y Bacillus megaterium, aislados de intestino de tilapia (Oreochromis sp) frente a A.veronii y S.agalactiae. Metodología: el efecto bactericida de los extractos de L.lactis y B.megaterium se determinó por el ensayo de difusión en pozos, encontrando halos de inhibición frente a A.veronii hasta de 35mm. El extracto de L.lactis fue evaluado por cromatografía HPLC y el de Bacillus megaterium por espectrofotometría de masas. Los resultados mostraron que ambos extractos controlaron el crecimiento de A.veronii y S.agalactiae, los análisis estadísticos no presentaron diferencias significativas (p>0.05) en la inhibición generada entre los dos extractos de probióticos, todos controlaron el crecimiento de estos patógenos in vitro. El L.lactis produjo solo ácido láctico por HPLC, mientras que los análisis obtenidos en masas para el extracto de B.megaterium evidenciaron la presencia de acido palmítico, esteárico e imidazol. Conclusiones Todos estos hallazgos evidencian el efecto positivo de los microorganismos probióticos en el control del crecimiento de patógenos en la industria acuícola.
|Abstract = 425 veces | PDF (ESPAÑOL (ESPAÑA)) = 187 veces| | ACTIVIDAD BACTERICIDA IN VITRO DE BACILLUS MEGATERIUM Y LACTOCOCCUS LACTIS CONTRA AEROMONA VERONII Y STREPTOCOCCUS AGALACTIAE (ESPAÑOL (ESPAÑA)) = 0 veces| | SIN TÍTULO (ESPAÑOL (ESPAÑA)) = 0 veces|
Downloads
Download data is not yet available.
References
Estado Mundial de la Pesca y la Acuicultura. FAO. 2014 [Internet]. Available from: http://www.fao.org/3/a-i3720s.pdf
Phillips I, Casewell M, Cox T, De Groot B, Friis C, Jones R, Nightingale C, Preston R, Waddell. Does the use of antibiotics in food animals pose a riskto human health? A critical review of published data. J Antimicrob Chemother. 2004;53:28-52. [Internet]. Available from: http://jac.oxfordjournals.org/content/53/1/28.full.pdf
Pérez T, Balcázar JL, Ruiz-Zarzuela I, Halaihel N, Vendrell D, de Blas I, Múzquiz JL. Host-microbiota interactions within the fish intestinal ecosystem. Mucosal Immunol. 2010;3:355-360. [Internet]. Available from: http://www.nature.com/mi/journal/vaop/ncurrent/pdf/mi201012a.pdf
Lategan MJ, Torpy FR, Gibson LF. Control of saprolegniosis in the eel Anguilla australis Richardson, by Aeromonas media strain A199. Aquaculture. 2004;240(1-4):19-27.
Satish kumar R, Ragu Varman D, Kanmani P, Yuvaraj N, Paari K, Pattukumar V A V. Isolation, Characterization and Identification of a Potential Probiont from South Indian Fermented Foods and Its Use as Biopreservative. Probiotics Antimicrob Proteins. 2009;2(3):145-151.
Sánchez B, Urdaci MC, Margolles A. Extracellular proteins secreted by probiotic bacteria as mediators of effects that promote mucosa-bacteria interactions. Microbiology. 2010;156:3232-3242.
Hugo AA, Kakisu E, De Antoni GL, Pérez PF. Lactobacilli antagonize biological effects of enterohaemorrhagic Escherichia coli in vitro. Lett Appl Microbiol. 2008;46(6):613-619. [Internet]. Available from: http://onlinelibrary.wiley.com/doi/10.1111/j.1472-765X.2008.02363.x/epdf
Kumar A, Saini S, Wray V, Nimtz M, Prakash A, Johri BN. Characterization of an antifungal compound produced by Bacillus sp. strain A5F that inhibits Sclerotinia sclerotiorum. J Basic Microbiol. 2012;52(6):670-678.
Kumar M, Kumar AK, Ghosh M, Ganguli A. Characterization and Optimization of an Anti-Aeromonas Bacteriocin Produced by Lactococcus lactis Isolated from Hukuti Maas an Indigenous Fermented Fish Product. J Food Process Preserv. 2014;38(3):935-947.
Hatje E, Neuman C, Katouli M. Interaction of Aeromonas strains with lactic acid bacteria via Caco-2 cells. Appl Environ Microbiol. Jan 15 [cited 2015 Jul 6];80(2):681-686. [Internet]. Available from: http://aem.asm.org/cgi/content/long/80/2/681
Jiufeng S, Wei F, Bixia K, Dongmei He, Yuheng L, Dan N, Hailing T, Hualin P, Yunxin W, Yazhou M, Changwen K, Xiaoling D. Inapparent Streptococcus agalactiae infection in adult/commercial tilapia. Sci Rep. 2016;6(1):26319.[Internet]. Available from: http://www.nature.com/articles/srep26319
Moorthy G, Murali MR, Devarj SN. Lactobacilli facilitate maintenance of intestinal membrane integrity during Shigella dysenteriae 1 infection in rats. Nutrition. 2009;25(3):350-358. [Internet]. Available from: http://www.researchgate.net/profile/Malliga_Raman_Murali/publication/23500377_Lactobacilli_facilitate_maintenance_of_intestinal_membrane_integrity_during_Shigella_dysenteriae_1_infection_in_rats/links/00b7d53495a858dcb1000000.pdf
Adineh H, Jafaryan H, Sahandi J, Alizadeh M. Effect of Bacillus spp. probiotic on growth and feeding performance of rainbow trout Oncorhynchus mykiss larvae. Bulg J Vet Med. 2013;(1):29-36.
Bacon C, Hinton D, Hinton A. Growth-inhibiting effects of concentrations of fusaric acid on the growth of Bacillus mojavensis y other biocontrol Bacillus species. J Appl Microb. 2006;100(1):185-194. [Internet]. Available from: http://onlinelibrary.wiley.com/doi/10.1111/j.1365-2672.2005.02770.x/pdf
Chen XH, Scholz R, Borriss M, Junge H, Mögel G, Kunz S, Borriss R. Difficidin and bacilysin produced by plant-associated Bacillus amyloliquefaciens are efficient in controlling fire blight disease. J Biotechnol. 2009;140(1-2):38-44. [Internet]. Available from: http://www.bio-protect.de/fileadmin/bioprotect-zwei/ images/PDF_Feuerbrand/2009_Chen2009b_BIOTEC5116.pd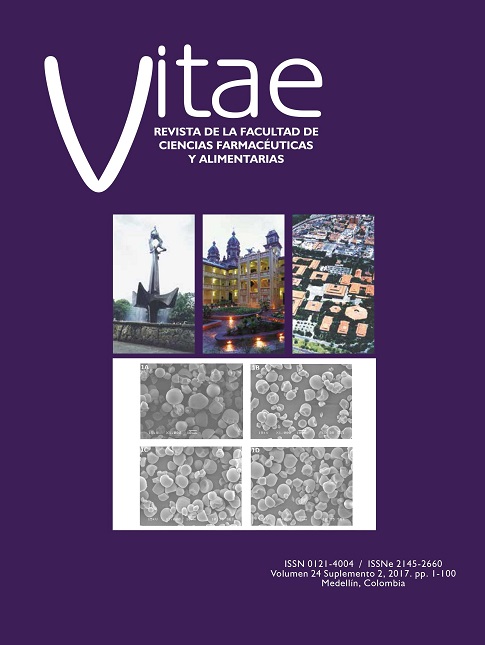 Downloads
How to Cite
Luz Adriana, Carlos Arturo, & Magally. (2017). Actividad bactericida in vitro de Bacillus megaterium y Lactococcus lactis contra Aeromonas veronii y Streptococcus agalactiae. Vitae, 24(2 (2), 19–24. https://doi.org/10.17533/10.17533/udea.vitae.v24n2(2)a03
Section
Foods: Science, Engineering and Technology
License
Copyright (c) 2017 Vitae
This work is licensed under a Creative Commons Attribution-NonCommercial-ShareAlike 4.0 International License.
Copyright Notice and Open Access Statement
The Journal Vitae works under the Open Access license, and the published manuscripts remain available for the public, both on the Journal's website and in databases, under the Creative Commons license, "Noncommercial Attribution" and "Share alike" systems, adopted in Colombia. Hence, when the authors agree to publish in the Journal Vitae, they will not have the right to economic retributions on publications and reproductions through different diffusion media. The documents are freely available to the internet public, permitting users to read, download, copy, distribute, print, search, or link to the full texts and pass them as data to software. The only constraint on reproduction and distribution, should be to give authors control over the integrity of their work and the right to be appropriately acknowledged and cited.
Authors declare that:
They are the intellectual property owners and are responsible for all the information stated in the article.

This manuscript has not been submitted or published in other printed or digital media. They accept the responsibility for the judgments, opinions, and points of view expressed in the published article and, therefore, they exonerate Universidad de Antioquia and Journal Vitae from any process.

They exempt Universidad de Antioquia and Journal Vitae from settling conflicts or disputes related to the authorship of the referred article.

They accept the revision of the original manuscript by suitable personnel, and they bind themselves to perform the corrections appointed or suggested by the assessors.

Therefore, they know the editorial process and will not bind the Editorial Board of the Journal to assume any obligations regarding the volume and issue in which the article is published.

They transfer the rights of publication, reprinting, and distribution of the article from the moment of its approval, in print and digital format, without the right to economic rewards, and under the licensing conditions considered relevant by Journal Vitae.

They fully authorize Universidad de Antioquia and Journal Vitae to submit the published material to the diverse databases and indexing systems where the Journal can be found to comply with the requirements of the regulatory authorities to maintain the national classification of journals.

They will assume the article publication costs established for the current issue, and they will make the payment as soon as they are informed about the volume and the issue in which the final version of the article is published.

After the article is published, you can share digital or printed copies in a noncommercial manner. You will be able to use the paper in your institution or company for educational or research purposes, including the use in course programs.
Conflict of interest: Authors are responsible for recognizing and disclosing any financial or other benefits that could be perceived to bias their work, acknowledging all financial support and any personal connections with potential sponsors. Examples of such conflicts include receiving research funds or honoraria, serving on advisory boards, stock ownership, or employment and consulting arrangements. Authors without such connections should clearly state that they have no financial support or personal relationships that could be perceived to bias their work. All conflicts of interest should be disclosed on the author's identification page of the manuscript.