Selection and role of a mix rosemary (Rosmarinus officinalis) - palmitate ascorbyl as antioxidant in a frying process
Keywords:
Oxidative stability, rosemary (Rosmarinus officinalis), hydro peroxides, total polar compounds, fluorescence spectroscopy
Abstract
Background: Several studies have found that rosemary has active components with antioxidant potential, and that is why, an extract combined with ascorbyl palmitate provides protection for systems with high fat content was obtained. Aims: The aim of this study was to evaluate the effect of the addition of two extracts of rosemary (Rosmarinus officinalis): AP10R and AP30R at three concentrations 1000, 1500 and 2000ppm, on the oxidative stability of palm oil subjected to accelerated oxidation and frying conditions, Methods: controlling the concentration of hydroperoxides, total polar compounds and the thermal stability of phenolic compounds it is conducted in the oil through fluorescence spectroscopy and were evaluated with and without addition of the extract. Results: The extract AP10R to 2000ppm inhibited the oxidation of olein in 30.38% and 60.84% in terms of the concentration of total polar compounds and hydroperoxides, respectively. In addition, Conclusions: Results indicated that heating decreases the concentration of polyphenols; this decrease was most evident in the olein without extract, reflecting the effect of rosemary extract on the stability of used oil polyphenols.
|Abstract = 210 veces | PDF = 152 veces|
Downloads
Download data is not yet available.
References
Juárez M, Masson L, Sammán N. Deterioro del aceite de soya hidrogenado empleado en la fritura de un alimento cárnico. Grasas Aceites. 2005 Jan-April; 56(1): 53-58.
Bassama J, Achir N, Trystram G, Collignan A, Bohuon P. Deepfat frying process induces nutritional composition diversity of fried products assessed by SAIN/LIM scores. J Food Eng. 2015 March; 149: 204-13.
Arslan F. N, Kara H, Ayyildiz H. F, Topkafa M, Tarhan I, Kenar A. A. Chemometric approach to assess the fryingstability of cottonseed oil blends during deep-frying process: Polar and polymeric compound analyses. J Am Oil Chem Soc. 2013 March 1; 90(8): 1179-1193.
Barbosa-Canovas V. Deep-fat frying, fundamentals and applications. Maryland: Aspen Publication; 1999.
Laguerre M, Lecomte J, Villeneuve P. Evaluation of the ability of antioxidants to counteract lipid oxidation: existing methods, new trends and challenges. Prog lipid Res. 2007 May 21; 46(5): 244-82.
Kmiecik D, Korczak J, Rudzińska M, Gramza-Michałowska A, Hęś M, Kobus- Cisowska J. Stabilisation of phytosterols by natural and synthetic antioxidants in high temperature conditions. Food Chem. 2015 April 15; 173: 966-71.
Shantha C, Decker E. A. Rapid, sensitive, Iron-based spectrophotometric methods for determination of peroxide values of food lipids. J AOAC International. 1994 March-April; 77(2): 421-24.
Pellegrini N, Vincenzo F. Cooking, industrial processing and caloric density of foods Curr Opin Food Sci. 2017 April; 14: 98-102.
Pinchuk I, Lichtenberg D. Analysis of the kinetics of lipid peroxidation in terms of characteristic time-points. Chem Phys Lipids. 2014 Feb; 178: 63-76.
Cheikhousman R, Zude M, Bouveresse D. J. R, Leger C. L, Rutledge D. N, Birlouez- Aragon I. Fluorescence spectroscopy for monitoring deterioration of extra virgin olive oil during heating. Anal Bioanal Chem. 2005 July; 382(6): 1438-443.
Farhoosh R, Hoseini-Yazdi S.Z. Shelf-life prediction of olive oils using empirical models developed at low and high temperatures, Food Chem. 2013 Nov; 141(1): 557-65.
Chirinos R, Pedreschi R, Rogez H, Larondelle Y, Campos D. Phenolic compound contents and antioxidant activity in plants with nutritional and/or medicinal properties from the Peruvian Andean Region. Ind Crop Prod. 2013 May; 47: 145-52.
Roman O, Heyd B, Broyart B, Castillo R, Maillard M.N. Oxidative reactivity of unsaturated fatty acids from sunflower, high oleic sunflower and rapeseed oils subjected to heat treatment, under controlled conditions. LWT-Food Sci Technol. 2013 Jun; 52(1): 49-59.
Mozzon M, Pacetti D, Lucci P, Balzano M, Frega N.G. Crude palm oil from interspecific hybrid Elaeis oleifera χ Elaeis guineensis: Fatty acid regiodistribution and molecular species of glycerides. Food Chem. 2013 Nov; 141(1): 245-52.
Martínez-Yusta A, Guillén M.D. Deep-frying: A study of the influence of the frying medium and the food nature, on the lipidic composition of the fried food, usingi nuclear magnetic resonance. Food Res Int. 2014 Aug; 62: 998-007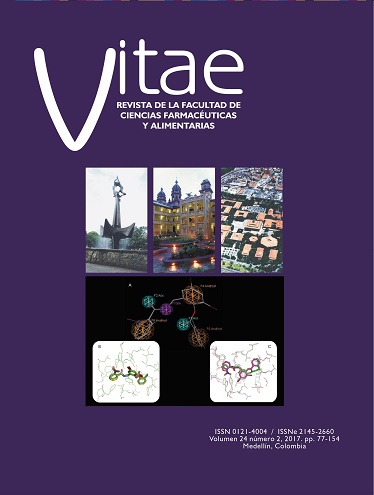 Downloads
How to Cite
PEÑALOZA, J. K., ROJANO, B. A., & PIEDRAHITA, A. M. (2017). Selection and role of a mix rosemary (Rosmarinus officinalis) - palmitate ascorbyl as antioxidant in a frying process. Vitae, 24(2), 113–123. https://doi.org/10.17533/udea.vitae.v24n2a04
License
Copyright (c) 2017 Vitae
This work is licensed under a Creative Commons Attribution-NonCommercial-ShareAlike 4.0 International License.
Copyright Notice and Open Access Statement
The Journal Vitae works under the Open Access license, and the published manuscripts remain available for the public, both on the Journal's website and in databases, under the Creative Commons license, "Noncommercial Attribution" and "Share alike" systems, adopted in Colombia. Hence, when the authors agree to publish in the Journal Vitae, they will not have the right to economic retributions on publications and reproductions through different diffusion media. The documents are freely available to the internet public, permitting users to read, download, copy, distribute, print, search, or link to the full texts and pass them as data to software. The only constraint on reproduction and distribution, should be to give authors control over the integrity of their work and the right to be appropriately acknowledged and cited.
Authors declare that:
They are the intellectual property owners and are responsible for all the information stated in the article.

This manuscript has not been submitted or published in other printed or digital media. They accept the responsibility for the judgments, opinions, and points of view expressed in the published article and, therefore, they exonerate Universidad de Antioquia and Journal Vitae from any process.

They exempt Universidad de Antioquia and Journal Vitae from settling conflicts or disputes related to the authorship of the referred article.

They accept the revision of the original manuscript by suitable personnel, and they bind themselves to perform the corrections appointed or suggested by the assessors.

Therefore, they know the editorial process and will not bind the Editorial Board of the Journal to assume any obligations regarding the volume and issue in which the article is published.

They transfer the rights of publication, reprinting, and distribution of the article from the moment of its approval, in print and digital format, without the right to economic rewards, and under the licensing conditions considered relevant by Journal Vitae.

They fully authorize Universidad de Antioquia and Journal Vitae to submit the published material to the diverse databases and indexing systems where the Journal can be found to comply with the requirements of the regulatory authorities to maintain the national classification of journals.

They will assume the article publication costs established for the current issue, and they will make the payment as soon as they are informed about the volume and the issue in which the final version of the article is published.

After the article is published, you can share digital or printed copies in a noncommercial manner. You will be able to use the paper in your institution or company for educational or research purposes, including the use in course programs.
Conflict of interest: Authors are responsible for recognizing and disclosing any financial or other benefits that could be perceived to bias their work, acknowledging all financial support and any personal connections with potential sponsors. Examples of such conflicts include receiving research funds or honoraria, serving on advisory boards, stock ownership, or employment and consulting arrangements. Authors without such connections should clearly state that they have no financial support or personal relationships that could be perceived to bias their work. All conflicts of interest should be disclosed on the author's identification page of the manuscript.