In vitro effect of terpenoid-rich extract of Momordica charantia on alpha glucosidase activity
Keywords:
α-glucosidase, terpenoids, inhibitor, inhibition, hyperglycemia, extract.
Abstract
Background: Momordica charantia is a vine, native to tropics and subtropics that has found use in herbal medicine. In Nigeria, the plant is locally used in the treatment of diabetes. Objective: To investigate the inhibitory effect of terpenoid-rich extract from Momordica charantia on α-glucosidase activity. Method: The inhibitory effect of the terpenoid-rich extract from Momordica charantia on the activity of alpha-glucosidase from Saccharomyces cerevisiae as well as the determination of the mode of inhibition were investigated using in vitro assay methods. Results: The results revealed that the terpenoid-rich extract had a high IC50 of 1.60 mg/mL. The Lineweaver-Burk plot revealed that the extract exhibited partially mixed–type inhibition of α-glucosidase. Conclusions: It can be inferred from this study that although terpenoid-rich extract inhibited α- glucosidase, further purification will be necessary on the extract so as to increase its potency as an inhibitor of α-glucosidase. The action of the extract on α-glucosidase provided an insight into the probable mechanism of action of Momordica charantia in reducing hyperglycemia.
|Abstract = 204 veces | PDF = 115 veces|
Downloads
Download data is not yet available.
References
Parkin CG, Brooks N. ¿Is Postprandial Glucose Control Important?. ¿Is It Practical In Primary Care Settings?. Clin Diabetes. 2002; 20:71-76.
Hanefeld M, Schmechel H, Julius U, Schwanebeck U. Determinants for coronary heart disease in non-insulin dependent diabetes mellitus: lessons from the diabetes inter vention study. Diabetes Res Clin Pract. 1996; 30(Suppl):67-70.
Hanefeld M, Fischer S, Julius U, Schulze J, Schwanebeck U, Schmechel H, et al. Risk factors for myocardial infarction and death in newly detected NIDDM: the Diabetes Intervention Study, 11-year follow-up. Diabetología. 1996; 39:1577-1583.
Ortiz-Andrade RR, García-Jiménez S, Castillo-España P, Ramírez-Ávila G, Villalobos-Molina R, Estrada-Soto S.
Alpha-Glucosidase inhibitory activity of the methanolic extract from Tournefortia hartwegiana: an antihyperglycemic agent. J Ethnopharmacol. 2007; 109:48-53.
Monnier L, Colette C. Contributions of fasting and postprandial glucose to hemoglobin A1c. Endocr Pract. 2006; 12(Suppl 1):42-46.
Sies H, Stahl W, Sevanian A. Nutritional, dietary and postprandial oxidative stress. J Nutr. 2005; 135:969-972.
Nichols BL, Avery SE, Karnsakul W, Jahoor F, Sen P, Swallow DM, et al. Congenital maltase-glucoamylase deficiency associated with lactase and sucrase deficiencies. J Pediatr Gastroenterol Nutr. 2002; 35:573-579.
Kwon YI, Apostolidis E, Shetty K. In vitro studies of eggplant (Solanum melongena) phenolics as inhibitors of key enzymes relevant for type 2 diabetes and hypertension. Bioresource Technol. 2008; 99: 2981-2988.
Joseph B, Raj SJ. Phytopharmacological properties of Ficus racemosa Linn - An overview. Int J Pharm Sci Rev Res. 2010b; 3(2):134-138.
Joseph B, Jini D, Ajisha SU. Phytochemical characterization of herbal drug formulation for arthritis. Res J Phytochem. 2012; 6(2):54-60.
Singh U, Singh S, Kochhar A. Therapeutic potential of antidiabetic neutraceuticals. Psychopharmacol. 2012; 2(1):144-169.
Zohary D, Hopf M. Domestication of plants in the old world. Oxford: Oxford University Press: 2000. 122 p.
Cefalu WT, Ye J, Wang ZQ. Efficacy of dietary supplementation with botanicals on carbohydrate metabolism in humans. Endocr Metab Immune Disord Drug Targets. 2008;8: 78-81. [PubMed]
Cousens G. There is a cure for diabetes: the tree of life 21-day program. California. North Atlantic Books: 2008. 191-192p.
Hasan I, Khatoon S. Effect of Momordica charantia (bitter gourd) tablets in diabetes mellitus: Type 1 and Type 2. Prime Res Med (PROM). 2012; 2(2):72-74
Bhushan MS, Rao CHV, Ojha SK, Vijayakumar M, Verma A. An analytical review of plants for anti-diabetic activity with their phytoconstituent and mechanism of action. IJPSR. 2010; 1(1):29-46.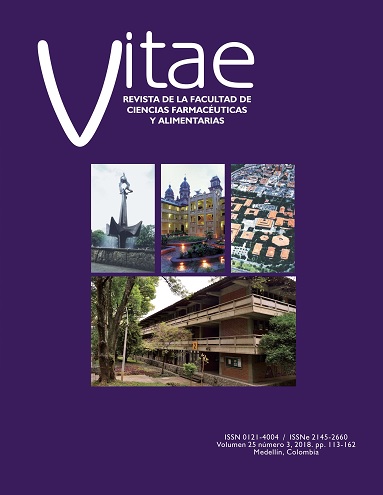 Downloads
How to Cite
SALLAU, A., YAKUBU, R., ALIYU, S., SALIHU, A., & BONIFACE, B. (2018). In vitro effect of terpenoid-rich extract of Momordica charantia on alpha glucosidase activity. Vitae, 25(3), 148–153. https://doi.org/10.17533/udea.vitae.v25n3a05
License
Copyright (c) 2018 Vitae
This work is licensed under a Creative Commons Attribution-NonCommercial-ShareAlike 4.0 International License.
Copyright Notice and Open Access Statement
The Journal Vitae works under the Open Access license, and the published manuscripts remain available for the public, both on the Journal's website and in databases, under the Creative Commons license, "Noncommercial Attribution" and "Share alike" systems, adopted in Colombia. Hence, when the authors agree to publish in the Journal Vitae, they will not have the right to economic retributions on publications and reproductions through different diffusion media. The documents are freely available to the internet public, permitting users to read, download, copy, distribute, print, search, or link to the full texts and pass them as data to software. The only constraint on reproduction and distribution, and the only role for copyright in this domain, should be to give authors control over the integrity of their work and the right to be appropriately acknowledged and cited.
Authors declare that:
They are the intellectual property owners and are responsible for all the information stated in the article.

This manuscript has not been submitted or published in other printed or digital media. They accept the responsibility for the judgments, opinions, and points of view expressed in the published article and, therefore, they exonerate Universidad de Antioquia and Journal Vitae from any process.

They exempt Universidad de Antioquia and Journal Vitae from settling conflicts or disputes related to the authorship of the referred article.

They accept the revision of the original manuscript by suitable personnel, and they bind themselves to perform the corrections appointed or suggested by the assessors.

Therefore, they know the editorial process and will not bind the Editorial Board of the Journal to assume any obligations regarding the volume and issue in which the article is published.

They transfer the rights of publication, reprinting, and distribution of the article from the moment of its approval, in print and digital format, without the right to economic rewards, and under the licensing conditions considered relevant by Journal Vitae.

They fully authorize Universidad de Antioquia and Journal Vitae to submit the published material to the diverse databases and indexing systems where the Journal can be found to comply with the requirements of the regulatory authorities to maintain the national classification of journals.

They will assume the article publication costs established for the current issue, and they will make the payment as soon as they are informed about the volume and the issue in which the final version of the article is published.

After the article is published, you can share digital or printed copies in a noncommercial manner. You will be able to use the paper in your institution or company for educational or research purposes, including the use in course programs.
Conflict of interest: Authors are responsible for recognizing and disclosing any financial or other benefits that could be perceived to bias their work, acknowledging all financial support and any personal connections with potential sponsors. Examples of such conflicts include receiving research funds or honoraria, serving on advisory boards, stock ownership, or employment and consulting arrangements. Authors without such connections should clearly state that they have no financial support or personal relationships that could be perceived to bias their work. All conflicts of interest should be disclosed on the author's identification page of the manuscript.