Therapeutic potential of omega fatty acids in breast cancer. Review
Keywords:
Unsaturated fatty acids, hormonal treatment, fish oils, anti-inflammatory agents.
Abstract
Background: Breast cancer is the second cause of death in women in developed and undeveloped countries, including Colombia. A high percentage of these tumors is estrogen dependent, for which the hormonal treatment is the most used therapy in breast cancer. Currently, the first line treatment for breast tumor in postmenopausal women is the letrozole, an aromatase enzyme inhibitor that avoids the transformation of androgens to estrogens. Since letrozole produced adverse effects on patients, there is a requirement for new alternative treatments. Furthermore, omega fatty acids (ω-FA), essential as they are obtained from the normal diet or from dietary supplements, have demonstrated nutraceutical potential because of their anti-inflammatory or pro-inflammatory activity. Nonetheless, there is controversy in in vitro, in vivo and epidemiologic reports regarding their preventive or inducing activities of carcinogenesis in animals and humans, depending on the structure of the ω-FA. Objectives: This review aims to show the main in vitro, in vivo and epidemiologic evidences of the chemotherapeutic potential of ω-3 and ω-6 FA in different types of neoplasm, particularly in breast cancer, in individual or combined treatments with diverse antineoplastics. Methods: PubMed and Science Direct databases revealed the most representative studies, published during the last two decades, about ω-3 and ω-6 FA, breast cancer and the principal therapeutic strategies for this neoplasm. Findings were presented in separated topics to provide an overview of ω-FA and their potential in treatments for breast cancer. Results: Patients treated with estrogens and progesterone derivate have shown predisposition to develop breast cancer after two years of continued therapy. Furthermore, ω-FA with known nutraceutical potential have demonstrated their potential as adjuvants in the treatment against different neoplasms, like hepatic and colon cancer. Conclusions: Current therapies for breast cancer and their low efficacy in the long term led to explore new alternative treatments with ω-FA. These essential fatty acids in daily consumption could enhance the antineoplastic agent effect. Nevertheless, metabolism of the ω-FA must be considered for this use.
|Abstract = 448 veces | PDF = 341 veces|
Downloads
Download data is not yet available.
References
Jahurul M, Zaidul I, Ghafoor K, Al-Juhaimi F, Nyam K, Norulaini N, et al. Mango (Mangifera indica L.) by-products and their valuable components: A review. Food Chem. 2015; 183: 173-180, DOI: 10.1016/j.foodchem.2015.03.046.
Masibo M, He Q. Major mango polyphenols and their potential significance to human health. Compr Rev Food SCI F. 2008; 7:309−319, DOI: 10.1111/j.1541-4337.2008.00047.x.
Asohofrucol (Asociación Hortifrutícola de Colombia), Fondo Nacional de Fomento Hortifrutícola, Programa de
transformación productiva "Sectores de clase mundial". (2013). Plan de Negocios para el Sector Hortofrutícola en Colombia. FASE V. Informe Final. Recuperado de: https://www.ptp.com.co/documentos/Plan%20de%20negocio%20hortofrut%C3%ADcola.pdf
Chen, M. The joint moderating effect of health consciousness and healthy lifestyle on consumers' willingness to use functional foods in Taiwan. Appetite. 2011; 57: 253-262, DOI: 10.1016/j.appet.2011.05.305.
Seeram N.P, Aviram M, Zhang Y, Henning M, Feng L, Dreher M, Heber D. Comparison of Antioxidant Potency of Commonly Consumed Polyphenol-Rich Beverages in the United States Comparison of Antioxidant Potency of Commonly Consumed Polyphenol-Rich Beverages in the United. J Agr Food Chem. 2008; 56: 1415-1422, DOI: 10.1021/jf073035s.
Wootton-Beard P. C, Moran A, and Ryan L. Stability of the total antioxidant capacity and total polyphenol content of 23 commercially available vegetable juices before and after in vitro digestion measured by FRAP, DPPH, ABTS and Folin-Ciocalteu methods. Food Res Int. 2011; 44(1): 217-224, DOI: 10.1016/j.foodres.2010.10.033.
Alasalvar C, Karamac M, Kosinska A, Rybarczyk A, Shahidi F, Amarowicz R. Antioxidant Activity of Hazelnut Skin Phenolics. J. Agric. Food Chem. 2009; 57: 4645-4650, DOI: 10.1021/jf900489d
Beelders T, de Beer D, Kidd M, Joubert E. Modeling of thermal degradation kinetics of the C-glucosyl xanthone mangiferin in an aqueous model solution as a function of pH and temperature and protective effect of honeybush extract matrix. Food Res Int. 2018; 103: 103-109, DOI: 10.1016/j.foodres.2017.10.020.
Bharate S.S, Bharate S.B. Non-enzymatic browning in citrus juice: chemical markers, their detection and ways to improve product quality. J. Food Sci. Technol 2012; 51(10): 2271-2288, DOI: 10.1007/s13197-012-0718-8.
Manayay D, Ibarz A, Castillo Martinez W, Palacios L. Cinética de la diferencia de color y croma en el proceso térmico de pulpa de mango (Mangifera indica L.) variedad. Sci. Agric. 2013; 4: 181-190, DOI: 10.17268/sci.agropecu.2013.03.04.
Garzón MAG, Rojano BA & Guerrero, CA. Inhibición de la polifenoloxidasa extraída del banano (cavendish) por medio de algunos derivados del isoespintanol. Corporación Universitaria Lasallista. 2012; 193-248. Retrieved from http://hdl.handle.net/10567/148.
Rajauria G, Tiwari B. Fruit Juices: Extraction, Composition, Quality and Analysis, Ireland, Dublin. Academic Press an imprint of Elsevier. 2017.
Sinchaipanit P, Ahmad M, Twichatwitayakul R. Kinetics of Ascorbic Acid Degradation and Quality Changes in Guava Juice during Refrigerated Storage. Food Nutr. Res. 2015; 3(8): 550-557, DOI: 10.12691/jfnr-3-8-10.
Bechoff A, Chijioke U, Tomlins KI, Govinden P, Ilona P, Westby A, Boy E. Carotenoid stability during storage of yellow gari made from biofortified cassava or with palm oil. J Food Compos Anal. 2015; 44: 36–44, DOI: 10.1016/j.jfca.2015.06.002.
Touati N, Barba F.J, Louaileche H, Frigola A, Esteve M.J. Effect of Storage Time and Temperature on the Quality of Fruit Nectars: Determination of Nutritional Loss Indicators. J. Food Qual. 2016; 39: 209-217, DOI: 10.1111/jfq.12189.
Oliveira A do N, Ramos A.M, Minim VPR, Chaves JBP. Sensory stability of whole mango juice: influence of temperature and storage time. Food Sci. Technol. 2012; 32(4): 819-825.
Resolución 10593, Ministerio de Salud, Colombia.
Resolución 3929 de 2013 INVIMA.
Resolución 2674 de 2013, Ministerio de Salud y Protección Social de Colombia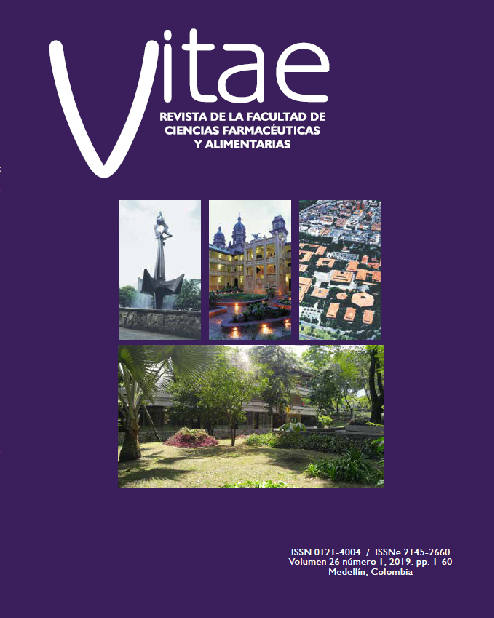 Downloads
How to Cite
MÁRQUEZ-FERNÁNDEZ, M. E., & CAMARGO, M. (2019). Therapeutic potential of omega fatty acids in breast cancer. Review. Vitae, 26(1), 84–93. https://doi.org/10.17533/udea.vitae.v26n1a04
Section
Pharmacology and Toxicology
License
Copyright (c) 2019 Vitae
This work is licensed under a Creative Commons Attribution-NonCommercial-ShareAlike 4.0 International License.
Copyright Notice and Open Access Statement
The Journal Vitae works under the Open Access license, and the published manuscripts remain available for the public, both on the Journal's website and in databases, under the Creative Commons license, "Noncommercial Attribution" and "Share alike" systems, adopted in Colombia. Hence, when the authors agree to publish in the Journal Vitae, they will not have the right to economic retributions on publications and reproductions through different diffusion media. The documents are freely available to the internet public, permitting users to read, download, copy, distribute, print, search, or link to the full texts and pass them as data to software. The only constraint on reproduction and distribution, should be to give authors control over the integrity of their work and the right to be appropriately acknowledged and cited.
Authors declare that:
They are the intellectual property owners and are responsible for all the information stated in the article.

This manuscript has not been submitted or published in other printed or digital media. They accept the responsibility for the judgments, opinions, and points of view expressed in the published article and, therefore, they exonerate Universidad de Antioquia and Journal Vitae from any process.

They exempt Universidad de Antioquia and Journal Vitae from settling conflicts or disputes related to the authorship of the referred article.

They accept the revision of the original manuscript by suitable personnel, and they bind themselves to perform the corrections appointed or suggested by the assessors.

Therefore, they know the editorial process and will not bind the Editorial Board of the Journal to assume any obligations regarding the volume and issue in which the article is published.

They transfer the rights of publication, reprinting, and distribution of the article from the moment of its approval, in print and digital format, without the right to economic rewards, and under the licensing conditions considered relevant by Journal Vitae.

They fully authorize Universidad de Antioquia and Journal Vitae to submit the published material to the diverse databases and indexing systems where the Journal can be found to comply with the requirements of the regulatory authorities to maintain the national classification of journals.

They will assume the article publication costs established for the current issue, and they will make the payment as soon as they are informed about the volume and the issue in which the final version of the article is published.

After the article is published, you can share digital or printed copies in a noncommercial manner. You will be able to use the paper in your institution or company for educational or research purposes, including the use in course programs.
Conflict of interest: Authors are responsible for recognizing and disclosing any financial or other benefits that could be perceived to bias their work, acknowledging all financial support and any personal connections with potential sponsors. Examples of such conflicts include receiving research funds or honoraria, serving on advisory boards, stock ownership, or employment and consulting arrangements. Authors without such connections should clearly state that they have no financial support or personal relationships that could be perceived to bias their work. All conflicts of interest should be disclosed on the author's identification page of the manuscript.