Automatic classification of water samples using an optimized SVM model applied to cyclic voltammetry signals.
Keywords:
Electronic tongue, water quality, authenticity, machine learning, voltammetry.
Abstract
Background: concern about the quality of the water for human consumption has become widespread among the population. The taste and some problems associated with drinking water have been the cause of increased demand for bottled water. Due to this, day to day, a large number of companies has manifested their interest in the production of bottled water. Objective: to evaluate a novel automatic classification model that differentiates bottled water from tap water. Methods: the voltammetric technique consisted of three electrode setup. The output current has been considered for data analysis. From the results of grid search, six pairs of values were pre-selected for the parameters of σ and C whose results were similar. High values of accuracy, specificity and sensitivity were achieved in test dataset. The final decision was made after performing an ANOVA test of 100 repetitions of 5-fold cross-validation, 3000 models were evaluated with the parameter combinations described above for the SVM. Results: the oxidation and reduction peaks of the water samples have been observed to be prominent. Absolute values of current (I) increased in the case of public water samples, possibly due to the largest concentration of chloride ions which have higher contributions to the conductivity. 5-fold cross-validation test mean specificity resulted in C parameters values greater than 0 and between 0 and 30; a σ value greater than 10 and between 0 and 15 were found for tap water and bottled water, respectively. The combination (σ = 10, C = 30) presented best results in accuracy 0.988 ± 0.037, specificity 0.973 ± 0.085 and sensitivity 1 ± 0.09. Conclusions: results of this research work have shown that voltammograms for values of current increased for tap water samples, 9.94e-6μA, compared to 7.99e-6μA due to higher chloride ions concentration in the former. The parameters combination (σ = 10, C = 20) was selected as optimal parameters since there were no significant difference between this and the former.
|Abstract = 354 veces | PDF = 187 veces|
Downloads
Download data is not yet available.
References
Doria MF. Bottled water versus tap water: understanding consumers' preferences. J Water Health [Internet]. 2006 Jun;4(2):271–6. Available from: https://www.ncbi.nlm.nih.gov/pubmed/16813019
Bueno L, de Araujo W, Salles M, Kussuda M, Paixão T. Voltammetric Electronic Tongue for Discrimination of Milk Adulterated with Urea, Formaldehyde and Melamine. Chemosensors [Internet]. 2014 Nov 14 [cited 2018 Sep 5];2(4):251-66. Available from: DOI: org/10.3390/chemosensors2040251
Gray NF. Drinking Water Quality: Problems and Solutions [Internet]. Cambridge University Press; 2008. 537 p. Available from: https://market.android.com/details?id=book-qirl4ysxvgcC
Togari N, Kobayashi A, Aishima T. Pattern recognition applied to gas chromatographic profiles of volatile components in three tea categories - ScienceDirect [Internet]. Elsevier; 1995
[cited 2017 Feb 24]. Available from: DOI: Org/10.1016/0963-9969(95)00029-1
Horie H, Mukai T, Kohata K. Simultaneous determination of qualitatively important components in green tea infusions using capillary electrophoresis. J Chromatogr A [Internet]. 1997 Jan 17;758(2):332–5. Available from: https://doi.org/10.1016/S0021-9673(96)00764-9
Zuo Y, Chen H, Deng Y. Simultaneous determination of catechins, caffeine and gallic acids in green, Oolong, black and pu-erh teas using HPLC with a photodiode array detector. Talanta [Internet]. 2002 May 16;57(2):307-16. Available from: DOI:10.1016/s0039-9140(02)00030-9
Sliwinska M, Wisniewska P, Dymerski T, Namiesnik J, Wardencki W. Food analysis using artificial senses. J Agric Food Chem [Internet]. 2014;62(7):1423-48. Available from: DOI.ORG/10.1021/JF403215Y
Ivarsson P, Krantz-Rülcker C, Winquist F, Lundström I. A voltammetric electronic tongue. Chem Senses [Internet]. 2005 Jan;30 Suppl 1:i258-9. Available from: DOI:10.1093/chemse/bjh213
Winquist F, Olsson J, Eriksson M. Multicomponent analysis of drinking water by a voltammetric electronic tongue. Anal Chim Acta [Internet]. 2011 Jan 10;683(2):192-7. Available from: DOI:10.1016/j.aca.2010.10.027
Gruden R, Buchholz A, Kanoun O. Electrochemical analysis of water and suds by impedance spectroscopy and cyclic voltammetry. Journal of Sensors and Sensor Systems [Internet]. 2014;3(2):133. Available from: DOI: 10.5194/jsss-3-133-2014
Alcañiz Fillol M. Diseño de un sistema de lengua electrónica basado en técnicas electroquímicas voltamétricas y su aplicación en el ámbito agroalimentario [Internet]. riunet.upv.es; 2011. Available from: DOI:10.4995/Thesis/10251/11303
El Alami El Hassani N, Tahri K, Llobet E, Bouchikhi B, Errachid A, Zine N, et al. Emerging approach for analytical
characterization and geographical classification of Moroccan and French honeys by means of a voltammetric electronic tongue. Food Chem [Internet]. 2018 Mar 15;243:36-42. Available from: http://dx.doi.org/10.1016/j.foodchem.2017.09.067
Fuentes Pérez E. Aplicación de la lengua electrónica voltamétrica a alimentos líquidos [Internet]. riunet.upv.es; 2017. Available from: DOI:10.4995/Thesis/10251/90446
Tønning E, Sapelnikova S, Christensen J, Carlsson C, Winther-Nielsen M, Dock E, et al. Chemometric exploration
of an amperometric biosensor array for fast determination of wastewater quality. Biosens Bioelectron [Internet]. 2005 Oct 15;21(4):608-17. Available from: DOI: 10.1016/j.bios.2004.12.023
Gutés A, Cespedes F, del Valle M, Louthander D, KrantzRülcker C, Winquist F. A flow injection voltammetric electronic tongue applied to paper mill industrial waters. Sens Actuators B Chem [Internet]. 2006 May 23;115(1):390-5. Available from: DOI: 10.1016/j.snb.2005.09.024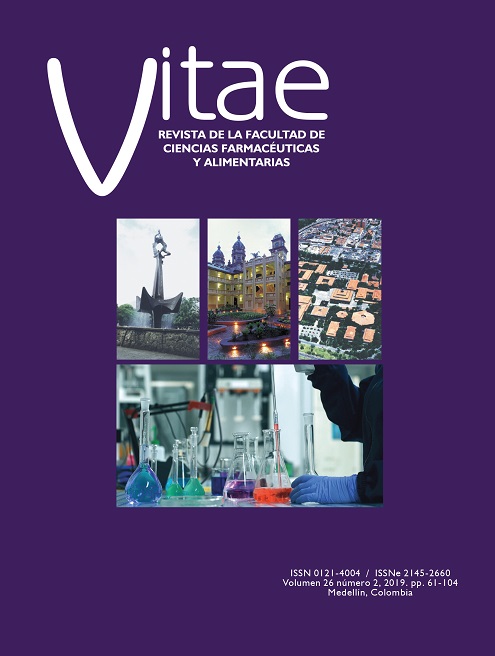 Downloads
How to Cite
Romero, H. I., RAMÍREZ-MORALES, I., & ROMERO FLORES, C. (2019). Automatic classification of water samples using an optimized SVM model applied to cyclic voltammetry signals. Vitae, 26(2), 94–103. https://doi.org/10.17533/udea.vitae.v26n2a05
Section
Foods: Science, Engineering and Technology
License
Copyright (c) 2019 Vitae
This work is licensed under a Creative Commons Attribution-NonCommercial-ShareAlike 4.0 International License.
Copyright Notice and Open Access Statement
The Journal Vitae works under the Open Access license, and the published manuscripts remain available for the public, both on the Journal's website and in databases, under the Creative Commons license, "Noncommercial Attribution" and "Share alike" systems, adopted in Colombia. Hence, when the authors agree to publish in the Journal Vitae, they will not have the right to economic retributions on publications and reproductions through different diffusion media. The documents are freely available to the internet public, permitting users to read, download, copy, distribute, print, search, or link to the full texts and pass them as data to software. The only constraint on reproduction and distribution, should be to give authors control over the integrity of their work and the right to be appropriately acknowledged and cited.
Authors declare that:
They are the intellectual property owners and are responsible for all the information stated in the article.

This manuscript has not been submitted or published in other printed or digital media. They accept the responsibility for the judgments, opinions, and points of view expressed in the published article and, therefore, they exonerate Universidad de Antioquia and Journal Vitae from any process.

They exempt Universidad de Antioquia and Journal Vitae from settling conflicts or disputes related to the authorship of the referred article.

They accept the revision of the original manuscript by suitable personnel, and they bind themselves to perform the corrections appointed or suggested by the assessors.

Therefore, they know the editorial process and will not bind the Editorial Board of the Journal to assume any obligations regarding the volume and issue in which the article is published.

They transfer the rights of publication, reprinting, and distribution of the article from the moment of its approval, in print and digital format, without the right to economic rewards, and under the licensing conditions considered relevant by Journal Vitae.

They fully authorize Universidad de Antioquia and Journal Vitae to submit the published material to the diverse databases and indexing systems where the Journal can be found to comply with the requirements of the regulatory authorities to maintain the national classification of journals.

They will assume the article publication costs established for the current issue, and they will make the payment as soon as they are informed about the volume and the issue in which the final version of the article is published.

After the article is published, you can share digital or printed copies in a noncommercial manner. You will be able to use the paper in your institution or company for educational or research purposes, including the use in course programs.
Conflict of interest: Authors are responsible for recognizing and disclosing any financial or other benefits that could be perceived to bias their work, acknowledging all financial support and any personal connections with potential sponsors. Examples of such conflicts include receiving research funds or honoraria, serving on advisory boards, stock ownership, or employment and consulting arrangements. Authors without such connections should clearly state that they have no financial support or personal relationships that could be perceived to bias their work. All conflicts of interest should be disclosed on the author's identification page of the manuscript.