Validation of a method employing liquid chromatography to identify and quantify glycomacropeptide of casein in raw milk
Keywords:
Casein glycomacropeptide c-GMP, High Pressure Liquid Cromatographic - HPLC, Fraud food, Whey milk, Raw bovine milk
Abstract
BACKGROUND: The information on official testing methods, or regulatory methods in Colombia to test whey in milk is limited; this restriction of information goes against the possibility of mitigating the risk of food fraud. OBJECTIVES: The validation of an HPLC method to determine casein glycomacropeptide (c-GMP), a protein that countries such as Brazil, Spain, and Ecuador have used as an indicator of raw milk adulteration with whey, was carried out. METHODS: A 10mL sample of raw milk is precipitated with 24% TCA using ultrasound, a process followed by filtration. The collected fraction ensured the separation of c-GMP and then injected into the liquid chromatography. RESULTS: A 30 minutes analysis allowed the determination of c-GMP with a retention time of 12.9 ± 0.5 minutes. The performance characteristics method in the validation exercise were: recovery percentage 99.97%, linearity R2> 0.95; % RSD accuracy <5.3%. CONCLUSION, the method exhibits desirable attributes for the intended purpose.
|Abstract = 814 veces | PDF = 514 veces|
Downloads
Download data is not yet available.
References
Aparecida de Carvalho BM, Millena de Carvalho L, Reis Coimbra JS, Minim LA, Barcello E de S, Silva Júnior WF, et al. Rapid detection of whey in milk powder samples by spectrophotometric. Food Chem. 2015;174(November):1–7. DOI: https://doi.org/10.1016/j.foodchem.2014.11.003
Motta TMC, Hoff RB, Barreto F, Andrade RBS, Lorenzini DM, Meneghini LZ, et al. Detection and confirmation of milk adulteration with cheese whey using proteomic-like sample preparation and liquid chromatography-electrospray-tandem mass spectrometry analysis. Talanta [Internet]. 2014;120:498–505. DOI: http://dx.doi.org/10.1016/j.talanta.2013.11.093
Ministry of Health and Social Protection. Decreto Numero 616 de 2006. Minist Heal Soc Prot [Internet]. 2006;32. Available from: https://www.ica.gov.co/getattachment/15425e0f-81fb-4111-b215-63e61e9e9130/2006D616.aspx
de Oliveira Mendes T, Manzolli Rodrigues BV, Simas Porto BL, Alves da Rocha R, de Oliveira MAL, de Castro FK, et al. Raman Spectroscopy as a fast tool for whey quantification in raw milk. Vib Spectrosc. 2020;111(September). DOI: http://doi.org/10.1016/j.vibspec.2020.103150
Evelin Rojas V, Emiro Valbuena C., Gabriel Torres F., Aiza García de H., María Piñero G. y Luz Mila Galindo A. Aislamiento y rendimiento del GMP mediante precipitación de lactosuero con ácido tricloroacético. Rev Científica. 2009;19(Septiembre):1–11. Available from: http://ve.scielo.org/scielo.php?script=sci_arttext&pid=S0798-22592009000300013
Sharma R. Whey proteins in functional foods. Whey Proteins: From Milk to Medicine. Edited by Hilton C Deeth, Nidhi Bansal. Academic Press 2018. p. 637–63.
Sing Yadav JS, Yan S, Pilli S, Kumar L, Tyagi R., Surampalli R. Cheese whey: A pontential resource to transform into bioprotein, functional/nutritional proteins and bioactive peptides. Biotechnol Adv. 2015;33(July):756–74. DOI: http://dx.doi.org/10.1016/j.biotechadv.2015.07.002
Sharma N, Sharma R, Rajput YS, Mann B, Gandhi K. Distinction between glycomacropeptide and β-lactoglobulin with 'stains all' dye on tricine SDS-PAGE gels. Food Chem [Internet]. 2021;340(January 2020):127923. DOI: https://doi.org/10.1016/j.foodchem.2020.127923
Huth PJ, Layman DK, Brown PH. The Emerging Role of Dairy Proteins and Bioactive Peptides in Nutrition and Health: Foreword. J Nutr. 2004;134(4):996–1002.
Oliemanr C, Van Den Bedem2 JW. A sensitive HPLC method of detecting and estimating rennet whey total solids in skim milk powder. Nerh itl Ilk Daírr J. 1983.
Patricio E, Llerena M, García-romero A, Mayorga-llerena E. suero dulce con proteasas de bacterias psicrótrofas e identificación de leche ... Correlación de glicomacropéptido de lacto suero dulce con proteasas de bacterias psicrótrofas e identificación de leche adulterada. X Congr Cienc Y Tecnol Espe 2015 [Internet]. 2015;(June):267–70. Available from: http://journal.espe.edu.ec/index.php/cienciaytecnologia/article/view/58
Poa MET, Agropecu N, Emiss OA, Met E. Determinação de Índice de CMP por SEC Determinação de Índice de CMP por SEC. Brasil: Laboratório Nacional Agropecuário - LANAGRO/RS. Laboratório de Produtos de Origem Animal; 2014. p. 1–11. Available from: https://docplayer.com.br/28733684-Determinacao-de-indice-de-cmp-por-sec.html
Liebenberg N, Jensen E, Larsen ER, Kousholt BS, Pereira VS, Fischer CW, et al. A Preclinical Study of Casein Glycomacropeptide as a Dietary Intervention for Acute Mania. Int J Neuropsychopharmacol. 2018;21(5):473–84. DOI: https://doi.org/10.1093/ijnp/pyy012
Guy RC. International Conference on Harmonisation. Encycl Toxicol Third Ed. 2014;2(June 1995):1070–2.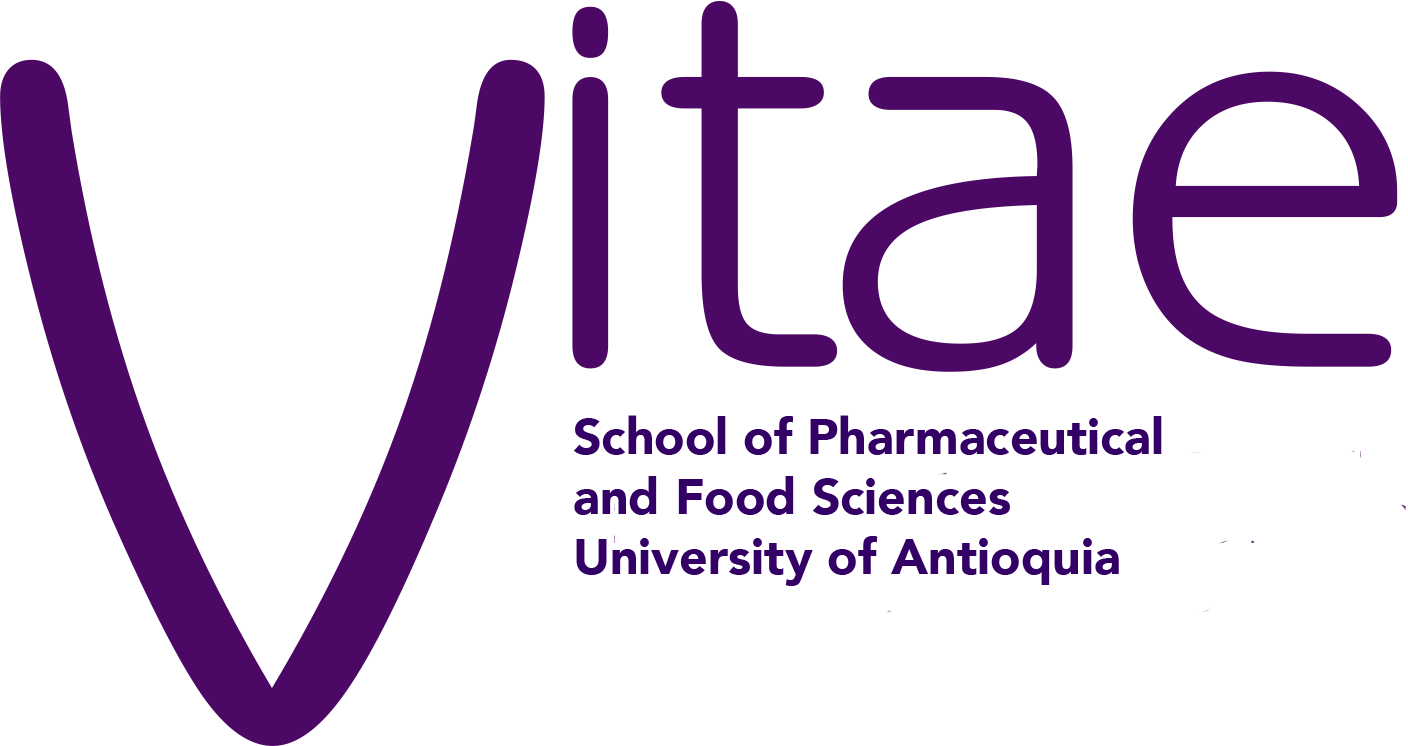 Downloads
How to Cite
Bernal Chia, O., Murcia Rubiano, F. ., Ávila Guzmán, O. L. ., Guzman Gualteros, J. Y. ., Arias Casallas, W. A. ., & Morales, M. V. (2021). Validation of a method employing liquid chromatography to identify and quantify glycomacropeptide of casein in raw milk. Vitae, 28(3). https://doi.org/10.17533/udea.vitae.v28n3a345256
Section
Foods: Science, Engineering and Technology
License
Copyright (c) 2021 Orlando Bernal Chia, Fernando Murcia Rubiano, Olga Lucía Ávila Guzmán, Jenifer Yaneth Guzman Gualteros, Willinton Arturo Arias Casallas, Maria Victoria Morales
This work is licensed under a Creative Commons Attribution-NonCommercial-ShareAlike 4.0 International License.
Copyright Notice and Open Access Statement
The Journal Vitae works under the Open Access license, and the published manuscripts remain available for the public, both on the Journal's website and in databases, under the Creative Commons license, "Noncommercial Attribution" and "Share alike" systems, adopted in Colombia. Hence, when the authors agree to publish in the Journal Vitae, they will not have the right to economic retributions on publications and reproductions through different diffusion media. The documents are freely available to the internet public, permitting users to read, download, copy, distribute, print, search, or link to the full texts and pass them as data to software. The only constraint on reproduction and distribution, should be to give authors control over the integrity of their work and the right to be appropriately acknowledged and cited.
Authors declare that:
They are the intellectual property owners and are responsible for all the information stated in the article.

This manuscript has not been submitted or published in other printed or digital media. They accept the responsibility for the judgments, opinions, and points of view expressed in the published article and, therefore, they exonerate Universidad de Antioquia and Journal Vitae from any process.

They exempt Universidad de Antioquia and Journal Vitae from settling conflicts or disputes related to the authorship of the referred article.

They accept the revision of the original manuscript by suitable personnel, and they bind themselves to perform the corrections appointed or suggested by the assessors.

Therefore, they know the editorial process and will not bind the Editorial Board of the Journal to assume any obligations regarding the volume and issue in which the article is published.

They transfer the rights of publication, reprinting, and distribution of the article from the moment of its approval, in print and digital format, without the right to economic rewards, and under the licensing conditions considered relevant by Journal Vitae.

They fully authorize Universidad de Antioquia and Journal Vitae to submit the published material to the diverse databases and indexing systems where the Journal can be found to comply with the requirements of the regulatory authorities to maintain the national classification of journals.

They will assume the article publication costs established for the current issue, and they will make the payment as soon as they are informed about the volume and the issue in which the final version of the article is published.

After the article is published, you can share digital or printed copies in a noncommercial manner. You will be able to use the paper in your institution or company for educational or research purposes, including the use in course programs.
Conflict of interest: Authors are responsible for recognizing and disclosing any financial or other benefits that could be perceived to bias their work, acknowledging all financial support and any personal connections with potential sponsors. Examples of such conflicts include receiving research funds or honoraria, serving on advisory boards, stock ownership, or employment and consulting arrangements. Authors without such connections should clearly state that they have no financial support or personal relationships that could be perceived to bias their work. All conflicts of interest should be disclosed on the author's identification page of the manuscript.