Efecto hipoglicemiante de Costus speciosus (Zingiberaceae), en ratas
Keywords:
Costus speciosus, puerto rico, diabetes, streptozotocin, 2-deoxy-3H-glucose
Abstract

Durante muchos siglos la gente ha usado plantas con propiedades medicinales para el tratamiento de diversas enfermedades. Una de estas enfermedades es diabetes mellitus. Una de las plantas usadas ampliamente por la población de Puerto Rico es Costus Speciosus conocida vulgarmente como insulina. El objetivo principal de este estudio fue analizar las propiedades hipoglicemiantes que se le atribuyen al extracto de esta planta. Con estos fines se llevaron a cabo experimentos con ratas Sprague Dawley, a las cuales se les había inducido diabetes por medio de la inyección de estreptozotocina i.p. A un grupo de diez de estas ratas en ayunas (Grupo A) se le dio a tomar el extracto por 24 horas, mientras que a otro grupo testigo de diez ratas (Grupo B) se le administró agua. El grupo A tuvo niveles de glucosa sanguínea significativamente inferiores a las ratas del grupo testigo. En otro experimento se incubaron células endoteliales con o sin el extracto de la planta en presencia de 2-desoxi-H_glucosa (DG). Hubo una mayor captación de DG en las células que contenían el extracto de la planta. Esto indica que es extracto contiene algún o algunos compuestos que facilitan la entrada de glucosa a las células cuya acción es similar a la de insulina. En los ensayos de toxicidad general usando Artemia Salina L., el valor CL50&18.45:g/mL demuestra la presencia de uno o varios agentes farmacológicamente activos en el extracto. En conclusión, el extracto de Costus speciosus muestra un efecto hipoglicemiante en ratas diabéticas inducidas con estreptozotocina. Además, el extracto de esta planta estimula la captación de DG en las células endoteliales.
|Abstract = 139 veces | PDF (ESPAÑOL (ESPAÑA)) = 19 veces|
Downloads
Download data is not yet available.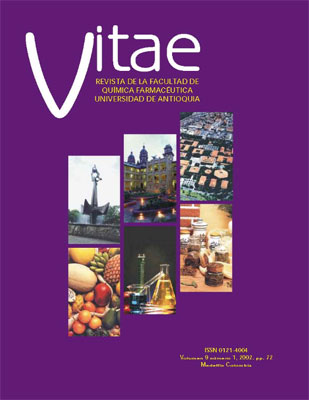 Downloads
How to Cite
Guzmán, A. L., & Guerrero, R. O. (2009). Efecto hipoglicemiante de <i>Costus speciosus</i> (Zingiberaceae), en ratas. Vitae, 9(1). Retrieved from https://revistas.udea.edu.co/index.php/vitae/article/view/406
License
Copyright Notice and Open Access Statement
The Journal Vitae works under the Open Access license, and the published manuscripts remain available for the public, both on the Journal's website and in databases, under the Creative Commons license, "Noncommercial Attribution" and "Share alike" systems, adopted in Colombia. Hence, when the authors agree to publish in the Journal Vitae, they will not have the right to economic retributions on publications and reproductions through different diffusion media. The documents are freely available to the internet public, permitting users to read, download, copy, distribute, print, search, or link to the full texts and pass them as data to software. The only constraint on reproduction and distribution, and the only role for copyright in this domain, should be to give authors control over the integrity of their work and the right to be appropriately acknowledged and cited.
Authors declare that:
They are the intellectual property owners and are responsible for all the information stated in the article.

This manuscript has not been submitted or published in other printed or digital media. They accept the responsibility for the judgments, opinions, and points of view expressed in the published article and, therefore, they exonerate Universidad de Antioquia and Journal Vitae from any process.

They exempt Universidad de Antioquia and Journal Vitae from settling conflicts or disputes related to the authorship of the referred article.

They accept the revision of the original manuscript by suitable personnel, and they bind themselves to perform the corrections appointed or suggested by the assessors.

Therefore, they know the editorial process and will not bind the Editorial Board of the Journal to assume any obligations regarding the volume and issue in which the article is published.

They transfer the rights of publication, reprinting, and distribution of the article from the moment of its approval, in print and digital format, without the right to economic rewards, and under the licensing conditions considered relevant by Journal Vitae.

They fully authorize Universidad de Antioquia and Journal Vitae to submit the published material to the diverse databases and indexing systems where the Journal can be found to comply with the requirements of the regulatory authorities to maintain the national classification of journals.

They will assume the article publication costs established for the current issue, and they will make the payment as soon as they are informed about the volume and the issue in which the final version of the article is published.

After the article is published, you can share digital or printed copies in a noncommercial manner. You will be able to use the paper in your institution or company for educational or research purposes, including the use in course programs.
Conflict of interest: Authors are responsible for recognizing and disclosing any financial or other benefits that could be perceived to bias their work, acknowledging all financial support and any personal connections with potential sponsors. Examples of such conflicts include receiving research funds or honoraria, serving on advisory boards, stock ownership, or employment and consulting arrangements. Authors without such connections should clearly state that they have no financial support or personal relationships that could be perceived to bias their work. All conflicts of interest should be disclosed on the author's identification page of the manuscript.