Prevalencias de diabetes e hipertensión en Colombia: Un revisión sistemática
Palabras clave:
diabetes mellitus, hipertensión, enfermedades no transmisibles
Resumen
Objetivo: Llevar a cabo una revisión sistemática de las prevalencias de diabetes e hipertensión en la población adulta colombiana.
Metodología: Se llevó a cabo una búsqueda estructurada en las bases electrónicas PubMed, SciELO and ProQuest, la cual incluyó estudios publicados en español e inglés desde enero de 2000 a junio de 2016.
Resultados: Cuatro estudios en hipertensión y 2 en diabetes fueron seleccionados. Las prevalencias generales de hipertensión tuvieron un rango de valores de 13,4% (IC95%:11,5-15,2) a 70,4% (no reportó el IC95%). Las prevalencias generales de diabetes en los 2 estudios fueron 8,1% (IC95%:6,8-9,5) y 8,9% (no reportó el IC95%).
Conclusión: Esta revisión brinda evidencia limitada pero útil acerca de las prevalencias de dos enfermedades crónicas no-transmisibles en Colombia. Los resultados destacan la necesidad de mejorar los sistemas de vigilancia de factores de riesgo de estas enfermedades y estandarizar los procedimientos metodológicos para estimación de futuros estudios de prevalencia.
|Resumen = 353 veces | PDF INGLÉS = 223 veces|
Descargas
La descarga de datos todavía no está disponible.
Citas
(1). World Health Organization. Global status report on noncommunicable diseases 2014. Available at: http://apps.who.int/iris/bitstream/10665/148114/1/9789241564854_eng.pdf?ua=1 [Accessed 11th July 2016].
(2). Liu XM1, Liu YJ, Zhan J, He QQ. Overweight, obesity and risk of all-cause and cardiovascular mortality in patients with type 2 diabetes mellitus: a dose-response meta-analysis of prospective cohort studies. Eur J Epidemiol 2015;30(1):35-45.
(3). Lee C, Joseph L, Colosimo A, Dasqupta K. Mortality in diabetes compared with previous cardiovascular disease: a gender-specific meta-analysis. Diabetes Metab 2012;38(5):420-427.
(4). Stevens SL, Wood S, Koshiaris C, Law K, Glasziou P, Stevens RJ, McManus RJ. Blood pressure variability and cardiovascular disease: a systematic review and meta-analysis. BMJ 2016;354:j4098.
(5). Ettehad D, Emdin CA, Kiran A, Anderson SG, Callenger T, Emberson J, Chalmers J, Rodgers A, Rahimi K. Blood pressure lowering for prevention of cardiovascular disease and death: a systematic review and meta-analysis. Lancet 2016;387(10022):957-967.
(6). im SS, Vos T, Flaxman AD, et al. A comparative risk assessment of burden of disease and injury attributable to 67 risk factors and risk factor clusters in 21 regions, 1990–2010: a systematic analysis for the Global Burden of Disease Study 2010. Lancet 2012;380:2224–60.
(7). Mathers CD, Loncar D. Projections of global mortality and burden of disease from 2002 to 2030. PLoS Med 2006,3(11):e442.
(8). World Health Organization. Global report on diabetes. Available at: http://apps.who.int/iris/bitstream/10665/204871/1/9789241565257_eng.pdf [Accessed 11th July 2016].
(9). World Health Organization. A global brief on hypertension: A silent killer, global public health crisis. Available at: http://ish-world.com/downloads/pdf/global_brief_hypertension.pdf [Accessed 15th July 2016].
(10). Global Burden of Disease Study, Institute for Health Metrics and Evaluation. Available in: http://vizhub.healthdata.org/gbd-compare/ [Accessed 1st July 2018].
(11). WHO| Guideline Sodium intake for adults and children Sodium intake for adults and children. [cited 2018 Jun 17]; Available from: http://apps.who.int/iris/bitstream/handle/10665/77985/9789241504836_eng.pdf;jsessionid=082F8CE6F9595F86C1F273CEDA437CEF?sequence=1
(12). Imamura F, Connor LO, Ye Z, Mursu J, Hayashino Y, Bhupathiraju SN, et al. Consumption of sugar sweetened beverages , artificially sweetened beverages , and fruit juice and incidence of type 2 diabetes : systematic review , meta-analysis , and estimation of population attributable fraction. 2015;1–12.
(13). Liu X, Zhang D, Liu Y, Sun X, Han C, Wang B, Ren Y, Zhou J, Zhao Y, Shi Y, Hu D, Zhang M. Dose-Response Association Between Physical Activity and Incident Hypertension: A Systematic Review and Meta-Analysis of Cohort Studies. Hypertension. 2017;69(5):813-820.
(14). Roerecke M, Tobe SW, Kaczorowski J, Bacon SL, Vafaei A, Hasan OSM, Krishnan RJ, Raifu AO, Rehm J. Sex-Specific Associations Between Alcohol Consumption and Incidence of Hypertension: A Systematic Review and Meta-Analysis of Cohort Studies. J Am Heart Assoc. 2018;7(13). Pii:e008202.
(15). Aune D, Norat T, Leitzmann M, Tonstad S, Vatten LJ. Physical activity and the risk of type 2 diabetes: a systematic review and dose-response meta-analysis. Eu J Epidemiol. 2015;30(7):529-542.
(16). Silva-Magliano E, Gaspar-Guedes L, Silva_freire E, Vergetti-Bloch K. Prevalence of arterial hypertension among Brazilian adolescents: systematic review and meta-analysis. BMC Public Health 2013;13:833.
(17). SURE Guides for preparing and using evidence-based policy briefs. Available in: http://www.sandy-campbell.com/sc/KTC_Module_1_files/KTP%20Module%201%20-%204.3c%20-%20SURE%20Guides%20-%2004%20deciding%20and%20describing%20options.pdf [Accessed 1st September 2016].
(18). Schargrodsky H, Hernandez-Hernandez R, Champagne BM, Silva H, Vinueza R, Silva Ayc ̧aguer LC et al. CARMELA Study Investigators. CARMELA: assessment of cardiovascular risk in seven Latin American cities. Am J Med 2008; 121: 58–65.
(19). Alayón A, Alvear C. Prevalencia de desórdenes del metabolismo de los glúcidos y perfil del diabético en Cartagena de Indias (Colombia). Salud Uninorte. 2005;22(1):20-8.
(20). Navarro-Lechuga E, Vargas-Moranth RF. Características epidemiológicas relacionadas con el género en hipertensos de raza negra. Salud Uninorte. 2009;25:88-100.
(21). Patiño-Villada FA, Arango-Vélez MA, Quintero-Velásquez MA. Factores de riesgo cardiovascular en una población urbana de Colombia. Rev Salud Pública. 2011;13(3):433-445.
(22). Gakidou E, Mallinger L, Abbott-Klafter J, Guerrero R, Villalpando S, Lopez-Ridaura R, Aekplakorn W, Naghavi M, Lim S, Lozano R, Murray JL. Management of diabetes and associated cardiovascular risk factors in seven countries: a comparison of data from national health examination surveys. Bull World Health Organ. 2011;89:172-183.
(23). Lucumí-Cuesta D. Disparities in hypertension in Colombia: A mixed method study. 2014. Available: https://deepblue.lib.umich.edu/bitstream/handle/2027.42/107278/dilucumi_1.pdf?sequence=1
(24). Cataño-Bedoya JU, Duque-Botero J, Naranjo-Gonzalez CA, Rua-Molina DC, Rosique-Gracia J et al. Prevalencia de factores de riesgo cardiovascular en indígenas embera-chami de Cristianía (Jardín), Antioquia. IAREIA 2014;28(1):5-16.
(25). Cano-Gutiérrez C, Reyes-Ortis CA, Samper-Ternent N, Gelvez-Rueda JS, Borda MJ. Prevalence and factors associated to hypertension among older adults in Bogotá, Colombia. Journal of Aging and Health. 2015,27(6):1046–1065.
(26). Fasce E, Campos I, Ibáñez P, Flores M, Zárate H, Román O, Fasce F. Trends in prevalence, awareness, treatment and control of hypertension in urban communities in Chile. J Hypertens. 2007,25(9):1807-11.
(27). Moreira JP, Moraes JR, Luiz RR. Prevalence of self-reported systemic hypertension in urban and rural environments in Brazil: a population-based study. Cad Saude Publica. 2013,29(1):62-72.
(28). Mendes T de A, Goldbaum M, Segri NJ, Barros MB, César CL, Carandina L. Factor associated with the prevalence of hypertension and control practices among elderly residents of São Paulo city, Brazil. Cad Saude Publica. 2013,29(11):2275-86.
(29). Whelton PK, Carey RM, Aronow WS, Casey DE, Collins KJ, Himmelfarb CD, DePalma S, Gidding S, Jamerson KA, Jones DW, MacLaughlin EJ, Muntner P, Ovbiagele B, Smith Jr. SC, Spencer CC, Stafford RS, Taler SJ, Thomas RJ, Williams KA, Williamson JD, Wright JT. 2017 ACC/ AHA/ AAPA/ ABC/ACPM /AGS/APhA /ASH/ASPC/NMA /PCNA Guideline for the Prevention, Detection, Evaluation, and Management of High Blood Pressure in Adults. A Report of the American College of Cardiology/American Heart Association Task Force on Clinical Practice Guidelines. Journal of the American College of Cardiology. 2018, e 1 2 7 – 2 4 8.
(30). Cowie CC, Rust KF, Byrd-Holt DD, Eberhardt MS, Flegal KM, Engelgau MM, Saydah SH, Williams DE, Geiss LS, Gregg EW. Prevalence of diabetes and impaired fasting glucose in adults in the U.S. populations: National Health and Nutrition Examination Survey 1999-2002. Diabetes Care. 2006,29(6):1263-8.31. Olives C, Myerson R, Mokdad AH, Murray CJ, Lim SS. Prevalence, awareness, treatment, and control of hypertension in United States counties, 2001-2009. PLoS One. 2013,8(4):e60308.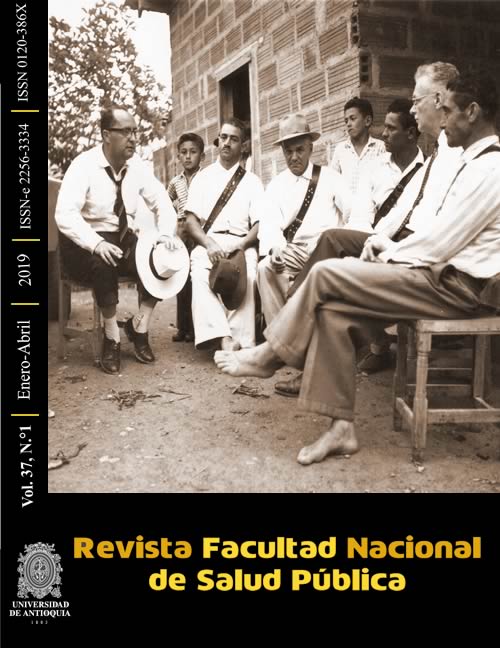 Cómo citar
Gomez, L. F., Mora, M., Riascos, S., & Parra, D. (2019). Prevalencias de diabetes e hipertensión en Colombia: Un revisión sistemática. Revista Facultad Nacional De Salud Pública, 37(1). https://doi.org/10.17533/udea.rfnsp.v37n1a13
Sección
Condiciones de salud
Derechos de autor 2019 Facultad Nacional de Salud Pública
Esta obra está bajo licencia internacional
Creative Commons Reconocimiento-NoComercial-CompartirIgual 4.0
.
El autor o los autores conserva(n) los derechos morales y cede(n) los derechos patrimoniales que corresponderán a la Universidad de Antioquia, para publicarlo, distribuir copias electrónicas, incluirlas en servicios de indización, directorios o bases de datos nacionales e internacionales en Acceso Abierto, bajo la licencia Creative Commons Atribución-No Comercial-Compartir Igual 4.0 Internacional Comercial (CC BY-NC-SA) la cual permite a otros distribuir, remezclar, retocar y crear a partir de la obra de modo no comercial, siempre y cuando se dé crédito respectivo y licencien las nuevas creaciones bajo las mismas condiciones.