Surgimiento de los micro-RNA como biomarcadores potenciales en diversas enfermedades
Palabras clave:
enfermedades cardiovasculares, hepatopatías, marcadores biológicos, Micro-ARN, neoplasias
Resumen
El objetivo de esta revisión es evidenciar el potencial de los micro-RNA (mi-RNA) como biomarcadores en diferentes enfermedades. Los mi-RNA son ácidos nucleicos de ≈ 22 nucleótidos que regulan la traducción de RNA mensajeros (mRNA) codificantes y producen una regulación postranscripcional de la expresión génica. La mayoría de ellos son altamente conservados y tienen una distribución tisular específica, de manera que juegan un papel importante como reguladores de la función celular y la fisiopatología de los diferentes órganos del cuerpo humano. Los mi-RNA surgen como candidatos para ser biomarcadores debido a que se han encontrado cambios en su expresión en diversas enfermedades (cáncer, daño hepático y cardiopatías), con alteración de sus niveles en plasma, suero, orina y saliva. Sin embargo, aunque algunos presentan consistencia en su perfil de expresión, otros han sido reportados como posibles candidatos para más de una enfermedad, lo que limita su especificidad y su utilidad diagnóstica. Es pertinente hacer nuevos estudios que ahonden sobre su significado en procesos patológicos y sobre su papel como posibles biomarcadores.
|Resumen = 348 veces | PDF = 265 veces| | XHTML = 5 veces|
Descargas
Los datos de descargas todavía no están disponibles.
Citas
(1.) Ketting RF. MicroRNA Biogenesis and Function. In: Großhans H, editor. Regulation of microRNAs. New York, NY: Springer US; 2010. p. 1-14.
(2.) Turchinovich A, Weiz L, Langheinz A, Burwinkel B. Characterization of extracellular circulating microRNA. Nucleic Acids Res. 2011 Sep;39(16):7223-33. DOI 10.1093/nar/gkr254.
(3.) De Rosa S, Curcio A, Indolfi C. Emerging role of microRNAs in cardiovascular diseases. Circ J. 2014;78(3):567-75.
(4.) Wang D, Yang B. Detection, Profiling, and Quantification of miRNA Expression. In: MicroRNA expression detection methods. New York, NY: Springer; 2010. p. 3-64.
(5.) Shen J, Xia W, Khotskaya YB, Huo L, Nakanishi K, Lim SO, et al. EGFR modulates microRNA maturation in response to hypoxia through phosphorylation of AGO2. Nature. 2013 May;497(7449):383-7. DOI 10.1038/nature12080.
(6.) Bartel DP. MicroRNAs: genomics, biogenesis, mechanism, and function. Cell [Internet]. 2004 Jan [cited 2014 Jul 17];116(2):[281-97]. Available from: http://www.sciencedirect.com/science/article/pii/S0092867404000455
(7.) Etheridge A, Lee I, Hood L, Galas D, Wang K. Extracellular microRNA: a new source of biomarkers. Mutat Res. 2011 Dec;717(1-2):85-90. DOI 10.1016/j.mrfmmm.2011.03.004.
(8.) Cho WC. MicroRNAs in cancer - from research to therapy. Biochim Biophys Acta. 2010 Apr;1805(2):209-17. DOI 10.1016/j.bbcan.2009.11.003.
(9.) Cho WC. MicroRNAs: potential biomarkers for cancer diagnosis, prognosis and targets for therapy. Int J Biochem Cell Biol. 2010 Aug;42(8):1273-81. DOI 10.1016/j.biocel.2009.12.014.
(10.) Asaga S, Kuo C, Nguyen T, Terpenning M, Giuliano AE, Hoon DS. Direct serum assay for microRNA-21 concentrations in early and advanced breast cancer. Clin Chem. 2011 Jan;57(1):84-91. DOI 10.1373/clinchem.2010.151845.
(11.) Allegra A, Alonci A, Campo S, Penna G, Petrungaro A, Gerace D, et al. Circulating microRNAs: new biomarkers in diagnosis, prognosis and treatment of cancer (review). Int J Oncol. 2012 Dec;41(6):1897-912. DOI 10.3892/ijo.2012.1647.
(12.) Kosaka N, Iguchi H, Ochiya T. Circulating microRNA in body fluid: a new potential biomarker for cancer diagnosis and prognosis. Cancer Sci. 2010 Oct;101(10):2087-92. DOI 10.1111/j.1349-7006.2010.01650.x.
(13.) Roth C, Rack B, Müller V, Janni W, Pantel K, Schwarzenbach H. Circulating microRNAs as blood-based markers for patients with primary and metastatic breast cancer. Breast Cancer Res. 2010;12(6):R90. DOI 10.1186/bcr2766.
(14.) Bullock MD, Sayan AE, Packham GK, Mirnezami AH. MicroRNAs: critical regulators of epithelial to mesenchymal (EMT) and mesenchymal to epithelial transition (MET) in cancer progression. Biol Cell. 2012 Jan;104(1):3-12. DOI 10.1111/boc.201100115.
(15.) Mitchell PS, Parkin RK, Kroh EM, Fritz BR, Wyman SK, Pogosova-Agadjanyan EL, et al. Circulating microRNAs as stable blood-based markers for cancer detection. Proc Natl Acad Sci U S A. 2008 Jul;105(30):10513-8. DOI 10.1073/pnas.0804549105.
(16.) Chen X, Ba Y, Ma L, Cai X, Yin Y, Wang K, et al. Characterization of microRNAs in serum: a novel class of biomarkers for diagnosis of cancer and other diseases. Cell Res. 2008 Oct;18(10):997-1006. DOI 10.1038/cr.2008.282.
(17.) Lu J, Getz G, Miska EA, Alvarez-Saavedra E, Lamb J, Peck D, et al. MicroRNA expression profiles classify human cancers. Nature [Internet]. 2005 Jun [cited 2014 Jul 9];435(7043):[834-8]. Available from: http://www.nature.com/nature/journal/v435/n7043/full/nature03702.html
(18.) Wentz-Hunter KK, Potashkin JA. The Role of miRNAs as Key Regulators in the Neoplastic Microenvironment. Mol Biol Int. 2011;2011:839872. DOI 10.4061/2011/839872.
(19.) Shen J, Stass SA, Jiang F. MicroRNAs as potential biomarkers in human solid tumors. Cancer Lett. 2013 Feb;329(2):125-36. DOI 10.1016/j.canlet.2012.11.001.
(20.) He JF, Luo YM, Wan XH, Jiang D. Biogenesis of MiRNA-195 and its role in biogenesis, the cell cycle, and apoptosis. J Biochem Mol Toxicol. 2011 Nov-Dec;25(6):404-8. DOI 10.1002/jbt.20396.
(21.) Yin R, Bao W, Xing Y, Xi T, Gou S. MiR-19b-1 inhibits angiogenesis by blocking cell cycle progression of endothelial cells. Biochem Biophys Res Commun. 2012 Jan 13;417(2):771-6. DOI 10.1016/j.bbrc.2011.12.032.
(22.) Donzelli S, Fontemaggi G, Fazi F, Di Agostino S, Padula F, Biagioni F, et al. MicroRNA-128-2 targets the transcriptional repressor E2F5 enhancing mutant p53 gain of function. Cell Death Differ. 2012 Jun;19(6):1038-48. DOI 10.1038/cdd.2011.190.
(23.) Putt KS, Chen GW, Pearson JM, Sandhorst JS, Hoagland MS, Kwon JT, et al. Small-molecule activation of procaspase-3 to caspase-3 as a personalized anticancer strategy. Nat Chem Biol. 2006 Oct;2(10):543-50. DOI 10.1038/nchembio814.
(24.) Schaar DG, Medina DJ, Moore DF, Strair RK, Ting Y. miR-320 targets transferrin receptor 1 (CD71) and inhibits cell proliferation. Exp Hematol. 2009 Feb;37(2):245-55. DOI 10.1016/j.exphem.2008.10.002.
(25.) Ichimi T, Enokida H, Okuno Y, Kunimoto R, Chiyomaru T, Kawamoto K, et al. Identification of novel microRNA targets based on microRNA signatures in bladder cancer. Int J Cancer. 2009 Jul;125(2):345-52. DOI 10.1002/ijc.24390.
(26.) Aprelikova O, Yu X, Palla J, Wei BR, John S, Yi M, et al. The role of miR-31 and its target gene SATB2 in cancer-associated fibroblasts. Cell Cycle. 2010 Nov;9(21):4387-98.
(27.) Yanaihara N, Caplen N, Bowman E, Seike M, Kumamoto K, Yi M, et al. Unique microRNA molecular profiles in lung cancer diagnosis and prognosis. Cancer Cell 2006 Mar;9(3):189-98.
(28.) Shen J, Todd NW, Zhang H, Yu L, Lingxiao X, Mei Y, et al. Plasma microRNAs as potential biomarkers for non-small-cell lung cancer. Lab Invest. 2011 Apr;91(4):579-87. DOI 10.1038/labinvest.2010.194.
(29.) Garofalo M, Di Leva G, Romano G, Nuovo G, Suh SS, Ngankeu A, et al. miR-221&222 regulate TRAIL resistance and enhance tumorigenicity through PTEN and TIMP3 downregulation. Cancer Cell. 2009 Dec;16(6):498-509. DOI 10.1016/j.ccr.2009.10.014.
(30.) Wang ZX, Bian HB, Wang JR, Cheng ZX, Wang KM, De W. Prognostic significance of serum miRNA-21 expression in human non-small cell lung cancer. J Surg Oncol. 2011 Dec;104(7):847-51. DOI 10.1002/jso.22008.
(31.) Yu L, Todd NW, Xing L, Xie Y, Zhang H, Liu Z, et al. Early detection of lung adenocarcinoma in sputum by a panel of microRNA markers. Int J Cancer. 2010 Dec;127(12):2870-8. DOI 10.1002/ijc.25289.
(32.) Hu Z, Chen X, Zhao Y, Tian T, Jin G, Shu Y, et al. Serum microRNA signatures identified in a genome-wide serum microRNA expression profiling predict survival of non-small-cell lung cancer. J Clin Oncol. 2010 Apr;28(10):1721-6. DOI 10.1200/JCO.2009.24.9342.
(33.) Blenkiron C, Goldstein LD, Thorne NP, Spiteri I, Chin SF, Dunning MJ, et al. MicroRNA expression profiling of human breast cancer identifies new markers of tumor subtype. Genome Biol. 2007;8(10):R214.
(34.) Heneghan HM, Miller N, Lowery AJ, Sweeney KJ, Newell J, Kerin MJ. Circulating microRNAs as novel minimally invasive biomarkers for breast cancer. Ann Surg. 2010 Mar;251(3):499-505. DOI 10.1097/SLA.0b013e3181cc939f.
(35.) Wu Q, Lu Z, Li H, Lu J, Guo L, Ge Q. Next-generation sequencing of microRNAs for breast cancer detection. J Biomed Biotechnol. 2011;2011:597145. DOI 10.1155/2011/597145.
(36.) Hu Z, Dong J, Wang LE, Ma H, Liu J, Zhao Y, et al. Serum microRNA profiling and breast cancer risk: the use of miR-484/191 as endogenous controls. Carcinogenesis. 2012 Apr;33(4):828-34. DOI 10.1093/carcin/bgs030.
(37.) Iorio MV, Ferracin M, Liu CG, Veronese A, Spizzo R, Sabbioni S, et al. MicroRNA gene expression deregulation in human breast cancer. Cancer Res. 2005 Aug;65(16):7065-70.
(38.) Schaefer A, Jung M, Mollenkopf HJ, Wagner I, Stephan C, Jentzmik F, et al. Diagnostic and prognostic implications of microRNA profiling in prostate carcinoma. Int J Cancer. 2010 Mar;126(5):1166-76. DOI 10.1002/ijc.24827.
(39.) Brase JC, Johannes M, Schlomm T, Fälth M, Haese A, Steuber T, et al. Circulating miRNAs are correlated with tumor progression in prostate cancer. Int J Cancer. 2011 Feb;128(3):608-16. DOI 10.1002/ijc.25376.
(40.) Akao Y, Nakagawa Y, Naoe T. MicroRNA-143 and -145 in colon cancer. DNA Cell Biol. 2007 May;26(5):311-20.
(41.) Pu XX, Huang GL, Guo HQ, Guo CC, Li H, Ye S, et al. Circulating miR-221 directly amplified from plasma is a potential diagnostic and prognostic marker of colorectal cancer and is correlated with p53 expression. J Gastroenterol Hepatol. 2010 Oct;25(10):1674-80. DOI 10.1111/j.1440-1746.2010.06417.x.
(42.) Slaby O, Svoboda M, Fabian P, Smerdova T, Knoflickova D, Bednarikova M, et al. Altered expression of miR-21, miR-31, miR-143 and miR-145 is related to clinicopathologic features of colorectal cancer. Oncology. 2007;72(5-6):397-402. DOI 10.1159/000113489.
(43.) Wang J, Chen J, Chang P, LeBlanc A, Li D, Abbruzzesse JL, et al. MicroRNAs in plasma of pancreatic ductal adenocarcinoma patients as novel blood-based biomarkers of disease. Cancer Prev Res (Phila). 2009 Sep;2(9):807-13. DOI 10.1158/1940-6207.CAPR-09-0094.
(44.) Bloomston M, Frankel WL, Petrocca F, Volinia S, Alder H, Hagan JP, et al. MicroRNA expression patterns to differentiate pancreatic adenocarcinoma from normal pancreas and chronic pancreatitis. JAMA. 2007 May;297(17):1901-8.
(45.) Guo J, Miao Y, Xiao B, Huan R, Jiang Z, Meng D, et al. Differential expression of microRNA species in human gastric cancer versus non-tumorous tissues. J Gastroenterol Hepatol. 2009 Apr;24(4):652-7. DOI 10.1111/j.1440-1746.2008.05666.x.
(46.) Ladeiro Y, Couchy G, Balabaud C, Bioulac-Sage P, Pelletier L, Rebouissou S, et al. MicroRNA profiling in hepatocellular tumors is associated with clinical features and oncogene/tumor suppressor gene mutations. Hepatology. 2008 Jun;47(6):1955-63. DOI 10.1002/hep.22256.
(47.) Li W, Xie L, He X, Li J, Tu K, Wei L, et al. Diagnostic and prognostic implications of microRNAs in human hepatocellular carcinoma. Int J Cancer. 2008 Oct;123(7):1616-22. DOI 10.1002/ijc.23693.
(48.) Fornari F, Gramantieri L, Ferracin M, Veronese A, Sabbioni S, Calin GA, et al. MiR-221 controls CDKN1C/p57 and CDKN1B/p27 expression in human hepatocellular carcinoma. Oncogene. 2008 Sep;27(43):5651-61. DOI 10.1038/onc.2008.178.
(49.) Conti A, Aguennouz M, La Torre D, Tomasello C, Cardali S, Angileri FF, et al. miR-21 and 221 upregulation and miR-181b downregulation in human grade II-IV astrocytic tumors. J Neurooncol. 2009 Jul;93(3):325-32. DOI 10.1007/s11060-009-9797-4.
(50.) Roncarati R, Viviani Anselmi C, Losi MA, Papa L, Cavarretta E, Da Costa Martins P, et al. Circulating miR-29a, among other up-regulated microRNAs, is the only biomarker for both hypertrophy and fibrosis in patients with hypertrophic cardiomyopathy. J Am Coll Cardiol. 2014 Mar;63(9):920-7. DOI 10.1016/j.jacc.2013.09.041.
(51.) Wang XW, Heegaard NH, Orum H. MicroRNAs in liver disease. Gastroenterology. 2012 Jun;142(7):1431-43. DOI 10.1053/j.gastro.2012.04.007.
(52.) Haider BA, Baras AS, McCall MN, Hertel JA, Cornish TC, Halushka MK. A critical evaluation of microRNA biomarkers in non-neoplastic disease. PLoS One. 2014 Feb;9(2):e89565. DOI 10.1371/journal.pone.0089565.
(53.) Gupta A, Swaminathan G, Martin-Garcia J, Navas-Martin S. MicroRNAs, hepatitis C virus, and HCV/HIV-1 co-infection: new insights in pathogenesis and therapy. Viruses. 2012 Oct;4(11):2485-513. DOI 10.3390/v4112485.
(54.) Zhang Y, Jia Y, Zheng R, Guo Y, Wang Y, Guo H, et al. Plasma microRNA-122 as a biomarker for viral-, alcohol-, and chemical-related hepatic diseases. Clin Chem. 2010 Dec;56(12):1830-8. DOI 10.1373/clinchem.2010.147850.
(55.) Bihrer V, Friedrich-Rust M, Kronenberger B, Forestier N, Haupenthal J, Shi Y, et al. Serum miR-122 as a biomarker of necroinflammation in patients with chronic hepatitis C virus infection. Am J Gastroenterol. 2011 Sep;106(9):1663-9. DOI 10.1038/ajg.2011.161.
(56.) Jopling CL, Yi M, Lancaster AM, Lemon SM, Sarnow P. Modulation of hepatitis C virus RNA abundance by a liver-specific MicroRNA. Science [Internet]. 2005 Sep [cited 2015 Apr 30];309(5740):[1577-81]. Available from: http://www.sciencemag.org/content/309/5740/1577.long
(57.) Lanford RE, Hildebrandt-Eriksen ES, Petri A, Persson R, Lindow M, Munk ME, et al. Therapeutic silencing of microRNA-122 in primates with chronic hepatitis C virus infection. Science. 2010 Jan;327(5962):198-201. DOI 10.1126/science.1178178.
(58.) Xu J, Wu C, Che X, Wang L, Yu D, Zhang T, et al. Circulating microRNAs, miR-21, miR-122, and miR-223, in patients with hepatocellular carcinoma or chronic hepatitis. Mol Carcinog. 2011 Feb;50(2):136-42. DOI 10.1002/mc.20712.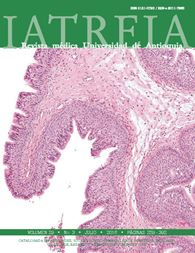 Cómo citar
1.
Forero-Forero JV, González-Teshima LY, Cabal-Herrera AM, Ramírez-Cheyne J, Castillo-Giraldo A. Surgimiento de los micro-RNA como biomarcadores potenciales en diversas enfermedades. Iatreia [Internet]. 1 de julio de 2016 [citado 3 de octubre de 2023];29(3):323-3. Disponible en: https://revistas.udea.edu.co/index.php/iatreia/article/view/22908
Sección
Artículos de revisión
Licencia
Derechos de autor 2016 Iatreia
Esta obra está bajo una licencia internacional Creative Commons Atribución-CompartirIgual 4.0.
Los artículos publicados en la revista están disponibles para ser utilizados bajo la licencia Creative Commons, específicamente son de Reconocimiento-NoComercial-CompartirIgual 4.0 Internacional.
Los trabajos enviados deben ser inéditos y suministrados exclusivamente a la Revista; se exige al autor que envía sus contribuciones presentar los formatos: presentación de artículo y responsabilidad de autoría completamente diligenciados.