Piebaldismo-Moebius y exposición prenatal a misoprostol: reporte de un caso
Diana Marcela Mendoza-Urbano

Universidad del Valle, Cali, Colombia.

Julián Ramírez-Cheyne

Universidad del Valle, Cali, Colombia.

Wilmar Saldarriaga-Gil

Universidad del Valle, Cali, Colombia.
Palabras clave:
Defectos Congénitos, Embarazo, Hipopigmentación, Misoprostol, Piebaldismo, Síndrome de Mobius
Resumen
El piebaldismo es una enfermedad congénita rara de curso estático, con prevalencia de 1/100.000; se caracteriza por despigmentación en parches de la piel y presencia de un mechón blanco frontal. Por lo demás los pacientes son sanos. Se hereda con un patrón autosómico dominante. Es causado por mutaciones en el gen c-kit, un protoncogén que participa en la migración, proliferación, diferenciación y supervivencia de los melanoblastos. Por otro lado, el síndrome de Moebius es una parálisis congénita del VII par craneal, que puede estar asociada a compromiso de otros pares craneales, o incluso de otros sistemas. En Estados Unidos se ha calculado su frecuencia en 0,002 % - 0,0002 % del total de nacimientos. Presentamos el caso de una recién nacida con piebaldismo y síndrome de Moebius asociado a exposición prenatal a misoprostol. Se hace una búsqueda bibliográfica sobre las anomalías de la paciente y la asociación entre la exposición prenatal a misoprostol y anomalías congénitas. El piebaldismo es un trastorno raro de etiología genética. El síndrome de Moebius, en cambio, es de causa heterogénea y no bien definida, y se ha asociado a exposición prenatal a misoprostol. La paciente reportada presenta simultáneamente ambas entidades, una netamente genética y la otra posiblemente teratogénica. 
|Resumen = 1341 veces | PDF = 586 veces| XHTML = 3 veces|
Descargas
La descarga de datos todavía no está disponible.
Citas
(1.) Sarma N, Chakraborty S, Bhanja DC, Bhattachraya SR. Piebaldism with non-intertriginous freckles: what does it mean? Indian J Dermatol Venereol Leprol. 2014 Mar-Apr;80(2):163-5.
(2.) Spritz RA. Piebaldism, Waardenburg syndrome, and related disorders of melanocyte development. Semin Cutan Med Surg. 1997 Mar;16(1):15-23.
(3.) Thomas I, Kihiczak GG, Fox MD, Janniger CK, Schwartz RA. Piebaldism: an update. Int J Dermatol. 2004 Oct;43(10):716-9.
(4.) Hwang SM, Ahn SK, Lee WS, Yoo MS, Choi EH. Piebaldism-a case report. J Korean Med Sci. 1996 Jun;11(3):285-8.
(5.) Medscape [Internet]. Nueva York: Medscape; 2014[cited 2014 Dec 12]. Palmer CA. Mobius Syndrome. Available from: http://emedicine.medscape.com/article/1180822-overview
(6.) Vargas FR, Schuler-Faccini L, Brunoni D, Kim C, Meloni VF, Sugayama SM, et al. Prenatal exposure to misoprostol and vascular disruption defects: a casecontrol study. Am J Med Genet. 2000 Dec;95(4):302-6.
(7.) da Silva Dal Pizzol T, Knop FP, Mengue SS. Prenatal exposure to misoprostol and congenital anomalies: systematic review and meta-analysis. Reprod Toxicol. 2006 Nov;22(4):666-71.
(8.) Spritz RA. Molecular basis of human piebaldism. J Invest Dermatol. 1994 Nov;103(5 Suppl):137S-140S.
(9.) Hartmann A, Bröcker EB, Becker JC. Hypopigmentary skin disorders: current treatment options and future directions. Drugs. 2004;64(1):89- 107.
(10.) Murakami T, Fukai K, Oiso N, Hosomi N, Kato A, Garganta C, et al. New KIT mutations in patients with piebaldism. J Dermatol Sci. 2004 Jun;35(1):29-33.
(11.) Caballero Moreno LM, Mosquera Sánchez H. Piebaldismo: reporte de un caso y revisión de la literatura. MedUNAB. 2006;9(1):72-5.
(12.) Ward KA, Moss C, Sanders DS. Human piebaldism: relationship between phenotype and site of kit gene mutation. Br J Dermatol. 1995 Jun;132(6):929-35.
(13.) Ezoe K, Holmes SA, Ho L, Bennett CP, Bolognia JL, Brueton L, et al. Novel mutations and deletions of the KIT (steel factor receptor) gene in human piebaldism. Am J Hum Genet. 1995 Jan;56(1):58-66.
(14.) Syrris P, Malik NM, Murday VA, Patton MA, Carter ND, Hughes HE, et al. Three novel mutations of the protooncogene KIT cause human piebaldism. Am J Med Genet. 2000 Nov;95(1):79-81.
(15.) Grichnik JM, Rhodes AR, Sobe AJ. Hypomelanoses and hypermelanoses. In: Freedberg IM, Eisen AZ, Wolff K, Austen KF, Goldsmith LA, Katz SI. Fitzpatrick ́s dermatology in general medicine. 6ª ed. New York: McGraw-Hill; 2003. p. 925-72.
(16.) Njoo MD, Nieuweboer-Krobotova L, Westerhof W. Repigmentation of leucodermic defects in piebaldism by dermabrasion and thin split-thickness skin grafting in combination with minigrafting. Br J Dermatol. 1998 Nov;139(5):829-33.
(17.) Henderson JL. The congenital facial diplegia syndrome: clinical features, pathology and etiology. Brain. 1939 Dec;62(4):381-403.
(18.) Möbius PJ. [Uber angeborene doppelseitige Abducens-Facialis-lähmung]. Munch Med Wochenschr. 1888;35:91-4. German.
(19.) Pérez Aytés A. Síndrome de Moebius. Protoc Diagn Ter Pediatr. 2010;1:80-4.
(20.) Verzijl HT, van der Zwaag B, Cruysberg JR, Padberg GW. Möbius syndrome redefined: a syndrome of rhombencephalic maldevelopment. Neurology. 2003 Aug;61(3):327-33.
(21.) Norman JE, Thong KJ, Baird DT. Uterine contractility and induction of abortion in early pregnancy by misoprostol and mifepristone. Lancet. 1991 Nov;338(8777):1233-6.
(22.) Costa SH. Commercial availability of misoprostol and induced abortion in Brazil. Int J Gynaecol Obstet. 1998 Dec;63 Suppl 1:S131-9.
(23.) Schüler L, Ashton PW, Sanseverino MT. Teratogenicity of misoprostol. Lancet. 1992 Feb;339(8790):437.
(24.) Schüler L, Pastuszak A, Sanseverino TV, Orioli IM, Brunoni D, Ashton-Prolla P, et al. Pregnancy outcome after exposure to misoprostol in Brazil: a prospective, controlled study. Reprod Toxicol. 1999 Mar-Apr;13(2):147-51.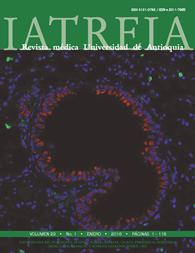 Cómo citar
Mendoza-Urbano, D. M., Ramírez-Cheyne, J., & Saldarriaga-Gil, W. (2015). Piebaldismo-Moebius y exposición prenatal a misoprostol: reporte de un caso. Iatreia, 29(1), 81-87. https://doi.org/10.17533/udea.iatreia.v29n1a08
Sección
Presentación de casos
Los artículos publicados en la revista están disponibles para ser utilizados bajo la licencia Creative Commons, específicamente son de Reconocimiento-NoComercial-CompartirIgual 4.0 Internacional.
Los trabajos enviados deben ser inéditos y suministrados exclusivamente a la Revista; se exige al autor que envía sus contribuciones presentar los formatos: presentación de artículo y responsabilidad de autoría completamente diligenciados.