Cardiomiopatías infiltrativas. Presentación de un caso de sarcoidosis cardíaca
Édison Muñoz-Ortiz

Hospital Universitario San Vicente Fundación. Universidad de Antioquia, Medellín, Colombia.

Edwin Fernando Arévalo-Guerrero

Hospital Universitario San Vicente Fundación. Universidad de Antioquia, Medellín, Colombia.

Pedro Abad-Díaz

Fundación IATM, Medellín, Colombia.

Juan Manuel Senior

Hospital Universitario San Vicente Fundación. Universidad de Antioquia, Medellín, Colombia.
Palabras clave:
Cardiomiopatía, Inmunosupresores, Sarcoidosis
Resumen
La sarcoidosis se caracteriza por la presencia de granulomas no caseificantes y puede afectar cualquier órgano. En el corazón se manifiesta como cardiomiopatía infiltrativa. La frecuencia del compromiso cardíaco es alrededor del 30 %, pero solo el 5 % son sintomáticos. Presentamos el caso de una paciente con sarcoidosis sistémica, diagnosticada por biopsia de un ganglio mediastinal y tratada inicialmente con esteroides. Posteriormente tuvo compromiso del corazón, que se manifestó por falla cardíaca y edema pulmonar. El diagnóstico se hizo por ecocardiografía y resonancia magnética cardíaca. Respondió favorablemente al tratamiento con esteroides y ciclofosfamida.
|Resumen = 499 veces | PDF = 506 veces| XHTML = 5 veces|
Descargas
La descarga de datos todavía no está disponible.
Citas
(1.) Bejar D, Colombo PC, Latif F, Yuzefpolskaya M. Infiltrative Cardiomyopathies. Clin Med Insights Cardiol. 2015 Jul;9(Suppl 2):29-38. DOI 10.4137/CMC.S19706.
(2.) Seward JB, Casaclang-Verzosa G. Infiltrative cardiovascular diseases: cardiomyopathies that look alike. J Am Coll Cardiol. 2010 Apr;55(17):1769-79. DOI 10.1016/j.jacc.2009.12.040.
(3.) Arbustini E, Narula N, Tavazzi L, Serio A, Grasso M, Favalli V, et al. The MOGE(S) classification of cardiomyopathy for clinicians. J Am Coll Cardiol. 2014 Jul;64(3):304-18. DOI 10.1016/j.jacc.2014.05.027.
(4.) Maron BJ, Towbin JA, Thiene G, Antzelevitch C, Corrado D, Arnett D, et la. Contemporary definitions and classification of the cardiomyopathies: an American Heart Association Scientific Statement from the Council on Clinical Cardiology, Heart Failure and Transplantation Committee; Quality of Care and Outcomes Research and Functional Genomics and Translational Biology Interdisciplinary Working Groups; and Council on Epidemiology and Prevention. Circulation. 2006 Apr;113(14):1807-16.
(5.) Elliott P, Andersson B, Arbustini E, Bilinska Z, Cecchi F, Charron P, et al. Classification of the cardiomyopathies: a position statement from the European Society Of Cardiology Working Group on Myocardial and Pericardial Diseases. Eur Heart J. 2008 Jan;29(2):270-6.
(6.) Wijsenbeek MS, Culver DA. Treatment of Sarcoidosis. Clin Chest Med. 2015 Dec;36(4):751-67. DOI 10.1016/j.ccm.2015.08.015.
(7.) Judson MA. The Clinical Features of Sarcoidosis: A Comprehensive Review. Clin Rev Allergy Immunol. 2015 Aug;49(1):63-78. DOI 10.1007/s12016-014-8450-y.
(8.) Baughman RP, Lower EE. Who dies from sarcoidosis and why? Am J Respir Crit Care Med. 2011 Jun;183(11):1446-7. DOI 10.1164/rccm.201103-0409ED.
(9.) Birnie DH, Sauer WH, Bogun F, Cooper JM, Culver DA, Duvernoy CS, et al. HRS expert consensus statement on the diagnosis and management of arrhythmias associated with cardiac sarcoidosis. Heart Rhythm. 2014 Jul;11(7):1305-23. DOI 10.1016/j.hrthm.2014.03.043.
(10.) Gerke AK, Hunninghake G. The immunology of sarcoidosis. Clin Chest Med. 2008 Sep;29(3):379-90, vii. DOI 10.1016/j.ccm.2008.03.014.
(11.) Hamzeh N, Steckman DA, Sauer WH, Judson MA. Pathophysiology and clinical management of cardiac sarcoidosis. Nat Rev Cardiol. 2015 May;12(5):278-88. DOI 10.1038/nrcardio.2015.22.
(12.) Kandolin R, Lehtonen J, Airaksinen J, Vihinen T, Miettinen H, Ylitalo K, et al. Cardiac sarcoidosis: epidemiology, characteristics, and outcome over 25 years in a nationwide study. Circulation. 2015 Feb;131(7):624-32. DOI 10.1161/CIRCULATIONAHA.114.011522.
(13.) Houston BA, Mukherjee M. Cardiac sarcoidosis: clinical manifestations, imaging characteristics, and therapeutic approach. Clin Med Insights Cardiol. 2014 Nov;8(Suppl 1):31-7. DOI 10.4137/CMC.S15713.
(14.) Zipse MM, Sauer WH. Cardiac sarcoidosis and consequent arrhythmias. Card Electrophysiol Clin. 2015 Jun;7(2):235-49. DOI 10.1016/j.ccep.2015.03.006.
(15.) Sekhri V, Sanal S, Delorenzo LJ, Aronow WS, Maguire GP. Cardiac sarcoidosis: a comprehensive review. Arch Med Sci. 2011 Aug;7(4):546-54. DOI 10.5114/aoms.2011.24118.
(16.) Vakil K, Minami E, Fishbein DP. Right ventricular sarcoidosis: is it time for updated diagnostic criteria? Tex Heart Inst J. 2014 Apr;41(2):203-7. DOI 10.14503/THIJ-12-3086.
(17.) Baughman RP, Engel PJ, Nathan S. Pulmonary Hypertension in Sarcoidosis. Clin Chest Med. 2015 Dec;36(4):703-14. DOI 10.1016/j.ccm.2015.08.011.
(18.) Schuller JL, Olson MD, Zipse MM, Schneider PM, Aleong RG, Wienberger HD, et al. Electrocardiographic characteristics in patients with pulmonary sarcoidosis indicating cardiac involvement. J Cardiovasc Electrophysiol. 2011 Nov;22(11):1243-8. DOI 10.1111/j.1540-8167.2011.02099.x.
(19.) Suzuki T, Kanda T, Kubota S, Imai S, Murata K. Holter monitoring as a noninvasive indicator of cardiac involvement in sarcoidosis. Chest. 1994 Oct;106(4):1021-4.
(20.) Lewin RF, Mor R, Spitzer S, Arditti A, Hellman C, Agmon J. Echocardiographic evaluation of patients with systemic sarcoidosis. Am Heart J. 1985 Jul;110(1 Pt 1):116-22.
(21.) Smedema JP, Snoep G, van Kroonenburgh MP, van Geuns RJ, Dassen WR, Gorgels AP, et al. Evaluation of the accuracy of gadolinium-enhanced cardiovascular magnetic resonance in the diagnosis of cardiac sarcoidosis. J Am Coll Cardiol. 2005 May;45(10):1683-90.
(22.) Youssef G, Leung E, Mylonas I, Nery P, Williams K, Wisenberg G, et al. The use of 18F-FDG PET in the diagnosis of cardiac sarcoidosis: a systematic review and metaanalysis including the Ontario experience. J Nucl Med. 2012 Feb;53(2):241-8. DOI 10.2967/jnumed.111.090662.
(23.) Ardehali H, Howard DL, Hariri A, Qasim A, Hare JM, Baughman KL, et al. A positive endomyocardial biopsy result for sarcoid is associated with poor prognosis in patients with initially unexplained cardiomyopathy. Am Heart J. 2005 Sep;150(3):459-63.
(24.) Yazaki Y, Isobe M, Hiroe M, Morimoto S, Hiramitsu S, Nakano T, et al. Prognostic determinants of longterm survival in Japanese patients with cardiac sarcoidosis treated with prednisone. Am J Cardiol. 2001 Nov;88(9):1006-10.
(25.) Chiu CZ, Nakatani S, Zhang G, Tachibana T, Ohmori F, Yamagishi M, et al. Prevention of left ventricular remodeling by long-term corticosteroid therapy in patients with cardiac sarcoidosis. Am J Cardiol. 2005 Jan;95(1):143-6.
(26.) Hamzeh NY, Wamboldt FS, Weinberger HD. Management of cardiac sarcoidosis in the United States: a Delphi study. Chest. 2012 Jan;141(1):154-62. DOI 10.1378/chest.11-0263. Erratum in: Chest. 2012 Dec;142(6):1698.
(27.) Zaidi AR, Zaidi A, Vaitkus PT. Outcome of heart transplantation in patients with sarcoid cardiomyopathy. J Heart Lung Transplant. 2007 Jul;26(7):714-7.
(28.) Yager JE, Hernandez AF, Steenbergen C, Persing B, Russell SD, Milano C, et al. Recurrence of cardiac sarcoidosis in a heart transplant recipient. J Heart Lung Transplant. 2005 Nov;24(11):1988-90.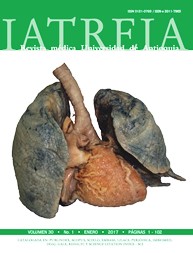 Cómo citar
Muñoz-Ortiz, Édison, Arévalo-Guerrero, E. F., Abad-Díaz, P., & Senior, J. M. (2016). Cardiomiopatías infiltrativas. Presentación de un caso de sarcoidosis cardíaca. Iatreia, 30(1), 72-80. https://doi.org/10.17533/udea.iatreia.v30n1a07
Sección
Presentación de casos
Los artículos publicados en la revista están disponibles para ser utilizados bajo la licencia Creative Commons, específicamente son de Reconocimiento-NoComercial-CompartirIgual 4.0 Internacional.
Los trabajos enviados deben ser inéditos y suministrados exclusivamente a la Revista; se exige al autor que envía sus contribuciones presentar los formatos: presentación de artículo y responsabilidad de autoría completamente diligenciados.