Ronda clínica y epidemiológica: club de revistas
José Alejandro Galeano-Toro

Universidad de Antioquia, Medellín.

Camilo Andrés Restrepo-Álvarez

Universidad de Antioquia, Medellín.

César Caraballo-Cordovez

Universidad de Antioquia, Medellín.

Carolina Hincapié-Osorno

Universidad de Antioquia, Medellín.
Palabras clave:
Anciano, Anamnesis, Ácido Tranexámico, Cefalexina, Celulitis, Diagnóstico, Ensayo Clínico, Examen Físico, Hemorragia Posparto, Hipotiroidismo, Histerectomía, Mortalidad, Neumonía, Preescolar, Signos y Síntomas, Terapia Combinada, Tiroxina
Resumen
En esta edición de la Ronda Clínica y Epidemiológica traemos cuatro artículos que consideramos pertinentes para la práctica médica. El grupo de estudio TRUST realiza uno de los estudios aleatorizados más grandes reportados en la literatura para determinar el beneficio clínico que tiene el tratamiento del hipotiroidismo subclínico en pacientes mayores de 65 años. Por otro lado, Shah S. et al., recogen en una revisión sistemática cuáles son los hallazgos en la anamnesis y el examen físico que permiten identificar con mayor exactitud la neumonía en menores de 5 años. Adicionalmente, el grupo WOMAN estudia mediante un ensayo clínico aleatorizado el impacto del ácido tranexámico en la mortalidad o la necesidad de histerectomía dentro del protocolo de manejo de un código rojo posparto. Finalmente, Moran et al., evalúan a través de un ensayo clínico el efecto de la terapia combinada de cefalexina más trimpetoprim-sulfametoxazol, comparada con la cefalexina sola, en la curación de la celulitis no complicada.
|Resumen = 2412 veces | PDF = 1463 veces| HTML = 1 veces|
Descargas
La descarga de datos todavía no está disponible.
Citas
(1.) Canaris GJ, Manowitz NR, Mayor G, Ridgway EC. The Colorado thyroid disease prevalence study. Arch Intern Med. 2000 Feb;160(4):526-34.
(2.) Peeters RP. Subclinical Hypothyroidism. N Engl J Med. 2017 Jun;376(26):2556-65. DOI 10.1056/NEJMcp1611144.
(3.) Garber JR, Cobin RH, Gharib H, Hennessey JV, Klein I, Mechanick JI, et al. Clinical practice guidelines for hypothyroidism in adults: cosponsored by the American Association of Clinical Endocrinologists and the American Thyroid Association. Endocr Pract. 2012 Nov-Dec;18(6):988-1028. Erratum in: Endocr Pract.2013 Jan-Feb;19(1):175.
(4.) Villar HC, Saconato H, Valente O, Atallah AN. Thyroid hormone replacement for subclinical hypothyroidism. Cochrane Database Syst Rev. 2007 Jul;(3):CD003419.
(5.) Castaño SV. Neumonías bacterianas y virales. En: Correa JA, Gómez JF, Posada R. Pediatría tomo III: infectología y neumología. 4a ed. Medellín: CIB; 2013. p. 457-66.
(6.) McIntosh K. Community-acquired pneumonia in children. N Engl J Med. 2002 Feb 7;346(6):429-37.
(7.) Ministerio de Salud y Protección Social, Organización Panamericana de la Salud. Atención Integrada a las Enfermedades Prevalentes de la Infancia (AIEPI): Cuadro de procedimientos [Internet]. 3a ed. Bogotá: OPS; 2012. Disponible en: https://www.minsalud.gov.co/Documentos%20y%20Publicaciones/CUADRO%20DE%20PROCEDIMIENTOS.pdf
(8.) Shah SN, Bachur RG, Simel DL, Neuman MI. Does This Child Have Pneumonia?: The Rational Clinical Examination Systematic Review. JAMA. 2017 Aug;318(5):462-71. DOI 10.1001/jama.2017.9039.
(9.) Gerber JS, Prasad PA, Fiks AG, Localio AR, Grundmeier RW, Bell LM, et al. Effect of an outpatient antimicrobial stewardship intervention on broad-spectrum antibiotic prescribing by primary care pediatricians: a randomized trial. JAMA. 2013 Jun;309(22):2345-52. DOI 10.1001/jama.2013.6287.
(10.) World Health Organization [Internet]. Ginebra, Suiza: WHO; 2017 [cited 2017 Ago 28]. Maternal mortality: Fact sheet. Available from: http://www.who.int/mediacentre/factsheets/fs348/en/
(11.) World Health Organization. Trends in maternal mortality 1990 to 2015: estimates by WHO, UNICEF, UNFPA, World Bank Group and the United Nations Population Division [Internet]. Ginebra, Suiza: WHO; 2015 [cited 2017 Ago 28]. Available from: http://apps.who.int/iris/bitstream/10665/194254/1/9789241565141_eng.pdf
(12.) Ministerio de Salud y Protección Social de la República de Colombia. Indicadores Básicos 2013 [Internet]. Bogotá: Ministerio de Salud y Protección Social; 2014 [consultado 2017 Jun 14]. Disponible en: https://www.minsalud.gov.co/sites/rid/Lists/BibliotecaDigital/RIDE/VS/ED/PSP/Indicadores-basicos-salud-2013.pdf
(13.) Say L, Chou D, Gemmill A, Tunçalp Ö, Moller AB, Daniels J, et al. Global causes of maternal death: a WHO systematic analysis. Lancet Glob Health. 2014 Jun;2(6):e323-33. DOI 10.1016/S2214-109X(14)70227-X.
(14.) Vélez-Álvarez GA, Agudelo-Jaramillo B, Gómez-Dávila JG, Zuleta-Tobón JJ. Código Rojo: Guía para el manejo de la hemorragia obstétrica. Rev Colomb Obstet Ginecol. 2009;60:34-48.
(15.) World Health Organization. Recommendations for the Prevention and Treatment of Postpartum Haemorrhage [Internet]. Ginebra, Suiza: WHO; 2012 [cited 2017 Ago 28]. Available from: http://apps.who.int/iris/bitstream/10665/75411/1/9789241548502_eng.pdf
(16.) Shakur H, Roberts I, Bautista R, Caballero J, Coats T, Dewan Y, et al. Effects of tranexamic acid on death, vascular occlusive events, and blood transfusion in trauma patients with significant haemorrhage (CRASH-2): a randomised, placebo-controlled trial. Lancet. 2010 Jul;376(9734):23.32. DOI 10.1016/S0140-6736(10)60835-5.
(17.) Novikova N, Hofmeyr GJ, Cluver C. Tranexamic acid for preventing postpartum haemorrhage. Cochrane Database Syst Rev. 2015 Jun;(6):CD007872. DOI 10.1002/14651858.CD007872.pub3.
(18.) Jeng A, Beheshti M, Li J, Nathan R. The role of betahemolytic streptococci in causing diffuse, nonculturable cellulitis: a prospective investigation. Medicine (Baltimore). 2010 Jul;89(4):217-26. DOI 10.1097/MD.0b013e3181e8d635.
(19.) Stevens DL, Bisno AL, Chambers HF, Dellinger EP, Goldstein EJ, Gorbach SL, et al. Practice guidelines for the diagnosis and management of skin and soft tissue infections: 2014 update by the Infectious Diseases Society of America. Clin Infect Dis. 2014 Jul;59(2):e10-52. DOI 10.1093/cid/ciu444. Erratum in: Clin Infect Dis. 2015 May;60(9):1448.
(20.) Moran GJ, Krishnadasan A, Mower WR, Abrahamian FM, LoVecchio F, Steele MT, et al. Effect of Cephalexin Plus Trimethoprim-Sulfamethoxazole vs Cephalexin Alone on Clinical Cure of Uncomplicated Cellulitis: A Randomized Clinical Trial. JAMA. 2017 May;317(20):2088-2096. DOI 10.1001/jama.2017.5653.
(21.) Fleming-Dutra KE, Hersh AL, Shapiro DJ, Bartoces M, Enns EA, File TM Jr, et al. Prevalence of Inappropriate Antibiotic Prescriptions Among US Ambulatory Care Visits, 2010-2011. JAMA. 2016 May;315(17):1864-73. DOI 10.1001/jama.2016.4151.
(22.) Shehab N, Patel PR, Srinivasan A, Budnitz DS. Emergency department visits for antibiotic-associated adverse events. Clin Infect Dis. 2008 Sep 15;47(6):735-43. DOI 10.1086/591126.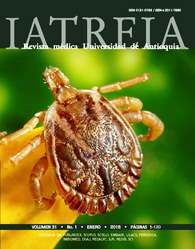 Cómo citar
Galeano-Toro, J. A., Restrepo-Álvarez, C. A., Caraballo-Cordovez, C., & Hincapié-Osorno, C. (2018). Ronda clínica y epidemiológica: club de revistas. Iatreia, 31(1), 108-116. https://doi.org/10.17533/udea.iatreia.v31n1a12
Sección
Actualización crítica
Los artículos publicados en la revista están disponibles para ser utilizados bajo la licencia Creative Commons, específicamente son de Reconocimiento-NoComercial-CompartirIgual 4.0 Internacional.
Los trabajos enviados deben ser inéditos y suministrados exclusivamente a la Revista; se exige al autor que envía sus contribuciones presentar los formatos: presentación de artículo y responsabilidad de autoría completamente diligenciados.