Ronda clínica y epidemiológica: club de revistas
Carolina Hincapié-Osorno

Universidad de Antioquia

César Caraballo Cordovez

Universidad de Antioquia

Camilo Andrés Restrepo Alvarez

Universidad de Antioquia

José Alejandro Galeano-Toro

Universidad de Antioquia

Fabian Jaimes

Universidad de Antioquia. Hospital Pablo Tobón Uribe
Palabras clave:
Antibacterianos, Detección Precoz del Cáncer, Equilibrio Hidroelectrolítico, Fluidoterapia, Gastroenteritis, Ibuprofeno, Infección, Insuficiencia Cardíaca, Neoplasias, Servicios Médicos de Urgencia, Soluciones para Rehidratación, Tromboembolia Venosa
Resumen
En esta nueva edición de la Ronda Clínica y Epidemiológica analizamos cuatro estudios que consideramos importantes para la práctica clínica. El estudio SOME, en el cual Carrier y colaboradores evaluaron la eficacia de la tamización para el cáncer oculto en pacientes con primer episodio no provocado de tromboembolia venosa. El estudio de Freedman y colaboradores muestra que el uso de jugo de manzanas y líquidos elegidos libremente no es inferior a las soluciones hidroelectrolíticas en la terapia de rehidratación oral en pacientes pediátricos con gastroenteritis aguda de bajo riesgo. Gágyor y colaboradores investigaron sobre el uso de ibuprofeno comparado con el de fosfomicina en el tratamiento sintomático de las infecciones urinarias no complicadas. Finalmente, el metaanálisis de Martindale y colaboradores consolida una información valiosa respecto a las pruebas que se deben hacer en el diagnóstico de falla cardíaca aguda.
|Resumen = 43 veces | PDF = 63 veces| XHTML = 0 veces|
Descargas
La descarga de datos todavía no está disponible.
Citas
(1.) Callander N, Rapaport SI. Trousseau's syndrome. West J Med. 1993 Apr;158(4):364-71.
(2.) Carrier M, Le Gal G, Wells PS, Fergusson D, Ramsay T, Rodger MA. Systematic review: the Trousseau syndrome revisited: should we screen extensively for cancer in patients with venous thromboembolism? Ann Intern Med. 2008 Sep;149(5):323-33.
(3.) Piazza G, Rao AF, Nguyen TN, Seger AC, Hohlfelder B, Fanikos J, et al. Venous thromboembolism in hospitalized patients with active cancer. Clin Appl Thromb Hemost. 2013 Sep;19(5):469-75. DOI 10.1177/1076029613481844.
(4.) Khorana AA, Kuderer NM, Culakova E, Lyman GH, Francis CW. Development and validation of a predictive model for chemotherapy-associated thrombosis. Blood. 2008 May;111(10):4902-7. DOI 10.1182/blood-2007-10-116327.
(5.) Bergqvist D, Agnelli G, Cohen AT, Eldor A, Nilsson PE, Le Moigne-Amrani A, et al. Duration of prophylaxis against venous thromboembolism with enoxaparin after surgery for cancer. N Engl J Med. 2002 Mar;346(13):975-80.
(6.) National Institute for Health and Clinical Excellence [Internet]. London: NICE; 2012 [cited 2016 May 17]. Venous thromboembolic diseases: the management of venous thromboembolic diseases and the role of thrombophilia testing. Available from: http://www.nice.org.uk/guidance/cg144
(7.) Khan F, Carrier M, Rodger M. Cancer Screening After Unprovoked Venous Thromboembolism: A Teachable Moment. JAMA Intern Med. 2016 Jun;176(6):739-40. DOI 10.1001/jamainternmed.2016.1783.
(8.) King CK, Glass R, Bresee JS, Duggan C; Centers for Disease Control and Prevention. Managing acute gastroenteritis among children: oral rehydration, maintenance, and nutritional therapy. MMWR Recomm Rep. 2003 Nov;52(RR-16):1-16.
(9.) Duggan C, Lasche J, McCarty M, Mitchell K, Dershewitz R, Lerman SJ, et al. Oral rehydration solution for acute diarrhea prevents subsequent unscheduled follow-up visits. Pediatrics. 1999 Sep;104(3):e29.
(10.) Guarino A, Ashkenazi S, Gendrel D, Lo Vecchio A, Shamir R, Szajewska H, et al. European Society for Pediatric Gastroenterology, Hepatology, and Nutrition/European Society for Pediatric Infectious Diseases evidence-based guidelines for the management of acute gastroenteritis in children in Europe: update 2014. J Pediatr Gastroenterol Nutr. 2014 Jul;59(1):132-52. DOI 10.1097/MPG.0000000000000375.
(11.) PubMed [base de datos en Internet]. Bethesda: National Library of Medicine; 1996- [cited 2016 May 17]. National Collaborating Centre for Women's and Children's Health (UK). Fluid management: Optimal composition and administration of oral fluids. In: Diarrhoea and Vomiting Caused by Gastroenteritis: Diagnosis, Assessment and Management in Children Younger than 5 Years. London: RCOG Press; 2009. p. 60-6. Available from: http://www.ncbi.nlm.nih.gov/books/NBK63837/
(12.) Freedman SB, Willan AR, Boutis K, Schuh S. Effect of Dilute Apple Juice and Preferred Fluids vs Electrolyte Maintenance Solution on Treatment Failure Among Children With Mild Gastroenteritis: A Randomized Clinical Trial. JAMA. 2016 May;315(18):1966-74. DOI 10.1001/jama.2016.5352.
(13.) Valois S, Costa-Ribeiro H Jr, Mattos A, Ribeiro TC, Mendes CM, Lifshitz F. Controlled, double-blind, randomized clinical trial to evaluate the impact of fruit juice consumption on the evolution of infants with acute diarrhea. Nutr J. 2005 Aug;4:23.
(14.) World Health Organization. Antimicrobial resistance: global report on surveillance 2014 [Internet]. [cited 2016 May 17]. Available from: http://apps.who.int/iris/bitstream/10665/112642/1/9789241564748_eng.pdf
(15.) Knottnerus BJ, Geerlings SE, Moll van Charante EP, ter Riet G. Women with symptoms of uncomplicated urinary tract infection are often willing to delay antibiotic treatment: a prospective cohort study. BMC Fam Pract. 2013 May;14:71. DOI 10.1186/1471-2296-14-71.
(16.) Bleidorn J, Gágyor I, Kochen MM, Wegscheider K, Hummers-Pradier E. Symptomatic treatment (ibuprofen) or antibiotics (ciprofloxacin) for uncomplicated urinary tract infection? --results of a randomized controlled pilot trial. BMC Med. 2010 May;8:30. DOI 10.1186/1741-7015-8-30.
(17.) Gágyor I, Bleidorn J, Kochen MM, Schmiemann G, Wegscheider K, Hummers-Pradier E. Ibuprofen versus fosfomycin for uncomplicated urinary tract infection in women: randomised controlled trial. BMJ. 2015 Dec;351:h6544. DOI 10.1136/bmj.h6544.
(18.) Hill SA, Booth RA, Santaguida PL, Don-Wauchope A, Brown JA, Oremus M, et al. Use of BNP and NT-proBNP for the diagnosis of heart failure in the emergency department: a systematic review of the evidence. Heart Fail Rev. 2014 Aug;19(4):421-38. DOI 10.1007/s10741-014-9447-6.
(19.) Senior JM, Saldarriaga C, Rendón JA. Descripción clínico-epidemiológica de los pacientes con falla cardíaca aguda que consultan a servicio de urgencias. Acta Med Colomb. 2011 Jul-Sep;36(3):125-9.
(20.) Liu ZP, Zhang Y, Bian H, He XR, Zhou YJ, Wang LJ, et al. Clinical application of rapid B-line score with lung ultrasonography in differentiating between pulmonary infection and pulmonary infection with acute left ventricular heart failure. Am J Emerg Med. 2016 Feb;34(2):278-81. DOI 10.1016/j.ajem.2015.10.050.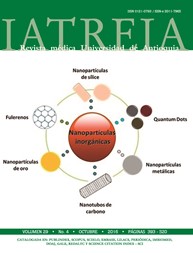 Cómo citar
1.
Hincapié-Osorno C, Caraballo Cordovez C, Restrepo Alvarez CA, Galeano-Toro JA, Jaimes F. Ronda clínica y epidemiológica: club de revistas. Iatreia [Internet]. 29 de septiembre de 2016 [citado 3 de agosto de 2021];29(4):503-11. Disponible en: https://revistas.udea.edu.co/index.php/iatreia/article/view/26914
Sección
Actualización crítica
Los artículos publicados en la revista están disponibles para ser utilizados bajo la licencia Creative Commons, específicamente son de Reconocimiento-NoComercial-CompartirIgual 4.0 Internacional.
Los trabajos enviados deben ser inéditos y suministrados exclusivamente a la Revista; se exige al autor que envía sus contribuciones presentar los formatos: presentación de artículo y responsabilidad de autoría completamente diligenciados.