Ronda clínica y epidemiológica: club de revistas
César Caraballo-Cordovez

Universidad de Antioquia.

María Fernanda Tibaduiza-García

Universidad de Antioquia

Carolina Hincapié-Osorno

Universidad de Antioquia

Fabian Jaimes Barragan

Universidad de Antioquia. Hospital Pablo Tobón Uribe.
Palabras clave:
Calidad de Vida, Dieta Mediterránea, Hipertensión, Maniobra de Valsalva, Neoplasias de la mama, Taquicardia Supraventricular, Trastornos Psicóticos
Resumen
En esta edición de la ronda clínica y epidemiológica analizamos los resultados del estudio SPRINT, que plantea un control más intensivo de la presión arterial para la prevención de los eventos cardiovasculares. También exponemos los resultados del estudio REVERT, en el que se usó una modificación de la maniobra de Valsalva para tratar pacientes con taquicardias supraventriculares estables. Kane y colaboradores exploran la mejoría de la calidad de vida de pacientes con su primer episodio psicótico, tras recibir un enfoque multidisciplinario en comparación con el tratamiento comunitario habitual. Por último, Toledo y colaboradores estudian la incidencia del cáncer de mama en el estudio PREDIMED luego de seguir un régimen alimentario basado en la dieta mediterránea.
|Resumen = 98 veces | PDF = 89 veces| XHTML = 0 veces|
Descargas
La descarga de datos todavía no está disponible.
Citas
(1.) SPRINT Research Group, Wright JT Jr, Williamson JD, Whelton PK, Snyder JK, Sink KM, et al. A Randomized Trial of Intensive versus Standard Blood-Pressure Control. N Engl J Med. 2015 Nov;373(22):2103-16. DOI 10.1056/NEJMoa1511939.
(2.) World Health Organization. Burden: mortality, morbidity and risk factors. In: Global status report on noncommunicable diseases 2010. Alwan, A, editor. Geneva: World Health Organization; 2011. p. 9-31.
(3.) Lim SS, Vos T, Flaxman AD, Danaei G, Shibuya K, Adair-Rohani H, et al. A comparative risk assessment of burden of disease and injury attributable to 67 risk factors and risk factor clusters in 21 regions, 1990-2010: a systematic analysis for the Global Burden of Disease Study 2010. Lancet. 2012 Dec;380(9859):2224-60. DOI 10.1016/S0140-6736(12)61766-8. Erratum in: Lancet. 2013 Feb;381(9867):628.
(4.) Blood Pressure Lowering Treatment Trialists' Collaboration, Sundström J, Arima H, Woodward M, Jackson R, Karmali K, et al. Blood pressure-lowering treatment based on cardiovascular risk: a metaanalysis of individual patient data. Lancet. 2014 Aug;384(9943):591-8. DOI 10.1016/S0140-6736(14)61212-5.
(5.) Xie X, Atkins E, Lv J, Bennett A, Neal B, Ninomiya T, et al. Effects of intensive blood pressure lowering on cardiovascular and renal outcomes: updated systematic review and meta-analysis. Lancet. 2015 Nov. pii: S0140-6736(15)00805-3. DOI 10.1016/S0140-6736(15)00805-3.
(6.) James PA, Oparil S, Carter BL, Cushman WC, Dennison-Himmelfarb C, Handler J, et al. 2014 evidencebased guideline for the management of high blood pressure in adults: report from the panel members appointed to the Eighth Joint National Committee (JNC 8). JAMA. 2014 Feb;311(5):507-20. DOI 10.1001/jama.2013.284427. Erratum in: JAMA. 2014 May 7;311(17):1809.
(7.) Egan BM, Zhao Y, Axon RN. US trends in prevalence, awareness, treatment, and control of hypertension, 1988-2008. JAMA. 2010 May;303(20):2043-50. DOI 10.1001/jama.2010.650.
(8.) Drazen JM, Morrissey S, Campion EW, Jarcho JA. A SPRINT to the Finish. N Engl J Med. 2015 Nov;373(22):2174-5. DOI 10.1056/NEJMe1513991.
(9.) Ministerio de Salud y Protección Social; Colciencias. Guía de práctica clínica Hipertensión arterial primaria (HTA). [Internet]. Bogotá: MinSalud; 2013 [Consultado 2015 Nov 15] Disponible en: http://gpc.minsalud.gov.co/Documents/Guias-PDF-Recursos/HTA/GPC_Completa_HTA.pdf
(10.) Appelboam A, Reuben A, Mann C, Gagg J, Ewings P, Barton A, et al. Postural modification to the standard Valsalva manoeuvre for emergency treatment of supraventricular tachycardias (REVERT): a randomised controlled trial. Lancet. 2015 Oct;386(10005):1747-53. DOI 10.1016/S0140-6736(15)61485-4.
(11.) Delaney B, Loy J, Kelly AM. The relative efficacy of adenosine versus verapamil for the treatment of stable paroxysmal supraventricular tachycardia in adults: a meta-analysis. Eur J Emerg Med. 2011 Jun;18(3):148-52. DOI 10.1097/MEJ.0b013e3283400ba2.
(12.) Holdgate A, Foo A. Adenosine versus intravenous calcium channel antagonists for the treatment of supraventricular tachycardia in adults. Cochrane Database Syst Rev. 2006 Oct;(4):CD005154.
(13.) Wen ZC, Chen SA, Tai CT, Chiang CE, Chiou CW, Chang MS. Electrophysiological mechanisms and determinants of vagal maneuvers for termination of paroxysmal supraventricular tachycardia. Circulation. 1998 Dec;98(24):2716-23.
(14.) Mehta D, Wafa S, Ward DE, Camm AJ. Relative efficacy of various physical manoeuvres in the termination of junctional tachycardia. Lancet. 1988 May;1(8596):1181-5.
(15.) Lim SH, Anantharaman V, Teo WS, Goh PP, Tan AT. Comparison of treatment of supraventricular tachycardia by Valsalva maneuver and carotid sinus massage. Ann Emerg Med. 1998 Jan;31(1):30-5.
(16.) Smith GD, Fry MM, Taylor D, Morgans A, Cantwell K. Effectiveness of the Valsalva Manoeuvre for reversion of supraventricular tachycardia. Cochrane Database Syst Rev. 2015 Feb;2:CD009502. DOI 10.1002/14651858.CD009502.pub3.
(17.) Kane JM, Robinson DG, Schooler NR, Mueser KT, Penn DL, Rosenheck RA, et al. Comprehensive Versus Usual Community Care for First-Episode Psychosis: 2-Year Outcomes From the NIMH RAISE Early Treatment Program. Am J Psychiatry. 2015 Oct:appiajp201515050632.
(18.) Robins LN, Regier DA. Psychiatric disorders in America: The Epidemiologic Catchment Area Study. New York: The Free Press;1991.
(19.) Colombia. Ministerio de la Protección Social; Fundación FES Social. Estudio Nacional de Salud Mental Colombia 2003 [Internet]. Cali: Ministerio de la Protección Social; 2003. [Consultado 2015 Nov 30]. Disponible en: http://onsm.ces.edu.co/uploads/files/1243030_EstudioNacionalSM2003.pdf
(20.) National Institute of Mental Health [Internet]. Bethesda, Maryland: Turning Discovery Into Health; 2015 [Cited 2015 Nov 30]. Insel TR, Fenton WS. Psychiatric epidemiology: It's not just about counting anymore. Available from: http://www.nimh.nih.gov/about/director/bio/publications/psychiatric-epidemiology.shtml
(21.) Stomski NJ, Morrison P, Meyer A. Antipsychotic medication side effect assessment tools: A systematic review. Aust N Z J Psychiatry. 2015 Oct. pii:0004867415608244.
(22.) Toledo E, Salas-Salvadó J, Donat-Vargas C, Buil-Cosiales P, Estruch R, Ros E, et al. Mediterranean Diet and Invasive Breast Cancer Risk Among Women at High Cardiovascular Risk in the PREDIMED Trial: A Randomized Clinical Trial. JAMA Intern Med. 2015 Nov;175(11):1752-60. DOI 10.1001/jamainternmed.2015.4838.
(23.) Schwingshackl L, Hoffmann G. Adherence to Mediterranean diet and risk of cancer: an updated systematic review and meta-analysis of observational studies. Cancer Med. 2015 Dec;4(12):1933-47. DOI 10.1002/cam4.539.
(24.) Farsinejad-Marj M, Talebi S, Ghiyasvand R, Miraghajani M. Adherence to Mediterranean Diet and Risk of Breast Cancer in Premenopausal and Postmenopausal Women. Arch Iran Med. 2015 Nov;18(11):786-92. DOI 0151811/AIM.0010.
(25.) Estruch R, Ros E, Martínez-González MA. Mediterranean diet for primary prevention of cardiovascular disease. N Engl J Med. 2013 Aug;369(7):676-7. DOI 10.1056/NEJMc1306659.
(26.) Buckland G, Travier N, Agudo A, Fonseca-Nunes A, Navarro C, Lagiou P, et al. Olive oil intake and breast cancer risk in the Mediterranean countries of the European Prospective Investigation into Cancer and Nutrition study. Int J Cancer. 2012 Nov;131(10):2465-9. DOI 10.1002/ijc.27516.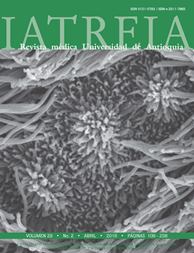 Cómo citar
1.
Caraballo-Cordovez C, Tibaduiza-García MF, Hincapié-Osorno C, Barragan FJ. Ronda clínica y epidemiológica: club de revistas. Iatreia [Internet]. 9 de marzo de 2016 [citado 16 de septiembre de 2021];29(2):246-54. Disponible en: https://revistas.udea.edu.co/index.php/iatreia/article/view/25223
Sección
Actualización crítica
Los artículos publicados en la revista están disponibles para ser utilizados bajo la licencia Creative Commons, específicamente son de Reconocimiento-NoComercial-CompartirIgual 4.0 Internacional.
Los trabajos enviados deben ser inéditos y suministrados exclusivamente a la Revista; se exige al autor que envía sus contribuciones presentar los formatos: presentación de artículo y responsabilidad de autoría completamente diligenciados.