Razonamiento clínico en medicina II: hacia una definición integradora
Palabras clave:
errores médicos, procesos mentales, sesgo, teoría de las decisiones, toma de decisiones clínicas
Resumen
El entendimiento del razonamiento clínico es una necesidad para la investigación, la docencia y la práctica clínica. Los modelos teóricos subyacentes podrían agruparse en tres grandes ejes no excluyentes. El primero es denominado bayesiano informal según su estructura semejante al análisis de probabilidades condicionales. El segundo propone (desde las ciencias cognitivas) un razonamiento dual que es la suma de dos tipos de pensamientos: el tipo 1, rápido e intuitivo y, el tipo 2, hipotético-deductivo. El tercero, el conocimiento intersubjetivo que involucra la interacción del saber del paciente sobre su condición con el del médico, además, de hacer explícito el papel de la emoción. En esta segunda entrega se presenta una revisión narrativa de estas teorías para poder proponer una definición integradora, en la que se presenta al razonamiento clínico como un constructo complejo, iterativo y adaptativo.
|Resumen = 504 veces | PDF = 444 veces|
Descargas
Los datos de descargas todavía no están disponibles.
Citas
(1) Young M, Thomas A, Lubarsky S, Ballard T, Gordon D, Gruppen LD, et al. Drawing Boundaries: The Difficulty in Defining Clinical Reasoning. Acad Med. 2018 Jul;93(7):990-995. DOI 10.1097/ACM.0000000000002142.
(2) Gupta M, Upshur R. Critical thinking in clinical medicine: what is it? J Eval Clin Pract. 2012 Oct;18(5):938-44. DOI 10.1111/j.1365-2753.2012.01897.x.
(3) Krupat E, Sprague JM, Wolpaw D, Haidet P, Hatem D, O'Brien B. Thinking critically about critical thinking: ability, disposition or both? Med Educ. 2011 Jun;45(6):625-35. DOI 10.1111/j.1365-2923.2010.03910.x.
(4) Tonelli MR. The challenge of evidence in clinical medicine. J Eval Clin Pract. 2010 Apr;16(2):384-9. DOI 10.1111/j.1365-2753.2010.01405.x.
(5) Fuks A, Boudreau JD, Cassell EJ. Teaching clinical thinking to first-year medical students. Med Teach. 2009 Feb;31(2):105-11. DOI 10.1080/01421590802512979.
(6) Evans J. Reasoning, decision making and rationality. Cognition 1993;49:165–87. DOI 10.1016/0010-0277(93)90039-X.
(7) Lally L, Mccarthy G, Flaherty G. Diagnostic Reasoning as a Medium for Promoting Patient Safety. J patient Saf Qual Improv 2019;7:36–40. DOI 10.22038/psj.2019.35489.1193.
(8) ten Cate O, Custers EJFM, Durning SJ, editors. Principles and Practice of Case-based Clinical Reasoning Education: A Method for Preclinical Students. Cham (CH): Springer; 2018. PMID: 31314234.
(9) Cole SR, Hudgens MG, Brookhart MA, Westreich D. Risk. Am J Epidemiol 2015;181:246–50. DOI 10.1093/aje/kwv001.
(10) Dawson NV, Arkes HR. Systematic errors in medical decision making. J Gen Intern Med. 1987;2:183–7. DOI 10.1007/BF02596149.
(11) Canals L M. Bases científicas del razonamiento clínico: inferencia Bayesiana [Bayesian inference in clinical reasoning]. Rev Med Chil. 2019 Feb;147(2):231-7. Spanish. DOI 10.4067/s0034-98872019000200231.
(12) Zehtabchi S, Kline JA. The art and science of probabilistic decision-making in emergency medicine. Acad Emerg Med. 2010 May;17(5):521-3. DOI 10.1111/j.1553-2712.2010.00739.x.
(13) Kennedy AG. Managing uncertainty in diagnostic practice. J Eval Clin Pract. 2017;23:959–63. DOI 10.1111/jep.12328.
(14) Austin LC, Reventlow S, Sandøe P, Brodersen J. The structure of medical decisions: uncertainty, probability and risk in five common choice situations. Health Risk Soc. 2013;15:27–50. DOI 10.1080/13698575.2012.746286.
(15) Kinnear B, Hagedorn PA, Kelleher M, Ohlinger C, Tolentino J. Integrating Bayesian reasoning into medical education using smartphone apps. Diagnosis. 2019;6:85–9. DOI 10.1515/dx-2018-0065.
(16) Brush JE Jr, Lee M, Sherbino J, Taylor-Fishwick JC, Norman G. Effect of Teaching Bayesian Methods Using Learning by Concept vs Learning by Example on Medical Students' Ability to Estimate Probability of a Diagnosis: A Randomized Clinical Trial. JAMA Netw Open. 2019 Dec 2;2(12):e1918023. DOI 10.1001/jamanetworkopen.2019.18023.
(17) Phelps MA. Pretest Probability Estimates: A Pitfall to the Clinical Utility of Evidence-based Medicine? Acad Emerg Med. 2004;11:692–4. DOI 10.1197/j.aem.2003.08.022.
(18) Cahan A, Gilon D, Manor O, Paltiel O. Probabilistic reasoning and clinical decision-making: do doctors overestimate diagnostic probabilities? QJM. 2003;96:763–9. DOI 10.1093/qjmed/hcg122.
(19) Han PKJ, Klein WMP, Arora NK. Varieties of Uncertainty in Health Care: A Conceptual Taxonomy. Med Decis Mak. 2011;31:828–38. DOI 10.1177/0272989X11393976.
(20) Nantha YS. Probability or Reasoning: Current Thinking and Realistic Strategies for Improved Medical Decisions. Korean J Fam Med. 2017;38:315. DOI 10.4082/kjfm.2017.38.6.315.
(21) Brainerd CJ, Reyna VF. Fuzzy-Trace Theory: Dual Processes in Memory, Reasoning, and Cognitive Neuroscience. Adv Child Dev Behav. 2002;28:41–100. DOI 10.1016/S0065-2407(02)80062-3.
(22) Yazdani S, Hoseini Abardeh M. A novel model of clinical reasoning: cognitive zipper model. J Adv Med Educ Prof. 2020;8:61–71. DOI 10.30476/jamp.2020.82230.1050.
(23) Durning SJ, Costanzo ME, Artino AR, Graner J, Vleuten C, Beckman TJ, et al. Neural basis of nonanalytical reasoning expertise during clinical evaluation. Brain Behav. 2015;5. DOI 10.1002/brb3.309.
(24) Ernst M, Paulus MP. Neurobiology of Decision Making: A Selective Review from a Neurocognitive and Clinical Perspective. Biol Psychiatry. 2005;58:597–604. DOI 10.1016/j.biopsych.2005.06.004.
(25) Kahneman D. A perspective on judgment and choice: Mapping bounded rationality. Am Psychol. 2003;58:697–720. DOI 10.1037/0003-066X.58.9.697.
(26) Sibbald M, de Bruin ABH, van Merrienboer JJG. Checklists improve experts' diagnostic decisions. Med Educ. 2013;47:301–8. DOI 10.1111/medu.12080.
(27) Croskerry P. Context Is Everything or How Could I Have Been That Stupid? Healthc Q. 2009;12:e171–6. DOI 10.12927/hcq.2009.20945.
(28) Kassirer JP. Teaching Clinical Reasoning: Case-Based and Coached. Acad Med 2010;85:1118–24. DOI 10.1097/ACM.0b013e3181d5dd0d.
(29) Erdeniz B, Done J. Common and Distinct Functional Brain Networks for Intuitive and Deliberate Decision Making. Brain Sci. 2019;9:174. DOI 10.3390/brainsci9070174.
(30) Rylander M, Guerrasio J. Heuristic errors in clinical reasoning. Clin Teach. 2016;13:287–90. DOI 10.1111/tct.12444.
(31) Norman GR, Monteiro SD, Sherbino J, Ilgen JS, Schmidt HG, Mamede S. The Causes of Errors in Clinical Reasoning: Cognitive Biases, Knowledge Deficits, and Dual Process Thinking. Acad Med. 2017;92:23–30. DOI 10.1097/ACM.0000000000001421.
(32) Evans JSBT, Stanovich KE. Dual-Process Theories of Higher Cognition. Perspect Psychol Sci. 2013;8:223–41. DOI 10.1177/1745691612460685.
(33) Custers EJFM. Medical Education and Cognitive Continuum Theory. Acad Med. 2013;88:1074–80. DOI 10.1097/ACM.0b013e31829a3b10.
(34) Marcum JA. An integrated model of clinical reasoning: dual-process theory of cognition and metacognition. J Eval Clin Pract. 2012;18:954–61. DOI 10.1111/j.1365-2753.2012.01900.x.
(35) Keren G, Schul Y. Two Is Not Always Better Than One. Perspect Psychol Sci. 2009;4:533–50. DOI 10.1111/j.1745-6924.2009.01164.x.
(36) Monteiro S, Sherbino J, Sibbald M, Norman G. Critical thinking, biases and dual processing: The enduring myth of generalisable skills. Med Educ. 2020;54:66–73. DOI 10.1111/medu.13872.
(37) Elstein AS, Kagan N, Shulman LS, Jason H, Loupe MJ. Methods and theory in the study of medical inquiry. Acad Med. 1972;47:85–92. DOI 10.1097/00001888-197202000-00002.
(38) Elstein AS. Thinking about diagnostic thinking: a 30-year perspective. Adv Heal Sci Educ. 2009;14:7–18. DOI 10.1007/s10459-009-9184-0.
(39) Okon-Singer H, Hendler T, Pessoa L, Shackman AJ. The neurobiology of emotion-cognition interactions: fundamental questions and strategies for future research. Front Hum Neurosci. 2015;9. DOI 10.3389/fnhum.2015.00058.
(40) Croskerry P, Abbass AA, Wu AW. How doctors feel: affective issues in patients' safety. Lancet. 2008;372:1205–6. DOI 10.1016/S0140-6736(08)61500-7.
(41) Lajoie SP, Zheng J, Li S. Examining the role of selfregulation and emotion in clinical reasoning: Implications for developing expertise. Med Teach. 2018;40:842–4. DOI 10.1080/0142159X.2018.1484084.
(42) Islam R, Weir CR, Jones M, Del Fiol G, Samore MH. Understanding complex clinical reasoning in infectious diseases for improving clinical decision support design. BMC Med Inform Decis Mak. 2015;15:101. DOI 10.1186/s12911-015-0221-z.
(43) Stolper E, Van Royen P, Van de Wiel M, Van Bokhoven M, Houben P, Van der Weijden T, et al. Consensus on gut feelings in general practice. BMC Fam Pract. 2009;10:66. DOI 10.1186/1471-2296-10-66.
(44) Stolper E, van Royen P, Dinant GJ. The 'sense of alarm' ('gut feeling') in clinical practice. A survey among European general practitioners on recognition and expression. Eur J Gen Pract. 2010;16:72–4. DOI 10.3109/13814781003653424.
(45) Stolper E, Van de Wiel M, Van Royen P, Van Bokhoven M, Van der Weijden T, Dinant GJ. Gut Feelings as a Third Track in General Practitioners' Diagnostic Reasoning. J Gen Intern Med. 2011;26:197–203. DOI 10.1007/s11606-010-1524-5.
(46) Cabrera D, Thomas J, Wiswell J, Walston J, Anderson J, Hess E, et al. Accuracy of 'My Gut Feeling:'Comparing System 1 to System 2 Decision-Making for Acuity Prediction, Disposition and Diagnosis in an Academic Emergency Department. West J Emerg Med. 2015;16:653–7. DOI 10.5811/westjem.2015.5.25301.
(47) Gupta M, Potter N, Goyer S. Diagnostic Reasoning in Psychiatry: Acknowledging an Explicit Role for Intersubjective Knowing. Philos Psychiatry, Psychol. 2019;26:49–64. DOI 10.1353/ppp.2019.0003.
(48) Hipolito I. The phenomenology of the intersubjective impairment. J Eval Clin Pract. 2016;22:608–14. DOI 10.1111/jep.12560.
(49) Norman G. Dual processing and diagnostic errors. Adv Heal Sci Educ. 2009;14:37–49. DOI 10.1007/s10459-009-9179-x.
(50) Geneau R, Lehoux P, Pineault R, Lamarche P. Understanding the work of general practitioners: a social science perspective on the context of medical decision making in primary care. BMC Fam Pract. 2008;9:12. DOI 10.1186/1471-2296-9-12.
(51) Brabers AEM, van Dijk L, Groenewegen PP, de Jong JD. Do social norms play a role in explaining involvement in medical decision-making? Eur J Public Health. 2016;26:901–5. DOI 10.1093/eurpub/ckw069.
(52) Bösner S, Abushi J, Feufel M, Donner-Banzhoff N. Diagnostic strategies in general practice and the emergency department: a comparative qualitative analysis. BMJ Open. 2019;9:e026222. DOI 10.1136/bmjopen-2018-026222.
(53) Mamie C, Habre W, Delhumeau C, Barazzone Argiroffo C, Morabia A. Incidence and risk factors of perioperative respiratory adverse events in children undergoing elective surgery. Pediatr Anesth. 2004;14:218–24. DOI 10.1111/j.1460-9592.2004.01169.x.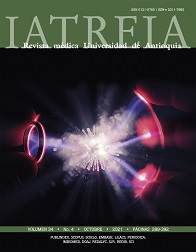 Descargas
Cómo citar
1.
Zapata-Ospina JP, Zamudio-Burbano MA. Razonamiento clínico en medicina II: hacia una definición integradora. Iatreia [Internet]. 11 de marzo de 2021 [citado 27 de marzo de 2023];34(4):325-34. Disponible en: https://revistas.udea.edu.co/index.php/iatreia/article/view/342886
Sección
Artículos de revisión
Licencia
Derechos de autor 2021 Universidad de Antioquia
Esta obra está bajo una licencia internacional Creative Commons Atribución-NoComercial-CompartirIgual 4.0.
Los artículos publicados en la revista están disponibles para ser utilizados bajo la licencia Creative Commons, específicamente son de Reconocimiento-NoComercial-CompartirIgual 4.0 Internacional.
Los trabajos enviados deben ser inéditos y suministrados exclusivamente a la Revista; se exige al autor que envía sus contribuciones presentar los formatos: presentación de artículo y responsabilidad de autoría completamente diligenciados.