The experience of nursing students facing death and dying
Keywords:
Students, nursing, death, attitude towards death.
Abstract
Objective. To understand the phenomenon experienced by nursing students in their academic practices in view of death and dying.
Method. This was a qualitative study, based on Martin Heidegger's existential phenomenology, undertaken at a public University in Alagoas, Brazil, between August and October 2013. Seven senior students of nursing were interviewed.
Results. The phenomenological analysis yielded the following existential themes: Facing death and dying in academic practice; Acknowledging impotence in the face of death; Glimpsing the possibility of solicitude; Interacting with the family in view of the loss; Experiencing spirituality in the face of dying.
Conclusion. It is deduced that, during the academic education, the theme involving death and dying has been addressed insufficiently, without precisely attending to all the demands of the nursing students during care in the dying process.
How to cite this article: Sampaio AV, Comassetto I, Faro ACME, Santos RM, Monteiro FS. The experience of nursing students facing death and dying. Invest Educ Enferm. 2015; 33(2):
|Abstract = 1334 veces | PDF = 419 veces| | HTML RESUMEN = 8 veces| | HTML ENGLISH = 3 veces| | HTML PORTUGUES = 1 veces|
Downloads
Download data is not yet available.
References
(1) Lana SO, Passos ABB. Preparo dos acadêmicos de enfermagem no processo de morte e morrer. Rev Enf Integr. 2008; 80-90.
(2) Brêtas JRS, Oliveira JR, Yamaguti L. Reflexões de estudantes de enfermagem sobre morte e o morrer. Rev Esc Enferm USP. 2006; 40(4):477-83.
(3) Bernieri J, Hirdes A. O preparo dos acadêmicos de enfermagem brasileiros para vivenciarem o processo morte-morrer. Rev Texto Contexto En¬ferm. 2007; 16(1):89-96.
(4) Cantídio FS, Vieira MA, Sena RR. Significado da morte e de mo¬rrer para os alunos de enfermagem. Invest Educ Enferm. 2011; 29(3):407-18.
(5) Santos JL, Bueno SMV. Death education for nursing professors and students: a document review of the scientific literature. Rev Esc Enferm USP. 2011; 45(1):272-6.
(6) Pinho LMO, Barbosa MA. The professor-student relationship in coping with dying. Rev Esc Enferm USP. 2010; 44(1):107-12.
(7) Carvalho FPB, Germano RM, Pessoa Junior JM. A morte na concepção de estudantes de enfermagem. Cogitare Enferm. 2011; 16(1):171-2.
(8) Heidegger M. Ser e Tempo. Parte II. 13th ed. São Paulo: Vozes; 2005.
(9) Josgrilberg RSO. Método fenomenológico e as ciências humanas. In: Castro, D. S. P, organizador. Fenomenologia e análise do existir. São Paulo: Sobraphe, 2000. P: 75-93.
(10) Aguiar IR, Veloso TMC, Pinheiro AKB, Ximenes LB. O envolvimento do enfermeiro no processo de morrer de bebês internados em Unidade Neonatal. Acta Paul Enferm. 2006; 19(2):131-7.
(11) Mochel EG, Gurge WB, Mochel AG, Farias AMC. Análise da formação tanatológica do aluno de Enfermagem da Universidade Federal do Maranhão, Brasil. Invest Educ Enferm. 2011; 29(2): 230-7.
(12) Gutierrez BA, Ciampone MHT. O processo de morrer e a morte no enfoque dos profissionais de enfermagem de UTIs. Rev Esc Enferm USP. 2007; 41(4): 660-7.
(13) Gomes AMR. O cuidador e o doente em de fim de vida família e/ou pessoa significativa. Enferm Global [Internet]. 2010. Feb [cited: 2014 Dic 11]; (18):. Available from: http://scielo.isciii.es/scielo.php?script=sci_arttext&pid=S1695-61412010000100022&lng=es. http://dx.doi.org/10.4321/S1695-61412010000100022.
(14) Vargas D. Death and dying: feelings and behaviors of nursing students. Acta Paul Enferm. 2010; 23(3):404-10.
(15) Oliveira WIA, Amorim RC. A morte e o morrer no processo de formação do enfermeiro. Rev Gaucha Enferm. 2008; 29(2):191-8.
(16) Sousa DM, Soares EO, Costa KMS, Pacifico ALC, Parente ACM. A vivência da enfermeira no processo de morte e morrer dos pacientes oncológicos. Texto & Contexto Enferm. 2009; 18(1):41-7.
(17) Pessalacia JDR, Ribeiro CRO, Massuia D. Themes and situations that cause embarrassment among participants in research in which questionnaires or interviews are used. Invest Educ Enferm. 2013; 31(1): 70-77.
(18) Zayas N. G. Cómo atender a la família del enfermo terminal. Rev Cubana Med Gen Integr [Internet]. 2006 [cited: 2014 Dic 11]; 22(1). Available from: http://www.bvs.sld.cu/revistas/mgi/vol22_1_06/mgi10106.htm
(19) Bellato R, Araujo AP, Ferreira HF, Rodrigues PF. A abordagem do processo do morrer e da morte feita por docentes em um curso de graduação em enfermagem. Acta Paulista Enferm. 2007; 20(3):255-63.
(20) Cui J, Shen F, Ma X, Zhao J. What Do Nurses Want to Learn From Death Education? A Survey of Their Needs. Oncology Nursing Forum. 2011; 38(6): 402-8.
(21) Todaro-Franceschi V. Changing the face of death: a pedagogic intervention. J Prof Nurs. 2011; 27(5):315-9.
(22) Almeida DV, Chaves EC. Teaching humanization in undergraduate nursing course subjects. Invest Educ Enferm. 2013; 31(1):44-53.
(23) Brito FM, Costa ICP, Andrade C G, Lima KFO, Costa SFG, Lopes MEL. Espiritualidade na iminência da morte: estratégia adotada para humanizar o cuidar em enfermagem. Rev Enferm UERJ. 2013; 21(4):483-9.
(24) Shimizu HE. Como os trabalhadores de enfermagem enfrentam o processo de morrer. Rev Bras Enferm. 2007; 60(3):257-62.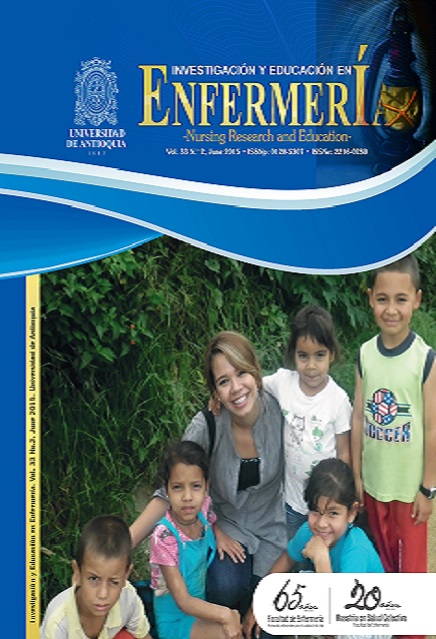 Downloads
How to Cite
Viana Sampaio, A., Comassetto, I., Mancussi e Faro, A. C., Dos Santos, R. M., & Silva Monteiro, F. (2015). The experience of nursing students facing death and dying. Investigación Y Educación En Enfermería, 33(2). https://doi.org/10.17533/udea.iee.23011
Section
ORIGINAL ARTICLES / ARTÍCULOS ORIGINALES / ARTIGOS ORIGINAIS
License
Derechos de propiedad / Direitos de Propriedade
English: If the article is accepted for publication, all copyright will be of exclusive property of Investigación y Educación en Enfermería. The text and the graphics included in the publication are exclusive responsibility of the authors and not necessarily reflect the thought of the Editorial Committee.
Español: Si el artículo es aprobado para publicación, todos los derechos son de propiedad de Investigación y Educación en Enfermería. El texto y las gráficas incluidas en la publicación son de exclusiva responsabilidad de los autores y no necesariamente refleja el pensamiento del Comité Editorial.
Português: Se o artigo for aceito para publicação, todos os direitos autorais serão de propriedade exclusiva de Investigación y Educación en Enfermería. O texto e os gráficos incluídos na publicação são de responsabilidade exclusiva dos autores e não refletem necessariamente o pensamento do Comitê Editorial.