Mental health of the elderly: perceptions related to aging
Keywords:
Aged; mental health; primary health care; qualitative research.
Abstract
Objective. To understand the elderly's perception of their current condition.
Method. Study undertaken in 2012 using the qualitative method of Minayo and the thematic analysis according to Bardin's suggestions. Data were collected through semi-structured interviews that took place in the homes of the elderly people. The guiding question was: At this point in your life, how do you feel? Tell me.
Results. The elderly who were satisfied stated that this was due to the good relationship with their family, spouse, to the fact of having autonomy and respect from the society. Those who were shown to be dissatisfied reported lack of family support, physical limitations imposed by age and the presence of illnesses as the main causes.
Conclusion. The adult population requires the use of care technologies that cover all the stages of life, including old age. Nursing professionals should be prepared for the increasing care demand of these people.
|Abstract = 454 veces | RESUMEN | RESUMO = 13 veces| | PDF (ENGLISH) = 217 veces| | HTML (ENGLISH) = 20 veces| | HTML (PORTUGUES) = 106 veces|
Downloads
Download data is not yet available.
References
(1) Banco Mundial. Banco Internacional para a Reconstrução e o Desenvolvimento. Envelhecendo em um Brasil mais velho: implicações do envelhecimento populacional para o crescimento econômico, a redução da pobreza, as finanças públicas e a prestação de serviços. Washington: Banco Mundial; 2011.
(2) Veras R. Envelhecimento populacional contemporâneo: demandas, desafios e inovações. Ver Saúde Publica 2009; 43(3):548-54
(3) Valadares FC, Souza ER.Violência contra a pessoa idosa: análise de aspectos da atenção de saúde mental em cinco capitais brasileiras. Ciênc Saúde Colet. 2010; 15(6):2763-74.
(4) Cavalcanti MLT, Souza ER. Percepções de gestores e profissionais de saúde sobre a atenção aos idosos vítimas de violências no município do Rio de Janeiro (RJ, Brasil). Ciênc Saúde Colet. 2010; 15(6): 2699-708.
(5) Venturi I, Rosado LEFP, Cotta RMM, Rosado GP, Doimo LA, Tinoco ALA, et al. Identificação da área de influência do serviço de atenção básica do sistema público de saúde à população idosa, município de Viçosa-MG. Ciênc Saúde Colet. 2008; 13(4):1293-304.
(6) Motta, LB; Aguiar, AC. Novas competencias profissionais em saude e o envelhecimento populacional brasileiro: integralidade, interdisciplinaridade e intersetorialidade. Rev Ciencia & Saude Coletiva. 2007; 12(2):363-72.
(7) Andrade FB, Ferreira Filha MO, Dias MD, Silva AO, Costa ICC, Lima EAR, et al. Promoção da Saúde Mental do idoso na atenção básica: as contribuições da terapia comunitária. Texto Contexto Enferm. 2010; 19(1):129-36.
(8) Egry, EY. Et al. Instrumentos de avaliação de necessidades em saude aplicáveis na Estratégia Saude da Família. Esc Enferm USP. 2009. 43(Esp 2):1181-6.
(9) Araújo MAS, Barbosa MA. Relação profissional de saúde/idoso. Esc Anna Nery. 2010; 14(4):819-24.
(10) Minayo, MCS. O desafio do conhecimento, pesquisa qualitativa em saúde. 11a Ed. São Paulo: Hucitec; 2008.
(11) Bardin, L. Análise de conteúdo. Lisboa: Edições 70; 2008.
(12) Zea MC, López-Alzate ME, Valencia CM, Soto JA, Aguirre DC, Lopera F, et al. Autovaloración de calidad de vida y envejecimiento en adultos con riesgo de Alzheimer. Invest Educ Enferm. 2008; 26(1): 24-35.
(13) Cupertino APFB, Rosa FHM, Ribeiro PCC. Definição de envelhecimento saudável na perspectiva de indivíduos idosos. Psicol Reflex Crít. 2007; 20(1):81-6.
(14) Brasil. Desenvolvimento Social e Combate a Fome. Serviço de Proteção e Atendimento Integral à Familia PAIF. Brasilia (DF): 2004. Ministério do Desenvolvimento Social e Combate a Fome.
(15) Silva HS, Lima AMM, Galhardoni R. Successful aging and health vulnerability: approaches and perspectives. Interface - Comunic Saude Educ. 2010; 14(35):867-77.
(16) Floriano PJ, Dalgalorrondo P. Saúde Mental, Qualidade de Vida e Religião em Idosos de um Programa Saúde da Família. J Bras Psiquiatr. 2007; 56(3):162-70.
(17) Silva LC; Carvalho, LMBF; oliveira, TS; Rabelo, DF. Atitude de idosos em relação à velhice e bem- estar psicologico. Rev Kairós Gerontol. 2012; 15: 119-40..
(18) Herbert, R; Zdaniuk, B; Schulz, R; Scheier, M. Positive and negative religious coping and well-being in women with breast cancer. Journal of Palliative Medicine. 2009. 12 (6): 537-545.
(19) Guimarães HP, Avezum A. O impacto da espiritualidade na saúde física. Rev Psiq Clín. 2007; 34(supl 1):88-94.
(20) Lopes RF, Lopes MTF, Camara VM. Entendendo a solidão do idoso. Rev Bras Cienc Hum. 2009; 6(3): 373-81.
(21) Joia LC, Ruiz T, Donalisio MR. Condições associadas à satisfação com a vida. Rev Saúde Pública. 2007; 41(1): 131-8.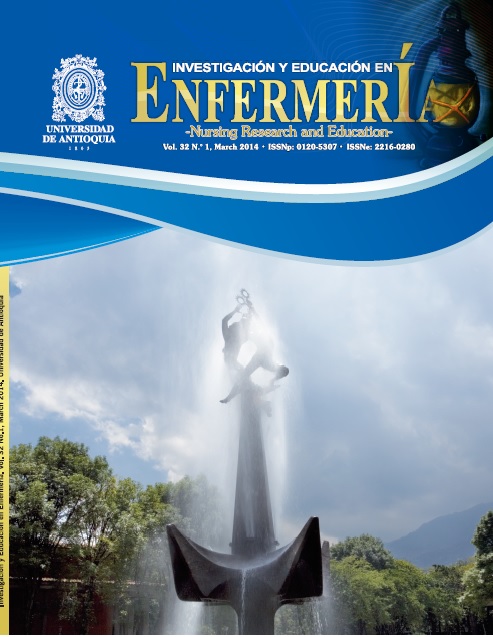 How to Cite
Soares Vello, L., Ornellas Pereira, M. A., & Célia Popim, R. (2014). Mental health of the elderly: perceptions related to aging. Investigación Y Educación En Enfermería, 32(1). https://doi.org/10.17533/udea.iee.18568
Section
ORIGINAL ARTICLES / ARTÍCULOS ORIGINALES / ARTIGOS ORIGINAIS
License
Derechos de propiedad / Direitos de Propriedade
English: If the article is accepted for publication, all copyright will be of exclusive property of Investigación y Educación en Enfermería. The text and the graphics included in the publication are exclusive responsibility of the authors and not necessarily reflect the thought of the Editorial Committee.
Español: Si el artículo es aprobado para publicación, todos los derechos son de propiedad de Investigación y Educación en Enfermería. El texto y las gráficas incluidas en la publicación son de exclusiva responsabilidad de los autores y no necesariamente refleja el pensamiento del Comité Editorial.
Português: Se o artigo for aceito para publicação, todos os direitos autorais serão de propriedade exclusiva de Investigación y Educación en Enfermería. O texto e os gráficos incluídos na publicação são de responsabilidade exclusiva dos autores e não refletem necessariamente o pensamento do Comitê Editorial.