Nursing care in postwar Madrid
Keywords:
History of nursing, nursing care, primary health care, education, nursing.
Abstract
Objective. To describe the work of the Salus Infirmorum Sisterhood in caring for the most underprivileged individuals from the postwar outskirts of Madrid, through the voluntary service of the nurses who were part of that Institution.
Methods. A historical study based on the analysis of primary sources from the Sisterhood's archives.
Results. Salus Infirmorum once relied on more than 100 volunteer nurses who treated over 425-thousand people in 21 parish dispensaries located within the neediest neighborhoods of Madrid, providing both preventative and curative medical care. Nurses were offered adequate training in exchange for the care provided.
Conclusion. Salus Infirmorum took healthcare to the streets of Madrid, treating patients in improvised medical clinics set up in parishes or in the patient's own home, as the situation required, in addition to training women who otherwise would not have had access to it.
How to cite this article: Chamorro E, Siles J, Díaz, C, Álvarez, O. Nursing care in postwar Madrid. Invest. Educ. Enferm. 2016 34(2):
|Abstract = 180 veces | PDF = 97 veces| | HTML RESUMEN = 2 veces| | HTML ENGLISH = 0 veces| | HTML ESPAÑOL = 0 veces|
Downloads
Download data is not yet available.
References
(1) Arco MA. "Morir de hambre". Autarquía, escasez y enfermedad en la España del primer franquismo. Pasado y memoria. Hª Contemporánea 2006; 5: 241-58.
(2) García JA, Revilla F. El Madrid de la posguerra. Madrid: Universidad de Mayores de Experiencia Recíproca; 2006. P:16.
(3) Martínez A. La capital de la Victoria. Reconstrucción material, política y social en el Madrid de la posguerra (1939-1948). Trabajo fin de Master del Master Universitario de Historia Contemporánea. Madrid: Universidad Complutense; 2013.
(4) Sánchez L, Hernández JL. La educación política de los Hogares de Ayuda Social en el franquismo. El largo camino hacia una educación inclusiva: la educación especial y social del siglo XIX a nuestros días. In: XV Coloquio de Historia de la Educación, Pamplona, España; 2009. 427-38.
(5) Jiménez I. El tifus exantemático de la posguerra española (1939-1943). El uso de una enfermedad colectiva en la legitimación del "Nuevo Estado". Dynamis. 1994; 14:185-98.
(6) Montero F. Asistencia social, catolicismo y franquismo: la actuación de acción católica en la posguerra. En: Universidad de Lleida (Ed.) Pobreza, marginación, delincuencia y políticas sociales bajo el franquismo. Lleida: Universidad de Lleida; 2005: 113-38.
(7) Siles J, Solano MC. La historia cultural y la estética de los cuidados de Enfermería. Rev. Latino-Am. Enfermagem. 2011; 15 (5):1-11.
(8) Siles J. Historia cultural de la Enfermería: reflexión epistemológica y metodológica. Av. Enferm. 2010; 28(número especial): 120-8.
(9) Mariategui MT. Enfermeras de los suburbios. Revista Firmes. 1953; 3:17-8.
(10) Clausura del cursillo de Nurses de Salus Infirmorum. ABC. 21 de noviembre de 1944.
(11) Mata C, Mejías C, Paramio JC, Cruz A, Resille I. Aportación Social de la Hermandad de Enfermeras "Salus Infirmorum" en los años 1943/1944. Enferm. Gaditana. 2009; 10:41-5.
(12) Salus Infirmorum. Reglamento de las Enfermeras de dispensarios parroquiales; 1941.
(13) Cincuentenario de Salus Infirmorum. Blanco y Negro. ABC. 30 de junio de 1985.
(14) Conde FG. Dª María de Madariaga y Alonso (1905-2001). Fundadora de Salus Infirmorum. Cádiz. Salus Infirmorum; 2009. P:54.
(15) Salus Infirmorum. Libro de Actas de la Hermandad Salus Infirmorum. 26 de noviembre de 1946.
(16) Clausura del cursillo de Enfermeras de Salus Infirmorum. ABC. 11 de noviembre de 1945.
(17) Salus Infirmorum. Nuestras enfermeras y los suburbios. Revista Salus Infirmorum. 1949; 10:12.
(18) Collado. J. El suburbio. Revista Salus Infirmorum. 1952; 22: 8.
(19) Morales, M. La nurse visitadora. Revista Firmes. 1953; 2: 10.
(20) Salus Infirmorum. Informe nacional de la labor realizada en el curso 1955-56 por el Departamento de Caridad de la Hermandad Salus Infirmorum. Revista Firmes. 1956; 16: 5-6.
(21) Salus Infirmorum. Departamento de Caridad en la Hermandad de enfermeras. Revista Firmes. 1953; 3: 26-27.
(22) Ante la Virgen santísima de Fátima la muchedumbre congregada ayer en la plaza de la armería presenció curaciones prodigiosas. ABD. 30 de mayo de 1948.
(23) 800.000 Personas desfilaron ante la Virgen de Fátima. Diario YA. 30 de mayo de 1948.
(24) Madariaga M. Plegaria de los enfermos a la Virgen de Fátima. Revista Salus Infirmorum. 1948; 6:5-14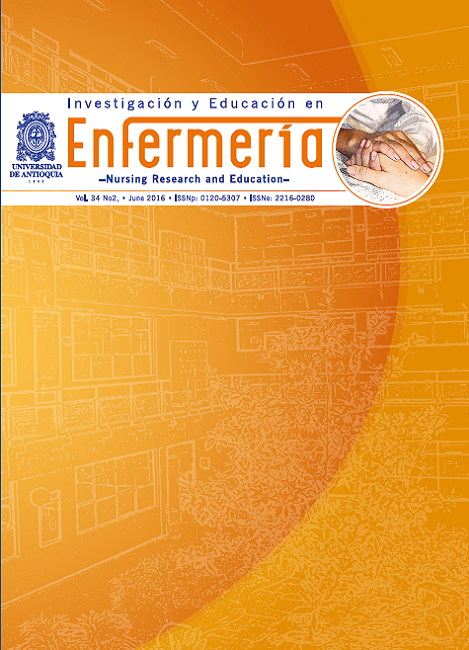 Downloads
How to Cite
Chamorro Rebollo, E., Siles González, J., Díaz Pérez, C., & Álvarez López, O. (2016). Nursing care in postwar Madrid. Investigación Y Educación En Enfermería, 34(2). Retrieved from https://revistas.udea.edu.co/index.php/iee/article/view/323267
Section
ORIGINAL ARTICLES / ARTÍCULOS ORIGINALES / ARTIGOS ORIGINAIS
License
Derechos de propiedad / Direitos de Propriedade
English: If the article is accepted for publication, all copyright will be of exclusive property of Investigación y Educación en Enfermería. The text and the graphics included in the publication are exclusive responsibility of the authors and not necessarily reflect the thought of the Editorial Committee.
Español: Si el artículo es aprobado para publicación, todos los derechos son de propiedad de Investigación y Educación en Enfermería. El texto y las gráficas incluidas en la publicación son de exclusiva responsabilidad de los autores y no necesariamente refleja el pensamiento del Comité Editorial.
Português: Se o artigo for aceito para publicação, todos os direitos autorais serão de propriedade exclusiva de Investigación y Educación en Enfermería. O texto e os gráficos incluídos na publicação são de responsabilidade exclusiva dos autores e não refletem necessariamente o pensamento do Comitê Editorial.