Job satisfaction of nursing professionals in adult hospitalization wards
Keywords:
Job satisfaction; nurse-patient relations; nursing care; nursing.
Abstract
Objective. To know and understand job satisfaction of nursing professionals in adult hospitalization wards in institutions of the Metropolitan Area of Valle de Aburrá (Colombia).
Methodology. This was a qualitative study, frame-worked within the ethnographic paradigm. During 2008, semi-structured interviews were made to 15 female nursing professionals and two male nursing professionals, in addition to 30 hours of observation in their work places, with prior signed consent and authorization from the institutions.
Results. The following categories emerged: satisfaction, dissatisfaction, and ambivalence between job satisfaction and dissatisfaction of the nursing professionals; with dissatisfaction being the primordial feeling among them. Nursing professionals feel satisfaction when patients leave recovered, when they provide direct care, or when there are positive results through their work. Dissatisfaction appears when they cannot provide direct care, lose autonomy, are overloaded with work, or because job demand diminishes.
Conclusion. Job satisfaction is an ambivalent feeling, dissatisfaction prevailing in the study group.
|Abstract = 78 veces | PDF (ENGLISH) = 18 veces| | PDF (ESPAÑOL) = 50 veces| | HTML(ENGLISH) = 15 veces| | RESUMEN = 3 veces| | RESUMEN | RESUMO = 2 veces| | MCORREAHOYOS, ARTÍCULO LA SATISFACIÓNH DEL PROFESIONAL DE ENF.DOC = 0 veces| | MCORREAHOYOS, CARTA DE LAS AUTORAS DEL ARTÍCULO.JPG = 0 veces|
Downloads
Download data is not yet available.
References
(1) Medina JL. La pedagogía del cuidado: Saberes y prácticas en la formación universitaria en enfermería. España: Laertes; 1999.
(2) Kérouac S, Pepin J, Ducharme F, Duquette A, Major F. El pensamiento enfermero. Barcelona: Masson; 1996.
(3) Brykczynski K. De principiante a experta: excelencia y dominio de la práctica de enfermería clínica. En:Marriner TA, Alligood MR. Modelos y teorías en enfermería. 5th ed. España: Mosby; 2003. p.165-185.
(4) Zas B. La satisfacción como indicador de excelencia en la calidad de los servicios de salud. Revista Psicología Científica.com [Internet]. 2002; [cited 2007 January 5]; 4(3). Available in: http://www.psicologiacientifica.com/bv/psicologiapdf-80-la-satisfaccion-como-indicador-de-excelencia-en-la-calidad-de-los-servicios-de-s.pdf
(5) Berger PL, Luckmann T. La construcción social de la realidad. Buenos Aires: Amorrortu; 1972.
(6) Donabedian A. Garantía y monitoria de la calidad de la atención médica: Un texto introductorio. México: Instituto Nacional de Salud Pública; 1990.
(7) De los Ríos JL, Ávila TL. Algunas consideraciones en el análisis del concepto: satisfacción del paciente. Invest Educ Enferm. 2004;22(2):128-37.
(8) Ratcliff KS. Women and health: power, technology, inequality, and conflict in a gendered world. Boston: Allyn and Bacon; 2002.
(9) Congreso de Colombia. Ley 266 de 1996 de 25 de enero. Diario Oficial No. 42.710 (5 de febrero de 1996).
(10) Parada ME, Moreno B. R, Mejías M Z, Rivas FA, Rivas F F, Cerrada F J, Rivas P Fl. Satisfacción laboral y síndrome de Bournout en el personal de enfermería del Instituto Autónomo Hospital Universitario Los Andes (IAHULA); Mérida, Venezuela, 2005. Rev Fac Nac Sal Publica. 2005;23(1):33-45.
(11) American Nurses Association's. Survey of 76,000 Nurses Probes Elements of Job Satisfaction [Internet]. Georgia: The American Nurses Association, Inc; 2005. [cited 2007 February 5]. Available in http://www.nursingworld.org/FunctionalMenuCategories/MediaResources/PressReleases/2005/pr04018524.aspx
(12) Aiken LH, Clarke SP, Sloane DM, Sochalski J, Busse R, Clarke H et al. Nurses' reports on hospital care in five countries. Health Affairs [Internet]. 2001 [cited 2009 January 12]; 20(3):43-53. Available in: http://content.healthaffairs.org/cgi/reprint/20/3/43.pdf
(13) Malvarez SM, Castrillón MC. Panorama de la fuerza de trabajo en enfermería en América Latina. Primera parte. Rev Enferm IMSS. 2006;14(2):101-16.
(14) Zurn P, Dolea C, Stilwell B. Contratación y retención de los enfermeros: Formación de unos recursos humanos motivados. [Internet] Ginebra: CIE; 2006. [cited 2010 February 6]. Available in: http://www.icn.ch/global/Issue4RetentionSP.pdf
(15) Consejo Internacional de Enfermeras. Escasez mundial de enfermeras: sectores prioritarios de intervención. [Internet] Ginebra: CIE; 2006. [cited 2011 January 5]: Available in: http://www.icn.ch/global/shortagesp.pdf
(16) Teixidor M. El producto enfermero y la reforma de los procesos asistenciales (I). Rev Rol Enferm. 2002;25(4):254-6.
(17) Romero MN. Reflexión desde la enfermería sobre el sistema garantía del a calidad de los prestadores de servicios de salud. In: Libro de ponencias: Foro permanente sobre la calidad de la atención en salud, 2002. Bogotá: Academia Nacional de Medicina de Colombia; 2002. p.139-48.
(18) Lozada E, Sánchez LC, Pérez L, Giraldo LI, Castrillón MC, Delgado S. Estudios sobre la práctica de enfermería. Invest Educ Enferm. 1992;10(2):29-37.
(19) Laverde LA, Forero C, Macías G. Situación del personal de enfermería en el servicio de urgencias en una institución de tercer nivel, en Medellín en 1998. Invest Educ Enferm. 2000;18(2):35-41.
(20) Correa AE, Palacios ML,Serna LE. Situación laboral de los profesionales de enfermería de instituciones de salud, municipio de Medellín. 1999. Invest Educ Enferm. 2001;19(2):10-25.
(21) Castrillón MC, Orrego S, Pérez L, Ceballos ME, Arenas GS. La enfermería en Colombia y la reforma del sector salud. Invest Educ Enferm. 1999;17(1):13-4.
(22) Velandia AL. Regímenes laborales en enfermería y calidad de atención. Av Enferm. 2001;20(2)6-22.
(23) Colombia. Ministerio de Salud. Dirección de Desarrollo Científico y Tecnológico. Normas Científicas, Técnicas y Administrativas para la Investigación en Salud. Resolución No. 8430 de 1993. Diario Oficial 42247, (4 de octubre de 1993).
(24) Hammersley M, Atkinson P. Etnografía. Métodos de investigación. España: Paidós; 2001
(25) Bauman Z. Modernidad y ambivalencia. Barcelona: Anthropos Editorial; 2005.
(26) Kendall K. The relationship between job satisfaction of registered nurses and patient satisfaction with nursing care in acute care hospitals. [Internet] Philadelphia: Universidad de Pennsylvania; 2001. (cited 2011 January 5). Available in: http://proquest.umi.com/pqdlink?Ver=1&Exp=08-04-2013&FMT=7&DID=728479371&RQT=309&attempt=1
(27) Alba A , Salcedo RA, Zárate RA, Higuera F. Satisfacción laboral del personal de enfermería en el Hospital General de México.Rev Enferm IMSS. 2008;16(3):155-60.
(28) López SR. Hospital magnético, hospital excelente.Index Enferm. 2004;13(44-45):7-8.
(29) Dunn S, Wilson B, Esterman A. Perceptions of working as a nurse in an acute care setting. J Nurs Manag. 2005;13(1):22-31.
(30) Morgan JC, Lynn MR. Satisfaction in nursing in the context of shortage. J Nurs Manag. 2009;17(3):401-10.
(31) Castle NG. An instrument to measure job satisfaction of nursing home administrators. BMC Med Res Methodol. 2006; 6:47.
(32) Kramer M, Schmalenberg C. Aspectos esenciales del trabajo enfermero en los hospitales magnéticos. Nursing. 2005;23(3):8-13.
(33) Lake ET. Development of de practice environment scale of the nursing work index. Res Nurs Health. 2002;25(3):176-88.
(34) Gonzalez G, Poveda J, Garcia S, Quintero A, Montealegre NA. La oferta y la demanda de recursos humanos en salud. Colombia Hosp. 2003;4(27):24-30.
(35) Herrera G, Manrique FG. Condiciones laborales y grado de satisfacción de profesionales de enfermería. Aquichan. 2008;8(2):243-55.
(36) Castrillón MC, Orrego S, Pérez L, Ceballos ME, Arenas GS. El impacto del sector salud en la práctica, la regulación y la educación de enfermería en Colombia. Estudio multicéntrico y colaborativo. Medellín: OPS/ Fundación Kellogg/ ACOFAEN. /Universidad de Antioquia; 1998.
(37) Sarella LH, Paravic KT. Satisfacción laboral en enfermeras/os que trabajan en el sistema de atención médica de urgencia (SAMU). Cienc Enferm. 2002; 8(2):37-48.
(38) García MJ, Malpica Al, Bermejo PC, Calvo GMA, Gómez PC . Estresores laborales y satisfacción laboral en la enfermería de una unidad de críticos. Enferm Intensiva. 2005;16(1):3-14.
(39) Alcaraz GM, Zapata M, Gómez M, Tavera E. Funciones del profesional de enfermería en salas de hospitalización de adultos: tratando de dar cuidado directo. Invest Educ Enferm. 2010;28(1):43-53.
(40) Mesa L, Romero MN. Profesionales de enfermería y cuidado en las condiciones laborales actuales. Invest Enferm Imagen Desarro. 2010;12(2): 55-92.
(41) Fletcher CE. Hospital RN's job satisfactions and dissatisfactions. J Nurs Adm. 2001;31(6): 324-31.
(42) Borges M, Alves M, De Souza PR. Rev. Job satisfaction of nursing staff: integrative review. Rev Latino-Am. Enfermagem. 2011;19(4): 1047-55.
(43) Seago JA, Spetz J, Ash M, Herrera CN, Keane D. Hospital RN job satisfaction and nurse unions. J Nurs Adm. 2011;41(3):109-14.
(44) Budge C, Carryer J, Wood S. Health correlates of autonomy, control and professional relationships in the nursing work environment. J Adv Nurs. 2003;42(3):260-8.
(45) Cuñado A, García B, Rial C, Araiza M, Garcia F. Validación de la traducción al español de una escala de medida de satisfacción del paciente con los cuidados enfermeros en urgencias (CECSS) Enferm Clin. 2002;12(6):273-80.
(46) Faller MS, Gates G, Connelly CD. Work-related burnout, job satisfaction, intent to leave, and nurse-assessed quality of care among travel nurses.J Nurs Adm. 2011;41(2):71-7.
(47) Hung R, Yuan C, Chen W, Chang L, En S, Ying M. Exploring the impact of mentoring functions on job satisfaction and organizational commitment of new staff nurses. BMC Health Serv Res. 2010;10:240.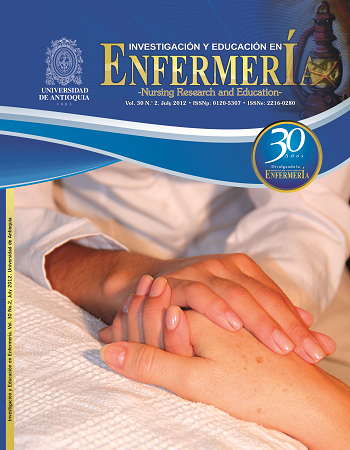 How to Cite
Zapata Herrera, M., & Alcaraz López, G. M. (2012). Job satisfaction of nursing professionals in adult hospitalization wards. Investigación Y Educación En Enfermería, 30(2). Retrieved from https://revistas.udea.edu.co/index.php/iee/article/view/7879
Section
ORIGINAL ARTICLES / ARTÍCULOS ORIGINALES / ARTIGOS ORIGINAIS
License
Derechos de propiedad / Direitos de Propriedade
English: If the article is accepted for publication, all copyright will be of exclusive property of Investigación y Educación en Enfermería. The text and the graphics included in the publication are exclusive responsibility of the authors and not necessarily reflect the thought of the Editorial Committee.
Español: Si el artículo es aprobado para publicación, todos los derechos son de propiedad de Investigación y Educación en Enfermería. El texto y las gráficas incluidas en la publicación son de exclusiva responsabilidad de los autores y no necesariamente refleja el pensamiento del Comité Editorial.
Português: Se o artigo for aceito para publicação, todos os direitos autorais serão de propriedade exclusiva de Investigación y Educación en Enfermería. O texto e os gráficos incluídos na publicação são de responsabilidade exclusiva dos autores e não refletem necessariamente o pensamento do Comitê Editorial.