Academic contributions of an exploratory study. The field work experience
Diana Carolina Ocampo Rivera

Enfermera, Magíster en Salud Colectiva. Profesora de la Facultad de Enfermería de la Universidad de Antioquia, Colombia. email: dianaocampo@tone.udea.edu.co

Gloria Margarita Alcaraz López

Nutricionista, Magíster en Salud Colectiva y Doctora en Salud Pública. Profesora de la Facultad de la Enfermería de la Universidad de Antioquia, Colombia. email: glory@tone.udea.edu.co
Keywords:
Qualitative research; ethics, research; research techniques.
Abstract
Experience, work field access correct and incorrect choices, participant's selection and the application of the interview tech­nique are reported. Theoretical, methodological and ethical re­flection of the exploratory study experience, generates meaningful learnings for the development of qualitative research practice, as well as showing aspects that in theory researchers' are not able to see, even more if they are new.
|Abstract = 19 veces | PDF (ESPAÑOL) = 12 veces| HTML (ESPAÑOL) = 1 veces| MCORREAHOYOS, BIBLIOGRAFIA REV INVEST EDUC ENFERM.DOCX = 0 veces| MCORREAHOYOS, CARTA ESCANEADA.JPG = 0 veces| MCORREAHOYOS, FORMATOCURRICULUMAUTORES.DOC = 0 veces|
Downloads
Download data is not yet available.
References
(1) Mills W. La Imaginación sociológica. 2ª ed. México: Fondo de Cultura Económica de México; 1964.
(2) Bonilla C. Rodríguez SP. Más allá del dilema de los métodos: la investigación en ciencias sociales. Bogotá: Grupo Editorial Norma; 1997.
(3) Peñaranda Correa F. Consideraciones epistemológicas de una opción hermenéutica para la etnografía. Rev Latinoam Cienc Soc Niñez Juv. 2004;2(2):167-89.
(4) Castrillón Agudelo MC. Teoría y práctica de enfermería: los retos actuales. Invest Educ Enferm. 2001;19(1):55-6.
(5) Maxwell JA. Qualitative research design: An Interactive approach. 2ª ed. [Internet]. California: Sage Publications; 2004 [acceso 2009 mar 16]. Disponible en: http://books.google.com.co/books?id=OJFrFmpGSnUC&printsec=frontcover&dq=Qualitative+Research+Design:+An+Interactive+Approach&ei=aZnBSZHjFZvuzQTR4uj9Bw#PPA57,M1
(6) Brink PJ, Wood MJ. Advanced design in nursing research. 2a ed. California: Sage Publications; 1998.
(7) Hammersley M, Atkinson P. Etnografía: métodos de investigación. Barcelona: Ediciones Paidós Ibérica S.A.; 1994.
(8) Caldas. Alcaldía de Caldas. Caldas 150 años: cultura viviente. Caldas: Alcaldía de Caldas; 2003.
(9) Taylor SJ, Bogdan R. Introducción a los métodos cualitativos de investigación: la búsqueda de significados. Barcelona: Ediciones Paidós Ibérica S.A.; 1992.
(10) Torralba F. Antropología del Cuidar. España: Mapfre; 1998.
(11) Torralba F. Constructos éticos del cuidar. Enferm intensiva. 2000;11(3)136-41.
(12) Colombero G. La Enfermedad tiempo para la valentía. 2° ed. Bogotá: San Pablo; 1999.
(13) Colombia. Ministerio de Salud. Resolución N° 008430 de 1993, por la cual se establecen las normas científicas, técnicas y administrativas para la investigación en salud. Bogotá: El Ministerio; 1993.
(14) Molina ME. La ética en el arte de cuidar. Invest Educ Enferm. 2002;20(2):118-30.
(15) Alcaraz G, Correa A. La ética en la investigación: el caso con los tules (kunas) de Urabá, Colombia. Rev Biomed. 2006;26(1):9-21.
(16) Hutchinson S, Wilson H. La investigación y las entrevistas terapéuticas: una perspectiva postestructuralista. En: Morse JM, editora. Asuntos críticos en los métodos de investigación cualitativa. Medellín: Editorial Universidad de Antioquia; 2003. p. 349-66.
(17) Patton MQ. Qualitative research & evaluation methods. 3a ed. Los Angeles: Sage publications Inc.; 2002.
(18) Strauss AL. Qualitative analysis for social scientifics. New York: Cambridge University Press; 1987.
(19) Berger PL, Luckmann T. La construcción social de la realidad. Buenos Aires: Amorrortu; 2003.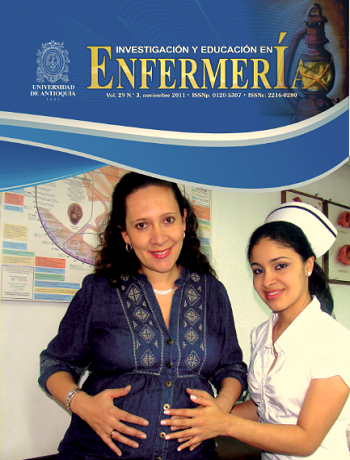 How to Cite
Ocampo Rivera D. C., & Alcaraz López G. M. (2011). Academic contributions of an exploratory study. The field work experience. Investigación Y Educación En Enfermería, 29(3). Retrieved from https://revistas.udea.edu.co/index.php/iee/article/view/6312
Section
ESSAY / ENSAYO / ENSAIO
Derechos de propiedad / Direitos de Propriedade
English: If the article is accepted for publication, all copyright will be of exclusive property of Investigación y Educación en Enfermería. The text and the graphics included in the publication are exclusive responsibility of the authors and not necessarily reflect the thought of the Editorial Committee.
Español: Si el artículo es aprobado para publicación, todos los derechos son de propiedad de Investigación y Educación en Enfermería. El texto y las gráficas incluidas en la publicación son de exclusiva responsabilidad de los autores y no necesariamente refleja el pensamiento del Comité Editorial.
Português: Se o artigo for aceito para publicação, todos os direitos autorais serão de propriedade exclusiva de Investigación y Educación en Enfermería. O texto e os gráficos incluídos na publicação são de responsabilidade exclusiva dos autores e não refletem necessariamente o pensamento do Comitê Editorial.