Herramientas para el uso eficiente del gas: diagramas de combustión
Abstract
En este trabajo se presentan los resultados de una investigación realizada con el fin de desarrollar una herramienta fundamental relacionada con el proceso de optimización de la combustión: los Diagramas de Combustión.
Con la optimización se busca utilizar al máximo el calor generado en la reacción y evitar la producción de contaminantes, producto de una combustión incompleta. Esto se realiza básicamente controlando la estabilidad de la llama y la composición de los humos por medio del ajuste de la relación aire/combustible y con una mezcla homogénea. Un monitoreo constante de los humos secos permite determinar la presencia de contaminantes y establecer el tipo de combustión que se está presentando.
Una herramienta valiosa para establecer las condiciones en las cuales se está realizando el proceso, es el Diagrama de Combustión. Este Diagrama utiliza los valores de la concentración de O2 y CO2 en los humos secos, a partir del muestreo de los productos por un analizador, para determinar la composición de estos humos (porcentajes de H2, CO y N2), el porcentaje de aire realmente utilizado, el aire en exceso y el tipo de combustión que se efectúa. Estos diagramas se encuentran en la literatura para gases de otros países, por lo tanto es fundamental generarlos para los gases disponibles en los yacimientos colombianos. 
|Abstract = 175 veces | PDF (ESPAÑOL (ESPAÑA)) = 87 veces|
Downloads
Download data is not yet available.
References
AMELL, A.; L. BARRAZA, E. GÓMEZ. Curso Tecnología de la Combustión de Gases y Quemadores Atmosféricos de Premezcla. Grupo de Ciencia y Tecnología del Gas, Universidad de Antioquia, Medellín, octubre 3-7, 1994.
North American Combustion Handbook. Vol. 1 : Combustion, fuels, Stoichiometry, Heat Transfer and Fluid flow Third Edition, Cleveland, OH, USA, 1986. 332 p.
VEYRETOUT, F.M. -Gaz de France. Curso Internacional Teórico-Práctico: Equipos y Sistemas Para la Utilización Doméstica del Gas Combustible. Universidad de Antioquia, Facultad de Ingeniería, Medellín, 1993.
TORRELLA A. E. y GÓMEZ M.F. Caracterización del Tipo de Combustión. Revista Montajes e Instalaciones. Vol 18, Nos. 205, 207, 208, 209. 1988.
Características del Gas Natural Distribuido en Colombia. Revista ACOGAS. No. 14, 1996. pp. 26 y 27.
SMITH, J.M. y VAN NESS, H.C. Introducción a la Termodinámica en Ingeniería Química. Cuarta Edición. Editorial MacGraw-Hill, México, 1989.
MÁROUEZ M., Manuel. Combustión y Quemadores. Serie Prodúctica, Marcombo S.A. Barcelona, España, 1992. 160 p.
GARDINER, William C.,: Química de la Llama. Revista Investigación y Ciencia. Barcelona. Vol. 67, Abril de 1982, pp. 58-70.
Association Technique de L'industrie du Gaz en France (ATG). Combustibles Gaseoux et Principles de la Combustion. BT No. 104, Edition 1992. Gaz de France, París.
Association Technique de L'industrie du Gaz en France (ATG). Collection des techniques gazieres: Calcul, Conception et Utilisation des Bruleurs Industriels a Gaz. París.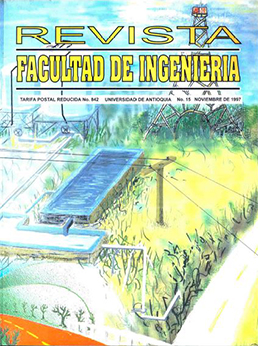 Downloads
How to Cite
Amell, A., Gil, E., & Maya, R. D. (1997). Herramientas para el uso eficiente del gas: diagramas de combustión. Revista Facultad De Ingeniería Universidad De Antioquia, (15), 38–50. Retrieved from https://revistas.udea.edu.co/index.php/ingenieria/article/view/325735
License
Revista Facultad de Ingeniería, Universidad de Antioquia is licensed under the Creative Commons Attribution BY-NC-SA 4.0 license. The material published in the journal can be distributed, copied and exhibited by third parties if the respective credits are given to the journal. No commercial benefit can be obtained and derivative works must be under the same license terms as the original work.