Emisiones de monóxido de carbono y metano en un quemador atmosférico de gas natural
Keywords:
Quemadores atmosféricos, emisiooes de Monóxido de Carbono (CO), emisiones de Metano (CH4), combustión, gas natural y operación de quemadores
Abstract
En Colombia el desarrollo de la industria de equipos a gas se ha caracterizado por la copia de formas, sin ahondar en los principios y parámetros básicos de operación y diseño de los artefactos. Los retos actuales derivados del plan de masificación del gas natural exigen el cooocimiento y dominio de los fenómenos incidentes en el diseño y operación de los equipos.
En este proyecto se estudian las emisiones de gases que producen efectos ambientales y disminución de eficiencia, monóxido de carbono (CO) y metano (CH4), que se presentan en un quemador atmosférico de premezcla, al modificar parámetros de flujo como la presión de suministro y algunos parámetros geométricos como el tamaño del inyector y de las boquillas, la longitud del mezclador y el diámetro del cuello del vénturi.
Los resultados obtenidos muestran que la geometría del mezclador tiene una incidencia significativa en el incremento de las emisiones de CO y CH4. De otra parte, cuando la rata de aireación es menor o igual a 0.5 para potencias mayores de 2.3 kW se obtuvo que las emisiones de CO son superiores al límite crítico. El aumento de la presión de suministro del gas tiende a disminuir las emisiones de CH.
|Abstract = 131 veces | PDF (ESPAÑOL (ESPAÑA)) = 74 veces|
Downloads
Download data is not yet available.
References
AMELL, A., BARRAZA L. y GOMEZ E. Curso Tecnología de la Combustión de Gases y Quemadores Atmosféricos de Premezcla. Grupo de Ciencia y Tecnología del Gas, Universidad de Antioquia, Medellín, octubre 3-7, 1994.
JONES, H.R .. The Application of Combustion Principies to Domestic Gas Bumer Design. British Gas ple, 1989.
BARTOK, W. y SAROFIM, A. Fossil Fuel Combustion. A Source Book. Capítulo 4, Chemistry of Gaseous Pollutant Formation and Destruction. John Wiley and Sons, Inc. 1991. Pág 866.
HARRIS, J.A. y PRIGG, J.A. "Domestic Aerated Burners for Methane". I.G.E. Journal, Marzo 1965. Pág.
- 227.
A.G.A. "Fundamentals of Designed of Atmospheric Gas Burner Ports". AGA Research Bulletin No 13, 1942.
GOLLAHALLI, S. R. y RAO, A.V. "Effects of Inlet Diameter and Fillet Radius of Venturi on Combustion Characteristics of lnshot Burners". En: ASME Vol. HFD 296: Fire, Combustion and Hazardous Waste Processing. 1994. Pág. 127-136.
RAO, A.V. y GOLLAHALLI, S.R. "Effects of Venturi Length on Combustion Characteristics of Inshot Burners".En: IEEE, 1996. Pág. 2203-2208.
GRUPO DE CIENCIA Y TECNOLOGÍA DEL GAS. Proyecto de Investigación "Incidencia de la Altitud y la Higrometría sobre los Quemadores Atmosféricos de Premezcla", Universidad de Antioquia, 1994.
MOSCHANDREAS, P.J. "Emission Rates from Range-Top Burners-Assesment of Measurement Methods". En: Atmospheric Environment, Vol. 21, No. 2, 1987. Pág. 285-289.
AENOR. Aparatos que Utilizan Gas como Combustible. Recopilación de normas UNE. Ingeniería Mecánica, Tomo 3. Madrid, España, 1990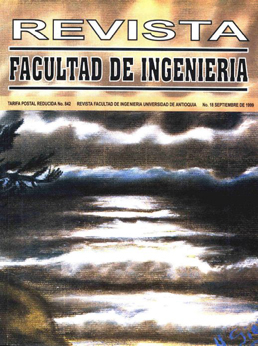 Downloads
How to Cite
Amell, A., Gil, E., & Cadavid, F. (1999). Emisiones de monóxido de carbono y metano en un quemador atmosférico de gas natural. Revista Facultad De Ingeniería Universidad De Antioquia, (18), 56–66. Retrieved from https://revistas.udea.edu.co/index.php/ingenieria/article/view/325816
License
Revista Facultad de Ingeniería, Universidad de Antioquia is licensed under the Creative Commons Attribution BY-NC-SA 4.0 license. The material published in the journal can be distributed, copied and exhibited by third parties if the respective credits are given to the journal. No commercial benefit can be obtained and derivative works must be under the same license terms as the original work.