Herramientas para el uso eficiente del gas: diagramas de eficiencia térmica
Abstract
En el presente trabajo se presentan los resultados de una investigación realizada con el fin de desarrollar una herramienta fundamental relacionada con el proceso de optimización de la combustión: los Diagramas de Eficiencia Térmica.
En un proceso de combustión se debe garantizar que todo el calor generado se transfiera eficientemente a la carga, por lo cual es necesario controlar las pérdidas de calor que se presentan básicamente por la salida de los gases de combustión a alta temperatura y el calentamiento del equipo. En este trabajo se estudian principalmente las formas como se disminuye la eficiencia de la combustión debido a las pérdidas de calor en los humos. Estas pérdidas se presentan básicamente por el calentamiento de estos productos, la presencia de agua en forma de vapor y la presencia de gases sin quemar (CO, H2) como resultado de una combustión incompleta.
Con un Diagrama de Eficiencia, y conociendo las concentraciones de O2 y CO2 en los humos secos, a partir del muestreo de los productos por un analizador, y la temperatura de salida de estos humos, es posible calcular el rendimiento teórico de un proceso cualquiera.
Se presentan en este trabajo los Diagramas de Eficiencia en función de la temperatura y la composición de los humos secos, para diferentes gases naturales que se tienen en el país.
|Abstract = 93 veces | PDF (ESPAÑOL (ESPAÑA)) = 36 veces|
Downloads
Download data is not yet available.
References
AMELL,A, BARRAZA L., Gómez, E. Curso Tecnología de la Combustión de Gases y Quemadores Atmosféricos de Premezcla. Grupo de Ciencia y Tecnología del Gas, Universidad de Antioquia, Medellín, octubre 3-7, 1994.
North American Combustion Handbook. Vol. 1: Combustion, Fuels, Stoichiometry, Heal Transfer and Fluid Flow. Third Edition, Cleveland, OH, USA, 1986. 332 p.
F.M. Veyretout - Gaz de France. Curso Internacional Teórico-Práctico: Equipos y Sistemas Para la Utilización Doméstica del Gas Combustible. Universidad de Antioquia, Facultad de Ingeniería, Medellín, 1993.
TORRELLA ALCARAZ, E. y GÓMEZ MÁRQUEZ, F. Caracterización del Tipo de Combustión. Revista Montajes e Instalaciones. Vol 18, Nos. 205, 207, 208, 209. 1988.
Características del Gas Natural Distribuido en Colombia. Revista ACOGAS. No. 14, 1996. Páginas 26 y 27.
SMITH J. M. y H.C. Van Ness. Introducción a la Termodinámica en Ingeniería Química. Cuarta Edición. Editorial MacGraw-Hill, México, 1989.
MÁRQUEZ MARTÍNEZ, Manuel. Combustión y Quemadores. Serie Prodúctica, Marcombo S.A. Barcelona, España, 1992. 160 páginas.
GARDINER, William C.,: Química de la Llama. Revista Investigación y Ciencia. Barcelona. Vol. 67, Abril de 1982, pág. 58-70.
Association Technique de L'industrie du Gaz en France (ATG). Collection des techniques gazieres: Calcul, Conception et Utilisation des Bruleurs Industriels a Gaz. Paris.
Association Technique de L'industrie du Gaz en France (ATG). Comhuslihles Gaseoux et Principles de la Combustion. BT No. 104, Edition 1992. Gaz de France, Paris.
PRITCHARD, R., Guy, J .J., Connor, N.E. Handbook of Industrial Gas Utilization. Engineering Principles and Practice. Van Nostrand Reinhold Co., London, 1977. 772 p.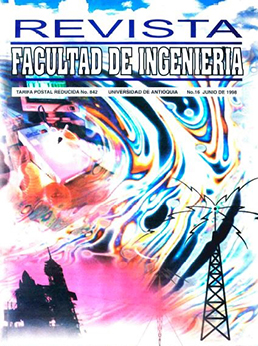 Downloads
How to Cite
Amell, A., Gil, E., & Maya, R. D. (1998). Herramientas para el uso eficiente del gas: diagramas de eficiencia térmica. Revista Facultad De Ingeniería Universidad De Antioquia, (16), 55–68. Retrieved from https://revistas.udea.edu.co/index.php/ingenieria/article/view/325761
License
Revista Facultad de Ingeniería, Universidad de Antioquia is licensed under the Creative Commons Attribution BY-NC-SA 4.0 license. The material published in the journal can be distributed, copied and exhibited by third parties if the respective credits are given to the journal. No commercial benefit can be obtained and derivative works must be under the same license terms as the original work.