Viabilidad del enfriamiento del aire para incrementar la potencia en las centrales térmicas de gas: el caso colombiano
Andrés Amell

Universidad de Antioquia

Hernán Bedoya
Keywords:
Centrales térmicas de gas, temperatura ambiente, enfriamiento de aire, incremento de potencia, tecnología de enfriamiento.
Abstract
Las centrales con turbinas de gas disminuyen su potencia cuando la temperatura del aire se incrementa, lo cual reduce la eficiencia y la rentabilidad de los proyec­tos. Tecnológicamente es posible eliminar la incidencia de la temperatura ambien­te sobre la disminución de la potencia y la eficiencia, enfriando el aire que entra a la turbina, obteniéndose así incrementos importantes de potencia y eficiencia.
En este trabajo se estudia la viabilidad técnica y económica al aplicar las tecnologías de enfriamiento como: enfriamiento evaporativo, compresión de vapor y produc­ción y almacenamiento de hielo (TES), teniendo en cuenta las condiciones meteoro­lógicas y las caracteristicas del mercado eléctrico nacional, pues en la ultima década se han instalado aproximadamente 2.800 MW de gas natural en Colombia.
Como resultado de aplicar las tecnologías de enfriamiento descritas; el estudio determinó: el potencial promedio de potencia recuperable, el potencial de po­tencia recuperable en el segundo pico de la curva nacional de demanda y muestra varios escenarios en los que éstas son viables técnica y económicamente en el contexto colombiano.
|Abstract = 21 veces | PDF (ESPAÑOL (ESPAÑA)) = 23 veces|
Downloads
Download data is not yet available.
References
UPME-ISA. Plan de Expansión de Referencia: Gene­ración-Transmisión 1996-2010. Revisión 1996.
Plancherel, Alain. la Central de Ciclo Combinado se ha Establecido como el Sistema de Producción de Energía del Futuro. Revista ABB 8 / 93, pp. 1-12.
Horlock, J. H .. Combined Power Plants - Past, Present and Future. Transactions of the ASME, Joumal of Engineering for Gas Turbine and Power, Vol. 117, Oct. 1995. pp. 610-616.
G. T. Program. Wind. Software far Gas Turbine Power and Cogeneretation System Design, Versión 1.5. 1999. Desarrollado por Therrnoflow Inc.
Ushiyama, l. Theoretically Estimating the Performan­ce of Gas Turbine Under Varying Atmospherical Conditions. Transactions of the ASME, Journal of Engineering for Gas Turbine and Power, Jan. 1976, pp. 303-309.
AMELL, Andrés. Comportamiento Termodinámico de Plantas de Ciclo Combinado en el Piso Térmico Colombiano. Revista Energética, No. 17, nov. de 1996. pp. 85-97.
EPM. Registro Meteorológico de la Estación en la Sierra, 1996-1998.
Corredor, Lesme, comunicación personal. Departamen­to de Ingeniería Mecánica de la Universidad del Norte.
ISA. Informe Anual de Operaciones 1997.
Kolp, O.A., et al. Advantage of Air Condition and Supercharging and LM6000 Gas Turbine Inlet. Transaction ofthe ASME: Joumal of Enginnering for Gas Turbine and Power, Vol. 117, July 1995, pp. 513-527.
De Lucía, M, et al. Benejits of Compressor Inlet Air Cooling for Gas Turbine Cogeneration Plant. Transaction ofthe ASME : Joumal ofEngineering for Gas Turbine and Power. Vol. 118, July 1996, pp. 598-603.
Kohlenberger, P.E. A review of inlet air cooling systems for increasing gas turbine performance. Power - Gen 94. America. VC3 - 5, Book IV, December 7 - 9/94. Orlando. pp. 277-297.
Al, Jerry, et al. A qualitalive analysis of in/et air cooling alternative for combustion turbine capacity enhancement. Burns & McDonnell Engineering Company. APCPAPRI 94. pp. 1-5.
Torres, F. et al. Incremento de la potencia de turbi­nas de gas. Revista Ingeniería Química Española. Sep­tiembre 1993. pp. 303-310.
Ondryas, Igor. Go beyond evaporative coolers to stretch gas- turbine output. Power, July 1991. pp. 2-29.
Giourof, Alexandra. Gas - turbine in/et - air cooling: You can almost pick your payback. Power, May 1995. pp. 56-58.
Jobnson, R. S. The Theory and Operation of Evaporative Coolers for Industrial Gas Turbine lnstallations. Transactions of the ASME: Joumal of Engineering for Gas Turbine and Power. Vol. 111, April 1989, pp. 327-334.
Ebeling, Jerry, et al. Thermal energy storage and inlet air cooling for combined cycle. Presented at the lntemational Turbine and Aeroengine Congress and Exposition. Toe Hague, Netherlands. June 13-16, 1994. ASME94-GT - 310. pp. 1-7.
Mackie, E.l .. In/et A ir Coo/ing for a Combustion Turbine Using Thermal Storage. ASHRAE Transactions: Symposia. Vol. 100 No. 1, 1994. pp. 572-582.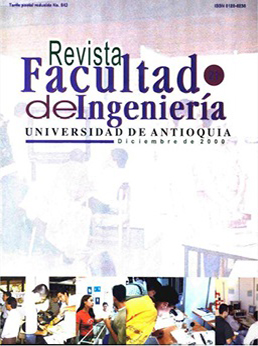 How to Cite
Amell A., & Bedoya H. (2016). Viabilidad del enfriamiento del aire para incrementar la potencia en las centrales térmicas de gas: el caso colombiano. Revista Facultad De Ingeniería Universidad De Antioquia, (21), 56-71. Retrieved from https://revistas.udea.edu.co/index.php/ingenieria/article/view/325917
Copyright (c) 2018 Revista Facultad de Ingeniería
This work is licensed under a Creative Commons Attribution-NonCommercial-ShareAlike 4.0 International License.
Authors can archive the pre-print version (i.e., the version prior to peer review) and post-print version (that is, the final version after peer review and layout process) on their personal website, institutional repository and / or thematic repository

Upon acceptance of an article, it will be published online through the page https://revistas.udea.edu.co/index.php/ingenieria/issue/archive in PDF version with its correspondent DOI identifier
The Revista Facultad de Ingeniería -redin- encourages the Political Constitution of Colombia, chapter IV
Chapter IV Sanctions 51
The following shall be liable to imprisonment for two to five years and a fine of five to 20 times the legal minimum monthly wage: (1) any person who publishes an unpublished literary or artistic work, or part thereof, by any means, without the express prior authorization of the owner of rights; (2) any person who enters in the National Register of Copyright a literary, scientific or artistic work in the name of a person other than the true author, or with its title altered or deleted, or with its text altered, deformed, amended or distorted, or with a false mention of the name of the publisher or phonogram, film, videogram or software producer; (3) any person who in any way or by any means reproduces, disposes of, condenses, mutilates or otherwise transforms a literary, scientific or artistic work without the express prior authorization of the owners thereof; (4) any person who reproduces phonograms, videograms, software or cinematographic works without the express prior authorization of the owner, or transports, stores, stocks, distributes, imports, sells, offers for sale, acquires for sale or distribution or in any way deals in such reproductions. Paragraph. If either the material embodiment or title page of or the introduction to the literary work, phonogram, videogram, software or cinematographic work uses the name, business style, logotype or distinctive mark of the lawful owner of rights, the foregoing sanctions shall be increased by up to half.