El gran músculo mecánico: la máquina de vapor
Keywords:
Steam engine, energy transformation, industrial revolution, steam locomotive, steamboat.
Abstract
Se hace un estudio de los antecedentes, génesis, concepción y desarrollo de la máquina de vapor. Se analizan las consecuencias técnicas, tecnológicas, científi­cas, industriales, económicas y sociales de la utilización de la máquina de vapor, así como su influjo en la modelación del mundo moderno y las ideas de la civili­zación industrial.
|Abstract = 1158 veces | PDF (ESPAÑOL (ESPAÑA)) = 1007 veces|
Downloads
Download data is not yet available.
References
Asi.mov, l. Introducción a la ciencia. Ciencias fisi­cas. Ediciones Orbis. Barcelona. p. 351. 1985.
Gille, B. La cultura técnica en Grecia. Ediciones Juan Granica. Barcelona. p. 143. 1985.
Burón, J. M. Evolución histórica de las máquinas y motores térmicos. Universidad Politécnica de Ma­drid-Escuela Superior de Ingenieros Industriales. Madrid. 1996.
Usher, A. P. A l,istory of mechanica/ inventions. Dover. New York. p. 332. 1988.
Woodcroft, B. The Neumatics of Hero of Alexandria. Taylor Walton and Maberly. London 185 J.
http://www.history.rocheste1:edu./steam/garay/
Dircks, H. The Century of lnventions by Somerset, Edward. Marquis ofWorcester. London. 1665.
"Energy conversion". The New Encyc/opaedia Britannnica. Vol. 18. Macropaedia. Chicago 1 p. 332. 1993.
Savery, T. The Miners Friend; or, an Engine to raise Water by Fire. S. Crouch. London. 1702.
Cardwell, Donald. Historia de la Tecnología. Alianza Universidad. Madrid, 1996.
Triewald, M. A short Description of the Fire - and Air -Machine a Dannemora Mines. Bnejamin Gotti, Stokholrn. 1734.
Gille, B. Op. Cit.
Roll, E. An Early Experiment in Industrial Organisation, Being a History of the Firm Boulton and Watt, 1775-/805. Long.mansGreen,London. 1930.
Mumford, L. Técnica y civilización. Alianza Editorial. Madrid.p. 180. 1982.
Poveda R. G .. "La revolución mecánica de Watt". En: Revista Universidad de Antioquia. No. 219. p. 79. Enero, 1990.
Kirby, R. S. et al. Engineering in History. Dover, New York. p. 256. 1990.
Sandfort, J. F. Máquinas Térmicas. EUDEBA. Bue­nos Aires, 1965.
Verbiest, F. Astronomia Europaea. Joannem Federle. Dillingen. p. 88. 1687.
Sanz, A. La historia de los inventos y el progreso técnico. Editorial Kapelusz. Buenos Aires. 1973.
Rovira, R. Los grandes inventores modernos. Edito­rial difusión. Buenos Aires. 1945.
Danel, J. F. "La revolución técnico-científica: crisis o desarrollo del capitalismo". Lafilosofia de las revolu­ciones científicas. Grijalbo. México. p. 73. 1977.
Williams, T. I. Historia de la Tecnología. Siglo XXI. México. 1998.
Aristizábal, F. J. "El avance de la humanidad a través de los hitos tecnológicos". Innovación y ciencia. Vol. V. No. 2. p. 54. 1996.
Valencia, A. Notas sobre termodinámica metalúrgi­ca. Universidad de Antioquia, Medellín, 1983.
Bujarin, N. I. El imperialismo y la economía mundial. P y P. Córdoba. 197 l.
Cazadero, M. Las revoluciones industriales. Fondo de Cultura Económica. México. 1995.
Acosta, Y. Revolución Industrial y desarrollo capi­talista. Universidad Central. Caracas. 1986.
Scientific American. La energía. Alianza Editorial. Madrid. 1982.
Grenon, M. La crisis mundial de la energía. Alianza Editorial. Madrid. 1974.
Álvarez, C. G. Renta y geopolítica de la energía. Autores Antioqueños. Medellín. 1988.
Berg, Maxine. La era de las manufacturas 1700-1820. Editorial Crítica. Barcelona. 1987.
Mijailov, M. I. La Revolución Industrial. Panamerica­na. Bogotá. 1998.
Bergeron, L. et al. La época de las revoluciones eu­ropeas, 1780-1848. Siglo XXI. México. 1982.
Riberio, D. El proceso civilizatorio. Universidad del Valle. Cali. 1993.
Crossman, R. H. S. Biografia del Estado moderno. Fondo de Cultura Económica. México. 1994.
Dobb, M. Capitalismo, crecimiento económico y sub­desarrollo. Oikos-tau ediciones. Barcelona. 1975.
Dobb, M. Estudios sobre el desarrollo del capitalis­mo. Siglo XXI. Méxjco. 1975.
Elster, J. El cambio tecnológico. Gedisa. Barcelona. 1992.
Hearder, H. Europa en el siglo XIX desde 1830 hasta 1880. Aguilar. Madrid. 1973.
Sakaiya, T. Historia del futuro. La sociedad del co­nocimiento. Editorial Andrés Bello. Santiago de Chi­le. 1994.
Dickson, D. Tecnología alternativa. Ediciones Orbis. Barcelona. 1985.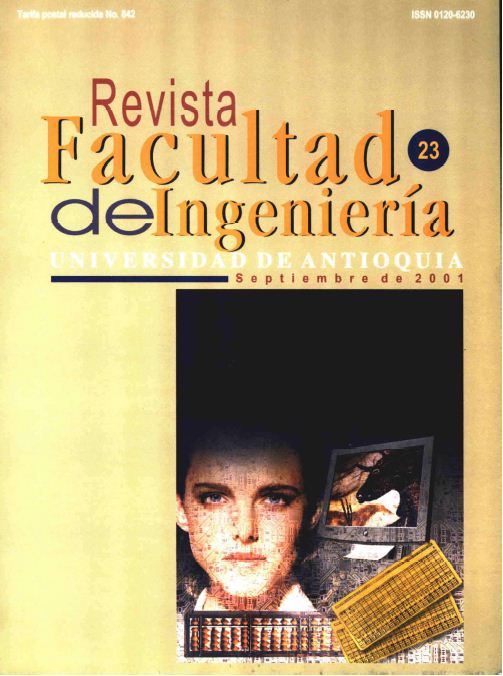 Downloads
How to Cite
Valencia-Giraldo, A. (2001). El gran músculo mecánico: la máquina de vapor. Revista Facultad De Ingeniería Universidad De Antioquia, (23), 120–139. https://doi.org/10.17533/udea.redin.326319
License
Revista Facultad de Ingeniería, Universidad de Antioquia is licensed under the Creative Commons Attribution BY-NC-SA 4.0 license. https://creativecommons.org/licenses/by-nc-sa/4.0/deed.en
You are free to:
Share — copy and redistribute the material in any medium or format
Adapt — remix, transform, and build upon the material
Under the following terms:
Attribution — You must give appropriate credit, provide a link to the license, and indicate if changes were made. You may do so in any reasonable manner, but not in any way that suggests the licensor endorses you or your use.
NonCommercial — You may not use the material for commercial purposes.
ShareAlike — If you remix, transform, or build upon the material, you must distribute your contributions under the same license as the original.
The material published in the journal can be distributed, copied and exhibited by third parties if the respective credits are given to the journal. No commercial benefit can be obtained and derivative works must be under the same license terms as the original work.