El futuro de la Ingeniería
Keywords:
Ingeniería, Educación, Futuro, Tecnología
Abstract

Se establece que la preocupación por el futuro es un signo de nuestro tiempo. Se presentan las formas de avizorar el futuro y se puntualizan las virtudes de la prospectiva como método para planear el futuro. En esta perspectiva se formulan algunas tendencias de la ingeniería en el mundo y en Colombia, los retos que deben enfrentar los in­genieros en las primeras décadas del siglo XXI y la manera como deben formarse esos ingenieros para que pue­dan responder a esas expectativas.
|Abstract = 687 veces | PDF (ESPAÑOL (ESPAÑA)) = 294 veces|
Downloads
Download data is not yet available.
References
Y ALENCIA G., ASDRÚBAL, Sobre Tecnología y Sociedad. Medellín. CESET, Universidad de Antioquia. 1995.
YEZHEKEL. DROR. Enfrentando el futuro, México. Fondo de Cultura Económica, 1990, p. 70.
RODRÍGUEZ G .. ELIZABETH. "La prospectiva como disciplina sistémica: conceptos y técnicas". En: Revista Universidad EAFIT, No. 82, abrí 1 1991 . p. 27
ACOSTA P .. JAIME. Tendencias y Rupturas, Bogotá. Carpes de Occidente. 1994
CORTÉS A .. CARLOS. "Planes y Prospectiva de la Facultad de Ingeniería de la Universidad Nacional", En: Ingeniería e Investigación. No 37, 1998. p. 111.
MASUDA. YO EJI. La sociedad informática como sociedad postindustrial, Madrid. Tecnos. 1984. p. 47
ACKOFF, RUSSEL L., Rediseñando el futuro. Mexico. Li­musa, 1995 p. 21
SMITH JR., CLIFFORD Y., "La educación en ingeniería para la competencia en el siglo XXI". En: Conferencia Mundial sobre educación en ingeniería y líderes en la industria, París. 1996. ACOFI. 1997. P. 175.
FERRO B., JESÚS. "Estrategias educativas para la ingeniería del año dos mil", En: Visión de la Universidad ante el siglo
XXI. Ediciones Uninorte, Barranquilla, 1996, p. 96
CLARKE. R. W. AND KULACKI, F. A .. "lnternational Engineering: Tins our Engineer School Never Told You", In: Mechanical Engineering Education for Global Practice. Proceedings of the 1997 ASME Mechanical Engineering De­partment Heads Conference. American Society of Mechani­cal Engineers, New York. 1997. p. 27.
BERNAL P .. CAMPO ELÍAS Y ÁLVARO MORALES T.. "La ingeniería colombiana y su papel en la investigación y la tecnología". En: Memorias Seminario Ingeniería. Investiga­ción y Sociedad, Quirama, 1998, p. 95.
POYEDA R., GABRIEL, "La ingeniería y su impacto social y económico", En: Memorias Seminario Ingeniería, Investi­gación y Sociedad, Quirama, 1998, p.147.
MOJICA S., FRANCISCO JOSÉ, La prospectiva. Bogotá, Legis, 1993; Mojica Sastoque, Francisco José, Análisis del siglo XXI. Alfaomega, Bogotá, 1998, p. 182
SICARD. TOMAS LEÓN, "Educar para lo superior en el Si­glo XXI". En: La Tadeo, Vol. IX, No. 41, Abr.-Jun., 1994
p. 112
MEADOWCRFf. T. RA Y, " The Metals and Materials Engineer in the 21 st. In: Engineering & Minning Journal, November. 1992. p. 19.
MORALES M .. ROBERTO, "Formación del ingeniero para el tercer milenio", En: 1er . Encuentro peruano de la ense­ñanza de la ingeniería, Lima, Abril de 1999. Memorias re­producidas por ACOFI.
SALAZAR, MÓNICA. Hacia un marco de desarrollo de la universidad estatal. Visión y acción desde la pertinencia, Bo­gotá, ICFES - Corporación Calidad. 1998.
CERNUSCHI. FÉLIX. "Criterios modernos para la forma­ción de ingenieros", Integrando. No 3. Montevideo, Junio, 1999. Sitio: www.Fing.edu.uy/cei/integrando/revista_revis­ta_03/formaci/html.
CUERVO ESCOBAR. JULIO ENRIQUE, "Hombre y civi­lización en la encrucijada", En: Sociedad Educación y Desa­rrollo. Dic. 1995. p.72.70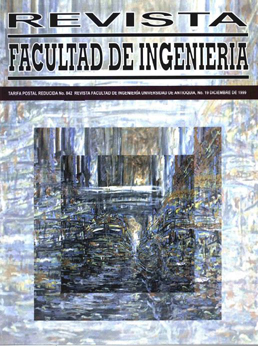 Downloads
How to Cite
Valencia-Giraldo, A. (1999). El futuro de la Ingeniería. Revista Facultad De Ingeniería Universidad De Antioquia, (19), 85–92. Retrieved from https://revistas.udea.edu.co/index.php/ingenieria/article/view/325836
License
Revista Facultad de Ingeniería, Universidad de Antioquia is licensed under the Creative Commons Attribution BY-NC-SA 4.0 license. The material published in the journal can be distributed, copied and exhibited by third parties if the respective credits are given to the journal. No commercial benefit can be obtained and derivative works must be under the same license terms as the original work.