Las consecuencias de la electrónica
Asdrúbal Valencia-Giraldo

Universidad de Antioquia
Keywords:
Electrónica, electrón, tubo de vacío, transistor, circuito integrado, telecomunicaciones, control automático.
Abstract
Se hace un recorrido por el desarrollo de la electrónica, desde finales del siglo XIX, de sus bases físicas, las aplicaciones del tubo de vacío, la radio y la televisión, el desarrollo del transistor, los circuitos integrados, la electrónica digital y la optoelectrónica. Se resalta el impacto científico, tecnológico, eco­nómico y social de la electrónica y sus tendencias futuras.

|Abstract = 82 veces | PDF (ESPAÑOL (ESPAÑA)) = 22 veces|
Downloads
Download data is not yet available.
References
Mileafaf, Harry. Eleclrónica. Limusa. México, 1986.
González G., Felipe. "El efecto Edison". Electrónica y computadores. No. 59. Diciembre de 1999. p. 18.
Jiménez Martínez, Joaquín L. "Curiosidades en la historia de la electricidad y la electrónica". Mundo Electrónico. No. 142. 1984. p. 127.
Valencia, A., "Una nueva forma de pensar y hacer: el computador". Revista Facultad de Ingeniería U. de A. No. 22. p. 169.
"A Tbumbnail History of Electronics". The American lnstitute of Physics. 1996.
Mejía, Aurelio, "Del ámbar a las comunicaciones". Elec­trónica Fácil. Julio, 1988. p. 9.
Gegerly, S. Microelectrónica. Salvat. Barcelona, 1985.
"Electronics". The New Encyclopaedia Británica. Vol. 18. Macropaedia, Chicago, 1993. p. 212.
Rogers, David W., "Gallium arsenide. The other semiconductor". ASTM Standardization News. October 1987. p. 28.
Fernández Bayo, lgnacio. "Nanotecnología: los obresos invisibles". El futuro que viene. Manuel Toharia (ed.). Temas de Hoy. Madrid, 1997. p. 233.
Molitor, Graham T.T. "Trends and forecasts for the new millennium". The Futurist. August-September, 1998. p. 53.
Pohl, Frederik. "Disappearing technologies". The Futurist. February, 1999. p. 30.
"Así será el hogar del futuro". El Tiempo. Bogotá. 30, octubre, 2000. p. 31.
Deken, Joseph. La casa electrónica. Orbis. Barcelona, 1986.
Salzman, Marian and Ira Matatia. "Lifestyles for the Next Millennium: 69 Forecasts". The Futurist. June­July, 1998. p. 31.
Sartori, Giovanni. Horno Videns. La sociedad teledirigida. Taurus. Madrid, 1998.
Ibáñez, Eduard. "Las paradojas de la ciudad cibernéti­ca". El Viejo Topo. No. 80. Diciembre de 1994. p. 77.
Calvo Hernando, Manuel. La ciencia en el tercer milenio. McGraw-Hill. Madrid, 1995.
Hoyos Vásquez, Guillermo, "Ciencia, Tecnología y Cultura". Gaceta. No. 8. Agosto, 1990. p. 14.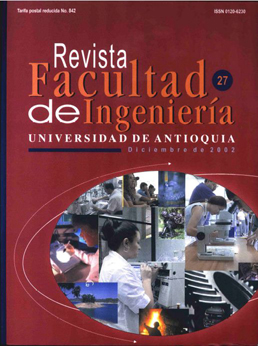 How to Cite
Valencia-Giraldo A. (2016). Las consecuencias de la electrónica. Revista Facultad De Ingeniería Universidad De Antioquia, (27), 138-150. Retrieved from https://revistas.udea.edu.co/index.php/ingenieria/article/view/326416
Copyright (c) 2018 Revista Facultad de Ingeniería
This work is licensed under a Creative Commons Attribution-NonCommercial-ShareAlike 4.0 International License.
Authors can archive the pre-print version (i.e., the version prior to peer review) and post-print version (that is, the final version after peer review and layout process) on their personal website, institutional repository and / or thematic repository

Upon acceptance of an article, it will be published online through the page https://revistas.udea.edu.co/index.php/ingenieria/issue/archive in PDF version with its correspondent DOI identifier
The Revista Facultad de Ingeniería -redin- encourages the Political Constitution of Colombia, chapter IV
Chapter IV Sanctions 51
The following shall be liable to imprisonment for two to five years and a fine of five to 20 times the legal minimum monthly wage: (1) any person who publishes an unpublished literary or artistic work, or part thereof, by any means, without the express prior authorization of the owner of rights; (2) any person who enters in the National Register of Copyright a literary, scientific or artistic work in the name of a person other than the true author, or with its title altered or deleted, or with its text altered, deformed, amended or distorted, or with a false mention of the name of the publisher or phonogram, film, videogram or software producer; (3) any person who in any way or by any means reproduces, disposes of, condenses, mutilates or otherwise transforms a literary, scientific or artistic work without the express prior authorization of the owners thereof; (4) any person who reproduces phonograms, videograms, software or cinematographic works without the express prior authorization of the owner, or transports, stores, stocks, distributes, imports, sells, offers for sale, acquires for sale or distribution or in any way deals in such reproductions. Paragraph. If either the material embodiment or title page of or the introduction to the literary work, phonogram, videogram, software or cinematographic work uses the name, business style, logotype or distinctive mark of the lawful owner of rights, the foregoing sanctions shall be increased by up to half.